Why do you get orange and brassy hair? Brassy hair
Brassiness refers to the unwanted warm tones that show up in colored hair.
You very often see it in dark hair that has been dyed platinum or blonde.
What typically happens is this:
Hair that was dark to begin is lifted or highlighted and colored blonde.
But - and this is the key point: this hair is not bleached or lightened enough.
As a result, a lot of orange color molecules are still left in the hair.
Then some hairdresser colored over the orange with a blonde toner.
Straight after the coloring, the hair probably looked a little warm but otherwise OK.
But over time, the pigments from the blonde toner get washed out.
And as that happens, the  orange underneath starts to shine through.
That is when you start seeing brassy hair.
Brassy and orange hair is hair that has not been lightened enough.
So in other words, the underlying reason for orange and brassy hair is very simple.
The hair has not lightened enough.
In the next section we will show you exactly how and why this happens
For that, we will need to look at some basic color theory.
Some Color Theory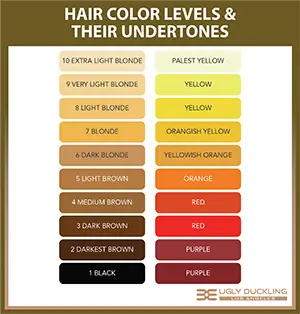 Hair color levels & undercoats
All hair gives off a secondary pigment or tone. Colorists call this an undercoat.
The color of this undercoat depends on the level the hair has been bleached or lightened to.
The orange that you typically see indicates that the hair has been lightened to level 6-7.
Whereas when you bleach hair, you should take it to level 9-10.
How do I get rid of brassy and orange hair and go blonde?
Looking to get rid of orange and go blonde? Then just follow our this simple 3-step technique.
Step One: Bleach the hair to level 10 very pale yellow.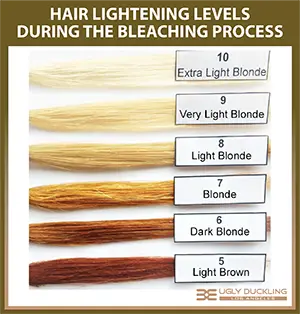 The first thing you should do is to bleach the hair.
Even if it has been bleached before, you need to bleach one more time.
Always use good quality bleach when doing so.
We recommend Brilliant Blondexx with Bond Protect.
It's gentle and it lifts up to 7 levels, avoiding breakage.
It contains Plex technology, which means it protects as it bleaches.
Mix your bleach with 20 or 30 vol developer depending on how orange it is.
And reapply onto the hair until the hair goes from orange, to orangish yellow, to yellow, to very pale yellow.
At this point, the hair is at level 10.
That is the correct level your hair should be at after bleaching.
Step Two: Choose a suitable toner Use this chart to select your toner
After bleaching, you need to tone.
Toners provide the color neutralization which allow you to get rid of any remaining yellowness and brassiness.
Ugly Duckling toners are very fast acting, and allow you to get ash blonde, platinum blonde, pearl blonde or silver blonde results.
These toners are some of the best you can use for orange, yellow & brassy hair.
Use the chart above to select the right toner for your hair.
If your hair is lifted to a level 9 or 10, use No-Lift Pearl Blonde Toner 10V, No-Lift Silver Blonde Toner 10B.
If your hair is lifted to a level 7 or 8, use Intense Pearl Blonde 100V or Intense Silver Blonde 100B 
You can also color instead of tone for a fuller and more deep color result.
For example, you can color grey: Silver Grey 
You can also go for a blue-based ash blonde color result: either Extra Light Cold Ash Blonde 10.1B or Very Light Cold Ash Blonde 9.1B
If you want a more natural result, with no lift, you can opt instead for Ugly Duckling's new liquid ammonia free toners: 
Blondify Natural Ash Blonde & Blondify Natural Violet Blonde.

Leave on until you see that the hair has change color - generally, around 15 - 30 minutes would be about average.
Then rinse.
Step Three: Finish with Purple Shampoo & Mask Brilliant Blonde Purple Mask
After toning, you can use purple shampoo and mask to get rid of any remaining yellow.
Ugly Duckling's Brilliant Blonde Purple Shampoo and Mask are low pH sulfate-free products that will help close the cuticle after coloring.
Thanks to their intense purple pigments they will help neutralize any remaining yellowness or brassiness.
For best results, use plenty of product and massage in very thoroughly.
The more these products are in contact with your hair, the more they will transfer those pigments.
With the purple mask, leave on for 10 minutes under a plastic cap and, if possible, some gentle heat.
You can use both products regularly after coloring to keep the hair from turning yellow or brassy again.
I want to tone down my orange to a medium blonde level. What is the best toner for me to use?
If you are looking to tone down we would suggest you use blue based ash blonde colors.
Blue based colors and toners are good at killing yellow-orange and will tone down hair very well.
Use Ugly Duckling's blue based ash blonde colors (anything ending in "1b").
Aim for level 6 to 8 if you are looking to down down brassy hair.
Use Light Cold Ash Blonde 8.1b, Cold Ash Blonde 7.1b or Dark Cold Ash Blonde 6.1b 
For extra strong "orange killing", you can squeeze in some Ash Blue Additive.
Just mix these colors with 20 Vol developer and apply to tone down orange and brassy hair.
I want to tone down my orange to a dark blonde level. What is the best toner for me to use? 
Use any of Ugly Duckling's ash toners.
Use Ugly Duckling's regular ash blonde colors are anything ending in .1
These ash colors are green based, and green cancels out orange on the color wheel.
These colors are particularly effective at neutralizing dark orange in the hair.

Ash Blonde 7.1and Dark Blonde 6.1 and Light Deep Ash Brown 5.11 are the ideal go-to colors for toning down orange hair.
For extra strong "orange killing", squeeze in some Ash Grey Additive.
I don't want to use lightener but I still want to tone my brassy and go blonde! What should I use?
If you are dead against using a bleach, there is a work-around.
It will work when the hair is not too dark - at least level 7 and above.
You can use either of Ugly Duckling's high lift toners, either Intense Pearl Blonde 100V or Intense Silver Blonde 100B.
These our Ugly Duckling's fastest acting toners and they are the strongest toners in the market.
They contain special boosters which get rid of extra yellow and lift up the hair.
Use them with 30 Vol if the hair is really really brassy and process them for 10 minutes extra (40 minutes).

This should allow you to achieve an acceptable or even good ash blonde hair color result - provided your hair is not too dark or brassy.