Why does my client's hair turn yellow, brassy or orange when I bleach or lift? 
A little bit of color theory:
Hair has a natural undercoat, or secondary pigment, which becomes visible when you lighten it or even if you stay in the sun for very long. 
When you lighten hair to a dark brown color, you get a red undercoat or tone.
When you lighten hair to a medium brown color, you get an orange undercoat or tone.
When you light hair to a blonde hair color, you get a yellow undercoat or tone.
This table below illustrates the undercoats which occur at every hair level.
These undercoats often represent a challenge for colorists and their customers as generally speaking these undercoats are not very attractive nor desired by clients.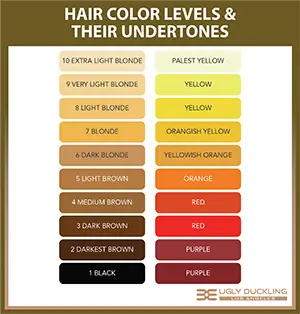 I did my client's hair but it came out too yellow. Should I put an ash blonde toner on it?
An ash blonde toner will help of course, and almost certainly you will need to tone.
But we really suggest you analyse first, using the bleaching level chart below.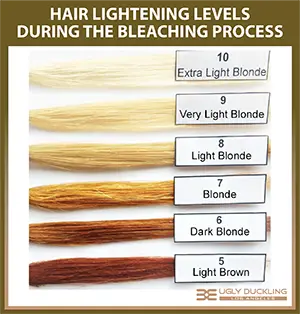 What color is your client's hair exactly? It is really important to make a very accurate assessment, that's the first part.
If it's level 5 or 6, that's not even yellow. That's orange and brassy and it just means you did not lift it enough, You're going to need a very good quality bleach and use that before you tone it.
If it's level 7 or 8, we would in general recommend that you lift some more, especially if you are targeting a super white blonde look with no yellowness. However,  you can use Ugly Duckling's intense pearl blonde & intense silver blonde toners with 20 Vol. These toners do have lift built in them and should give you a very good hair color result.
If the hair is level 8,9 or 10, then yes you can use a good quality ash toner. We would suggest Ugly Duckling's no-lift pearl blonde toner, or no-lift silver toner, once again with 20 Vol developer.
How Can I Fix Brassy, Yellow or Orange Hair?
STEP ONE: Use a Quality Lightener & Lift the Hair to Level 10 
First, you need to lift the brassy parts up to a very pale yellow color (Level 10).
Look at the picture below to see what Level 10 looks like.
For this, we would advise you to use a quality bleach and developer.
We recommend Brilliant Blondexx with Bond Protect. It's gentle and it lifts up to 7 levels, avoiding breakage.
Not all bleaches work the same and for this reason we do not recommend that you use any beauty store bleach.
Make your mix with 20 Vol Developer for the root area and 20 or 30 Vol for the lengths depending on how brassy it is.
Aim to saturate the hair really well and rinse when the hair gets to level 10.
When the hair has reached level 10, rinse.
STEP TWO: Chose the Right Toner for the Blonde Hair You Want
Toners provide the color neutralization which allow you to get rid of any remaining yellowness and brassiness.
Ugly Duckling toners are very fast acting, and allow you to get ash blonde, platinum blonde, pearl blonde or silver blonde results.
These toners are some of the best you can use for orange, yellow & brassy hair.
If your hair is lifted to a level 9 or 10, use No-Lift Pearl Blonde Toner 10V, No-Lift Silver Blonde Toner 10B.
If your hair is lifted to a level 7 or 8, use Intense Pearl Blonde 100V or Intense Silver Blonde 100B 
If your hair is level 6 or below, you need to lift with an Ugly Duckling lightener, then tone.
You can also color instead of tone for a fuller and more deep color result.
For example, you can color grey: Silver Grey or Smoky Blue Grey 
You can also go for a blue-based ash blonde color result: either Extra Light Cold Ash Blonde 10.1B or Very Light Cold Ash Blonde 9.1B
For all of the above results, the better you pre-lighten the hair, the better will be the final result.
These colors are all shown below.
The recommended mix for toner is 1:2
The recommended mix for a color is 1:1
Aim for a good product saturation
Leave on for 10-20 minutes or more, according to the intensity of color result required.
Rinse.
STEP THREE: Finish with Purple Shampoo & Mask
Ugly Duckling's Brilliant Blonde Purple Shampoo and Mask are low pH sulfate-free products that will help close the cuticle after coloring.
Thanks to their intense purple pigments they will help neutralize any remaining yellowness or brassiness.
So although they are not strictly necessary if you have done your bleaching and toning well, they are certainly a nice to have.
For best results, use plenty of product and massage in very thoroughly.
The more these products are in contact with your hair, the more they will transfer those pigments.
With the purple mask, leave on for 10 minutes under a plastic cap and, if possible, some gentle heat.
You can use both products regularly after coloring to keep the hair from turning yellow or brassy again.
Case 1 - An Example of Yellow Brassy Hair - Natural Level 6
People often ask us "How should I get rid of yellow hair?"
The case below is a perfect example of yellow hair which we fixed and toned.
BEFORE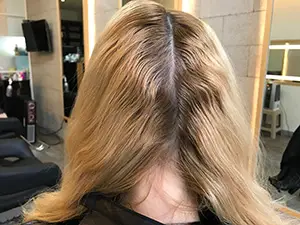 Dark Regrowth (Level 6), Light but Brassy Ends (Level 9)
This is a very common situation. The client's regrowth is dark, but the lengths have clearly been lifted and lightened in the past. The lengths are clearly brassy.
AFTER BLEACHING ON ROOTS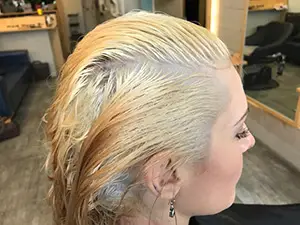 We bleached our client's hair using Brilliant Blondexx and 30 Vol.
As you can see, we got the dark regrowth lifted entirely to equalize with the lengths.
We then oned our client's hair with Intense Pearl Blonde Toner 100V
Then we applied Purple Shampoo to finish the look.
Finished look shown below.
AFTER TONING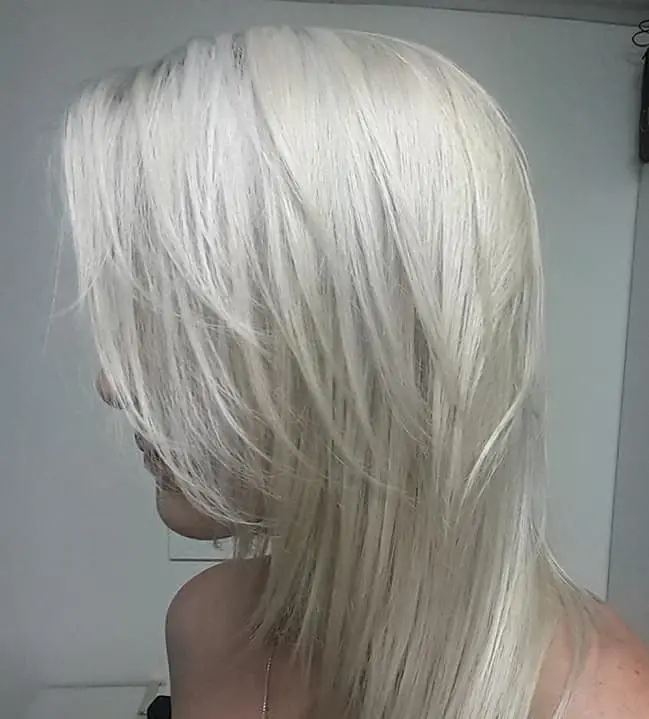 Toned hair
WATCH THE FULL VIDEO OF THE MAKEOVER HERE:
Hair by Brittney Worley
Products Used: 
Brilliant Blonde Lightener
Intense Pearl Blonde Toner 100V
20 and 30 Vol Developer
Case 2: An Example of Orange Hair On Dark Hair (Natural Level 4/5)
Many clients have darker hair. This client had naturally dark hair which had turned orange due to incorrect bleaching in the past.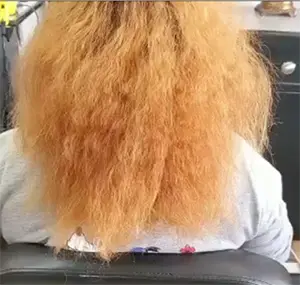 If the hair is orange, like in the picture above, it means one of the following:
You rinsed too soon
You did not apply bleach sufficiently well (you did not saturate the hair)
You used an inferior quality of bleach 
Some combination of the above!
If you have orange hair like this, or our client does, you need to do the 3 step process as explained above: Lift, Tone and Finish.
Make sure that you saturate really well, and do NOT RINSE the hair too soon.
Use 30 Vol for very dark hair, 20 hair for medium blonde hair and the root area.
Don't be afraid of adding in fresh mix during the processing time if you can see that parts are not lifting.
If after 30 minutes the hair is still orange, rinse and re-apply, with 20 Vol instead of 30 Vol.
All hair lifts through orange, through yellow and all the way to pale yellow level 10. Be patient!
Toning:
In this case, after bleaching, we opted to go for a shadow root look.
We put 5.13 with 10 Vol developer on the root area.
We put a mix of 9.23, Pearl Blonde Toner 10V and Clear on the Lengths - using 20 Vol developer.
We finished up with Ugly Duckling Purple Mask.
However, you can just do a full head toning instead with intense pearl blonde 100V.
WATCH THE FULL VIDEO OF THE MAKEOVER HERE
Hair @hairfactorynyc
Products Used:
Brilliant Blondexx Lightener with 30 Vol Developer 
5.13 on the root area with 10 Vol Developer
9.23 and Pearl Blonde Toner 10V and Clear with 20 Vol developer
Purple Mask to Finish
How do I get yellow out of my hair if I don't want to go blonde? What toners kill yellow?
If you are not looking to lighten you can use blue based ash blonde colors.
Blue based colors and toners are good at killing yellow and they should be your first choice in such situations.
Use Ugly Duckling's blue based ash blonde colors (anything ending in "1b").
Blue cancels out yellow on the color wheel.
Because they are blue based, they are particularly effective at neutralizing any yellowness in the hair.
Aim for level 6 to 8 if you are not prepared to lighten and go totally blonde.
For extra strong "yellow killing", we recommend that you squeeze in some Ash Blue Additive.
Just mix these colors with 20 Vol developer and apply to tone down yellow hair.
The shades are shown below. Click on them to learn more!
How do I tone down orange hair? What is the best toner for toning orange hair?
If the hair is orange, and you don't want to lift the orange out with a lightener, then you can consider going for Ugly Duckling ash colors, which are some of the strongest ashes on the market.
Use Ugly Duckling's regular ash blonde colors are anything ending in .1
These ash colors are green based, and green cancels out orange on the color wheel.
These colors are particularly effective at neutralizing any orange in the hair.
Ash Blonde 7.1and Dark Blonde 6.1 and Light Deep Ash Brown 5.11 are the ideal go-to colors for toning down orange hair.
For extra strong "orange killing", squeeze in some Ash Grey Additive.
Once again, please note you will not be able to go lighter. You will need to go down a tone with this technique to cover up your yellow without lifting.
Just mix these colors with 20 Vol developer and apply to tone down orange hair.
The shades are shown below. Click on them to learn more!
I don't want to use lightener but I want to get rid of brassy and go blonde! What do I do?
If you use a good quality bleach, such as an Ugly Duckling bleach and you follow the steps indicated, you should not damage your hair!
However, if you are dead against using a bleach, there is a work-around.
It will work when the hair is not too dark - at least level 7 and above.
Look at the chart higher up on the page on hair color levels to remind yourself what level 7 looks like.
If you are level 7 and above, you can use either of Ugly Duckling's high lift toners, either Intense Pearl Blonde 100V or Intense Silver Blonde 100B.
These our Ugly Duckling's fastest acting toners and they are the strongest toners in the market.
They contain special boosters which get rid of extra yellow and lift up the hair.
Use them with 30 Vol if the hair is really really brassy and process them for 10 minutes extra (40 minutes).
Apply to the brassy areas.
Let it process until it gets as light as possible.
Ideally, it should be at least level 9 (see picture of hair color levels above)
Rinse.
This should allow you to achieve an acceptable or even good ash blonde hair color result - provided your hair is not too dark or brassy!
I don't want to use toner! How do I get rid of brassy hair without toner?
Just use our bleach, then purple shampoo and mask.
Lift with Brilliant Blondexx. Make sure you get it all the way to level 10 - see the picture at the top of the page to see what level 10 looks like.
Then use our purple shampoo and purple mask. It will give a good toning result.
Note that in general we prefer to recommend these products as maintenance products rather than as toners.
But they do contain a lot of purple pigments and they will do the job well if you don't have our regular toners handy.
Can you recommend a go-to set of products which are guaranteed to get rid of my brassy hair?
We would suggest Ugly Duckling's Blonding Set.
The set contains Brilliant Blondexx Bond Protect Bleach, a choice of 3 toners, a salon size developer, and a purple shampoo.
It also contains a free set of coloring tools.
To learn more, go here.
WATCH THIS VIDEO FOR A FULL PROOF TOOL-KIT ON GETTING RID OF BRASSY HAIR!