How To Get Rid of Brassy, Yellow or Orange Hair | 3 Steps You Need to Follow
1. What is Brassy Hair and How Can I Get Rid of It?
Brassy hair is hair that looks yellowish or orange.
Basically, hair is "brassy" because it has not been lifted enough - the darker the blonde, the more "brassy" it will look.
In the image below, you can see that the hair at level 7/8 is more brassy and more orange than the hair at level 9/10.
Image Supplied by Ugly Duckling Stylist Hon G.
2. What exactly is causing my client's hair to turn brassy when I bleach or color or lift?
A little bit of color theory:
Hair has a natural undercoat, or secondary pigment, which becomes visible when you lighten it or even if you stay in the sun for very long.
When you lighten hair to a dark brown color, you get a red undercoat or tone.
When you lighten hair to a medium brown color, you get an orange undercoat or tone.
When you light hair to a blonde hair color, you get a yellow undercoat or tone.
This table below illustrates the undercoats which occur at every hair level.
These undercoats often represent a challenge for colorists and their customers as generally speaking these undercoats are not very attractive nor desired by clients.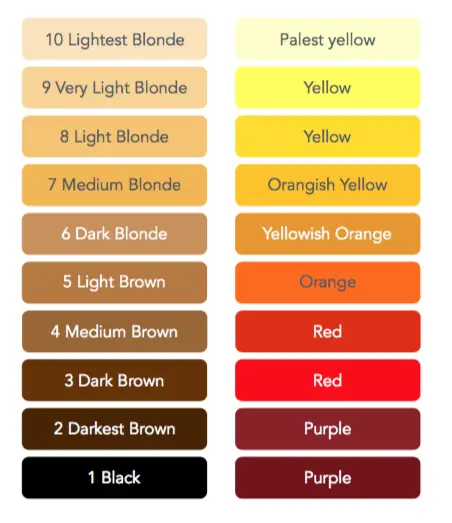 3. What Should I Do to Get Rid of Brassy Hair?
You can get rid of any brassiness provided you follow the right techniques. Basically, there are 3 steps:
Lift the hair

correctly and consistently. We recommend Brilliant Blonde Lightener, it has been formulated for dark bases and lifts up to 8 levels.

Tone

with the appropriate choice of toner. We have a choice of 4 toners that produce pearl and silver blonde results. Also blue ash and silver grey colors which are also very popular. Please consult our shop-now page.
STEP 1. Use A Quality Lightener & Lift the Hair to Level 10.
If you have a client with yellowish, orange hair and you are looking to eliminate all her brassiness, you need to take her all the way up to a level 10 (see picture below).
If you lift it to a level 10, you will be able to eliminate almost all the secondary pigments that cause brassiness.
If you don't lift out all that yellow, the hair will stay brassy even if you put in a lot of ash or ash based toners!
Hair Color Levels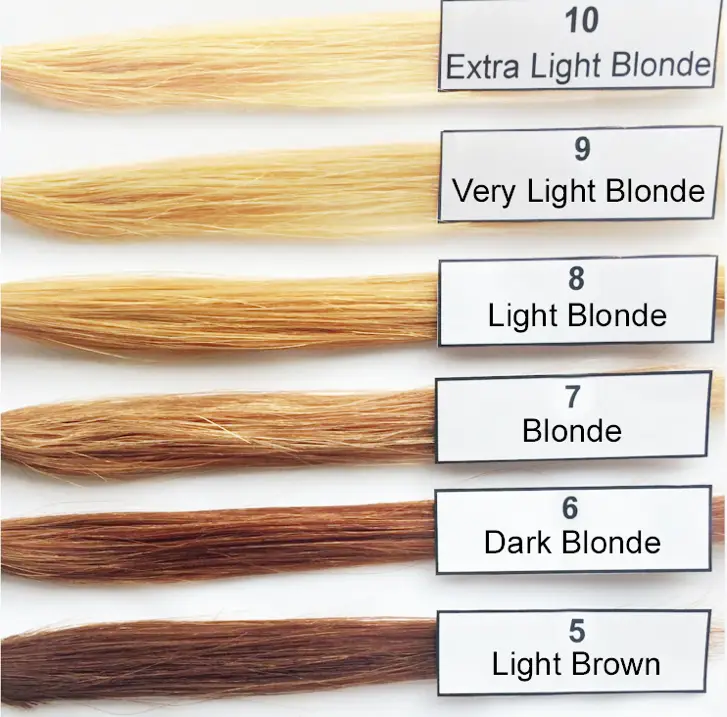 Hair Which Has Been Prelightened to Level 10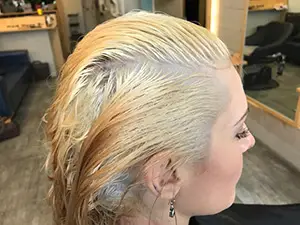 You can see that in the picture above we have lifted up our model Mag Sam's hair to a true level 10. Now we are ready to start toning. (Look at the bottom of this blog for her final result!)
STEP 2. Tone with a quality toner
Toners provide the color neutralization which allow you to get rid of any remaining yellowness and brassiness.
If you are looking for a quality ash blonde, platinum blonde, pearl blonde or silver blonde result, you need to use a very good toner.
If you are looking for an intense ultra white blonde look, and this is a first toning application with Ugly Duckling toners, use Intense Pearl Blonde 100.21 or Intense Silver Blonde 100.20
If you have previously lifted your hair and are looking for a lighter, refresh toning application only, tone with No-Lift Pearl Blonde Toner, No-Lift Silver Blonde Toner.
If you are looking for a blue based ultra "cold" ash blonde result, we would recommend Extra Light Cold Ash Blonde 10.1B
The recommended mix is 1 part toner to 2 parts developer.
Aim for a good product saturation and leave on for 10-15 minutes.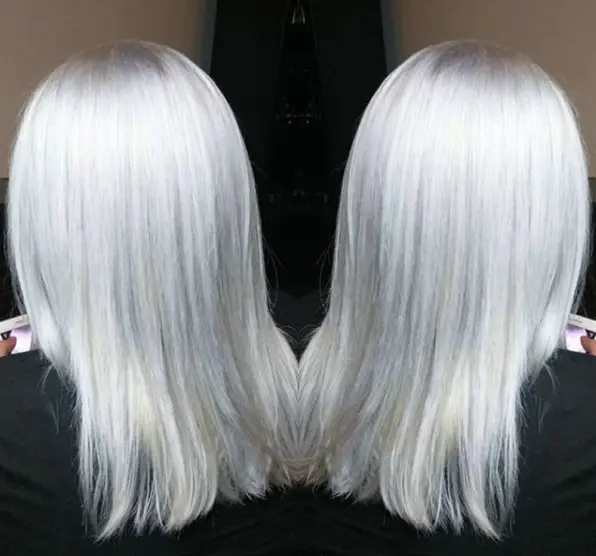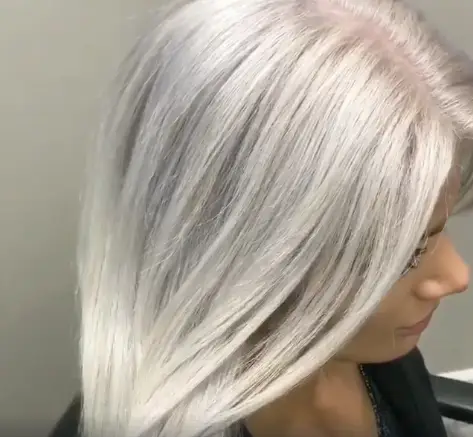 STEP 3. After toning, finish with Purple Shampoo and Mask.
Our purple shampoo and mask are low pH sulfate-free products and will help close the cuticle after coloring as well as tone and condition.
They contain intense purple pigments which will neutralize any remaining yellowness or brassiness in the hair.
For best results, use plenty of product and massage in very thoroughly. The more these products are in contact with your hair, the more they will transfer those pigments.
With the purple mask, leave on for 10 minutes under a plastic cap and, if possible, some gentle heat.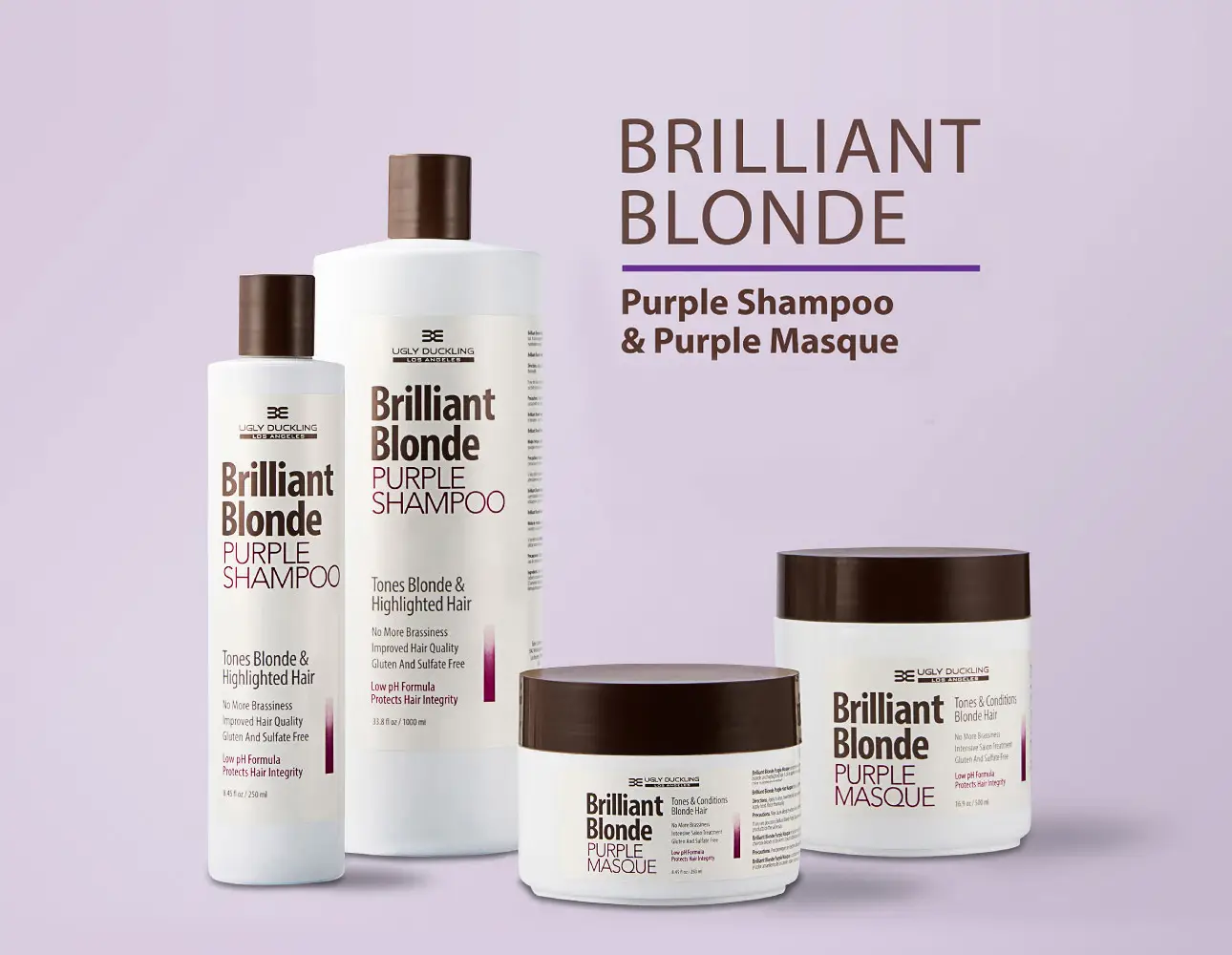 Is Your Hair Like This?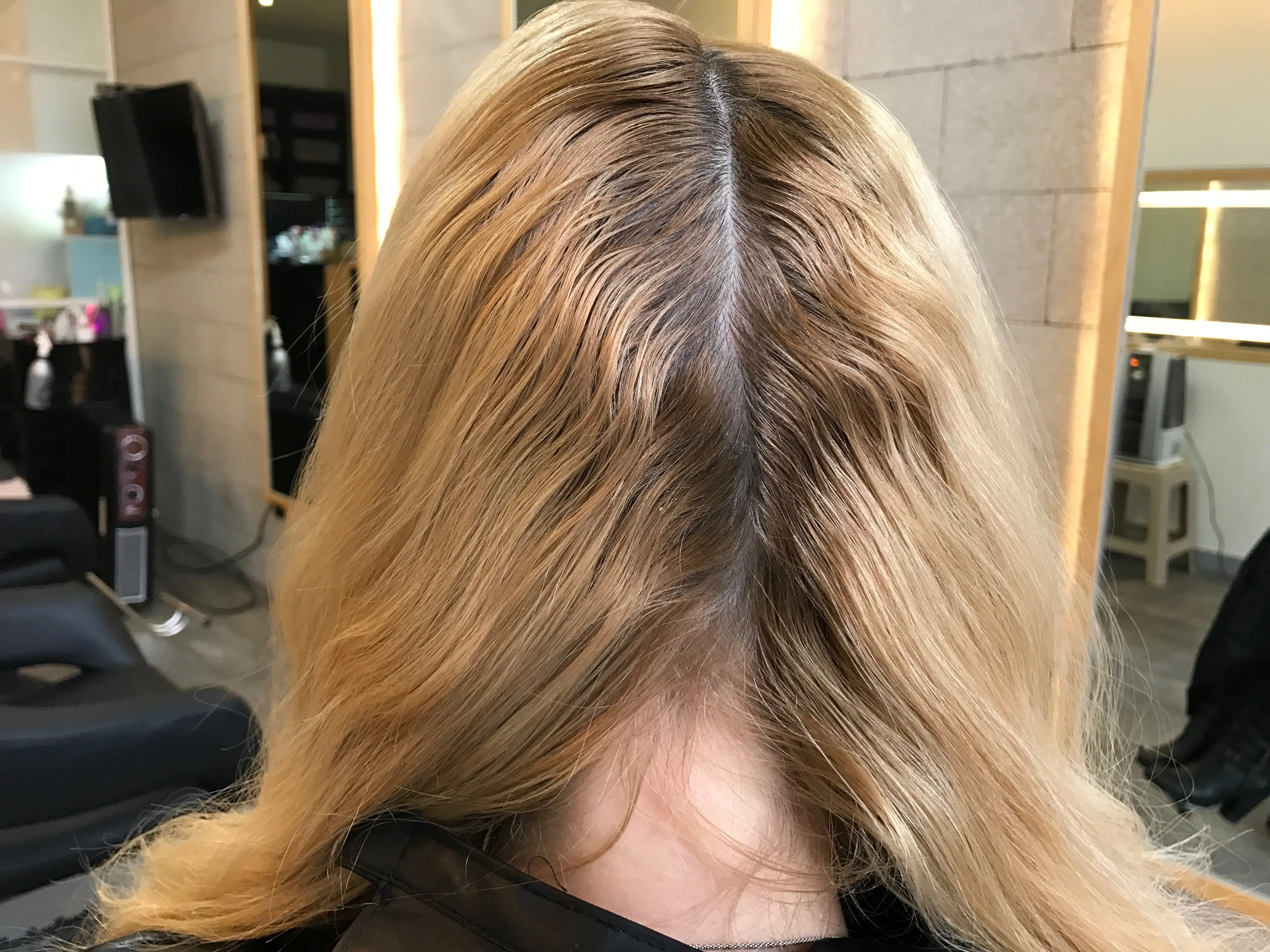 It Can Become Like This!
Before: Level 6 Regrowth and Yellow Blonde Lengths.
After:
Brilliant Blonde Lightener with 20 Vol developer on the root area
Intense Pearl Blonde Toner with 20 Vol throughout to tone
Purple Shampoo and Mask to finish.
WATCH VIDEO TUTORIAL "HOW TO GET RID OF BRASSY HAIR":
Products Used:
Brilliant Blonde Lightener on Regrowth
10.1b Extra Light Cool Blonde to Tone
20 Vol Developer for both processes
Blonding Set
Start blonding now with these Ugly Duckling best sellers!
Free coloring tools
Set contains
Brilliant Blonde Lightener 16 oz.
Intense Pearl Blonde 100.21
Intense Silver Blonde 100.20
Pearl Blonde Toner
Small Purple Shampoo
20 Vol. Developer
Coloring Tools (FREE!)
$ 108.95
$ 90
LIMITED TIME OFFER