1. What is Brassy Hair?
Brassy hair is hair that looks yellowish or orange.
Basically, hair is "brassy" because it has not been lifted enough - the darker the blonde, the more "brassy" it will look.
In the image below, you can see that the hair at level 7/8 is more brassy and more orange than the hair at level 9/10.
Image Supplied by Ugly Duckling Stylist Hon G.
2.Why does my client's hair turn brassy when I bleach or lift? 
A little bit of color theory:
Hair has a natural undercoat, or secondary pigment, which becomes visible when you lighten it or even if you stay in the sun for very long. 
When you lighten hair to a dark brown color, you get a red undercoat or tone.
When you lighten hair to a medium brown color, you get an orange undercoat or tone.
When you light hair to a blonde hair color, you get a yellow undercoat or tone.
This table below illustrates the undercoats which occur at every hair level.
These undercoats often represent a challenge for colorists and their customers as generally speaking these undercoats are not very attractive nor desired by clients.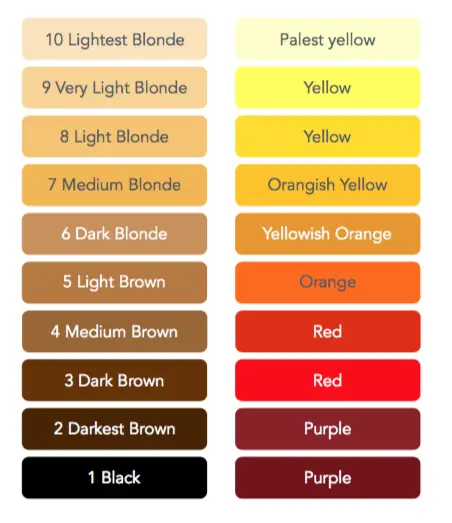 3. How do I Get Rid of Brassy Hair?
You can get rid of any brassiness provided you follow the right techniques. Basically, there are 3 steps:
STEP ONE: Use a Quality Lightener & Lift the Hair to Level 10 
First, you need to lift the brassy parts up to a very pale yellow color (Level 10).
Look at the picture below to see what Level 10 looks like.
For this, we would advise you to use a quality bleach and developer.
We recommend Brilliant Blondexx with Bond Protect. It's gentle and it lifts up to 7 levels, avoiding breakage.
Make your mix with 20 Vol Developer for the root area and 20 or 30 Vol for the lengths depending on how brassy it is.
Aim to saturate the hair really well and rinse when the hair gets to level 10.
When the hair has reached level 10, rinse.
Hair Color Levels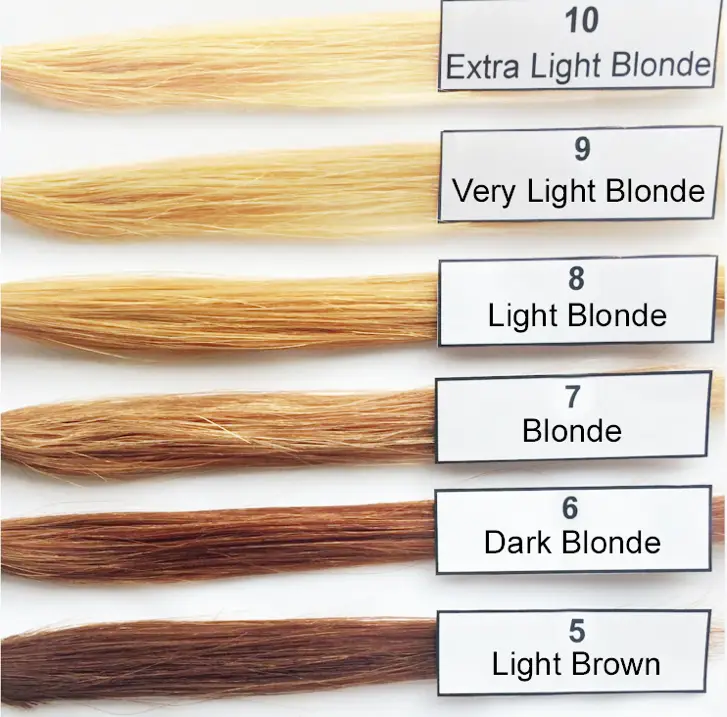 STEP TWO: Tone with the Right Toner
Toners provide the color neutralization which allow you to get rid of any remaining yellowness and brassiness.
Ugly Duckling toners are very fast acting, and allow you to get ash blonde, platinum blonde, pearl blonde or silver blonde results.
If you are looking for an intense ultra white blonde look, and this is a first toning application with Ugly Duckling toners, use Intense Pearl Blonde 100V or Intense Silver Blonde 100B 
If you have previously lifted your hair and are looking for a lighter, refresh toning application only, tone with No-Lift Pearl Blonde Toner 10V, No-Lift Silver Blonde Toner 10B.
You can also color instead of tone for a fuller and more deep color result.
For example, you can color grey: Silver Grey or Smoky Blue Grey 
You can also go for a blue-based ash blonde color result: either Extra Light Cold Ash Blonde 10.1B or Very Light Cold Ash Blonde 9.1B
These colors are all shown below.
The recommended mix for toner is 1:2
The recommended mix for a color is 1:1
Aim for a good product saturation
Leave on for 10-20 minutes or more, according to the intensity of color result required.
Rinse.
STEP THREE: Finish with Purple Shampoo & Mask
Ugly Duckling's Brilliant Blonde Purple Shampoo and Mask are low pH sulfate-free products that will help close the cuticle after coloring.
They will also tone and condition the hair.
They contain intense purple pigments which will neutralize any remaining yellowness or brassiness in the hair.
For best results, use plenty of product and massage in very thoroughly. The more these products are in contact with your hair, the more they will transfer those pigments.
With the purple mask, leave on for 10 minutes under a plastic cap and, if possible, some gentle heat.
You can use both products regularly after coloring to keep the hair from turning yellow or brassy again.
Real Life Examples
BEFORE
Mag Sam came in with a very brassy regrowth, as you can see below.
However, her ends, which had been colored many times before, were pretty light (although still brassy).
This is a very very common case.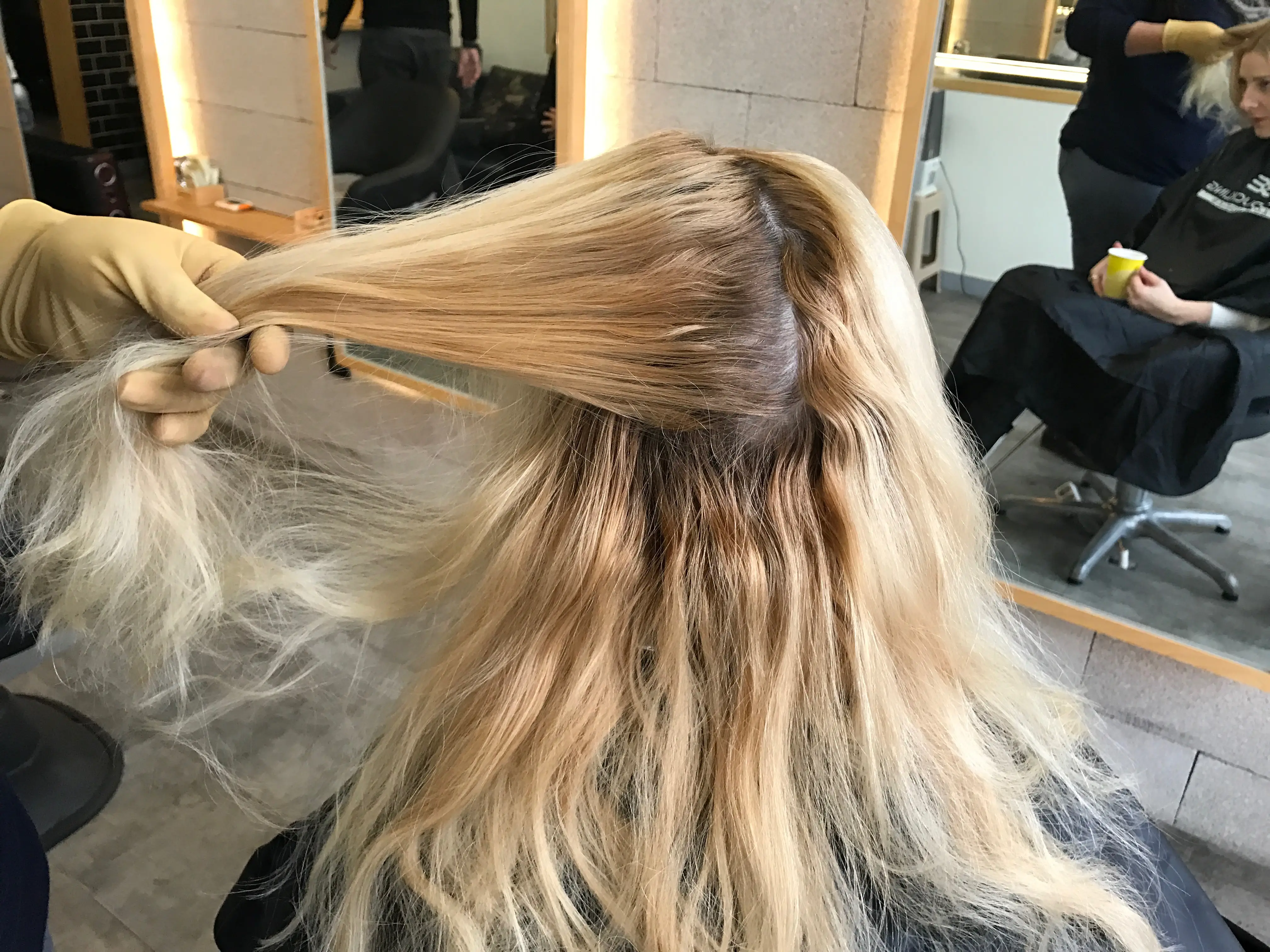 AFTER BLEACHING
We applied Ugly Duckling Brilliant Blonde Lightener with 20 Vol developer just to the regrowth area.
In just 10 minutes we succeeded in lifting this area all the way up to a level 10 blonde.
We rinsed.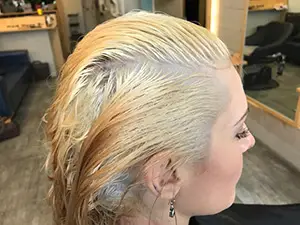 AFTER TONING
Next, we applied Intense Pearl Blonde 100V with 20 Vol to the whole head
We processed around 15 minutes.
We rinsed.
We applied Brilliant Blonde Purple Shampoo.
We rinsed again.
You can see that we got her hair to an ultra white blonde result.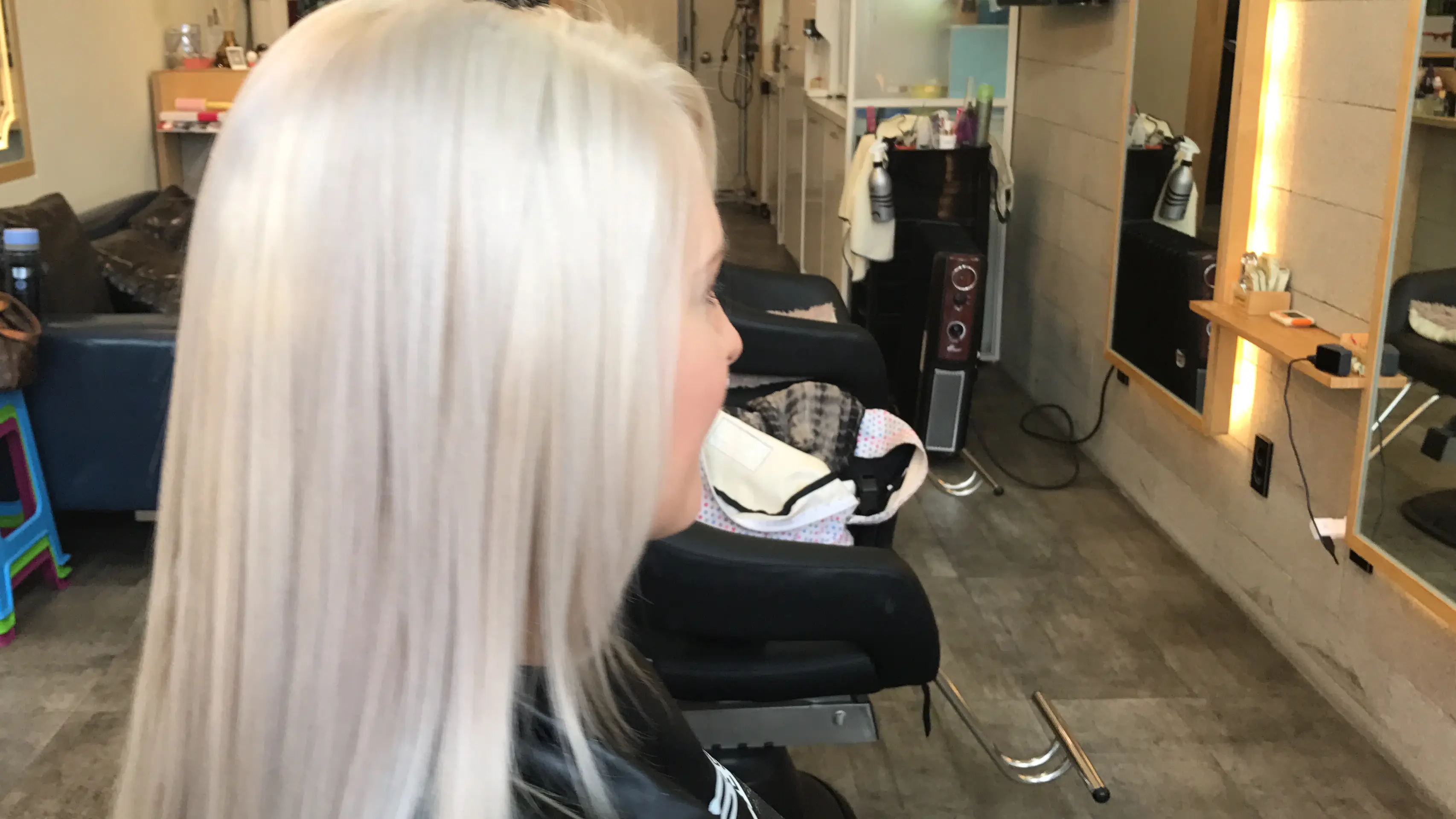 WATCH THE FULL VIDEO OF MAG'S MAKEOVER HERE:
Products Used:
Brilliant Blonde Lightener on Regrowth
100V Intense Pearl Blonde Toner 
Developer 
Purple Shampoo
RANDA
Randa has dark hair (level 4) but she always colors her hair blonde.
Elona had to apply Brilliant Blonde and lift her roots right up.
Thanks to Brilliant Blonde, which is made for dark bases, she got the regrowth right up to a very pale yellow 
Elona then used Pearl Blonde Toner 10V
The result was a stunning Pearl Blonde result - with zero brassiness!
Hair Toned with Pearl Blonde Toner 10V. Hair Color by Elona Taki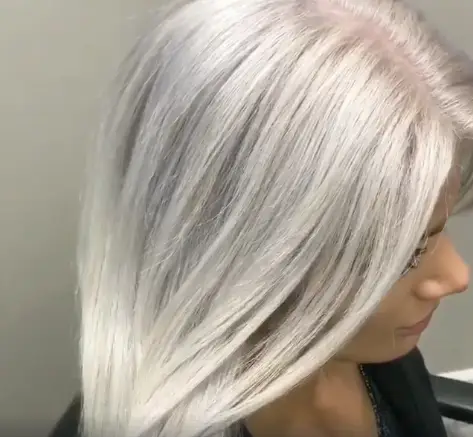 WATCH THE FULL VIDEO OF RANDA'S MAKEOVER HERE:
Products Used:
Brilliant Blonde Lightener 
10V Intense Pearl Blonde Toner
Developer 
FREQUENTLY ASKED QUESTIONS ABOUT BRASSY HAIR
How do you tone down level 7 orange hair?
If the hair is level 7, as in the picture at the top of this page, you are not going to get a good result just applying toner.
The best thing to do is to lift it some more, up to level 9/10, then tone with an Ugly Duckling toner.
If the hair is in truly bad condition, or if it has been colored with box dye in the past, or for whatever reason if it is just not lifting beyond level 7. you can color it with a 7.1b ( blue based light ash blonde) with an inch of green used as an additive. This will help you get to a correct ash blonde result and counteract the yellowness of the level 7.
How do you tone down orange or yellow hair?
Orange means it really has not been lifted enough.
If you are not managing to lift with your bleach, you might like to consider changing brands.
A good quality lightener (like Brilliant Blondexx) will lift all the way to level 9/10 safely and effectively.
Will Dark Ash Blonde Cover Orange Brassy Hair? 
Yes it will. We would recommend 7.1B Light Cold Ash Blonde or 6.1B Dark Ash Blonde
Both contain blue and ash based pigments which will neutralize orange.
If the hair is not too orange, and you are not looking to go too light, this will work.
I don't want to use toner! How do I get rid of brassy hair without it?
Lift with Brilliant Blondexx. Make sure you get it all the way to level 10 - see the picture at the top of the page to see what level 10 looks like.
Then use our purple shampoo and purple mask. It will give a good toning result.
Note that in general we prefer to recommend these products as maintenance products rather than as toners.
But they do contain a lot of purple pigments and they will do the job well if you don't have our regular toners handy.
I don't want to use bleach!! How do I get rid of brassy hair without it?
There is a work-around, and it will work when the hair is not too dark - level 6 and above.
Use any of Ugly Duckling's high lift colors, ideally with 30 Vol in place of bleach. Apply to the brassy areas.
Let it process 30 - 40 minutes, or until it gets as light as possible.
Ideally, it should be at least level 8 (see picture of hair color levels above)
Rinse.
Now, do a second application, with one of our intense toners, using 20 Vol this time.
This should allow you to achieve an acceptable or even good ash blonde hair color result - provided your hair is not too dark or brassy!