Follow the 13 Steps Below & You Can Bleach Your Way to Blonde Success Every Time:
Hair Bleached with Brilliant Blondexx with Bond Protect.
Toned with Intense Pearl Blonde Toner 100V
Hair by Elias
1. How Hair Bleach Works
Bleach is the most effective way of lightening hair & it's widely used in salons.  
When you bleach hair, the combination of bleach and developer reacts with the melanin inside the hair cortex.
This removes its natural color through an irreversible chemical reaction. 
As you bleach, and as the natural melanin of the hair gets lifted out, only the secondary pigment is left.
This secondary pigment passes through various stages, depending on your starting point.
These are known as the hair bleaching levels.
Typically what you see when you bleach hair is that the hair progressively turns red, then orange, then orange-yellow, then yellow, and finally very very pale lemon yellow level 10.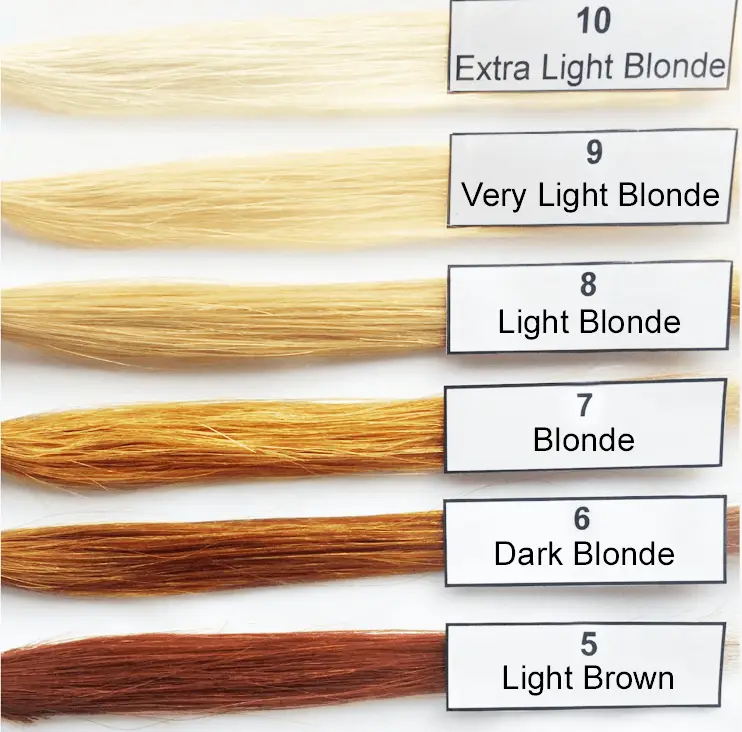 Bleaching Hair Levels
One of the unique things about bleach (and the reason why there are stylists who aren't comfortable working with it) is that as long as it is moist, it's active and will keep on lifting and lightening. 
But get everything right (and we will cover those things in this tutorial) you can get excellent lightening and lifting.
And you can transform your client's hair from whatever color it is right now to the most beautiful blonde results of your choice - platinum, silver, white, silver grey etc. You can also do beautiful fashion coloring - blue, violet, fuchsia pink etc. 
But you need to get the bleaching right first!
2. What is my Client's Hair Level?
First you need to determine what color your client's hair is right now.
Use the chart above or the one below to determine your client's hair color level right now.
The one above will be more relevant if the hair has already been bleached. The one below will be more relevant if it is natural hair or previously colored hair.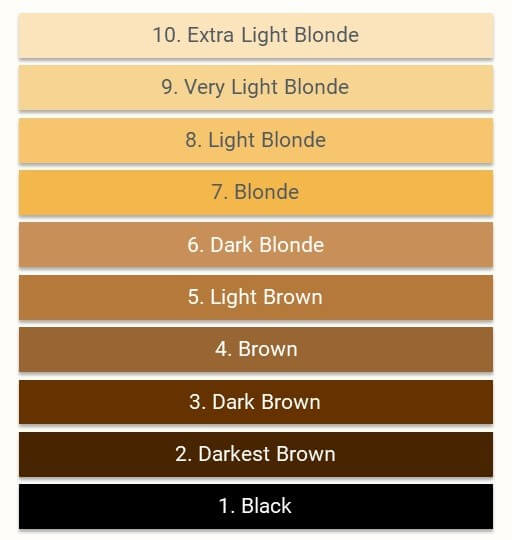 The Hair Color Levels - Natural Hair
3. How do I know how many levels I need to lift by?
First, determine your target color.
If your client is looking to go blonde, ash blonde, platinum blonde, silver grey etc, then your target level is 10.
Most clients with North European hair looking to go blonde will expect to get their hair taken to level 10 and you as a stylist would need to cater to this.
If your client is only looking to go medium blonde, and she is coming from a dark base, then you can aim for level 9.
You should not normally aim to bleach for anything darker than level 9.
Now subtract the target color from the current color, and you get the number of levels that you need to lift by.
Be aware that customers may have different hair color levels going on in their hair at the same time.
Look, for example at the client below. What level would you say her hair is?
It's level 6/7 at the root area.
It's level 8/9 at the mid-lengths.
And it's level 10 on the ends.
So clearly, in this case you would need to apply bleach to the root area and also extend to the mid-length area.
You should not, however, apply bleach to her ends.
See the 3 pictures below.
Our client - before bleaching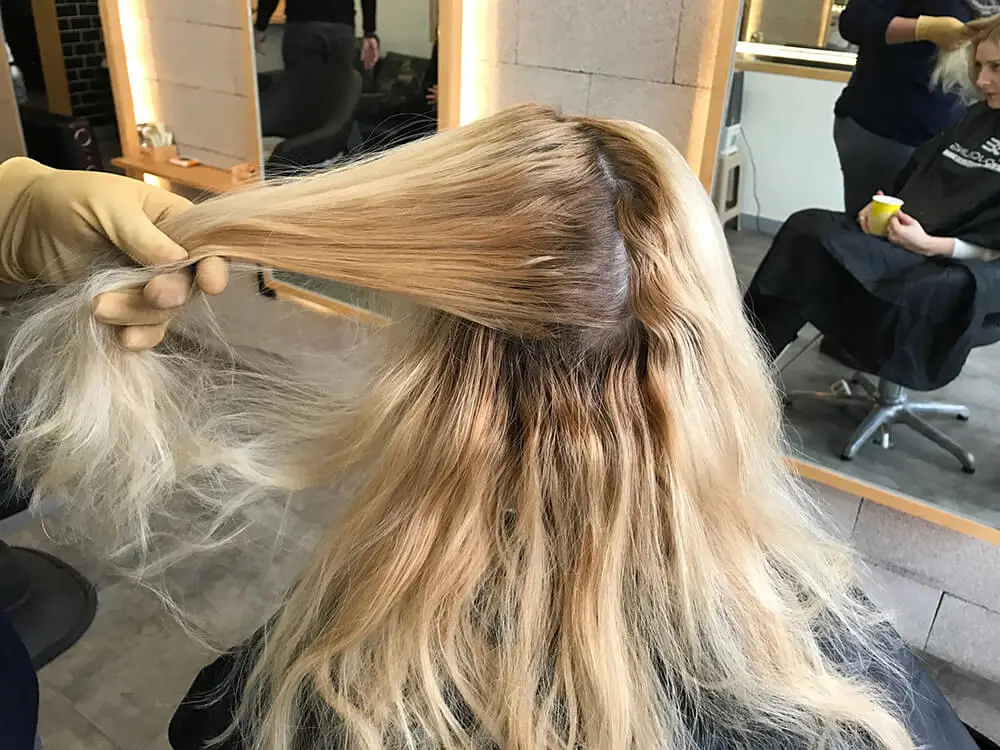 Before bleaching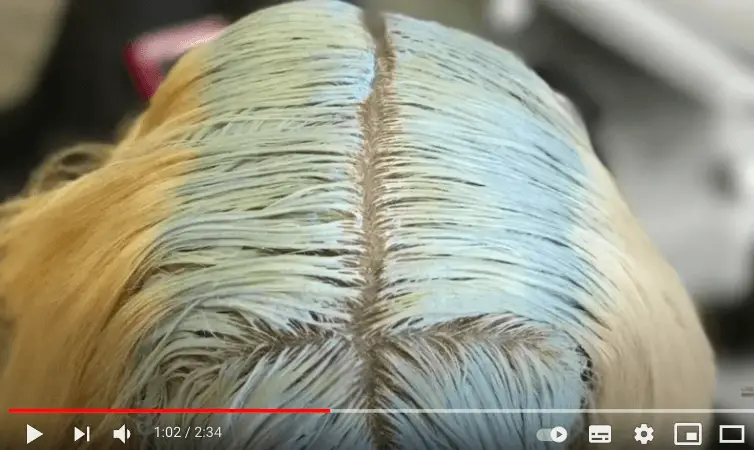 During bleaching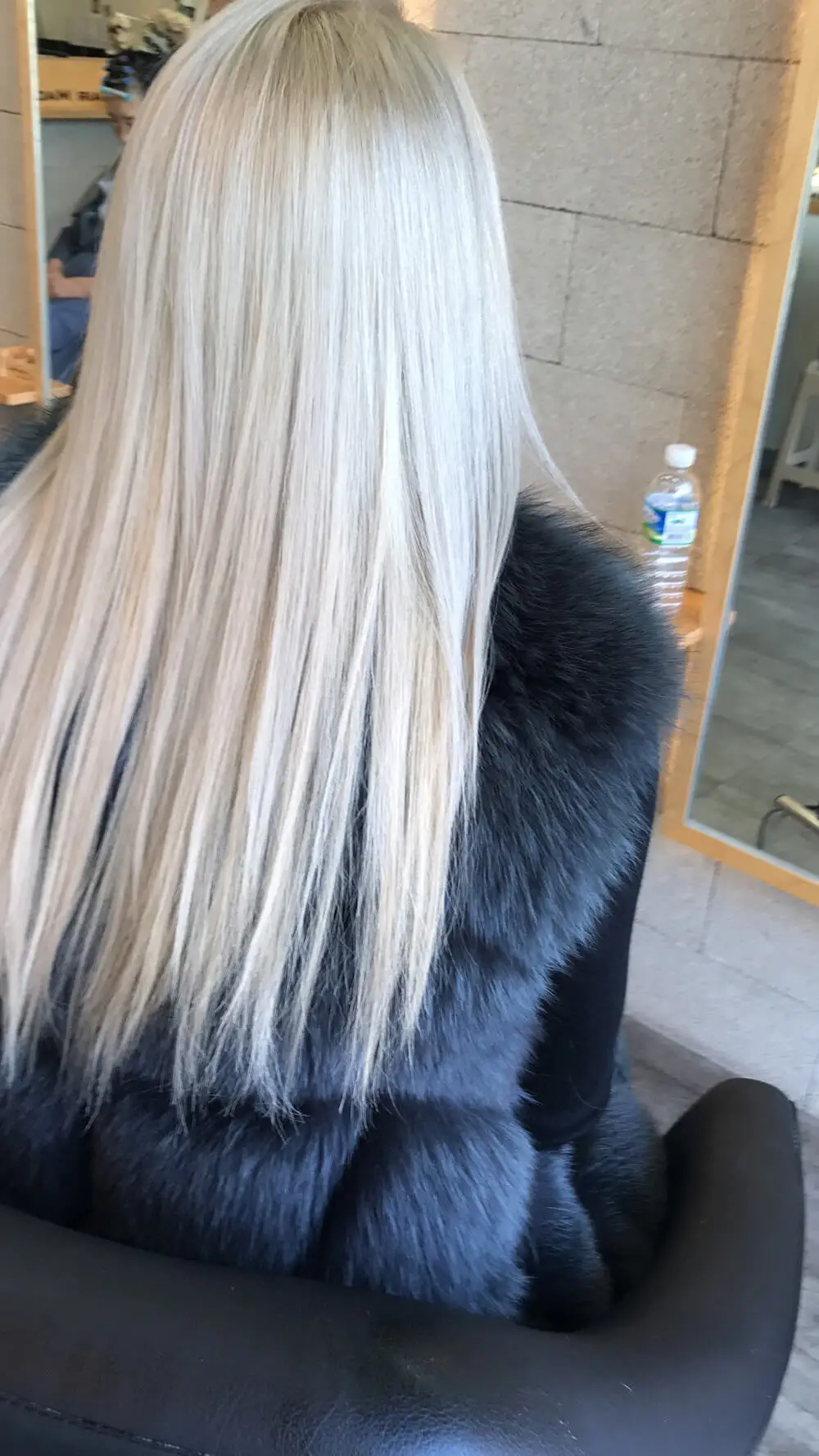 After toning with 10.1b Blue Based Extra Cold Ash Blonde
4. Which Bleach Should I use?
It's important to use a quality bleach which has effective lift and which is gentle.
This will enable you to get good results even working with a low developer strength.
If your client has very dark hair, Asian hair or hair that has been previously colored dark, we recommend that you use our blue-based bleach Brilliant Blonde.
This bleach can lift up to 8 levels. 
For all other cases, we would recommend you use our white Brilliant Blondexx.
It has Bond Protect built in and thanks to that it is very gentle.
It also has excellent lifting capability - up to 7 levels.
It can be used both on-scalp and off-scalp.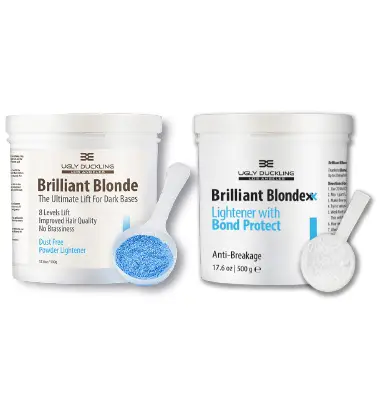 5. Which Strength of Developer?
Use 20 Vol developer for 1-2 levels lift and for the near-root area.
Use 30 Vol developer for 3 levels lift and more.
Ugly Duckling's bleaches lift very well & we do not recommend you to ever use them with 40 Vol developer.
6. How should I prepare my Bleach mix?
Our recommended mix is 1 part bleach to 2 parts developer. It is important that the bleach mix should be fairly moist.
This will enable good product saturation on the hair.
Also, it will enable you to work fast, which is important with bleach. That way you can give the hair as equal a processing time as possible.
WATCH VIDEO NOW ON HOW TO MIX BRILLIANT BLONDEXX BLEACH
7. How do I apply the bleach?
If it's a re-growth application (as in the 3 pictures at the top of this page) then you should apply on the regrowth area only and rinse when lifted.
If it's a full head bleach application, always start on the part which needs it the most. Generally this will be at the back. Then work your way around.
In both cases, you need to segment the hair finely so that you are rally saturating the hair very very well with product.
Don't be nervous, and don't be tentative.
Your goal has got to be to really saturate the hair with your mixture.
There is no way you are going to get the hair all the way to level 8 or 9 or 10 until it really comes into contact with the bleach mixture.
So no poking around with your tint brush please!
8. How should I know whether or not to do a second application of bleach?
Check the hair as it is lifting by peeling back some of the mixture.
If necessary take a few strands in your fingers and rub as the stylist is doing here.
Be aware that with the mixture still on the hair it sometimes look whiter than it actually is.
The picture below shows hair which has still a lot of yellow - this is not yet level 9/10.
If the hair is like the picture below and the mixture is drying out, you need to put some more mixture in.
When putting in additional mixture, always use 20 Vol developer.
You should not need anything stronger at the second application stage.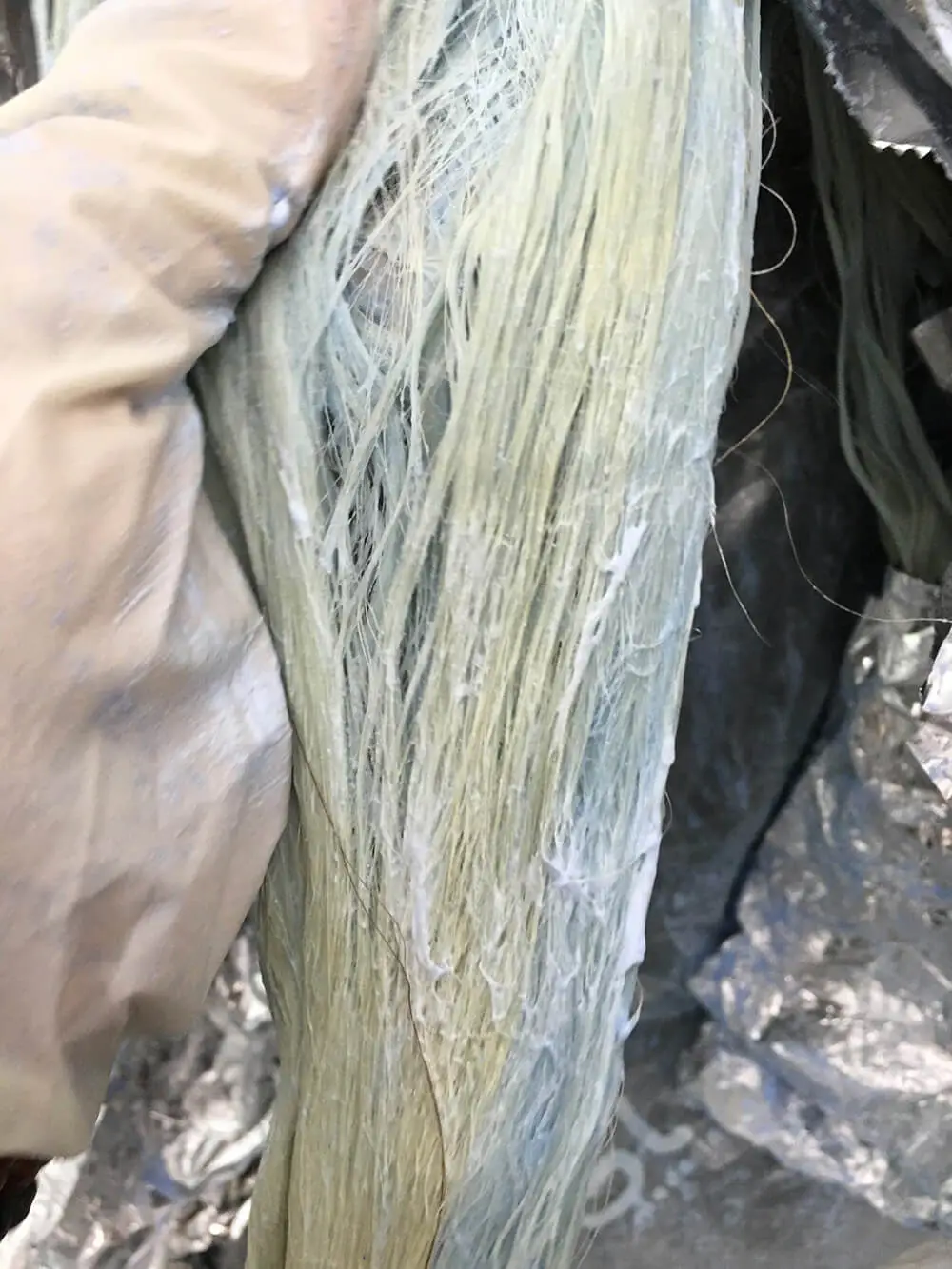 Bleach processing on the hair. This is not level 9/10 yet!
10. How long should I leave the bleach in the hair?
It needs to get as close to level 10 as you can make it. See below for how the hair should look after rinsing. This is level 10.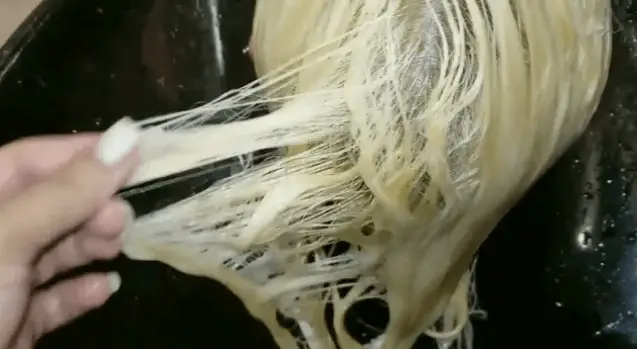 This is a true level 10. Always aim to get the hair to this level when bleaching. 
11. Are there any products I should put in after washing at the back wash?
Yes there are. We would recommend a very thorough application of Ugly Duckling Brilliant Blonde purple mask.
This will help get rid of any traces of incremental yellow left.
See picture below for a shot of Ugly Duckling's purple mask being applied.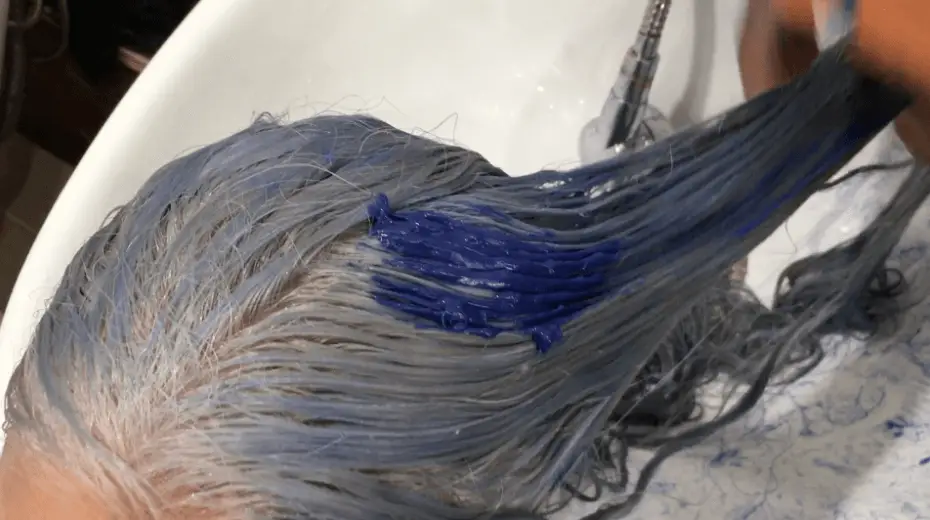 Brilliant Blonde Purple Mask applied at the backwash after bleaching
12. How do I tone hair after bleaching?
Tone the hair with any of wide range Ugly Duckling's toners. This will get rid of any remaining yellow and take hair to a stunning white blonde.
Use intense pearl blonde or intense silver blonde if there is still some yellow left and you want to push the hair to level 10 white blonde.
Use no-lift pearl blonde or no-lift silver blonde if the hair is already very light. Also if this is a repeat application on the hair and no further lift is required.
You can also use silver grey, extra cold ash blonde 10.1 or extra cold violet based blonde 10.2
You can also use Ugly Duckling's new 10 minute ammonia-free gloss toners.
Blondify Natural Ash Blonde 010A or Blondify Natural Violet Blonde 010V
All Ugly Duckling toners are very intensely pigmented and should give you excellent results.
How to tone with Intense Pearl Blonde 100V - Watch Video
How to tone with Blondify 10 minute Gloss Toner - Watch Video
13. How do I look after & maintain bleached hair?
Use Ugly Duckling's Purple Shampoo & Mask at least once a week to maintain the reflect and fight yellow.
Use Ugly Duckling's Brilliant Blondexx Shampoo and Mask with Bond Protect to strengthen and condition bleached or fragile hair.
How to Use Brilliant Blondexx Bond Protect Mask - Watch Video: