White Blonde Set
SET CONTAINS EVERYTHING YOU NEED TO GO WHITE BLONDE - WITHOUT DAMAGE
Brilliant Blondexx Lightener with Bond Protect (Anti-Breakage) Built in.
30 Vol Developer (3 oz) for a First Application & For Lengths
20 Vol Developer (Full Salon Size) for a Second Application & For Roots
1 Tube Intense Pearl Blonde Toner 100V 
1 Purple Shampoo & Mask (8 oz) for toning the hair afterwards.
1 Brilliant Blondexx Shampoo & Mask (8 oz) for maintenance and conditioning afterwards.
Free Set of 2 3-in-1 Brushes
List Price = $178.40
Special Offer Price = $95.00
Save = $83.40
For a Full Video on using these products to go platinum blonde go here: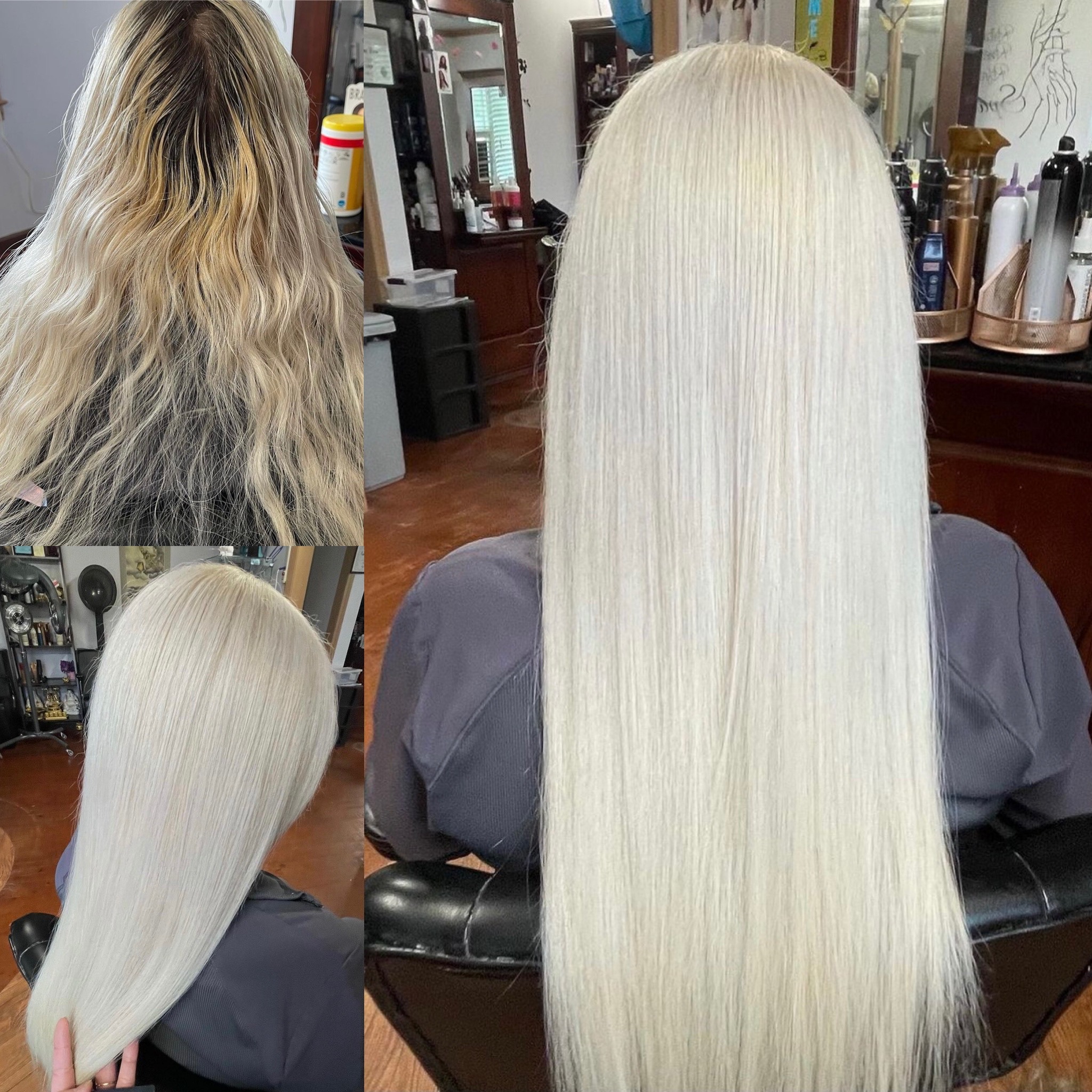 Hair by K&K Hair Salon
STEP ONE: PRE-LIGHTEN TO LEVEL 9/10
If hair is not already blonde, you need to lift using Brilliant Blondexx Lightener & Developer. 
Try to eliminate as much of the brassiness as possible and make sure hair is at level 9 for best results.
Saturate the hair with the product mix as much as possible.
The most common mistake stylists make is not lighten enough - don't be like this!
Lift correctly and consistently to level 9/10.
In case of dark hair (more than 3 levels of lift needed) use the 30 Vol for a first application.
Then use the 20 Vol for a second application and on the roots (hair processes faster there).
Rinse when level 9/10 has been achieved.
STEP TWO: APPLY BRILLIANT BLONDEXX MASK
Apply mask at the backwash after bleaching.
Leave in for 10 minutes and rinse.
The mask will help strengthen the hair, repair bonds and keep the hair in excellent shape for toning.
STEP THREE: APPLY YOUR INTENSE PEARL BLONDE TONER
Now apply Intense Pearl Blonde .
Use with 20 Vol developer.
The correct mix is 1 part toner to 2 parts developer.
Saturate the hair with the product mix as much as possible.
Rinse When you get the desired color result.
Normally around 10-15 minutes is enough.
Then rinse.
STEP FOUR: APPLY YOUR PURPLE MASK
Apply purple mask at the back wash and rub in thoroughly.
The mask contains pigments which will remove the last traces of yellownedd that could still be left.
Leave in for 10 minutes, then rinse.
Final Result After Pre-lightening & Toning:
Picture Shot in Salon in Natural Daylight.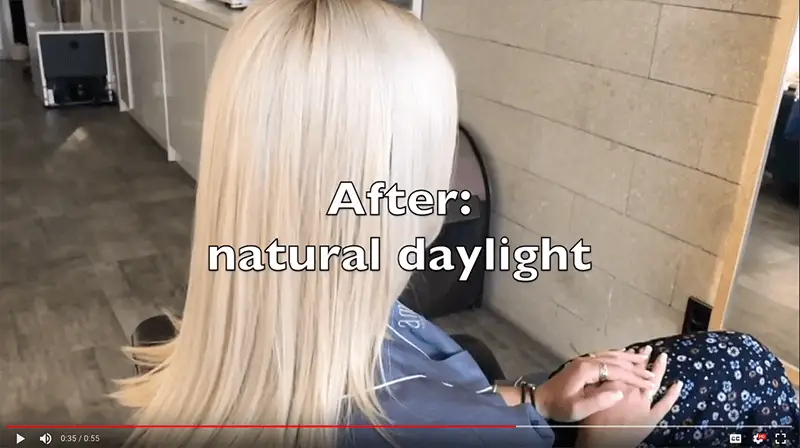 Elona Taki uses Brilliant Blondexx & Intense Pearl Blonde Toner. Watch!