Product successfully added to your shopping cart

There are

0

items in your cart.

There is 1 item in your cart.

Total shipping

To be determined
100.11

                        Product Object
(
    [how_to_use] => 




In order to obtain best color results with Ugly Duckling High Lift Deep Ash Blonde 100.11, follow instructions below:




Mix 1 part color to 2 parts developer.


If you are looking to lift 4-5 levels, use with 30 Vol. developer.


If you are looking to lift 2-3 levels, use with 20 Vol. developer.


Watch carefully after application and rinse when the hair has reached the correct level.


You can extend the development time up to 45 minutes if you are looking for 5 levels of lift.


Emulsify and wash with an acidic shampoo after coloration.




NB If you have blonde hair with dark regrowth, here's what you need to do:


First apply mix on the regrowth area. Use 30 Vol developer.


You need to lift the regrowth area correctly until it is the same level as the lengths.


Process as long as necessary until you have achieved this.


Taper the product mix to avoid a visible line of demarcation.


Then make a fresh mix and apply to the whole head, this time with 20 Vol. 


Leave 10-15 minutes.


Rinse.




    [product_info] => 

Before:







Product Used - mix with 30 Vol Developer








Apply First On Root Area or Where the Hair is Dark:




:




Then, make a fresh mix and apply on the entire lengths.




Final Result:





    [tax_name] => deprecated
    [tax_rate] => 0
    [id_manufacturer] => 0
    [id_supplier] => 0
    [id_category_default] => 24
    [id_shop_default] => 1
    [manufacturer_name] => 
    [supplier_name] => 
    [name] => 100.11
    [description] => 










High Lift Deep Ash Blonde 100.11




High Lift Deep Ash Blonde 100.11 is an ultra ashy high lift blonding product without bleach.



Can lift hair up to 5 levels.




Visibly improved hair condition and softness thanks to Argan Oil.




Low ammonia, pleasant floral fragrance.




Made in Europe.




Paraben free.




Extra large 3.5 oz tube.




For professional use.











    [description_short] => 
    [quantity] => 469
    [minimal_quantity] => 1
    [available_now] => 
    [available_later] => 
    [price] => 10.5
    [specificPrice] => 
    [additional_shipping_cost] => 0.00
    [wholesale_price] => 0.000000
    [on_sale] => 0
    [online_only] => 0
    [unity] => 
    [unit_price] => 0
    [unit_price_ratio] => 0.000000
    [ecotax] => 0.000000
    [reference] => 8422230204041
    [supplier_reference] => 
    [location] => 
    [width] => 0.000000
    [height] => 0.000000
    [depth] => 0.000000
    [weight] => 0.300000
    [ean13] => 8422230204041
    [upc] => 
    [link_rewrite] => highlift-deep-ash-blonde-10011
    [meta_description] => highlift deep ash blonde | deep ash blonde highlights
    [meta_keywords] => 
    [meta_title] => Highlift Deep Ash Blonde 100.11
    [quantity_discount] => 0
    [customizable] => 0
    [new] => 
    [uploadable_files] => 0
    [text_fields] => 0
    [active] => 1
    [redirect_type] => 404
    [id_product_redirected] => 0
    [available_for_order] => 1
    [available_date] => 0000-00-00
    [condition] => new
    [show_price] => 1
    [indexed] => 1
    [visibility] => both
    [date_add] => 2015-07-16 17:27:23
    [date_upd] => 2018-11-18 17:03:23
    [tags] => Array
        (
            [1] => Array
                (
                    [0] => high lift blonde
                    [1] => blonde 100.11
                    [2] => balayage
                    [3] => ombre
                    [4] => babylight
                    [5] => high light deep ash blonde
                )

        )

    [base_price] => 10.500000
    [id_tax_rules_group] => 1
    [id_color_default] => 0
    [advanced_stock_management] => 0
    [out_of_stock] => 0
    [depends_on_stock] => 
    [isFullyLoaded] => 1
    [cache_is_pack] => 0
    [cache_has_attachments] => 0
    [is_virtual] => 0
    [id_pack_product_attribute] => 
    [cache_default_attribute] => 0
    [category] => high-lift
    [pack_stock_type] => 3
    [webserviceParameters:protected] => Array
        (
            [objectMethods] => Array
                (
                    [add] => addWs
                    [update] => updateWs
                )

            [objectNodeNames] => products
            [fields] => Array
                (
                    [id_manufacturer] => Array
                        (
                            [xlink_resource] => manufacturers
                        )

                    [id_supplier] => Array
                        (
                            [xlink_resource] => suppliers
                        )

                    [id_category_default] => Array
                        (
                            [xlink_resource] => categories
                        )

                    [new] => Array
                        (
                        )

                    [cache_default_attribute] => Array
                        (
                        )

                    [id_default_image] => Array
                        (
                            [getter] => getCoverWs
                            [setter] => setCoverWs
                            [xlink_resource] => Array
                                (
                                    [resourceName] => images
                                    [subResourceName] => products
                                )

                        )

                    [id_default_combination] => Array
                        (
                            [getter] => getWsDefaultCombination
                            [setter] => setWsDefaultCombination
                            [xlink_resource] => Array
                                (
                                    [resourceName] => combinations
                                )

                        )

                    [id_tax_rules_group] => Array
                        (
                            [xlink_resource] => Array
                                (
                                    [resourceName] => tax_rule_groups
                                )

                        )

                    [position_in_category] => Array
                        (
                            [getter] => getWsPositionInCategory
                            [setter] => setWsPositionInCategory
                        )

                    [manufacturer_name] => Array
                        (
                            [getter] => getWsManufacturerName
                            [setter] => 
                        )

                    [quantity] => Array
                        (
                            [getter] => 
                            [setter] => 
                        )

                    [type] => Array
                        (
                            [getter] => getWsType
                            [setter] => setWsType
                        )

                )

            [associations] => Array
                (
                    [categories] => Array
                        (
                            [resource] => category
                            [fields] => Array
                                (
                                    [id] => Array
                                        (
                                            [required] => 1
                                        )

                                )

                        )

                    [images] => Array
                        (
                            [resource] => image
                            [fields] => Array
                                (
                                    [id] => Array
                                        (
                                        )

                                )

                        )

                    [combinations] => Array
                        (
                            [resource] => combination
                            [fields] => Array
                                (
                                    [id] => Array
                                        (
                                            [required] => 1
                                        )

                                )

                        )

                    [product_option_values] => Array
                        (
                            [resource] => product_option_value
                            [fields] => Array
                                (
                                    [id] => Array
                                        (
                                            [required] => 1
                                        )

                                )

                        )

                    [product_features] => Array
                        (
                            [resource] => product_feature
                            [fields] => Array
                                (
                                    [id] => Array
                                        (
                                            [required] => 1
                                        )

                                    [id_feature_value] => Array
                                        (
                                            [required] => 1
                                            [xlink_resource] => product_feature_values
                                        )

                                )

                        )

                    [tags] => Array
                        (
                            [resource] => tag
                            [fields] => Array
                                (
                                    [id] => Array
                                        (
                                            [required] => 1
                                        )

                                )

                        )

                    [stock_availables] => Array
                        (
                            [resource] => stock_available
                            [fields] => Array
                                (
                                    [id] => Array
                                        (
                                            [required] => 1
                                        )

                                    [id_product_attribute] => Array
                                        (
                                            [required] => 1
                                        )

                                )

                            [setter] => 
                        )

                    [accessories] => Array
                        (
                            [resource] => product
                            [api] => products
                            [fields] => Array
                                (
                                    [id] => Array
                                        (
                                            [required] => 1
                                            [xlink_resource] => product
                                        )

                                )

                        )

                    [product_bundle] => Array
                        (
                            [resource] => product
                            [api] => products
                            [fields] => Array
                                (
                                    [id] => Array
                                        (
                                            [required] => 1
                                        )

                                    [quantity] => Array
                                        (
                                        )

                                )

                        )

                )

        )

    [id] => 60
    [id_lang:protected] => 1
    [id_shop:protected] => 1
    [id_shop_list] => 
    [get_shop_from_context:protected] => 
    [table:protected] => product
    [identifier:protected] => id_product
    [fieldsRequired:protected] => Array
        (
            [0] => price
        )

    [fieldsSize:protected] => Array
        (
            [reference] => 32
            [supplier_reference] => 32
            [location] => 64
            [ean13] => 13
            [upc] => 12
        )

    [fieldsValidate:protected] => Array
        (
            [id_shop_default] => isUnsignedId
            [id_manufacturer] => isUnsignedId
            [id_supplier] => isUnsignedId
            [reference] => isReference
            [supplier_reference] => isReference
            [location] => isReference
            [width] => isUnsignedFloat
            [height] => isUnsignedFloat
            [depth] => isUnsignedFloat
            [weight] => isUnsignedFloat
            [quantity_discount] => isBool
            [ean13] => isEan13
            [upc] => isUpc
            [cache_is_pack] => isBool
            [cache_has_attachments] => isBool
            [is_virtual] => isBool
            [id_category_default] => isUnsignedId
            [id_tax_rules_group] => isUnsignedId
            [on_sale] => isBool
            [online_only] => isBool
            [ecotax] => isPrice
            [minimal_quantity] => isUnsignedInt
            [price] => isPrice
            [wholesale_price] => isPrice
            [unity] => isString
            [additional_shipping_cost] => isPrice
            [customizable] => isUnsignedInt
            [text_fields] => isUnsignedInt
            [uploadable_files] => isUnsignedInt
            [active] => isBool
            [redirect_type] => isString
            [id_product_redirected] => isUnsignedId
            [available_for_order] => isBool
            [available_date] => isDateFormat
            [condition] => isGenericName
            [show_price] => isBool
            [indexed] => isBool
            [visibility] => isProductVisibility
            [advanced_stock_management] => isBool
            [date_add] => isDateFormat
            [date_upd] => isDateFormat
            [pack_stock_type] => isUnsignedInt
        )

    [fieldsRequiredLang:protected] => Array
        (
            [0] => link_rewrite
            [1] => name
        )

    [fieldsSizeLang:protected] => Array
        (
            [meta_description] => 255
            [meta_keywords] => 255
            [meta_title] => 128
            [link_rewrite] => 128
            [name] => 128
            [available_now] => 255
            [available_later] => 255
        )

    [fieldsValidateLang:protected] => Array
        (
            [meta_description] => isGenericName
            [meta_keywords] => isGenericName
            [meta_title] => isGenericName
            [link_rewrite] => isLinkRewrite
            [name] => isCatalogName
            [description] => isCleanHtml
            [how_to_use] => isCleanHtml
            [product_info] => isCleanHtml
            [description_short] => isCleanHtml
            [available_now] => isGenericName
            [available_later] => IsGenericName
        )

    [tables:protected] => Array
        (
        )

    [image_dir:protected] => 
    [image_format:protected] => jpg
    [def:protected] => Array
        (
            [table] => product
            [primary] => id_product
            [multilang] => 1
            [multilang_shop] => 1
            [fields] => Array
                (
                    [id_shop_default] => Array
                        (
                            [type] => 1
                            [validate] => isUnsignedId
                        )

                    [id_manufacturer] => Array
                        (
                            [type] => 1
                            [validate] => isUnsignedId
                        )

                    [id_supplier] => Array
                        (
                            [type] => 1
                            [validate] => isUnsignedId
                        )

                    [reference] => Array
                        (
                            [type] => 3
                            [validate] => isReference
                            [size] => 32
                        )

                    [supplier_reference] => Array
                        (
                            [type] => 3
                            [validate] => isReference
                            [size] => 32
                        )

                    [location] => Array
                        (
                            [type] => 3
                            [validate] => isReference
                            [size] => 64
                        )

                    [width] => Array
                        (
                            [type] => 4
                            [validate] => isUnsignedFloat
                        )

                    [height] => Array
                        (
                            [type] => 4
                            [validate] => isUnsignedFloat
                        )

                    [depth] => Array
                        (
                            [type] => 4
                            [validate] => isUnsignedFloat
                        )

                    [weight] => Array
                        (
                            [type] => 4
                            [validate] => isUnsignedFloat
                        )

                    [quantity_discount] => Array
                        (
                            [type] => 2
                            [validate] => isBool
                        )

                    [ean13] => Array
                        (
                            [type] => 3
                            [validate] => isEan13
                            [size] => 13
                        )

                    [upc] => Array
                        (
                            [type] => 3
                            [validate] => isUpc
                            [size] => 12
                        )

                    [cache_is_pack] => Array
                        (
                            [type] => 2
                            [validate] => isBool
                        )

                    [cache_has_attachments] => Array
                        (
                            [type] => 2
                            [validate] => isBool
                        )

                    [is_virtual] => Array
                        (
                            [type] => 2
                            [validate] => isBool
                        )

                    [id_category_default] => Array
                        (
                            [type] => 1
                            [shop] => 1
                            [validate] => isUnsignedId
                        )

                    [id_tax_rules_group] => Array
                        (
                            [type] => 1
                            [shop] => 1
                            [validate] => isUnsignedId
                        )

                    [on_sale] => Array
                        (
                            [type] => 2
                            [shop] => 1
                            [validate] => isBool
                        )

                    [online_only] => Array
                        (
                            [type] => 2
                            [shop] => 1
                            [validate] => isBool
                        )

                    [ecotax] => Array
                        (
                            [type] => 4
                            [shop] => 1
                            [validate] => isPrice
                        )

                    [minimal_quantity] => Array
                        (
                            [type] => 1
                            [shop] => 1
                            [validate] => isUnsignedInt
                        )

                    [price] => Array
                        (
                            [type] => 4
                            [shop] => 1
                            [validate] => isPrice
                            [required] => 1
                        )

                    [wholesale_price] => Array
                        (
                            [type] => 4
                            [shop] => 1
                            [validate] => isPrice
                        )

                    [unity] => Array
                        (
                            [type] => 3
                            [shop] => 1
                            [validate] => isString
                        )

                    [unit_price_ratio] => Array
                        (
                            [type] => 4
                            [shop] => 1
                        )

                    [additional_shipping_cost] => Array
                        (
                            [type] => 4
                            [shop] => 1
                            [validate] => isPrice
                        )

                    [customizable] => Array
                        (
                            [type] => 1
                            [shop] => 1
                            [validate] => isUnsignedInt
                        )

                    [text_fields] => Array
                        (
                            [type] => 1
                            [shop] => 1
                            [validate] => isUnsignedInt
                        )

                    [uploadable_files] => Array
                        (
                            [type] => 1
                            [shop] => 1
                            [validate] => isUnsignedInt
                        )

                    [active] => Array
                        (
                            [type] => 2
                            [shop] => 1
                            [validate] => isBool
                        )

                    [redirect_type] => Array
                        (
                            [type] => 3
                            [shop] => 1
                            [validate] => isString
                        )

                    [id_product_redirected] => Array
                        (
                            [type] => 1
                            [shop] => 1
                            [validate] => isUnsignedId
                        )

                    [available_for_order] => Array
                        (
                            [type] => 2
                            [shop] => 1
                            [validate] => isBool
                        )

                    [available_date] => Array
                        (
                            [type] => 5
                            [shop] => 1
                            [validate] => isDateFormat
                        )

                    [condition] => Array
                        (
                            [type] => 3
                            [shop] => 1
                            [validate] => isGenericName
                            [values] => Array
                                (
                                    [0] => new
                                    [1] => used
                                    [2] => refurbished
                                )

                            [default] => new
                        )

                    [show_price] => Array
                        (
                            [type] => 2
                            [shop] => 1
                            [validate] => isBool
                        )

                    [indexed] => Array
                        (
                            [type] => 2
                            [shop] => 1
                            [validate] => isBool
                        )

                    [visibility] => Array
                        (
                            [type] => 3
                            [shop] => 1
                            [validate] => isProductVisibility
                            [values] => Array
                                (
                                    [0] => both
                                    [1] => catalog
                                    [2] => search
                                    [3] => none
                                )

                            [default] => both
                        )

                    [cache_default_attribute] => Array
                        (
                            [type] => 1
                            [shop] => 1
                        )

                    [advanced_stock_management] => Array
                        (
                            [type] => 2
                            [shop] => 1
                            [validate] => isBool
                        )

                    [date_add] => Array
                        (
                            [type] => 5
                            [shop] => 1
                            [validate] => isDateFormat
                        )

                    [date_upd] => Array
                        (
                            [type] => 5
                            [shop] => 1
                            [validate] => isDateFormat
                        )

                    [pack_stock_type] => Array
                        (
                            [type] => 1
                            [shop] => 1
                            [validate] => isUnsignedInt
                        )

                    [meta_description] => Array
                        (
                            [type] => 3
                            [lang] => 1
                            [validate] => isGenericName
                            [size] => 255
                        )

                    [meta_keywords] => Array
                        (
                            [type] => 3
                            [lang] => 1
                            [validate] => isGenericName
                            [size] => 255
                        )

                    [meta_title] => Array
                        (
                            [type] => 3
                            [lang] => 1
                            [validate] => isGenericName
                            [size] => 128
                        )

                    [link_rewrite] => Array
                        (
                            [type] => 3
                            [lang] => 1
                            [validate] => isLinkRewrite
                            [required] => 1
                            [size] => 128
                            [ws_modifier] => Array
                                (
                                    [http_method] => 2
                                    [modifier] => modifierWsLinkRewrite
                                )

                        )

                    [name] => Array
                        (
                            [type] => 3
                            [lang] => 1
                            [validate] => isCatalogName
                            [required] => 1
                            [size] => 128
                        )

                    [description] => Array
                        (
                            [type] => 6
                            [lang] => 1
                            [validate] => isCleanHtml
                        )

                    [how_to_use] => Array
                        (
                            [type] => 6
                            [lang] => 1
                            [validate] => isCleanHtml
                        )

                    [product_info] => Array
                        (
                            [type] => 6
                            [lang] => 1
                            [validate] => isCleanHtml
                        )

                    [description_short] => Array
                        (
                            [type] => 6
                            [lang] => 1
                            [validate] => isCleanHtml
                        )

                    [available_now] => Array
                        (
                            [type] => 3
                            [lang] => 1
                            [validate] => isGenericName
                            [size] => 255
                        )

                    [available_later] => Array
                        (
                            [type] => 3
                            [lang] => 1
                            [validate] => IsGenericName
                            [size] => 255
                        )

                )

            [associations] => Array
                (
                    [manufacturer] => Array
                        (
                            [type] => 1
                        )

                    [supplier] => Array
                        (
                            [type] => 1
                        )

                    [default_category] => Array
                        (
                            [type] => 1
                            [field] => id_category_default
                            [object] => Category
                        )

                    [tax_rules_group] => Array
                        (
                            [type] => 1
                        )

                    [categories] => Array
                        (
                            [type] => 2
                            [field] => id_category
                            [object] => Category
                            [association] => category_product
                        )

                    [stock_availables] => Array
                        (
                            [type] => 2
                            [field] => id_stock_available
                            [object] => StockAvailable
                            [association] => stock_availables
                        )

                    [l] => Array
                        (
                            [type] => 2
                            [field] => id_product
                            [foreign_field] => id_product
                        )

                )

            [classname] => Product
        )

    [update_fields:protected] => 
    [force_id] => 
    [customization_required] => 
    [original_price] => 0
    [is_colortube] => 24
    [static_price] => 0
)
1
                    
High Lift Deep Ash Blonde 100.11
High Lift Deep Ash Blonde 100.11 is an ultra ashy high lift blonding product without bleach.

Can lift hair up to 5 levels.

Visibly improved hair condition and softness thanks to Argan Oil.

Low ammonia, pleasant floral fragrance.

Made in Europe.

Paraben free.

Extra large 3.5 oz tube.

For professional use.
In order to obtain best color results with Ugly Duckling High Lift Deep Ash Blonde 100.11, follow instructions below:
Mix 1 part color to 2 parts developer.
If you are looking to lift 4-5 levels, use with 30 Vol. developer.
If you are looking to lift 2-3 levels, use with 20 Vol. developer.
Watch carefully after application and rinse when the hair has reached the correct level.
You can extend the development time up to 45 minutes if you are looking for 5 levels of lift.
Emulsify and wash with an acidic shampoo after coloration.
NB If you have blonde hair with dark regrowth, here's what you need to do:
First apply mix on the regrowth area. Use 30 Vol developer.
You need to lift the regrowth area correctly until it is the same level as the lengths.
Process as long as necessary until you have achieved this.
Taper the product mix to avoid a visible line of demarcation.
Then make a fresh mix and apply to the whole head, this time with 20 Vol.
Leave 10-15 minutes.
Rinse.
Before:
Product Used - mix with 30 Vol Developer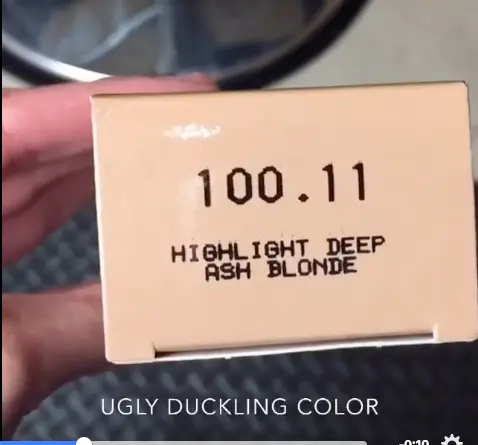 Apply First On Root Area or Where the Hair is Dark: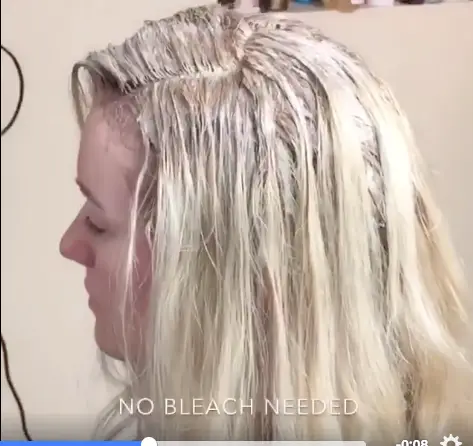 :
Then, make a fresh mix and apply on the entire lengths.
Final Result: