Intense Toner Set
INTENSE TONER SET - GET BRASSY HAIR TO ULTRA WHITE BLONDE!
These Toners are for customers with very brassy, warm or yellow blonde hair.
They contain fast-acting neutralizing pigments which act on brassy, yellow hair.
They are called "Intense" because they contain extra boosters which open the hair cuticle and help the lightening process.
Clients with difficult to tone, yellow hair will notice the difference and you will get ultra white blonde results as you see in the picture above.
Normal application time on pre-lightened hair: 10-15 minutes.
These are the fastest acting toners on the market.
Ultra cold results with these toners: intense pearl blonde and intense silver blonde without any hint of yellowness or brassiness.
Set CONTAINS: 2 Intense Pearl Blonde Toners (100.21) and 2 Intense Silver Blonde Toners (100.20).
4 Tubes of Toner.
Each Toner is a generous 3.5 oz tube.
Intense Pearl Blonde Toner will kill residual yellow in hair and produce a pearl-white color result.
Intense Silver Blonde Toner will kill residual yellow in hair and produce a silver-white color result.
The list price of these products sold individually is 4 x $10.50 = $42.00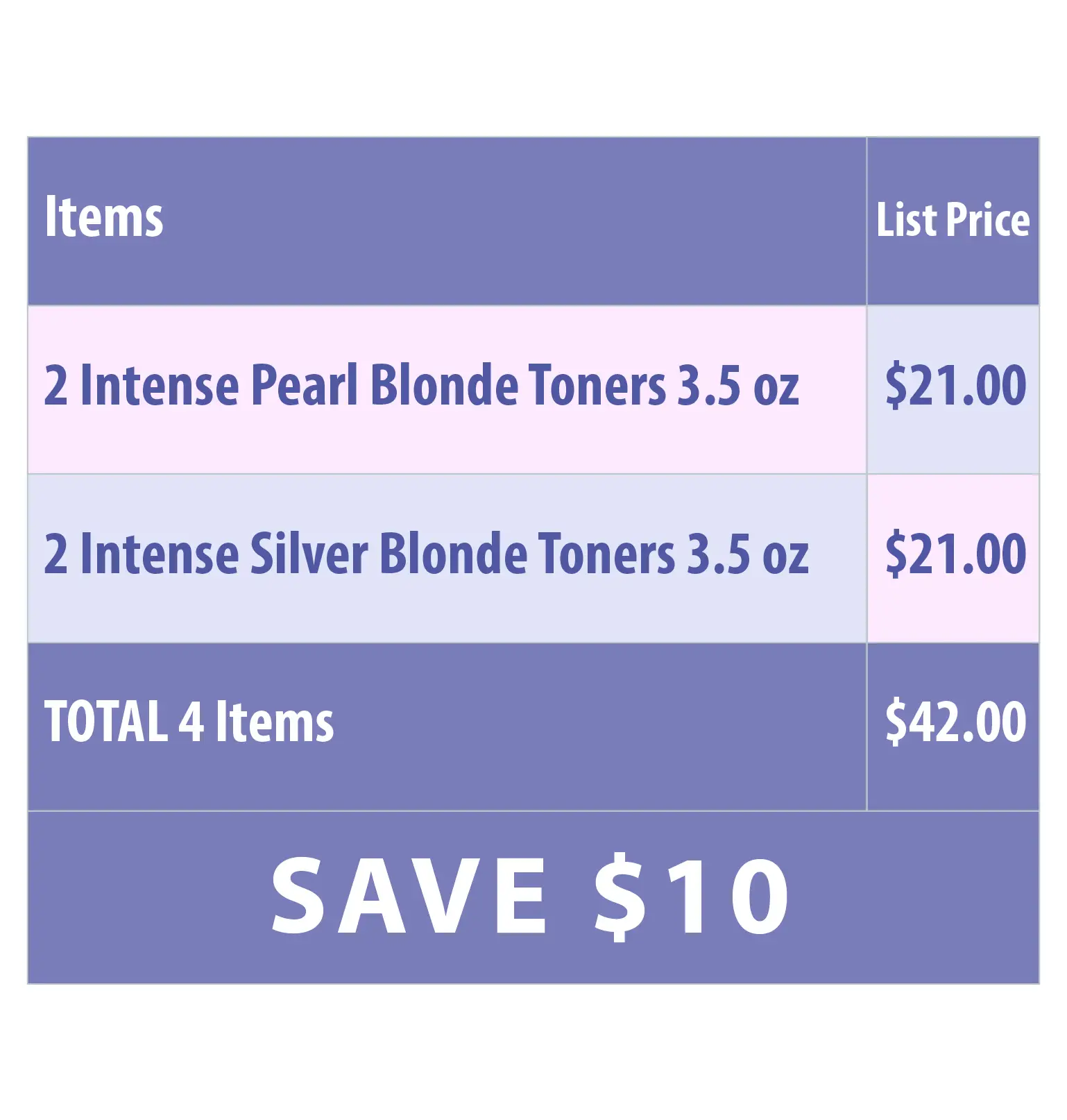 QUANTITY OF SETS Limited - offer available while stocks last.
STEP ONE: PRELIGHTEN TO LEVEL 9
If hair is not already blonde, you need to lift using Brilliant Blonde Lightener & 20 Vol Developer.
Try to eliminate as much of the brassiness as possible and make sure hair is at level 9 at least for best results - see image above for what level 9/10 looks like.
Warning: the most common mistake stylists make is to wing it and not lighten enough - don't be like this! Lift correctly, and consistently to level 9/10.
Note that if you have a lot of lifting to do, apply lightener on ends first, roots last. The roots will lighten faster due to the heat from the scalp.
Rinse when level 9/10 has been achieved.
STEP TWO: APPLY YOUR UGLY DUCKLING TONER
Now apply Intense Pearl Blonde or Intense Silver Blonde Toner.
Use 20 Vol developer as this will help the booster inside the toner activate and get you some extra lift.
The correct mix is 1 part toner to 2 parts developer.
Work fast to get an even color result.
Do the root area last as they will lift the fastest.
Get as much product saturation as possible.
Rinse When you get the desired color result. Normally 10-15 minutes is enough.
Hair Stylist's Tips:
Always watch and test the hair carefully during processing time.
Do not over-process.
To finish and maintain, use sulfate-free low pH Brilliant Blonde Purple Shampoo and Mask.
This will keep your toned hair yellow-free and condition it.
Final Result After Pre-lightening & Toning:
Picture Shot in Salon in Natural Daylight.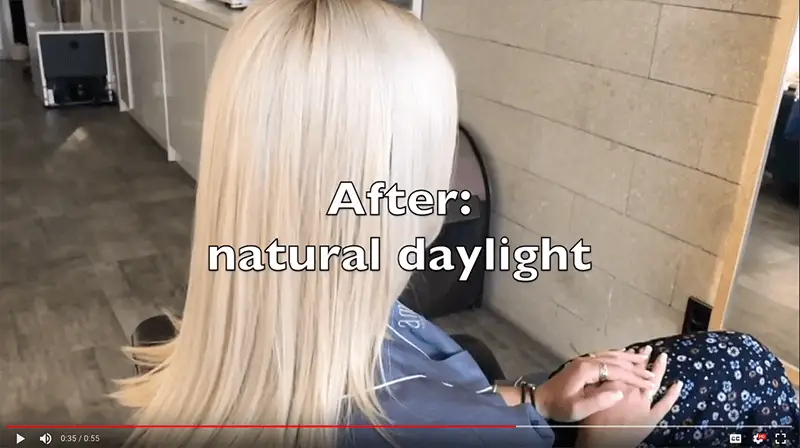 Watch This Video of an Application of Intense Pearl Blonde Hair.
The Intense Pigments Will Turn Hair Grey and Violet and Blue during the development process.
This is normal, it shows the pigments in the toner are working to neutralize brassy hair.