Product successfully added to your shopping cart

There are

0

items in your cart.

There is 1 item in your cart.

Total shipping

To be determined
Violet

                        Product Object
(
    [how_to_use] => 










To get the best out of Ugly Duckling Violet, we recommend that you pre-lighten the hair to a level 9 or 10 if your hair is not already at this level.




Use 10 or 20 Vol developer according to lift needed.


Development time: 30 minutes without heat, 20 minutes with heat.


Emulsify and wash with a mild shampoo.










    [product_info] => 

Different Ways of Using Ugly duckling Violet




1. Violet and Intense Silver Blonde Look Created by Elona Taki.








The technique above involves using a mixture of Ugly Duckling Violet and Intense Silver Blonde 100.20 on the root area, mixed with 20 Vol. developer.




After 10 minutes of processing, Elona makes a fresh mix of 100.20 and 20 Vol and applies on the mid lengths and ends.




This technique is possible thanks to the creamy consistency of Ugly Duckling's Violet color, which ensures that the mix stays where it is and does not bleed into the Silver Blonde mid-lengths.




Click on the image above to see the video.





2. Using Violet as a Fashion Reflect - Look by Hon G.








Ugly Duckling's Violet can also be used on its own to create a beautiful, vivid, pure hair color result which is much appreciated. In fact, violet is one of Ugly Duckling's top selling hair colors for this reason. Here Hon G has applied violet onto Asian hair after a pre-lightening process using Brilliant Blonde.





3. Using Violet for Color Intensification




Violet also has its place in a colorist's toolkit as a color intensifier. Just add violet to any brunette tone, for example, in order to get a more intense and vivid color result.





4. Using Violet for Color Neutralization




Violet can also be extremely useful mixed in with you r target color in order to neutralize yellow when lifting your client's hair color. This is particularly useful when lifting from a level of approximately 6 to a level of approximately 9. The violet will help considerably in fighting the yellowness in the hair and give a beautiful cool, result.




The table below gives the recommended proportion of target shade versus Violet to use when following this procedure. Experience will give the colorist a better idea of how much violet to apply exactly depending on hair level and texture, but the general principle is that the lighter the hair color that you are aiming for, the less Violet you should use. 




In particular, be aware that when you are at level 9 and above, there is very little color pigment in the hair, and using too much violet can easily result in a color result that is too intense.







LEVEL


QUANTITY OF TARGET COLOR


QUANTITY OF VIOLET


10


2 oz target color


1/4 teaspoon Violet


9


2 oz target color


1/2 teaspoon Violet


8


2 oz target color


2/3 teaspoon Violet


7


2 oz target color


1 teaspoon Violet


6


2 oz target color


1 1/4 teaspoon Violet




    [tax_name] => deprecated
    [tax_rate] => 0
    [id_manufacturer] => 0
    [id_supplier] => 0
    [id_category_default] => 23
    [id_shop_default] => 1
    [manufacturer_name] => 
    [supplier_name] => 
    [name] => Violet
    [description] => 







Pure Intense Violet Color.




Permanent Fashion Color - No staining, No Bleeding.




Visibly improved hair condition and softness thanks to Argan Oil.




Low ammonia, pleasant floral fragrance.




Made in Europe.




Paraben free.




Extra large 3.5 oz tube.




For professional use.








    [description_short] => 
    [quantity] => 287
    [minimal_quantity] => 1
    [available_now] => 
    [available_later] => 
    [price] => 10.5
    [specificPrice] => 
    [additional_shipping_cost] => 0.00
    [wholesale_price] => 0.000000
    [on_sale] => 0
    [online_only] => 0
    [unity] => 
    [unit_price] => 0
    [unit_price_ratio] => 0.000000
    [ecotax] => 0.000000
    [reference] => 8422230204591
    [supplier_reference] => 
    [location] => 
    [width] => 0.000000
    [height] => 0.000000
    [depth] => 0.000000
    [weight] => 0.300000
    [ean13] => 8422230204591
    [upc] => 
    [link_rewrite] => violet
    [meta_description] => Ultra-Conditioning, Ultra-Precise Hair Color with Argan Oil
    [meta_keywords] => 
    [meta_title] => Violet Hair Color
    [quantity_discount] => 0
    [customizable] => 0
    [new] => 
    [uploadable_files] => 0
    [text_fields] => 0
    [active] => 1
    [redirect_type] => 404
    [id_product_redirected] => 0
    [available_for_order] => 1
    [available_date] => 0000-00-00
    [condition] => new
    [show_price] => 1
    [indexed] => 1
    [visibility] => both
    [date_add] => 2015-07-16 17:27:23
    [date_upd] => 2016-10-21 01:51:38
    [tags] => Array
        (
            [1] => Array
                (
                    [0] => Violet
                    [1] => color toner
                    [2] => mix tone
                    [3] => intensifier
                    [4] => bleeding
                )

        )

    [base_price] => 10.500000
    [id_tax_rules_group] => 1
    [id_color_default] => 0
    [advanced_stock_management] => 0
    [out_of_stock] => 0
    [depends_on_stock] => 
    [isFullyLoaded] => 1
    [cache_is_pack] => 0
    [cache_has_attachments] => 0
    [is_virtual] => 0
    [id_pack_product_attribute] => 
    [cache_default_attribute] => 0
    [category] => fashion
    [pack_stock_type] => 3
    [webserviceParameters:protected] => Array
        (
            [objectMethods] => Array
                (
                    [add] => addWs
                    [update] => updateWs
                )

            [objectNodeNames] => products
            [fields] => Array
                (
                    [id_manufacturer] => Array
                        (
                            [xlink_resource] => manufacturers
                        )

                    [id_supplier] => Array
                        (
                            [xlink_resource] => suppliers
                        )

                    [id_category_default] => Array
                        (
                            [xlink_resource] => categories
                        )

                    [new] => Array
                        (
                        )

                    [cache_default_attribute] => Array
                        (
                        )

                    [id_default_image] => Array
                        (
                            [getter] => getCoverWs
                            [setter] => setCoverWs
                            [xlink_resource] => Array
                                (
                                    [resourceName] => images
                                    [subResourceName] => products
                                )

                        )

                    [id_default_combination] => Array
                        (
                            [getter] => getWsDefaultCombination
                            [setter] => setWsDefaultCombination
                            [xlink_resource] => Array
                                (
                                    [resourceName] => combinations
                                )

                        )

                    [id_tax_rules_group] => Array
                        (
                            [xlink_resource] => Array
                                (
                                    [resourceName] => tax_rule_groups
                                )

                        )

                    [position_in_category] => Array
                        (
                            [getter] => getWsPositionInCategory
                            [setter] => setWsPositionInCategory
                        )

                    [manufacturer_name] => Array
                        (
                            [getter] => getWsManufacturerName
                            [setter] => 
                        )

                    [quantity] => Array
                        (
                            [getter] => 
                            [setter] => 
                        )

                    [type] => Array
                        (
                            [getter] => getWsType
                            [setter] => setWsType
                        )

                )

            [associations] => Array
                (
                    [categories] => Array
                        (
                            [resource] => category
                            [fields] => Array
                                (
                                    [id] => Array
                                        (
                                            [required] => 1
                                        )

                                )

                        )

                    [images] => Array
                        (
                            [resource] => image
                            [fields] => Array
                                (
                                    [id] => Array
                                        (
                                        )

                                )

                        )

                    [combinations] => Array
                        (
                            [resource] => combination
                            [fields] => Array
                                (
                                    [id] => Array
                                        (
                                            [required] => 1
                                        )

                                )

                        )

                    [product_option_values] => Array
                        (
                            [resource] => product_option_value
                            [fields] => Array
                                (
                                    [id] => Array
                                        (
                                            [required] => 1
                                        )

                                )

                        )

                    [product_features] => Array
                        (
                            [resource] => product_feature
                            [fields] => Array
                                (
                                    [id] => Array
                                        (
                                            [required] => 1
                                        )

                                    [id_feature_value] => Array
                                        (
                                            [required] => 1
                                            [xlink_resource] => product_feature_values
                                        )

                                )

                        )

                    [tags] => Array
                        (
                            [resource] => tag
                            [fields] => Array
                                (
                                    [id] => Array
                                        (
                                            [required] => 1
                                        )

                                )

                        )

                    [stock_availables] => Array
                        (
                            [resource] => stock_available
                            [fields] => Array
                                (
                                    [id] => Array
                                        (
                                            [required] => 1
                                        )

                                    [id_product_attribute] => Array
                                        (
                                            [required] => 1
                                        )

                                )

                            [setter] => 
                        )

                    [accessories] => Array
                        (
                            [resource] => product
                            [api] => products
                            [fields] => Array
                                (
                                    [id] => Array
                                        (
                                            [required] => 1
                                            [xlink_resource] => product
                                        )

                                )

                        )

                    [product_bundle] => Array
                        (
                            [resource] => product
                            [api] => products
                            [fields] => Array
                                (
                                    [id] => Array
                                        (
                                            [required] => 1
                                        )

                                    [quantity] => Array
                                        (
                                        )

                                )

                        )

                )

        )

    [id] => 53
    [id_lang:protected] => 1
    [id_shop:protected] => 1
    [id_shop_list] => 
    [get_shop_from_context:protected] => 
    [table:protected] => product
    [identifier:protected] => id_product
    [fieldsRequired:protected] => Array
        (
            [0] => price
        )

    [fieldsSize:protected] => Array
        (
            [reference] => 32
            [supplier_reference] => 32
            [location] => 64
            [ean13] => 13
            [upc] => 12
        )

    [fieldsValidate:protected] => Array
        (
            [id_shop_default] => isUnsignedId
            [id_manufacturer] => isUnsignedId
            [id_supplier] => isUnsignedId
            [reference] => isReference
            [supplier_reference] => isReference
            [location] => isReference
            [width] => isUnsignedFloat
            [height] => isUnsignedFloat
            [depth] => isUnsignedFloat
            [weight] => isUnsignedFloat
            [quantity_discount] => isBool
            [ean13] => isEan13
            [upc] => isUpc
            [cache_is_pack] => isBool
            [cache_has_attachments] => isBool
            [is_virtual] => isBool
            [id_category_default] => isUnsignedId
            [id_tax_rules_group] => isUnsignedId
            [on_sale] => isBool
            [online_only] => isBool
            [ecotax] => isPrice
            [minimal_quantity] => isUnsignedInt
            [price] => isPrice
            [wholesale_price] => isPrice
            [unity] => isString
            [additional_shipping_cost] => isPrice
            [customizable] => isUnsignedInt
            [text_fields] => isUnsignedInt
            [uploadable_files] => isUnsignedInt
            [active] => isBool
            [redirect_type] => isString
            [id_product_redirected] => isUnsignedId
            [available_for_order] => isBool
            [available_date] => isDateFormat
            [condition] => isGenericName
            [show_price] => isBool
            [indexed] => isBool
            [visibility] => isProductVisibility
            [advanced_stock_management] => isBool
            [date_add] => isDateFormat
            [date_upd] => isDateFormat
            [pack_stock_type] => isUnsignedInt
        )

    [fieldsRequiredLang:protected] => Array
        (
            [0] => link_rewrite
            [1] => name
        )

    [fieldsSizeLang:protected] => Array
        (
            [meta_description] => 255
            [meta_keywords] => 255
            [meta_title] => 128
            [link_rewrite] => 128
            [name] => 128
            [available_now] => 255
            [available_later] => 255
        )

    [fieldsValidateLang:protected] => Array
        (
            [meta_description] => isGenericName
            [meta_keywords] => isGenericName
            [meta_title] => isGenericName
            [link_rewrite] => isLinkRewrite
            [name] => isCatalogName
            [description] => isCleanHtml
            [how_to_use] => isCleanHtml
            [product_info] => isCleanHtml
            [description_short] => isCleanHtml
            [available_now] => isGenericName
            [available_later] => IsGenericName
        )

    [tables:protected] => Array
        (
        )

    [image_dir:protected] => 
    [image_format:protected] => jpg
    [def:protected] => Array
        (
            [table] => product
            [primary] => id_product
            [multilang] => 1
            [multilang_shop] => 1
            [fields] => Array
                (
                    [id_shop_default] => Array
                        (
                            [type] => 1
                            [validate] => isUnsignedId
                        )

                    [id_manufacturer] => Array
                        (
                            [type] => 1
                            [validate] => isUnsignedId
                        )

                    [id_supplier] => Array
                        (
                            [type] => 1
                            [validate] => isUnsignedId
                        )

                    [reference] => Array
                        (
                            [type] => 3
                            [validate] => isReference
                            [size] => 32
                        )

                    [supplier_reference] => Array
                        (
                            [type] => 3
                            [validate] => isReference
                            [size] => 32
                        )

                    [location] => Array
                        (
                            [type] => 3
                            [validate] => isReference
                            [size] => 64
                        )

                    [width] => Array
                        (
                            [type] => 4
                            [validate] => isUnsignedFloat
                        )

                    [height] => Array
                        (
                            [type] => 4
                            [validate] => isUnsignedFloat
                        )

                    [depth] => Array
                        (
                            [type] => 4
                            [validate] => isUnsignedFloat
                        )

                    [weight] => Array
                        (
                            [type] => 4
                            [validate] => isUnsignedFloat
                        )

                    [quantity_discount] => Array
                        (
                            [type] => 2
                            [validate] => isBool
                        )

                    [ean13] => Array
                        (
                            [type] => 3
                            [validate] => isEan13
                            [size] => 13
                        )

                    [upc] => Array
                        (
                            [type] => 3
                            [validate] => isUpc
                            [size] => 12
                        )

                    [cache_is_pack] => Array
                        (
                            [type] => 2
                            [validate] => isBool
                        )

                    [cache_has_attachments] => Array
                        (
                            [type] => 2
                            [validate] => isBool
                        )

                    [is_virtual] => Array
                        (
                            [type] => 2
                            [validate] => isBool
                        )

                    [id_category_default] => Array
                        (
                            [type] => 1
                            [shop] => 1
                            [validate] => isUnsignedId
                        )

                    [id_tax_rules_group] => Array
                        (
                            [type] => 1
                            [shop] => 1
                            [validate] => isUnsignedId
                        )

                    [on_sale] => Array
                        (
                            [type] => 2
                            [shop] => 1
                            [validate] => isBool
                        )

                    [online_only] => Array
                        (
                            [type] => 2
                            [shop] => 1
                            [validate] => isBool
                        )

                    [ecotax] => Array
                        (
                            [type] => 4
                            [shop] => 1
                            [validate] => isPrice
                        )

                    [minimal_quantity] => Array
                        (
                            [type] => 1
                            [shop] => 1
                            [validate] => isUnsignedInt
                        )

                    [price] => Array
                        (
                            [type] => 4
                            [shop] => 1
                            [validate] => isPrice
                            [required] => 1
                        )

                    [wholesale_price] => Array
                        (
                            [type] => 4
                            [shop] => 1
                            [validate] => isPrice
                        )

                    [unity] => Array
                        (
                            [type] => 3
                            [shop] => 1
                            [validate] => isString
                        )

                    [unit_price_ratio] => Array
                        (
                            [type] => 4
                            [shop] => 1
                        )

                    [additional_shipping_cost] => Array
                        (
                            [type] => 4
                            [shop] => 1
                            [validate] => isPrice
                        )

                    [customizable] => Array
                        (
                            [type] => 1
                            [shop] => 1
                            [validate] => isUnsignedInt
                        )

                    [text_fields] => Array
                        (
                            [type] => 1
                            [shop] => 1
                            [validate] => isUnsignedInt
                        )

                    [uploadable_files] => Array
                        (
                            [type] => 1
                            [shop] => 1
                            [validate] => isUnsignedInt
                        )

                    [active] => Array
                        (
                            [type] => 2
                            [shop] => 1
                            [validate] => isBool
                        )

                    [redirect_type] => Array
                        (
                            [type] => 3
                            [shop] => 1
                            [validate] => isString
                        )

                    [id_product_redirected] => Array
                        (
                            [type] => 1
                            [shop] => 1
                            [validate] => isUnsignedId
                        )

                    [available_for_order] => Array
                        (
                            [type] => 2
                            [shop] => 1
                            [validate] => isBool
                        )

                    [available_date] => Array
                        (
                            [type] => 5
                            [shop] => 1
                            [validate] => isDateFormat
                        )

                    [condition] => Array
                        (
                            [type] => 3
                            [shop] => 1
                            [validate] => isGenericName
                            [values] => Array
                                (
                                    [0] => new
                                    [1] => used
                                    [2] => refurbished
                                )

                            [default] => new
                        )

                    [show_price] => Array
                        (
                            [type] => 2
                            [shop] => 1
                            [validate] => isBool
                        )

                    [indexed] => Array
                        (
                            [type] => 2
                            [shop] => 1
                            [validate] => isBool
                        )

                    [visibility] => Array
                        (
                            [type] => 3
                            [shop] => 1
                            [validate] => isProductVisibility
                            [values] => Array
                                (
                                    [0] => both
                                    [1] => catalog
                                    [2] => search
                                    [3] => none
                                )

                            [default] => both
                        )

                    [cache_default_attribute] => Array
                        (
                            [type] => 1
                            [shop] => 1
                        )

                    [advanced_stock_management] => Array
                        (
                            [type] => 2
                            [shop] => 1
                            [validate] => isBool
                        )

                    [date_add] => Array
                        (
                            [type] => 5
                            [shop] => 1
                            [validate] => isDateFormat
                        )

                    [date_upd] => Array
                        (
                            [type] => 5
                            [shop] => 1
                            [validate] => isDateFormat
                        )

                    [pack_stock_type] => Array
                        (
                            [type] => 1
                            [shop] => 1
                            [validate] => isUnsignedInt
                        )

                    [meta_description] => Array
                        (
                            [type] => 3
                            [lang] => 1
                            [validate] => isGenericName
                            [size] => 255
                        )

                    [meta_keywords] => Array
                        (
                            [type] => 3
                            [lang] => 1
                            [validate] => isGenericName
                            [size] => 255
                        )

                    [meta_title] => Array
                        (
                            [type] => 3
                            [lang] => 1
                            [validate] => isGenericName
                            [size] => 128
                        )

                    [link_rewrite] => Array
                        (
                            [type] => 3
                            [lang] => 1
                            [validate] => isLinkRewrite
                            [required] => 1
                            [size] => 128
                            [ws_modifier] => Array
                                (
                                    [http_method] => 2
                                    [modifier] => modifierWsLinkRewrite
                                )

                        )

                    [name] => Array
                        (
                            [type] => 3
                            [lang] => 1
                            [validate] => isCatalogName
                            [required] => 1
                            [size] => 128
                        )

                    [description] => Array
                        (
                            [type] => 6
                            [lang] => 1
                            [validate] => isCleanHtml
                        )

                    [how_to_use] => Array
                        (
                            [type] => 6
                            [lang] => 1
                            [validate] => isCleanHtml
                        )

                    [product_info] => Array
                        (
                            [type] => 6
                            [lang] => 1
                            [validate] => isCleanHtml
                        )

                    [description_short] => Array
                        (
                            [type] => 6
                            [lang] => 1
                            [validate] => isCleanHtml
                        )

                    [available_now] => Array
                        (
                            [type] => 3
                            [lang] => 1
                            [validate] => isGenericName
                            [size] => 255
                        )

                    [available_later] => Array
                        (
                            [type] => 3
                            [lang] => 1
                            [validate] => IsGenericName
                            [size] => 255
                        )

                )

            [associations] => Array
                (
                    [manufacturer] => Array
                        (
                            [type] => 1
                        )

                    [supplier] => Array
                        (
                            [type] => 1
                        )

                    [default_category] => Array
                        (
                            [type] => 1
                            [field] => id_category_default
                            [object] => Category
                        )

                    [tax_rules_group] => Array
                        (
                            [type] => 1
                        )

                    [categories] => Array
                        (
                            [type] => 2
                            [field] => id_category
                            [object] => Category
                            [association] => category_product
                        )

                    [stock_availables] => Array
                        (
                            [type] => 2
                            [field] => id_stock_available
                            [object] => StockAvailable
                            [association] => stock_availables
                        )

                    [l] => Array
                        (
                            [type] => 2
                            [field] => id_product
                            [foreign_field] => id_product
                        )

                )

            [classname] => Product
        )

    [update_fields:protected] => 
    [force_id] => 
    [customization_required] => 
    [original_price] => 0
    [is_colortube] => 23
    [static_price] => 0
)
1
                    
Pure Intense Violet Color.

Permanent Fashion Color - No staining, No Bleeding.

Visibly improved hair condition and softness thanks to Argan Oil.

Low ammonia, pleasant floral fragrance.

Made in Europe.

Paraben free.

Extra large 3.5 oz tube.

For professional use.
To get the best out of Ugly Duckling Violet, we recommend that you pre-lighten the hair to a level 9 or 10 if your hair is not already at this level.
Use 10 or 20 Vol developer according to lift needed.
Development time: 30 minutes without heat, 20 minutes with heat.
Emulsify and wash with a mild shampoo.
Different Ways of Using Ugly duckling Violet
1. Violet and Intense Silver Blonde Look Created by Elona Taki.

The technique above involves using a mixture of Ugly Duckling Violet and Intense Silver Blonde 100.20 on the root area, mixed with 20 Vol. developer.
After 10 minutes of processing, Elona makes a fresh mix of 100.20 and 20 Vol and applies on the mid lengths and ends.
This technique is possible thanks to the creamy consistency of Ugly Duckling's Violet color, which ensures that the mix stays where it is and does not bleed into the Silver Blonde mid-lengths.
Click on the image above to see the video.
2. Using Violet as a Fashion Reflect - Look by Hon G.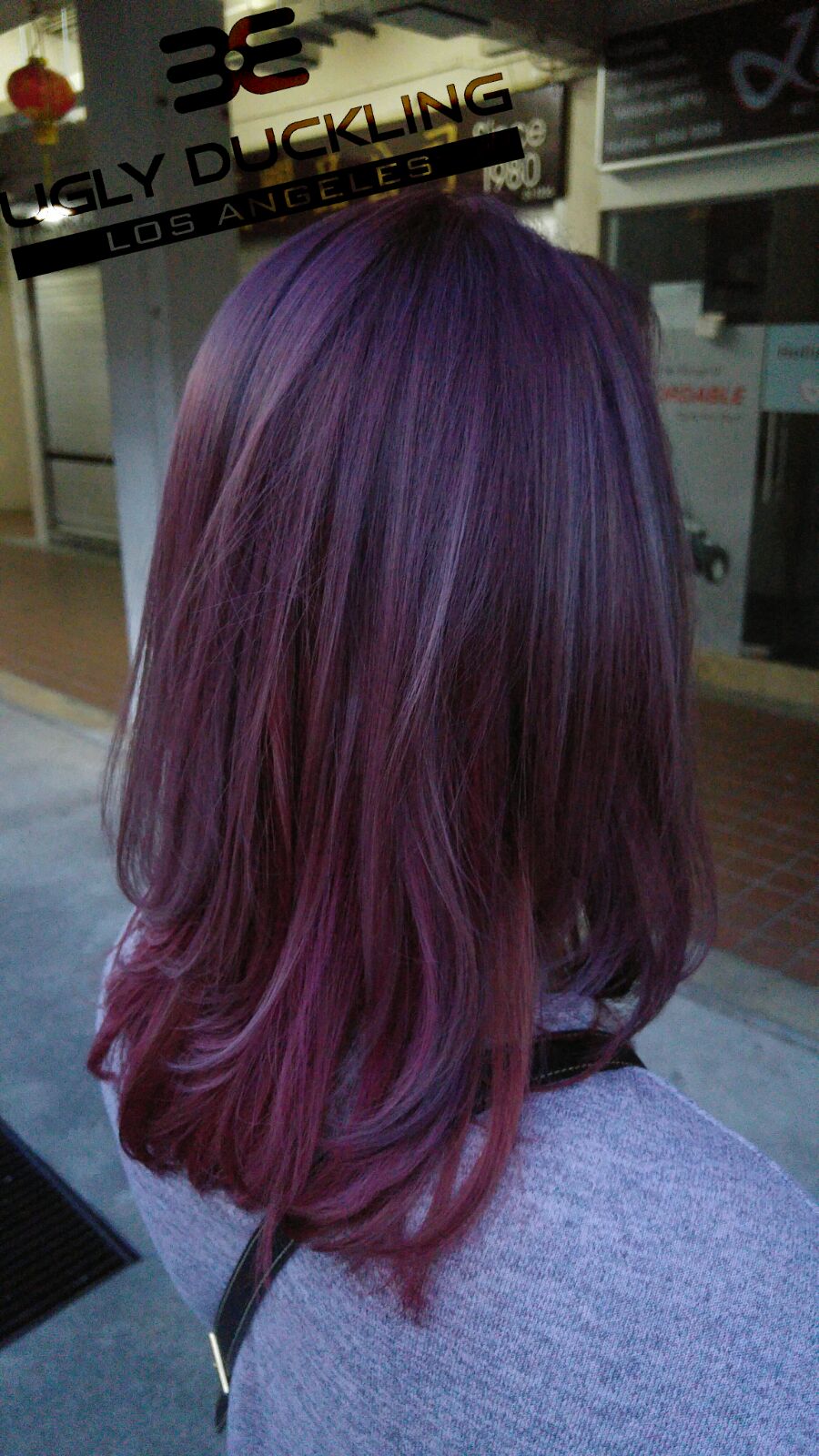 Ugly Duckling's Violet can also be used on its own to create a beautiful, vivid, pure hair color result which is much appreciated. In fact, violet is one of Ugly Duckling's top selling hair colors for this reason. Here Hon G has applied violet onto Asian hair after a pre-lightening process using Brilliant Blonde.
3. Using Violet for Color Intensification
Violet also has its place in a colorist's toolkit as a color intensifier. Just add violet to any brunette tone, for example, in order to get a more intense and vivid color result.
4. Using Violet for Color Neutralization
Violet can also be extremely useful mixed in with you r target color in order to neutralize yellow when lifting your client's hair color. This is particularly useful when lifting from a level of approximately 6 to a level of approximately 9. The violet will help considerably in fighting the yellowness in the hair and give a beautiful cool, result.
The table below gives the recommended proportion of target shade versus Violet to use when following this procedure. Experience will give the colorist a better idea of how much violet to apply exactly depending on hair level and texture, but the general principle is that the lighter the hair color that you are aiming for, the less Violet you should use.
In particular, be aware that when you are at level 9 and above, there is very little color pigment in the hair, and using too much violet can easily result in a color result that is too intense.
| | | |
| --- | --- | --- |
| LEVEL | QUANTITY OF TARGET COLOR | QUANTITY OF VIOLET |
| 10 | 2 oz target color | 1/4 teaspoon Violet |
| 9 | 2 oz target color | 1/2 teaspoon Violet |
| 8 | 2 oz target color | 2/3 teaspoon Violet |
| 7 | 2 oz target color | 1 teaspoon Violet |
| 6 | 2 oz target color | 1 1/4 teaspoon Violet |