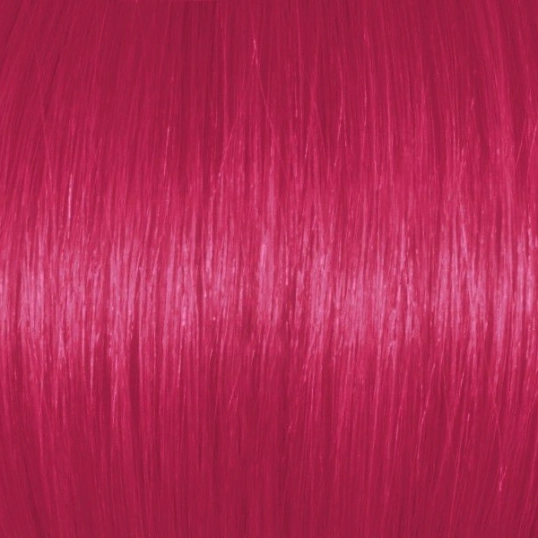 Fuschia Pink
$10.50
Pure Intense Fuschia Pink Color.

Permanent Fashion Color - No Bleeding, No Staining.

Can lift hair by 3-4 levels.

Visibly improved hair condition and softness thanks to Argan Oil.

Low ammonia, pleasant floral fragrance.

Made in Europe.

Paraben free.

Extra large 3.5 oz tube.

For professional use.
For best color results with Ugly Duckling Fuschia Pink, follow instructions below:
Mix 1:1 with developer.
Choose your developer according to lift needed: 20 vol for 1-2 levels lift, 30 vol for 2-3 levels lift, 40 vol for 3 levels lift or more.
Development time: 30 minutes without heat, 20 minutes with heat.
For extra high lift, leave to process 10 extra minutes.
Emulsify and wash with a mild shampoo.
What hair color techniques can I use with Ugly Duckling Fuschia Pink?
Fuschia Pink can be used for either highlights or full head. 
Can Ugly Duckling Fuschia Pink work on my hair if my hair color is naturally dark?
Ugly Duckling Fuschia Pink does have high lift properties. Fuschia pink can lighten up to 3-4 levels.
So if you have naturally fairly dark hair (level 5 or 6). you can get the fuschia pink result using only 1 process, and without bleach.
But if you have very dark hair (level 4 or darker) like the Asian model above, it is recommended to pre-lighten with bleach, process, rinse and then apply Fuschia Pink with 30 Vol.
How do I use Ugly Duckling Fuschia Pink?
Mix with 30 Vol developer or 40 Vol. developer according to the amount of lift desired. Leave 10 minutes extra if you are looking for high lift, ideally under heat. Then rinse.
Can Ugly Duckling Fuschia Pink be mixed with other colors?
Yes, it certainly can! All of Ugly Duckling's shades have been designed for stylists who like to play around. Fuschia Pink can be mixed with Ruby Red for a special Fushcia Pink/Intense Red color result.
Alternatively Fuschia Pink can be used as an intensifier. Mix with a Chestnut, or a Mahogany to get intense pinkish tones.
Looking for a Strawberry Blonde result ? Mix Fuschia Pink with 10 Extra Light Blonde.
Enjoy!
Last few items in stock
Availability date: