What do I need to get my black roots blonde?
So in most cases, you will have 3 jobs to do:
Lift the dark roots up so that they are the same level as the lengths.
Tone both the lifted roots as well as the lengths - as typically the lengths would have yellowed and will need a ref-fresh.
Equalize the whole head as much as possible so that it looks even and flawless.
Can't I just apply toner?
So the process we recommend involves bleach, toner and a toning mask.
Ugly Duckling has a wide range of toners and yes, some of them do have lifting properties which most toners in the market do not have.
But unless your regrowth or natural hair is within one or two levels of the rest of the hair, you can't just apply toner.
If you do, you will get more unsightly stuff happening.
For example, by lifting the roots (but not by enough) you could end up with orange roots and blonde lengths. Nobody wants this!
So can you describe the complete process & what I need to fix my black roots?
First step, apply lightener mixed with developer to the root area only.
If the roots are black (level 2) you will need to use 30 Vol developer in order to get sufficient lift.
Plus, you will need to use a bleach with good lifting capabilities.
Choosing the Right Bleach
Ugly Duckling has 2 bleaches - both of them have great lifting capability.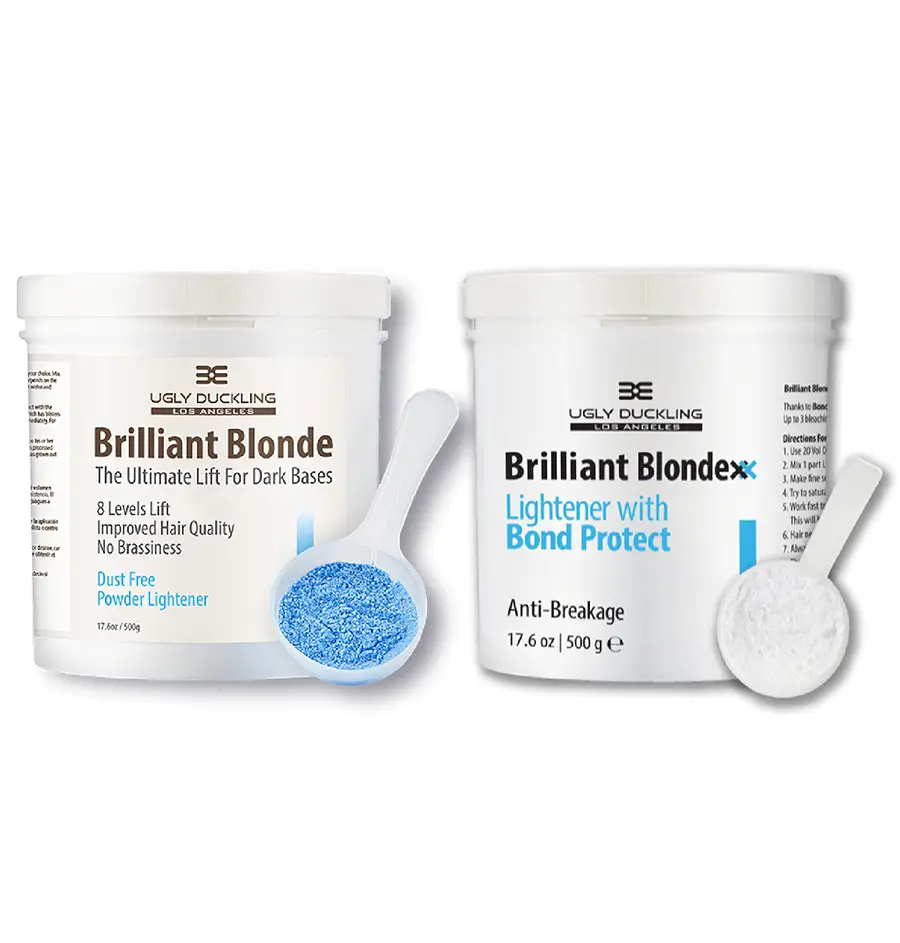 Use Brilliant Blonde (blue based bleach) if your hair is level 3 or darker (dark brown or black). This bleach is made for dark Asian hair and has a very powerful lift. It produces a blue mix.
Use Brilliant Blondexx (white bleach with Bond Protect) if your hair is level 4 (brown) or lighter. This bleach is ultra gentle thanks to the Bond Protect. It is also very comfortable near the scalp area. It produces a creamy, white mix.
Choosing the Developer
Both bleaches have much better lift than the majority of beauty store bleaches. You can therefore use them with 20 Vol developer or 30 Vol developer. Nothing stronger is required. 
If you are using Brilliant Blondexx, no protection additive (such as Olaplex) is required because it contains built-in Bond Protect.

Mixing the Bleach with the Developer & Applying
The recommended mix ratio is 1 part bleach to 2 parts developer. Use the scoop to measure out the bleach and then the developer. Mix really well until you get a smooth paste.
Then start applying on the root area. Don't be timid, saturate really well. Try and avoid actually placing it on the scalp, however. Try and stay just 1/8 inch away and the mixture will travel up. Also, try and place the mixture on the hair with the brush flat on the hair. Don't poke the scalp with the end of the brush as it could cause irritations.
Go right up to the part where the hair is blonde and stop. Sometimes you get previously lightened hair which was not sufficiently lifted. In such cases, you will need to extend to those areas.
Bear in mind that with bleach, timing is everything. The longer the bleach sits on the hair the more it processes. Also, hair on the scalp will process faster than hair away from the scalp due to the heat.
So keep applying bearing this timing aspect in mind.
The hair we were working with above was truly very very dark. So our stylist choosing to use 20 Vol developer, applied twice.
Note that with Ugly Duckling bleaches you can get away with much lower developer strength because our bleaches are so powerful.
But try not to overlap onto very white blonde hair. Otherwise you could cause breakage. If you have overlapped by mistake, just wipe back during processing with a wet cloth and you should be fine.
Keep processing until the whole head has been lifted to a consistent level 10. A hint: aim to get them actually lighter than the lengths. That is normally best practice because the human eye typically overestimates how light the hair under the bleach is. Under-processing the root area is the most common mistake you can make!
Rinse when done. Application of Pearl Blonde Toner 10V
Second step, apply your toner.
Ugly Duckling has a range of toners.
If the root area is still rather yellow even after bleaching, use the intense toners, either intense pearl blonde or intense silver blonde.
If on the other hand the hair is nicely lifted (as was the case with our model here), then use no-lift pearl blonde or no-lift silver blonde.
The mix for Ugly Duckling toners is 1 part toner to 2 parts developer. 
Use 20 Vol developer in most cases.
The toning will remove any yellow from the hair and re-tone it white blonde.
Always apply first on the parts which are most yellow. Then extend to the rest. Very often ends, which have been lightened many times in the past may be already very very light. In such cases just apply there at the end and leave on for 5 minutes only.
Then rinse.
After Toning, Do this. After toning & rinsing, apply Ugly Duckling Purple Mask at the back wash. The mask contains purple pigments which are very effective at neutralizing any remaining yellow, and helping you to equalize between your newly lifted roots and the rest.
Final Result: Beautifully Equalized Roots & Lengths.

How do I look after my bleached & toned hair?
Apply Purple Shampoo and Mask once a week to maintain the color and reflect of the hair & keep it white.
Apply Brilliant Blondexx Hair Care Treatment range to keep your blonde hair strong & healthy.
To learn more about bleaching, go here.
To learn more about toning, go here.
To learn more about how Purple Shampoo & Mask work, go here.