How to Bleach Hair - 10 Things You Need to Get Right
1. What do I Need in order to Bleach Hair Correctly?
A Quality Bleach powder like Brilliant Blonde.
Brush For Applying Hair, Clips for Sectioning, Mixing Bowl
2. Which Developer Should I Use When Bleaching?

Developer choice is directly related to how much lift you are looking for.
3. What is the Correct Mix Ratio of Bleach to Developer?
With Ugly Duckling Brilliant Blonde, we recommend a mix of 1 part Bleach to 2 parts developer.
Mix the bleach until it forms a smooth consistency (similar to gravy). Do this in a plastic mixing bowl. Add the developer to the powder bleach a little at a time, stirring as you do.
It is important that the mix is runny enough so that application is quick and easy.
Our recommended "fairly runny" mix will make it easier to cover all the hair evenly, thus avoiding patchy results.
It will also allow you to work fast, and give every part of your client's hair the same processing time.
This also means you have longer to work before the mixture turns dry. Remember that the bleach mixture will stop working as soon as it becomes dry.
The only time you will need a thicker mixture which won't drip is when you are doing a bayalage (free painting of highlights). When doing a balayage, make the mixture a little drier. 1 part lightener to 1 part developer is good.
Bleach Mixture, Not too Runny, Not Too Thick.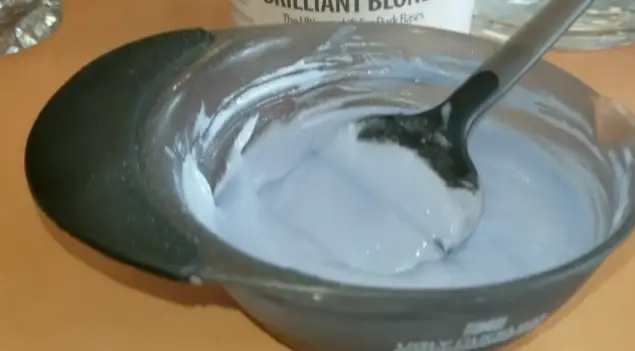 4. How Should I Apply the Bleach Mixture?
Section the hair into 4 large sections with sectioning clips.
Then unclip one section and create mini half-inch sections using your tail comb.
Start applying bleach in the back of the head where the hair is usually darkest and thickest, working your way round to the front sections, in half-inch sections.
Make sure that you saturate the hair properly with the product mixture. You need to literally smother the hair with bleach.
Apply bleach quickly as you don't want the mixture to dry out before it is applied.
Always keep at least half an inch away from the scalp. If you are looking to lift all the way from the root, return to the last half inch (nearest to the root) after having applied everywhere else. The part nearest the scalp will process the fastest because it is getting heat from the scalp.
Try and avoid actually touching the scalp unless your bleach mix is a fairly mild one.
Section the hair, then start applying the bleach from the back.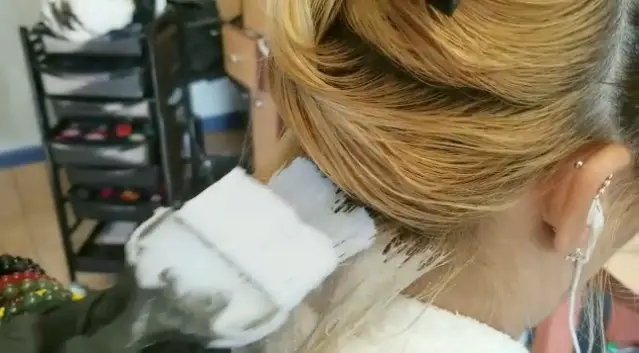 5. How Long should I leave the Bleach Mixture in the Hair?
The development time can vary from 15 minutes to 30 minutes, depending on the starting hair color level, texture, and thickness.
You need to check that the hair is lifting every 10 minutes. When you do that, test also by pulling one strand of hair to be sure that the hair is still elastic and strong and taking well to bleach.
Add in more mixture if you can see that there are parts which are lifting more slowly or parts where the bleach mixture is drying out.
Make a fresh mix and add to certain parts if you can see that there are parts which are not lifting.
Wash off when the hair reaches the desired level.
Above all, make sure you do not rinse too early - this is the number one mistake that stylists make! If you are trying to do a true ash blonde, you should try and take the hair to a level 9 or level 10 (see below)
After 30 minutes, rinse off whatever the level. It will be dry anyway, and will have stopped working.
If you have not attained level 9/10, and provided the hair is still in good condition (ie it's still elastic and strong) you can do a second application.
Asian hair, Hispanic hair, other dark hair looking to go blonde will very often require a second application.
Do try to get rid of all the orange pigments and also most of the yellow pigments before you rinse.
See the image below. Aim for a level 9 or 10 if you are trying to get blonde hair.
When you get to your target level, rinse using an acidic shampoo. This will close the hair cuticle after the bleaching process.
Bleaching Levels
Hair Color At Level 10 After Bleaching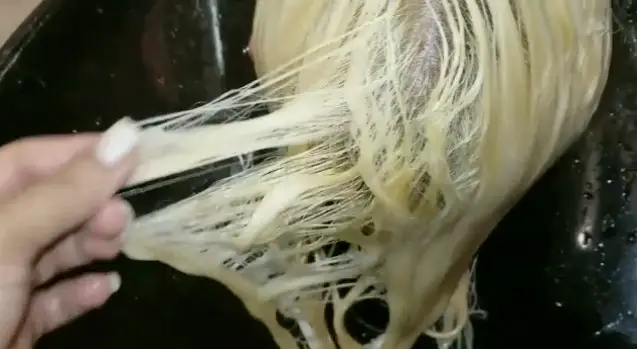 6. Which Lightener Should I Use?
All the examples on this page have been done using Ugly Duckling Brilliant Blonde. We recommend it as it has been designed for dark bases and can lift up to 8 levels safely and effectively.
It is blue and dust-free.It produces a creamy, easy to apply mix and gives a very uniform consistent lift.
7. How do I Prevent "Hot Roots" when I bleach?
Apply bleach first on the lengths and then return to the regrowth area in the last 10 minutes only. And rinse before the roots get "hot".
Remember that even when doing the root area you don't need to apply the bleach mixture directly right onto the scalp.
If you stop a quarter of an inch away, the mixture will travel up and process with the heat from the scalp.
8. What do I do if my Client's Ends are one Color and Her Mid-Lengths are Another Color ?
If you have inconsistent color on your lengths, for example a chunk which has been colored darker and another chunk which has been lightened in the past, plus the natural regrowth hair at the root area, you will need to have a clear bleaching strategy.
You will need to figure out which areas need the most lightening and apply bleach first on those areas.
Remember: the aim is to get the entire head of hair up to a consistent pale yellow level.
You may need to divide up your client's hair mentally into 3 different sections and apply bleach at different times to each section.
You may also need to keep watching as your customer's hair develops and then add more bleach onto sections which are not lifting fast enough.
In this way you can bring all your hair to one consistent color level, which is absolutely what you need to do to achieve an attractive color result.
9. How Should I Color or Tone the Hair After Bleaching?
Coloring or toning after bleaching is necessary in order to achieve a vivid, 3 dimensionalcolor.
Ugly Duckling toners are very effective and we would recommend these if you are trying to achieve ultra white blonde results such as silver blonde or pearl blonde.
Use Intense Pearl Blonde 100.21 or Intense Silver Blonde 100.20 if your are looking for ultra white results and you still need to lift a little more.
Use Pearl Blonde Toner 10.20 or Silver Blonde Toner 10.21 if you are have already achieved a true level 10 and for refresh toning applications.
10. How Should I Treat The Hair After Bleaching and Toning?
Rinse with water, then wash with a good quality acidic shampoo.
If you are looking for an ultra white blonde or ash blonde result, use Ugly Duckling Purple Shampoo and Mask for additional toning.
Purple Shampoo and Mask can also be used as a maintenance treatment to keep your color white and ashy.
Blonding Set
Start blonding now with these Ugly Duckling best sellers!
Free coloring tools
Set contains
Brilliant Blonde Lightener 16 oz.
Intense Pearl Blonde 100.21
Intense Silver Blonde 100.20
Pearl Blonde Toner
Small Purple Shampoo
20 Vol. Developer
Coloring Tools (FREE!)
$ 98.40