Ugly Duckling has an exceptionally wide range of toners which covers most toning needs.
In this blog article, we are going to go through 13 of our best selling toners and explain to you how exactly to use each one.
What is a hair toner and how exactly does it work?
A hair toner corrects the tone or reflect of the hair.
Toners, by their nature, contain neutralizing pigments - typically violet or blue.
These violet and blue pigments use the principles of the Color Wheel and correct for yellow and orange and brassy hair.
Are hair toners always used with developer?
The best & most effective hair toners are oxidative toners. This means this means that they are used with developer.
The toner together with a developer creates a mix which opens up the hair cuticle, penetrates into the hair cortex, takes out excessive yellow and orange and then re-colors the hair.
We recommend you use such toners with either 10 or 20 Vol developer, depending on how well your client's hair has been lifted.
If the hair has been lifted all the way to yellow or light yellow, use 10 Vol developer.
But if the hair is very bright yellow with some orange yellow or canary yellow apparent, then use 20 Vol developer to achieve some incremental lift. 
TONING WITH INTENSE PEARL BLONDE TONER: WATCH VIDEO:
Hair by Elona Taki
TONING WITH LIQUID TONERS IN JUST 10 MINUTES: WATCH VIDEO
Watch Yellow Hair turned to ash - in just 10 minutes. Ammonia Free Liquid Toner with 7 Vol developer.
Are there any toning products which do not use developer?
Some products do tone and color correct without developer. These are typically shampoos and masks which contain purple and blue pigments.
They are based on semi-permanent color technology: you are basically depositing color onto the surface of the hair.
Ugly Duckling has such a product: Brilliant Blonde Purple Shampoo and Mask.
These products contain purple and blue and they will neutralize yellow and keep blonde hair white.
But they will only work once the hair is already very light. They do not open up the hair cuticle or penetrate into the cortex.
We do recommend you to use these toning products, but you should use them more either as a finishing product or as blonde maintenance product.
As hairdressers, we don't refer to such products as toners.
We reserve that term for oxidative toners.
PURPLE BASED TONING SHAMPOO & MASK IN ACTION: WATCH VIDEO:
13 Best Hair Toners for You To Use in Your Salon
Let's now look at some Ugly Duckling toners. In this blog, we have pre-selected 13 of our best sellers.
These toners give a truly wide range of color results, from Pearl Blonde to White Blonde to Grey to Ash Blonde.
We have also included some real result shots after using these toners.
And we will explain in detail how to use them: developer choice, mix, processing time and pre-lightening levels.
Hopefully this will enable to select the right toner for your hair needs. Keep reading...
4 Best Blonde Toners
Our first four toners below are very good at achieving excellent blonde results. They are some of the best selling Ugly Duckling toners.
We would suggest you use them as your go-to blonde toners.
Which of these toners should you go for? How should you choose them?
If even after bleaching your client's hair still has a lot of yellow in it, we would recommend you go for intense pearl blonde toner or intense silver blonde.
But if the hair has been well-prelightened or this is a repeat applications, then the regular pearl blonde and silver blonde toners would be better for you.
Developer choice: Use with 20 Vol developer. 
Mix: 1 part toner to 2 parts developer. Make your mix in a plastic bowl and apply with a brush, saturating the hair very well.
Root Application with Long Hair: For very long hair, do the root part at the end in order to stop it from over-processing at that area.
Processing time: Variable (fast-acting). Watch carefully and rinse with water when done.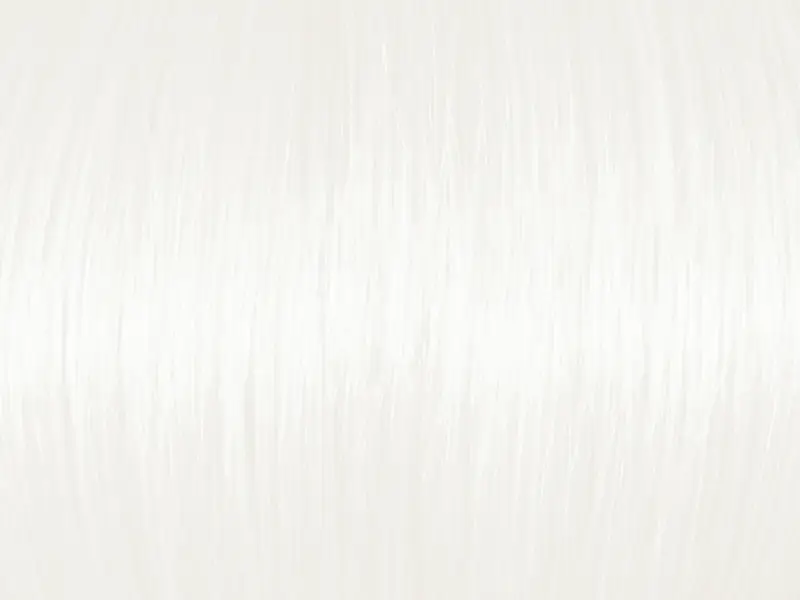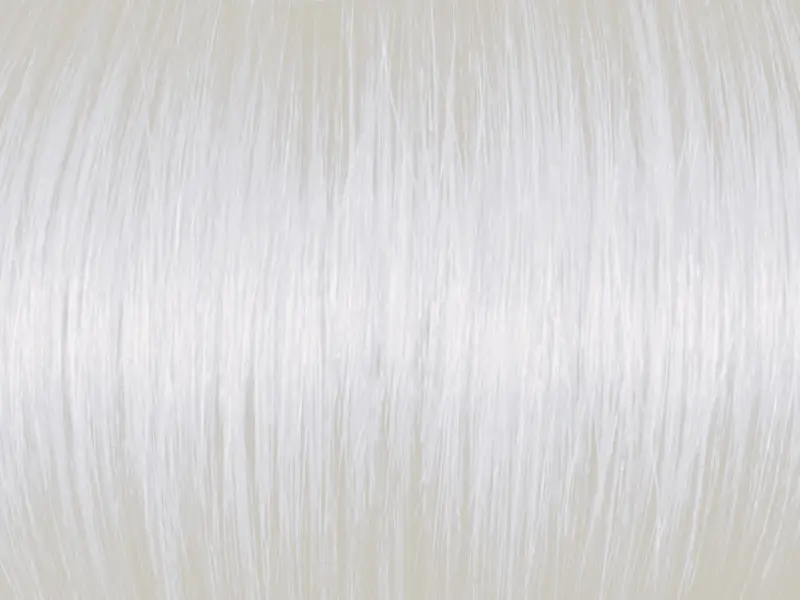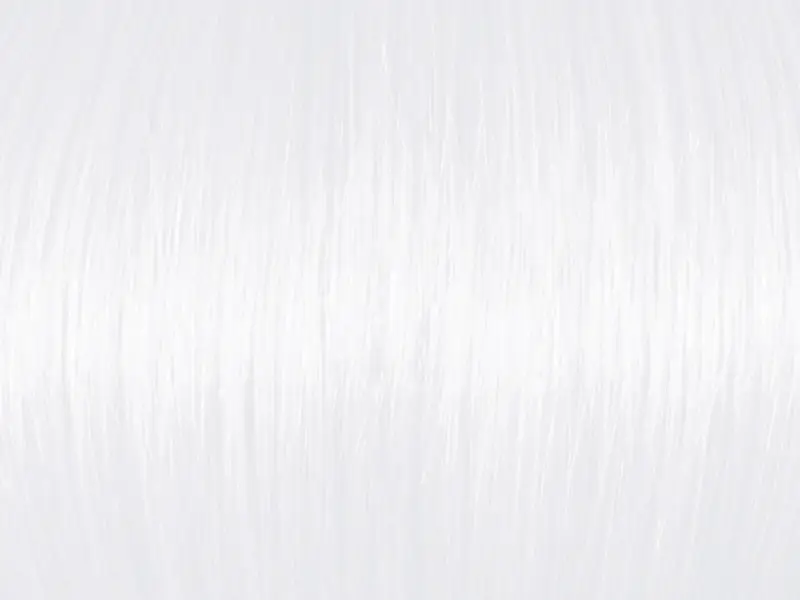 An example of toning with Intense Pearl Blonde 100V
We have 2 shots below of the same head: one with indoor lighting, one shot outdoors.
You can see what stunning consistent white blonde results can be achieved with this toner.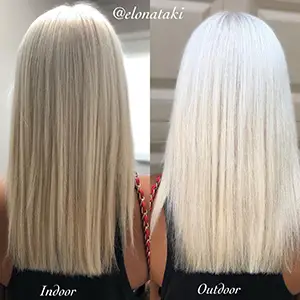 Hair by Elona Taki. Hair by Nina Sukhovetskaya
Our no #1 Best Uber Blonde Toner
If your client is looking to get to uber-blonde, or white blonde, 10.2 Extra Light Cool Blonde is for you.
10.2 is purple based, and indeed it is packed with purple toning agents.
It is a regular color, rather than a toner.  
As such, a mix of 1+1 is better. The product will benefit from the full 30 minutes processing time.
Developer Choice: Use with 20 Vol developer.
Mix: 1 part toner to 1 part developer.
Processing Time: Process for 30 minutes.
Pre-lightening: Pre-lighten up to level 9/10.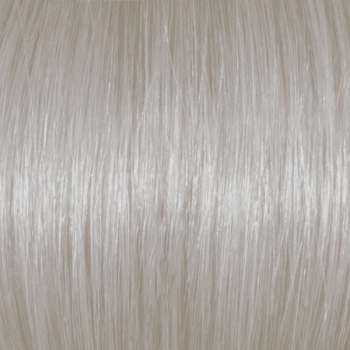 An example of hair toned with 10.2 Extra Light Cool Blonde Toner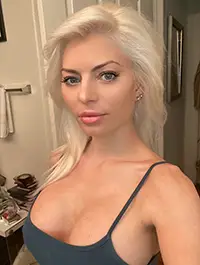 Our pick of 3 Best Blue Based Ash Blonde Toners
Ugly Duckling is one of the only brands which has blue based ash blonde toners.
The blue along with the ash in these colors helps neutralize any traces of yellow in the hair in a way pure ash blondes don't do.
The result is a very true ash blonde, with zero brassiness.
Ugly Duckling has blue based ash blonde colors all the way from level 10 down to level 6, so you can pick the one which most suits the blonde level you are looking to get to.
Pre-lightening: Required up to level 10.
Mix: 1 part toner to 1 part developer.
Processing time: 30 minutes
10.1b Extra Light Cold Ash Blonde

9.1b Very Light Cold Ash Blonde An example of Hair toned with 10.1b: Blue based Extra Light Cold Ash Blonde Our Pick of 3 best Grey Toners
Our next group of toners give grey blonde results. These are also unique to Ugly Duckling.
These are also to be used as regular colors. That is to say, with a mix of 1+1 and the full 30 minutes processing time.
Pre-lighten to level 9 or 10 before applying.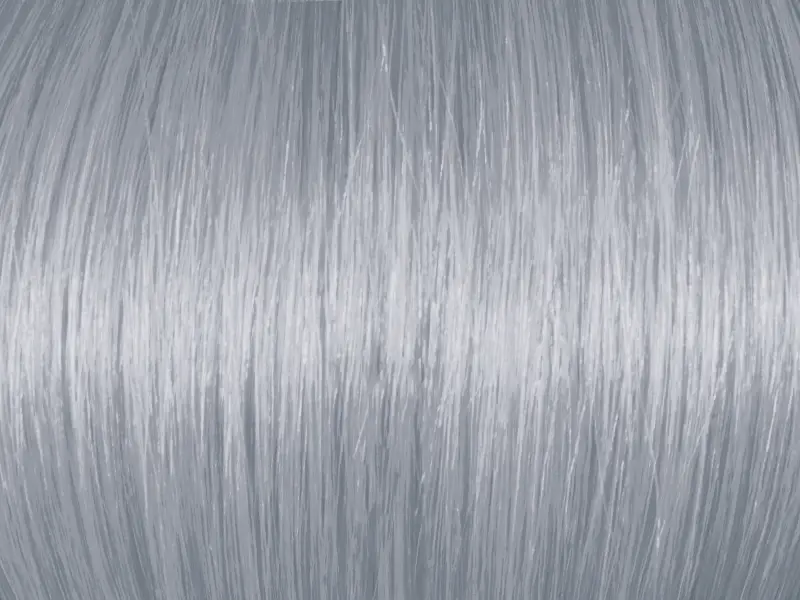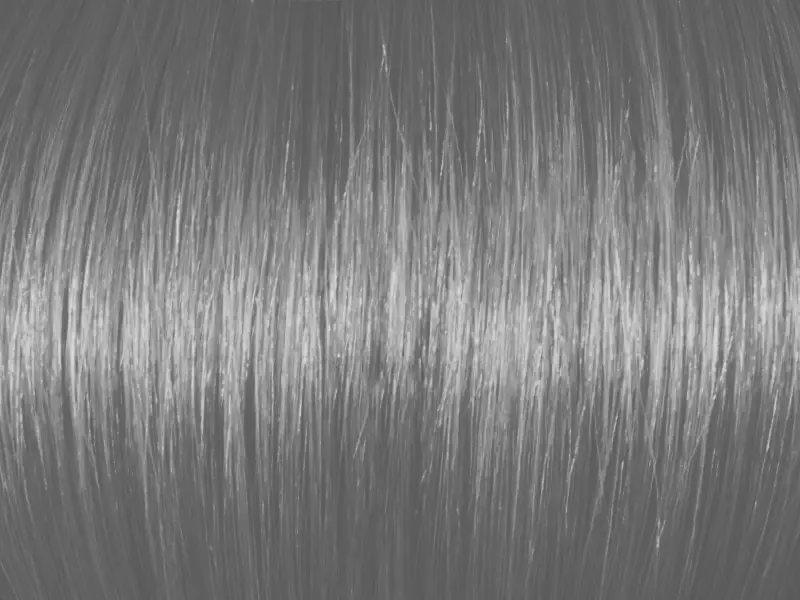 An example After Toning with Silver grey Pre-lightening: Required up to level 10.
Mix: 1 part toner to 1 part developer.
Processing time: 30 minutes
Our pick of 2 best toners to tone blonde highlights when you have a dark base or lowlights
If you need to tone without lifting the darker parts of your client's hair, whether it be a shadow root, or low lights, or a natural dark base, then we would recommend you use Blondify liquid toners.
These toners are ammonia-free gloss toners, and they process very fast - in just 10 minutes.
They can be used with low developer strength: 10 Vol or even 7 Vol.
Meaning that you will be able to tone your client's highlights without lifting or touching the darker parts.
Or lifting her base in any way. This is very useful & not many toners can achieve this.
The mix ratio for these liquid toners is 1+1.
You can mix them in an applicator bottle and apply them over your client's highlights straight out of the bottle.
Then rub in thoroughly. Then wait 10 minutes. Then rinse.
Blondify Natural Ash Blonde Toner Blondify Natural Violet Blonde Toner Example of Hair Toned with Blondify Natural Ash Blonde 010A

Example of Hair Toned with Blondify Natural Violet Blonde 010V Mix: 1+ 1 using a low-strength developer (10 or 20 Vol).
Make your mix in an applicator bottle 
Rub thoroughly into the hair and leave 10 minutes.
Rinse.