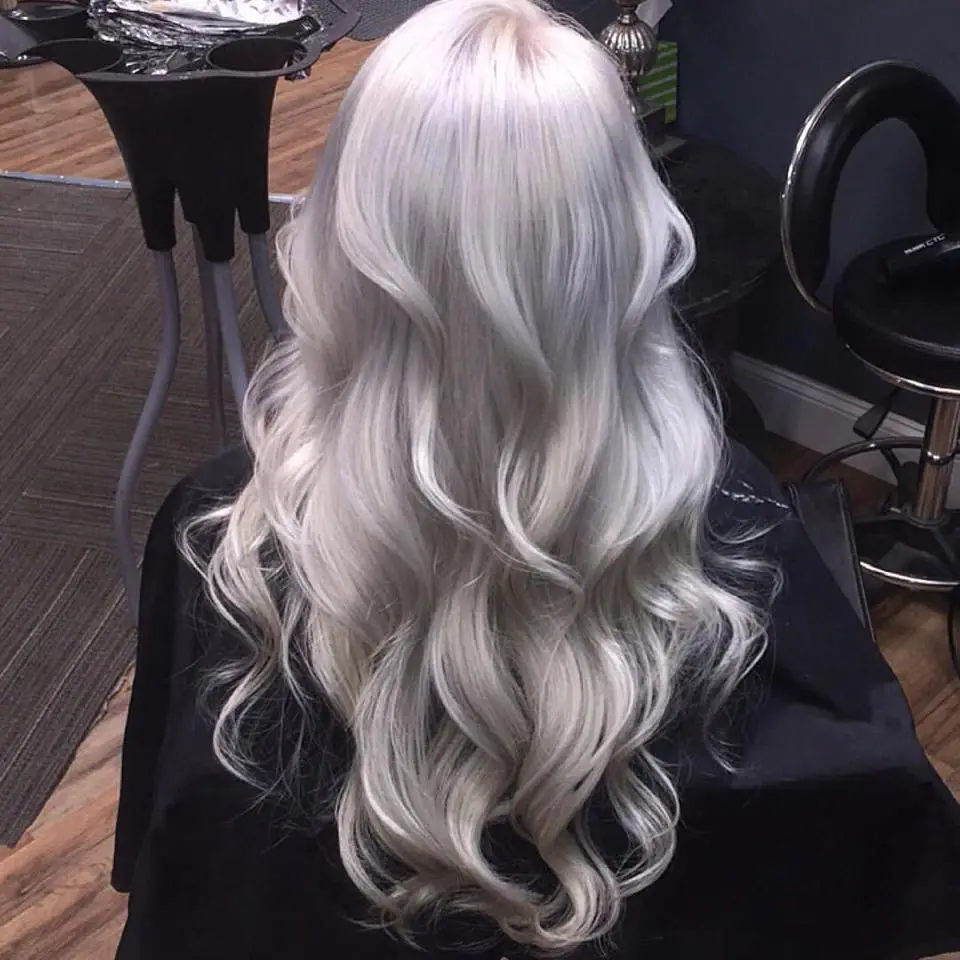 Intense Pearl Blonde Toner Final Result. Hair by Cody Darnell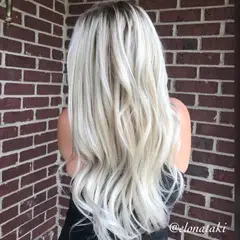 Pearl Blonde Toner Final Result. Hair by Elona Taki
Looking for a Toner That Will Take Out Yellowness and Brassiness? Here's What You Need to Do!
STEP 1 - LIFT THE BASE FIRST WITH LIGHTENER
First you need to lift any part of the hair that is too dark to a level 9 before you do any toning.
In both the cases above the client had a really dark base that needed lifting.
Use our new Brilliant Blondexx Bond Protect Lightener with 20 Vol or 30 Vol. Developer (only use 20 Vol near the root).
Good consistent pre-lightening is really essential for good toning!
Make a mix of 1 part lightener to 2 parts developer and really saturate the dark regrowth area or the whole head depending on what needs lifting.
Start applying at the back in case of full head applications.
In the case of regrowth applications apply on the dark regrowth first. Then stretch to other areas if you feel they also need further lifting.
Remember, the goal is to lift the hair evenly and consistently all the way up to level 10 for best results (see picture below for hair that has been correctly pre-lightened)
A common mistake is to not lift sufficiently - don't do this or you won't get a really nice result!
Now you are ready to tone.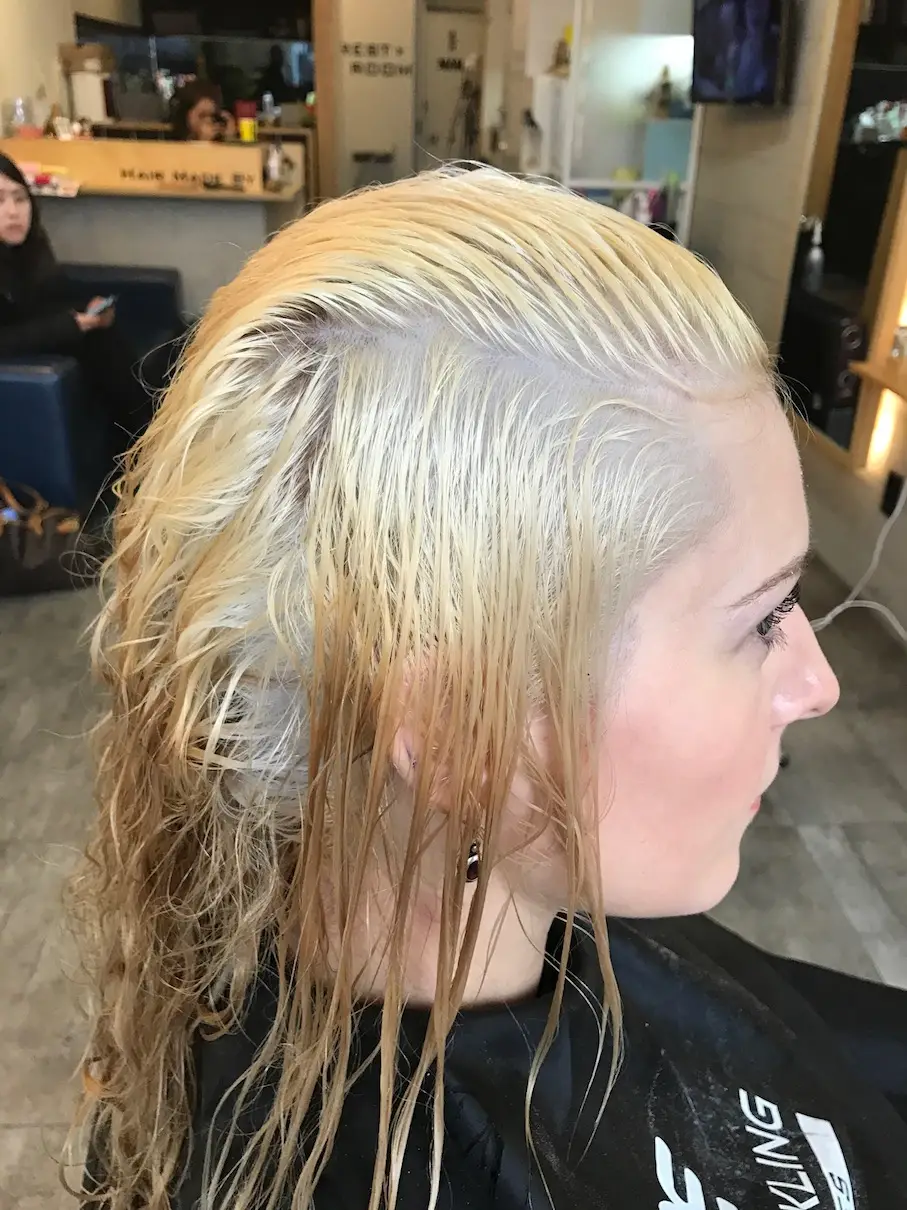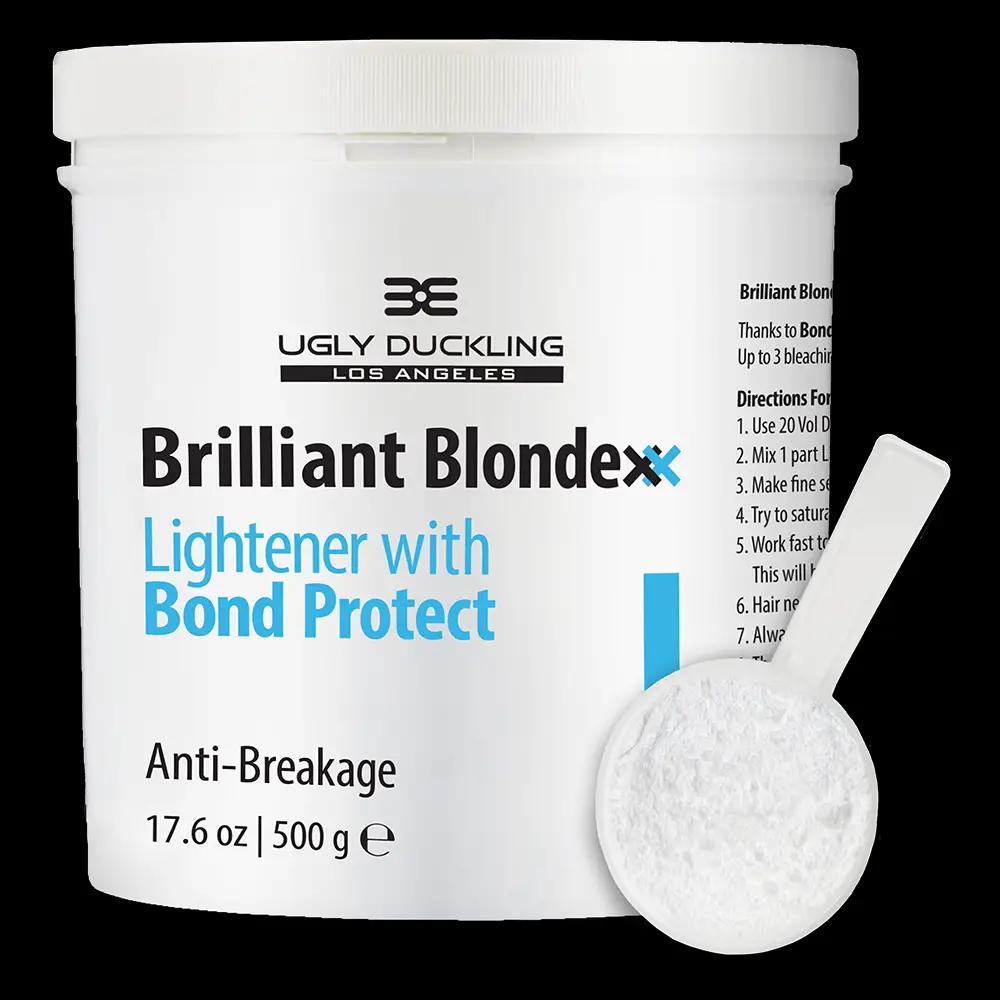 More About New Brilliant Blondexx Bond Protect Lightener Here
STEP 2 - CHOOSE THE RIGHT TONER. CHOOSE THE RIGHT DEVELOPER, MIX & APPLY
Choose your Ugly Duckling toner from the Ugly Duckling toners below.
Ugly Duckling toners are very very fast acting, and typically neutralize in around 10 minutes. So you do need to be alert and watch while they are on processing and be prepared to rinse when done.
Only use 10 Vol developer if you have really lifted well and you are confident that there is minimal yellow left.
Otherwise, use with 20 Vol developer for best results. You will get better release of yellow pigments and better toning that way. 
Apply on towel dried hair. It can be still wet. Just make sure there is no excess moisture. 
Mix 1 part of your chosen Ugly Duckling toner with 2 parts developer.
Section the hair starting from the back, using fine sections. 
Work fast because the toner works fast and you want to give your whole head an even processing time.
Leave out the last inch nearest the roots when you apply, and return to this section at the end. Hair processes faster on the root area due to the heat of the scalp.
As you apply, you will see the hair turn grey with a purple or grey or blue hue.
This is normal, it shows that the toner is doing its job of neutralizing yellow and brassiness. 
Normally 10-15 minutes is enough.
Once again, remember to watch the roots in particular carefully - do not over-process there.
WHICH UGLY DUCKLING TONER?
Ugly Duckling has 2 types of toners: Intense Toners and No-lift toners.
Use the chart below to figure out which Ugly Duckling toner to use: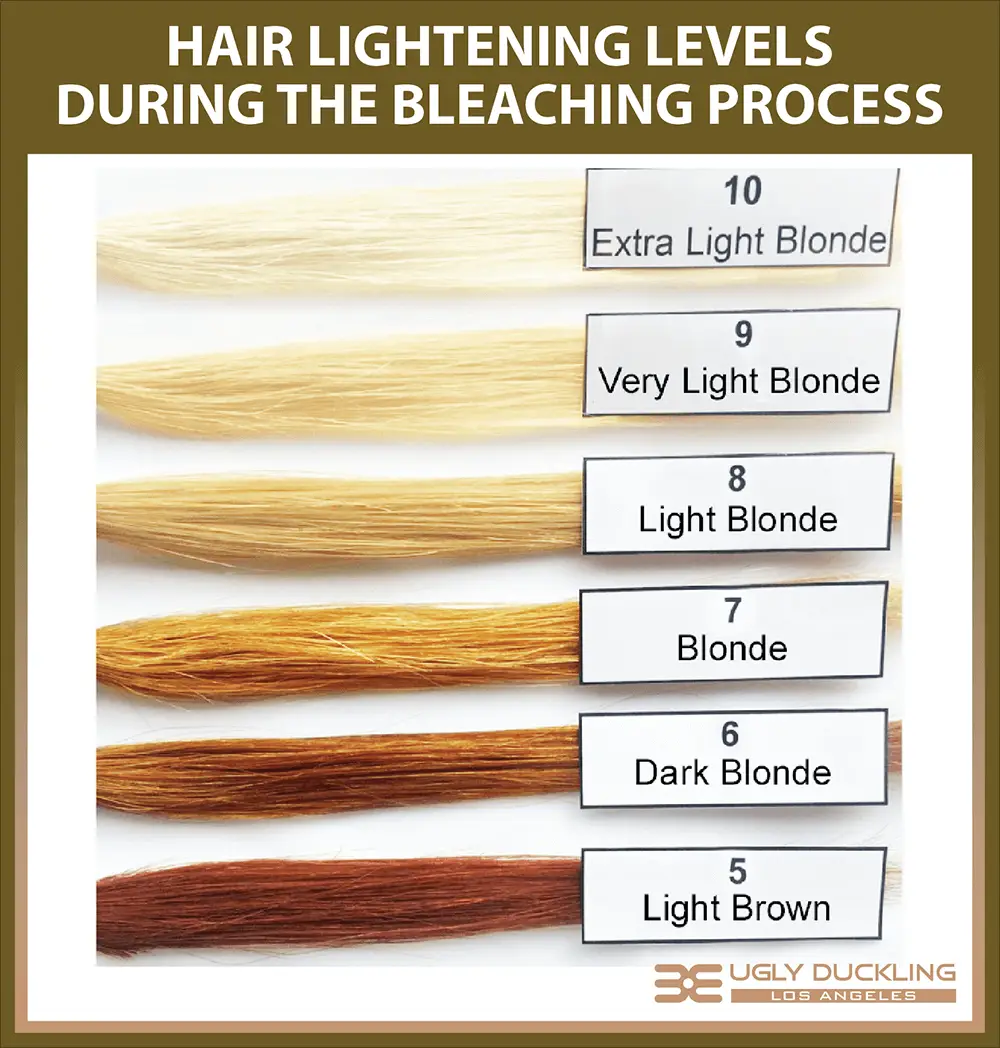 If your hair is either level 9 or level 10 it means that there is minimal yellow left: use Ugly Duckling No-Lift Toners
If your hair is either level 7 or level 8, you still have yellow in your hair which you need to get rid of. in this case, better to use Ugly Duckling Intense Toners.
If your hair is darker than level 7, eg level 5 or level 6, your hair is too dark and brassy to use toners directly. Use Brilliant Blondexx first, then tone with the Intense Toners
If you have low lights that you wish to keep, use the No-Lift Toners.
OTHER COLORS YOU CAN USE FOR TONING:
In addition the following colors also give excellent results and very unique color effects when used after pre-lightening: 
The Blue Based Blonde Colors, especially Extra Light Cold Ash Blonde 10.1b and Very Light Cold Ash Blonde 9.1b
The Greys: Silver Grey, Smoky Blue Grey and Metallic Grey
These colors are better processed for the full 30 minutes, you will get better color results that way.
STEP 3 - RINSE WITH PURPLE SHAMPOO & MASK
Rinse hair with Purple Shampoo, massaging thoroughly for 5 minutes as you do.
Then apply Purple Mask.
Leave the mask in the hair for 10 minutes.
Ugly Duckling's Purple Shampoo and Mask contain very intense pigments.
These will neutralize any remaining yellow and take your hair to ultra white blonde.
They are also low pH and will help to close the hair cuticle after the lightening and toning process.
Only use Purple Shampoo and Mask after toners, not after regular colors.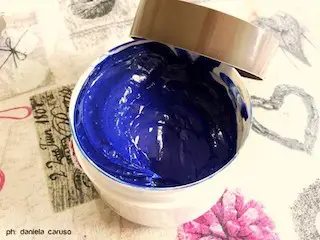 Learn More About Ugly Duckling Purple Mask Here
FINAL RESULT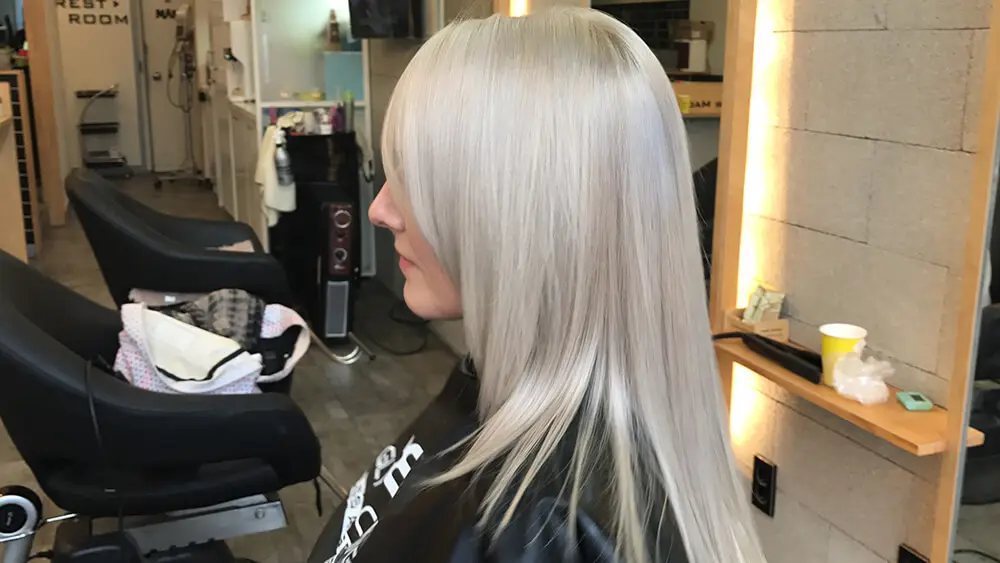 WATCH THIS VIDEO TO SEE BLEACHING AND TONING TO ULTRA WHITE BLONDE:
Products Used in Video:
Brilliant Blonde Lightener
Pearl Blonde Toner 10V
Developer
FREQUENTLY ASKED QUESTIONS ABOUT TONING
Q. Can I Use Toner Without Developer?
A. No You Can't. 
All Ugly Duckling toners work best with developer. The reason is that they have been formulated for extra vibrancy and for that we need to penetrate into the hair cuticle, in order to release any remaining yellow pigments and then recolor the hair blonde from inside. That is the best way to get a good hair toning result which will last.
Q. Can I Use Toner with a No-Lift Developer?
A. We would recommend that you use 10 Vol even if you don't want to lift.
10 Vol developer is a minimum recommended strength to open the hair cuticle. We don't recommend that you use anything weaker.
If you have low lights that you don't want to get lifted, use our no-lift toners with 10 Vol developer for a short processing time and you should be OK.
Q. Can't I just use any toners? Aren't they all the same?
A. There are a lot of good products out there, but Ugly Duckling Toners Are Rather Unique.
Our toners are very very fast acting and contain a lot of pigments.
They have been designed to work really fast, on wet hair if necessary.
The intense toners contain an extra "booster: which will get rid of any remaining yellow.
The no-lift toners are very very pigmented indeed.
The blue based ash colors and grey all have very unique color results.
Q. Do you apply toners on wet or dry hair?
A. You can apply Ugly Duckling toners to wet or dry hair
If you are pre-bleaching, then rinse and towel dry after bleaching to get rid of excess moisture.
Then go ahead and apply your toner and developer mix.
If you are not pre-bleaching, we would suggest you apply on dry, unwashed hair.
Q. How often do you need to apply toner?
A. All hair color fades, so very probably your toned hair will also fade and require re-toning every 6 weeks or so
By this time hair will have a new regrowth which will require fixing also
Be careful at this stage to lift the regrowth properly to create a consistent color level.
If the lengths were done properly the previous time, they will most probably require only a few minutes of toning
The regrowth on the other hand may require lifting.
Q. Can't I just use your Purple Shampoo and Mask to tone?
A. You will get better results if you tone first, then use Purple Shampoo and Mask to maintain
It is true that you can just use purple shampoo and purple mask  to tone
We do have an excellent purple shampoo and mask of our own. It contains intense purple pigments which do neutralize yellow in blonde hair.
However, These products are best used as finishing/maintaining products after the main toning is done using a proper toner and developer.
Q. Can I mix a toner with a regular color?
A. Yes you can do that. All Ugly Duckling colors are inter-mixable.
One common mix that stylists use is to mix the silver blonde toner with the pearl blonde toner.
Another is to mix any of the colors above with Clear to bump up the color by one level.
Q. Do hair toners damage the hair?
A. Not if you use them correctly.
Women who have long hair should pay attention to the fact that their lengths are going to get repeated toning applications.
We always suggest a differential approach.
Lift up and deal with the dark areas (eg the regrowth area) that needs heavy lifting. Do this really well once.
But give only a very few minutes of toning to the lengths or areas that need less toning.
You will avoid damaging the hair in this way.
Q. What if my ends are lighter than my mid-lengths? Do I use the intense toners or the no-lift toners.
Make your toner choice as per the chart below aiming to fix the darkest part of your hair.
If you have parts of your hair (eg ends) which are really really light, just refresh for the last 5 minutes of the toning application & you should be good.