Looking to transform your client's hot mess?
Does your client have yellow, orange or brassy hair - even after you have lifted it with bleach? 
And do you need to transform this yellow mess to something that she can actually be proud of?
Or are you looking to just give her a quick gloss and tone and maintain for in-between regular bleach and coloring sessions? 
Either way, you are going to need to choose the right toner for you and your client.
We can help you do that. Keep reading!
What exactly is a toner?
Toners are products that color-correct hair. In particular, stylists use them to neutralize yellow, orange and bleached hair.
Use the right toner (and the right method, of course) and you can alter the color.
Typically from dark, warm, orange and yellow to blonde, white, ashy or platinum. 
Look at the transformation in the picture below (and also at the top of this page) for an example: Hair by Michelle Kim, Sanford, N.C.
What does a hair toner do?
A toner also helps give you a finished, 3-D, shiny and elegant color.
Even if your client's hair is not brassy and just dull and faded, you can still transform it using a toner.
And of course you can eliminate unwanted yellow and orange, using the principles of the color wheel.
Good toners are not just color correctors, however.
Some of them also lift the underlying level of the hair (we will get to that shortly).
They also serve to freshen up and re-condition your client's hair, eliminating frizz and dryness.
And if you bleach hair, it's virtually mandatory to use a toner. The hair simply will not look attractive when it is just bleached.
How does a toner work?
A toner typically contains pigments, very often green, blue and purple pigments. 
These pigments are on the opposite side of red, orange and yellow respectively on the hair color wheel.
Being on the opposite side, they act to cancel or tone these colors out.
So, for example, we use purple-based toners to cancel out yellow, blue-based toners to cancel out yellow-orange, and green or ash-based toners to cancels out orange. 
Color Wheel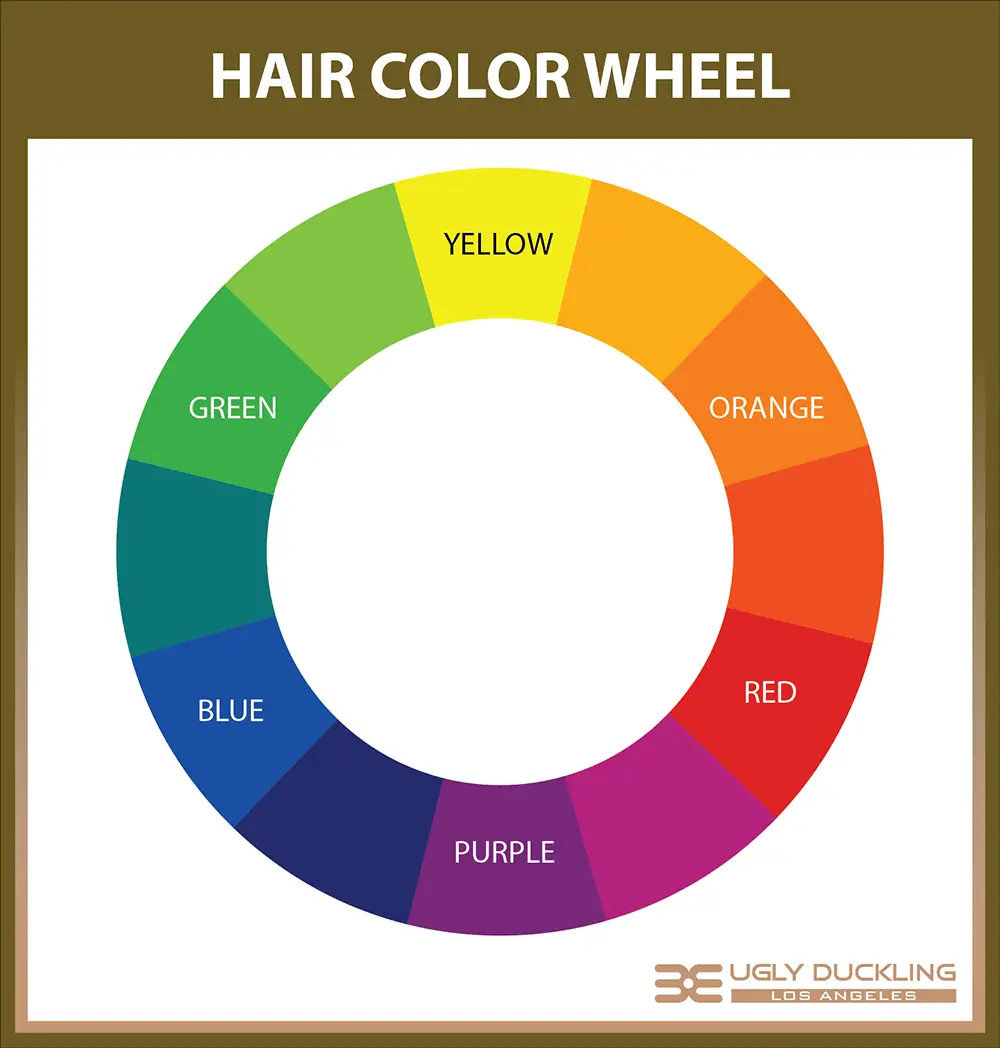 Color Neutralization Chart How do I know which toner to use?
To get rid of palest yellow, you need to use a violet-based toner.
To get rid of yellow, you need to use a blue-based toner
To get rid of yellow-orange, you need to use a blue-green based toner (also known as "ash" toner)
If the hair is level 6 and darker, you need to lift first and then tone. You can use a lifting toner for that (see below) or a bleach.
Does a hair toner also lift?
Some good news. There are some toners which lift as well as tone.
These are Ugly Duckling's Intense Toners. No other brand manufactures this kind of toner.
These toners are able to do this because they have an extra "booster" ingredient.
This is very helpful when the hair has been insufficiently lifted or insufficiently highlighted.
Hairdressers typically find these products a very useful way to "kick out extra yellow".
You will need to use a lifting toner if your hair is around level 7-8.
Ugly Duckling's Intense Pearl Blonde and Intense Silver Blonde toners function in this way. 
Go here to learn more about them.
Should I Use a Liquid or Cream Toner? 
Cream toners, which need to be applied with a brush after mixing with developer are strongly pigmented and, as we say, they can also lift.
Ugly Duckling's cream toners are all permanent (they contain ammonia) & typically for clients whose hair is really very brassy and who are looking for a substantial hair makeover.
Cream based permanent toners would be the way to go for transforming really brassy hair (after bleaching really well of course).
That is the way to achieve stunning white blonde transformations. 
To learn more about cream-based toners, visit Ugly Duckling's toners & additives.
Watch Video to see Ugly Duckling's Intense Pearl Blonde 100V in action - Yellow Hair Toned a Stunning White Blonde
If, on the other hand, you are looking for a quick glaze, or tone, rather than a total white blonde color transformation, then you can use a liquid toner.
Liquid toners (such as Ugly Duckling's Blondify) are demi-permanent (no ammonia) toners.
You can use them with lower strength developers to tone highlights without touching the underlying base.
You can mix the liquid toner with the developer in an application bottle and you can apply really fast. It's the ideal quick salon glazing service.
Go here to learn more about how to use liquid toners: Ugly Duckling's Blondify liquid toners.
I want to tone but I don't want to touch the base. Which toner should I use?
If you don't wish to touch the base, then here again you should use Ugly Duckling's liquid gloss toners (Blondify).
You can use them with low developer strengths (7 or 10 Vol, for example) and leave them on for just 10 minutes.
You will be able to tone highlights blonde without touching your dark base or shifting it in any way.
What is the difference between Permanent, Demi-Permanent or Semi-Permanent Toner?
Permanent Toners
A permanent hair toner means that it contains ammonia.
These are usually cream based toners.
They will give you vibrant colors, stunning white blonde results & last really well.
They are what you should use for major hair makeovers, white blonde & platinum blonde transformations.
Ugly Duckling's Intense & Regular Pearl and Silver Blonde toners are all permanent. Go here to learn more about them.
Demi-permanent Toners
A demi-permanent typically uses ethanolamine in place of ammonia.
The ethanoloamine creates the coloring base and opens up the hair cuticle in order to recolor the hair cortex.
The only difference is that it opens up the hair cuticle less than a permanent hair color or toner does.
So typically there is less lift and the hair color lasts less long.
Demis typically work fast (10 or 20 minutes at the most) and for the most part do not lift.
They are much appreciated by stylists because they are very good at giving quick glaze and gloss toning effects.
When used with low strength developer for limited processing time, demi-based toners will not lift the base.
Ugly Duckling's new demi-permanent gloss toners Blondify have just been launched. These toners offer quick toning results for yellow and brassy hair in only 10 minutes. They are ammonia-free. And they won't lift or otherwise disturb a darker base or a shadow root.
They are available in Natural Ash Blonde & Natural Violet Blonde. Go here to learn more about them.
Semi-Permanent Toners
Lastly, there is also such a thing as a semi-permanent toner.
These are purple/blue toners built inside hair care and hair treatment products.
When rubbed into hair will help to neutralize yellow.
These are extremely convenient products to use to finish at the backwash, and you can also recommend clients to take back and use for regular home maintenance of blonde hair.
They do an excellent job of fighting yellow.
But they will not lift and they are for finishing only rather than major toning.
Ugly Duckling's Purple Shampoo and Mask are very popular as semi-permanent toning products. They are low pH, sulfate-free and gluten-free.
Go here to learn more about them.
What should I do before toning my client's hair?
The most important thing you can do is of course to bleach or highlight the client's hair extremely well. This step is too often ignored by stylists. Not bleaching or highlighting correctly is the main reason for stylists failing to achieve good toning results.
As a hairdresser, you will disappoint your clients who are looking for a gorgeous blonde makeover if you do this. So use a quality bleach (like Brilliant Blondexx with Bond Protect) and saturate the hair really well and try and lift out all the red, orange & yellow from the hair before even beginning to tone.
Hair Bleaching Levels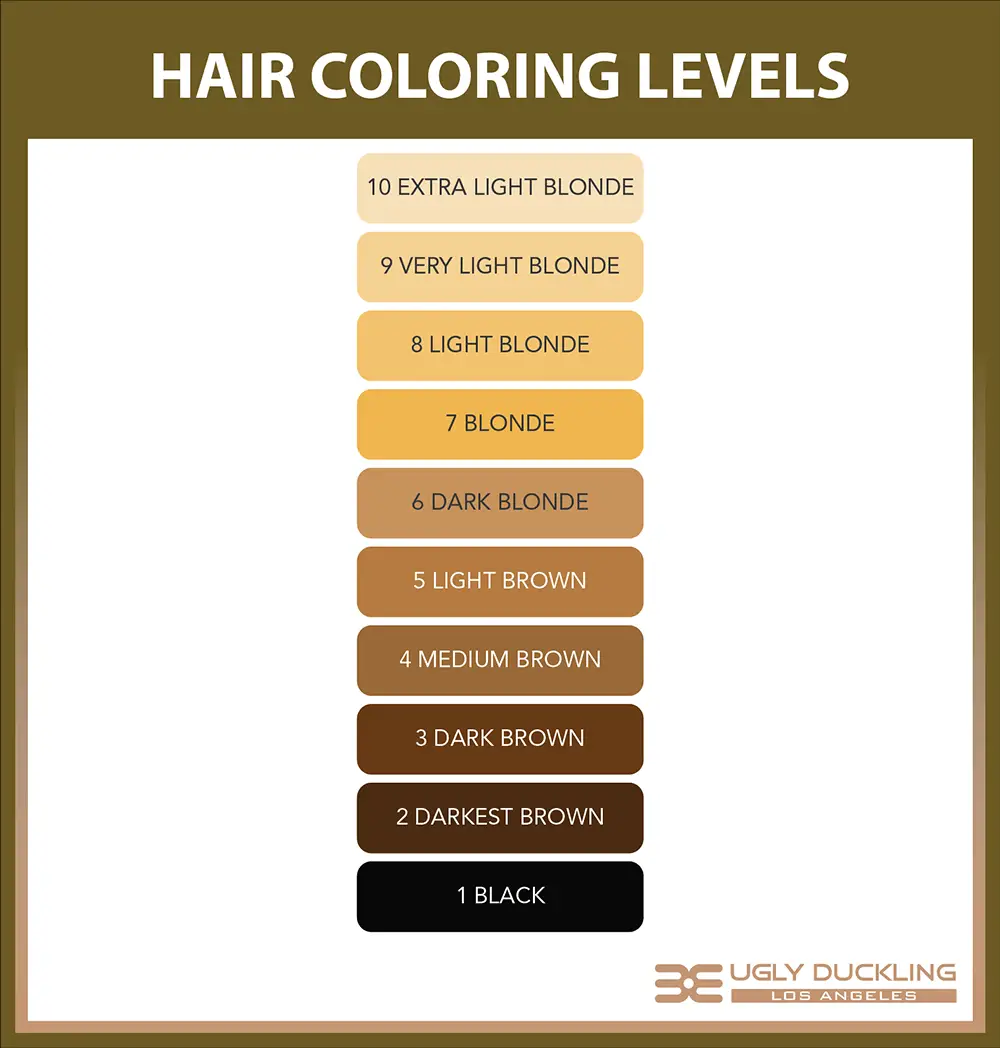 Your aim should be to get the hair as near to level 10 as you can before toning.
How should I choose the right toner for my client's highlighted hair?
Best toner for icy white pearl blonde hair
Pre-lighten hair first very well to level 10. Then use intense pearl blonde 100V with 20 Vol.
Intense Pearl Blonde is one of the fastest acting and whitest toners on the market, and is both intense pigmented and contains lift.
You need to be mindful of that and rinse as soon as you get the result you want - 10 or 20 minutes may be enough if the hair is already very very white. Best toner for natural, silver-white hair
Pre-lighten and use intense silver blonde 100B.
Hair by Elona Taki. Best toner for platinum blonde hair
For platinum blonde hair like the result below, first pre-lighten very very well so that there is no yellow whatsoever left in the hair.
Then color with 10V. Note: this is a regular color. The V means violet. You need to mix it with developer 1+1 and leave it for a full 30 minutes.
You will get the best, most vibrant color result that way. Hair by Ashley Betancourt
Best gloss toner for neutralizing yellow hair
Sometimes a quick gloss toner is all you need. For neutralizing yellow-orange hair use Ugly Duckling's new Blondify toner.
In this case we used Natural Ash Blonde 010A
It's ammonia-free & it only takes 10 minutes.
It's a liquid gloss toner and it also contains Bond Protect to condition the hair during the toning process.
Watch Video: We used Blondify Natural Ash Blonde 010A with 20 Vol to turn yellow-orange into a beautiful natural ash blonde.
Best gloss toner for neutralizing yellow hair
For neutralizing yellow hair, a violet based liquid toner is perfect: Blondify again.
In the video below, we did a quick gloss tone using the new Ugly Duckling Natural Violet Blonde 010V
Watch Video: We used Blondify Natural Violet Blonde 010V to transform yellow hair into a stunning grey-pearl blonde.
Result achieved by Elona Taki using Blondify 010V Liquid Toner (Demi)