In order to obtain truly great  blonde results, you need to bleach first to a true level 10.
And bleaching the hair all the way to a true level 10 is totally possible.
Provided you use the right products and the right techniques.
In this blog, we will show you how.
How to Bleach Hair to a Level 10: Watch Video:
Hair by Elona Taki
What bleach should I use?
Ugly Duckling has 2 bleaches, both of which can get you to a level 10 blonde easily.
The first is Brilliant Blondexx with Bond Protect. It is white bleach with Bond Protect built in.
The second is Brilliant Blonde. It is a blue based bleach specifically formulated for ultra dark, or Asian hair.
Both these bleaches will work very well with 20 Vol and 30 Vol developer.
Nothing stronger is required to get to level 10 as long as you use these bleaches. Brilliant Blondexx Bleach

How should I mix the bleach?
We always recommend that you mix in a 1 part bleach to 2 parts developer ratio.
This will give you a gravy, or wet creamy like mixture.
And this will allow you to really saturate, or soak the hair properly with the bleach mixture.
Which is what you need to do to get good lift. This is what your Brilliant Blondexx bleach mix should look like
Mixing Brilliant Blondexx Bleach
How should I apply the bleach?
When applying, no half steps please!
Take your brush and apply the mixture generously.
You can start from the back when doing a full head application, then work your way around.
Or you can start from the root area if that is where your regrowth is.
Always start from the darkest, thickest part so that it gets more processing time.
How light is level 10 hair exactly?
As hair gets lightened, it will go progressively from orange, to yellow-orange, to bright yellow, to pale yellow.
And then finally to very pale yellow.
Which is what level 10 is.
This is the level you should be aiming at if you want to get truly excellent blonde results. The bleaching levels from level 5 to level 10
What does level 10 hair look like?
After you have bleached the hair to level 10, it should look like this: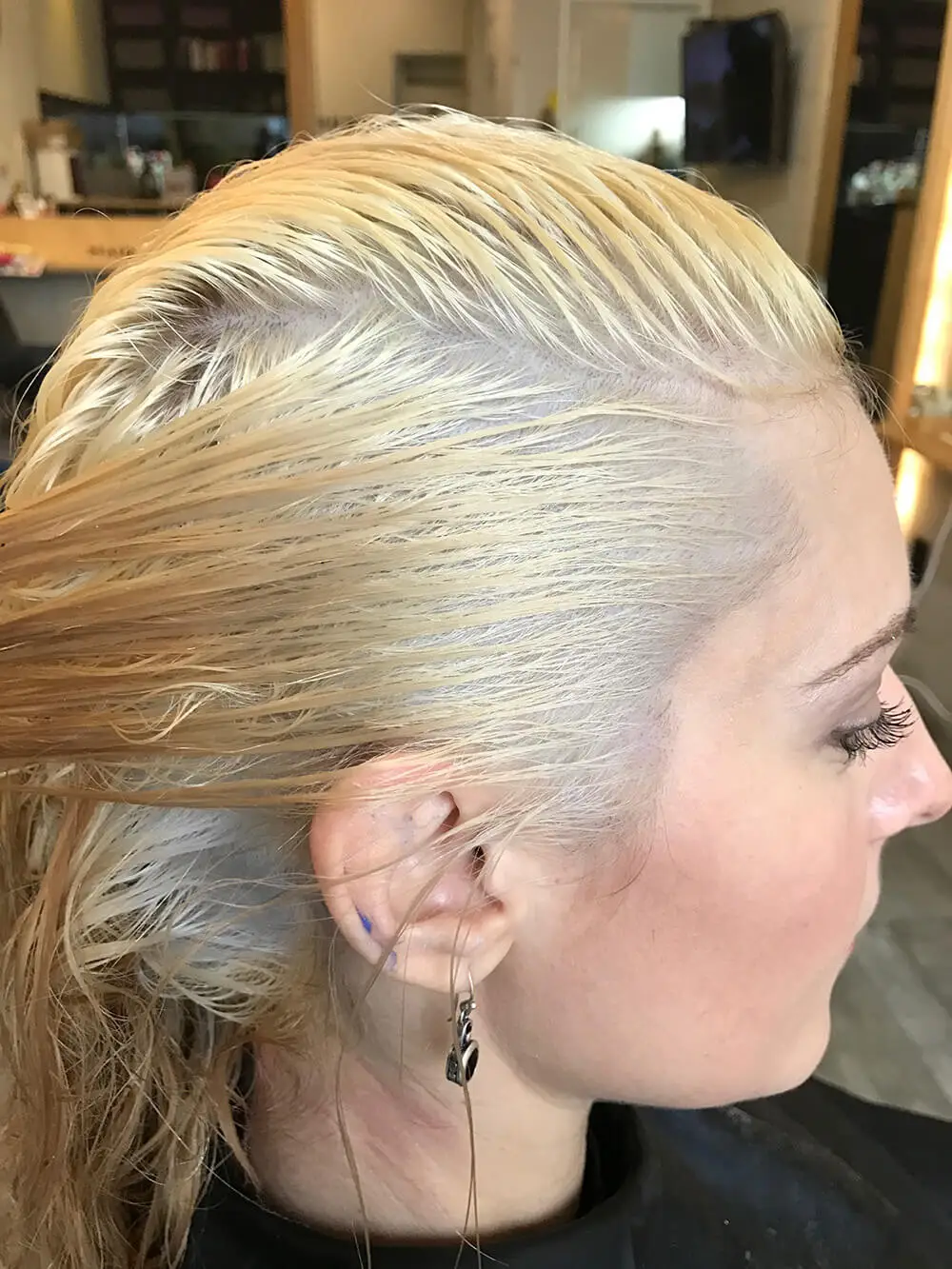 Hair bleached all the way to level 9-10
And not like this: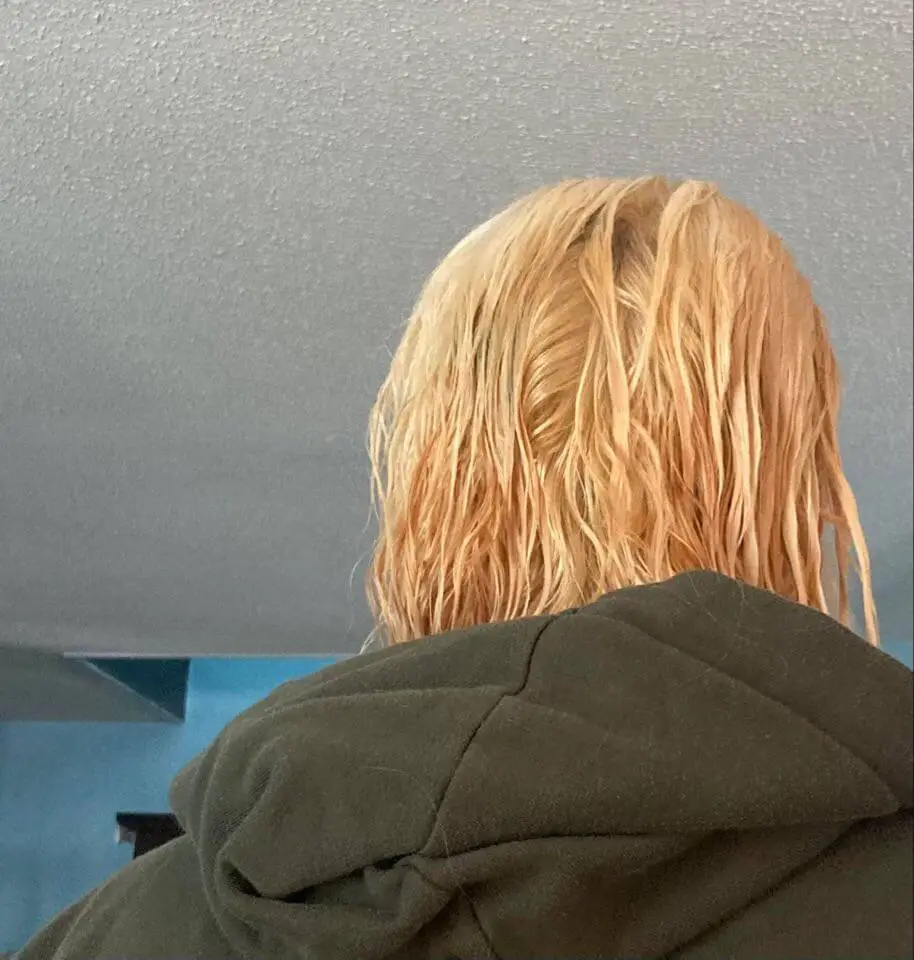 Orange/yellow hair Yellow/orange hair
I bleached my client's hair but I only got to orange. What did I do wrong?
If you only got it to orange/yellow or yellow/orange like in the 2 pictures above, it essentially means that you have not bleached the hair enough.
If you are not able to get appropriate results with your bleach mixture, you should deep-dive into why your bleaching came up short.
Chances are you used a poor quality bleach. All bleaches don't have the same lifting power.
Secondly, you may not have saturated the hair with enough product when you did bleach.
And thirdly, you may simply not have left it on for enough time.
Adding extra strong developer (eg 40 Vol) in the hopes of getting it to lift will only make matters worse. 
The solution in this case is to use a better quality of bleach.
One that gives you good lift with 20 and 30 Vol developer. 
Both Ugly Duckling bleaches will take hair up to level 10 with the use of 20 or at most 30 Vol developer.
Which toning products do I need to use after bleaching?
Ugly Duckling has a wide range of toners which are good at getting hair to platinum blonde.
Here are 2 which we recommend in particular.
They always give good ultra white blonde results:
Intense Pearl Blonde 100V Use this if there is still yellow left in the hair and you are trying to get it to pearl-white blonde. 
Extra Light Cool Blonde 10.2 Use this for very platinum blonde results.
Watch a video of 10.2 in use after Ugly Duckling Bleach: Platinum Blonde 
Hair by Elona Taki
Watch a video of Intense Pearl Blonde in use after Bleach: From Pink Hair to Blonde 
Hair by Ashley Betancourt