What are the Blonde Hair Trends in 2021?
The trend these days is, more than ever before, about being blonde. Hair stylists are pushing limits to achieve blonde like never before. 
Above all, women are moving away from warm blonde tones like honey, caramel, and gold towards cold and even ultra cold ash blonde colors.
Ash blonde, platinum blonde, cold blue blonde, pearl blonde, grey blonde. Without the slightest hint of warmth.
And interestingly, whereas going blonde used to be more for women with light colored skin tones, these days women of all skin tones are interested in going blonde.
Blonde is now for Lady Gaga & Beyonce. Not just Paris Hilton & Ivanka!
Another trend that we see in 2021: more and more it's all about a solid blonde look. Highlights & lowlights are out.
Sometimes the solid blonde color comes with a melted dark root to show off the contrast.
The colors that we see used for the shadow root tend to be purple and ash based: purple, purple grey, ash grey, dark ash blonde.
The trends that we are talking about are based on hairdresser purchases for salon use. 
In this blog article we are going to take you through the top 10 most popular blonde trends in 2021.
And we are going to show you exactly how you as a hairdresser are going to achieve them!
What is the first thing a stylist needs to do in order to get her client blonde?
A quick word on the basics. If you are seriously looking to take a client blonde, you are going to have to bleach the hair really correctly.
Always take the whole head up to a consistent level 10 and you will get great results afterwards.
Here is a picture of what the hair should look like after bleaching - basically, it needs to be level 9 or 10. That is to say, pale yellow. Which Bleach do you recommend to achieve blonde hair?
To get the hair up to yellow or pale yellow, you need to use a high quality bleach.
Otherwise you risk blowing up your hair - without even getting the necessary lift.
For most cases we would suggest Brilliant Blondexx with Bond Protect. Thanks to the Bond Protect, it protects the hair fibre as it bleaches.
It produces a creamy white mixture and it lifts by 7 level. Plus you don't need to use developers stronger than 20 or 30 Vol to achieve your lift.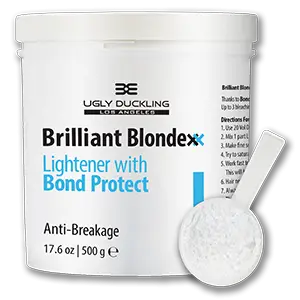 Which are the most trending blonde looks right now? And how do I achieve them?
We're showcasing some very popular, trending blonde shades here. And we are giving you the exact Ugly Duckling toner or color you would need to achieve them.
Remember, you must prelighten first with bleach. as shown above. Then rinse. Then apply the toners below.
Look No 1: Intense Pearl Blonde This is a totally white, pearl-like blonde which is very popular. Use Intense Pearl Blonde 100V to achieve this look.
Look No 2: Intense Silver Blonde This is a more natural pure white silver blonde look. Also very popular. Use Ugly Duckling's intense silver blonde toner 100B for this look.
In this look, our model opted for a melted violet root. Use our violet color on the root to achieve that.
Look No 3: No-Lift Pearl Blonde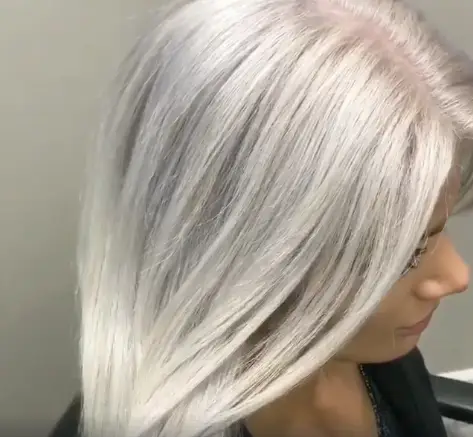 To get this look, use Pearl Blonde toner 10V. This toner is no-lift and so it should only be used on hair that has been very well pre-lightened. Although it is no-lift, it is very strongly pigmented with violet (purple) tones. Which is why it produces such a stunning pearl, grey color result.
Look No 4: No-Lift Silver Blonde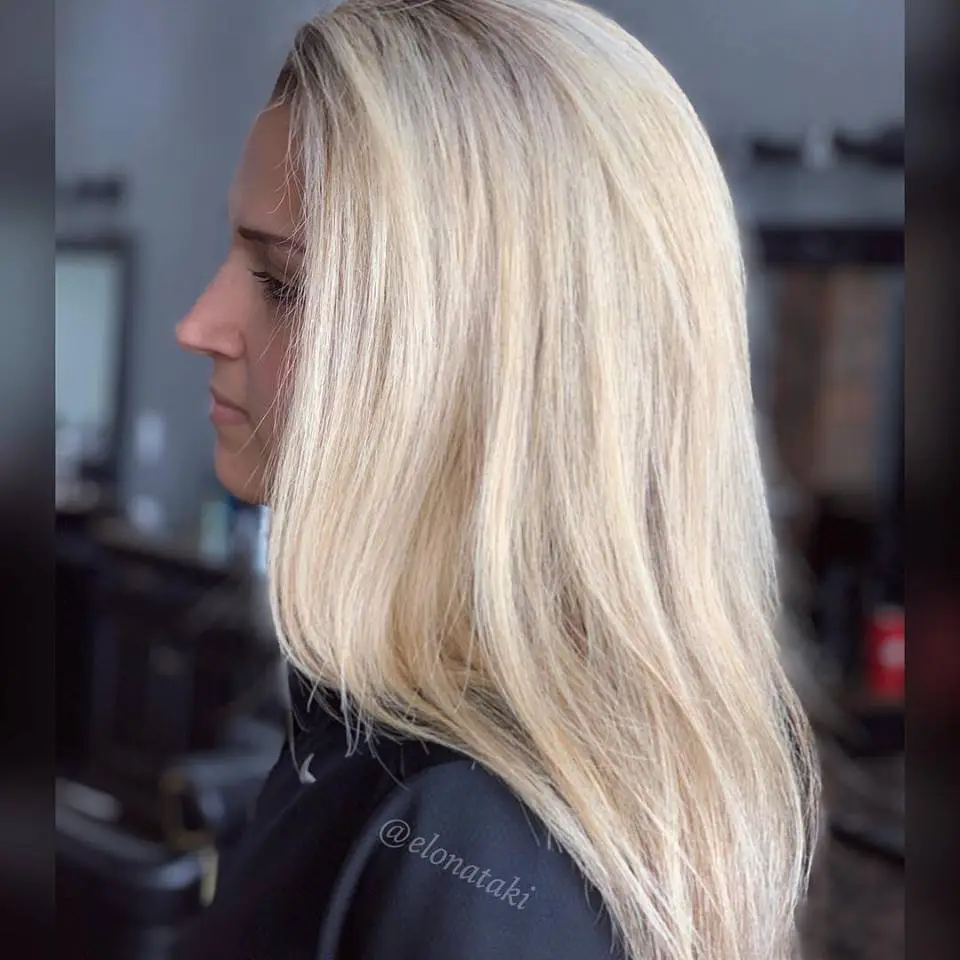 This toner is also a no-lift and produces very nice natural but still very very white blonde results with not a hint of warmth. Once again, a very popular.
Use silver blonde 10B to achieve this one.
Look No 5: White Platinum Blonde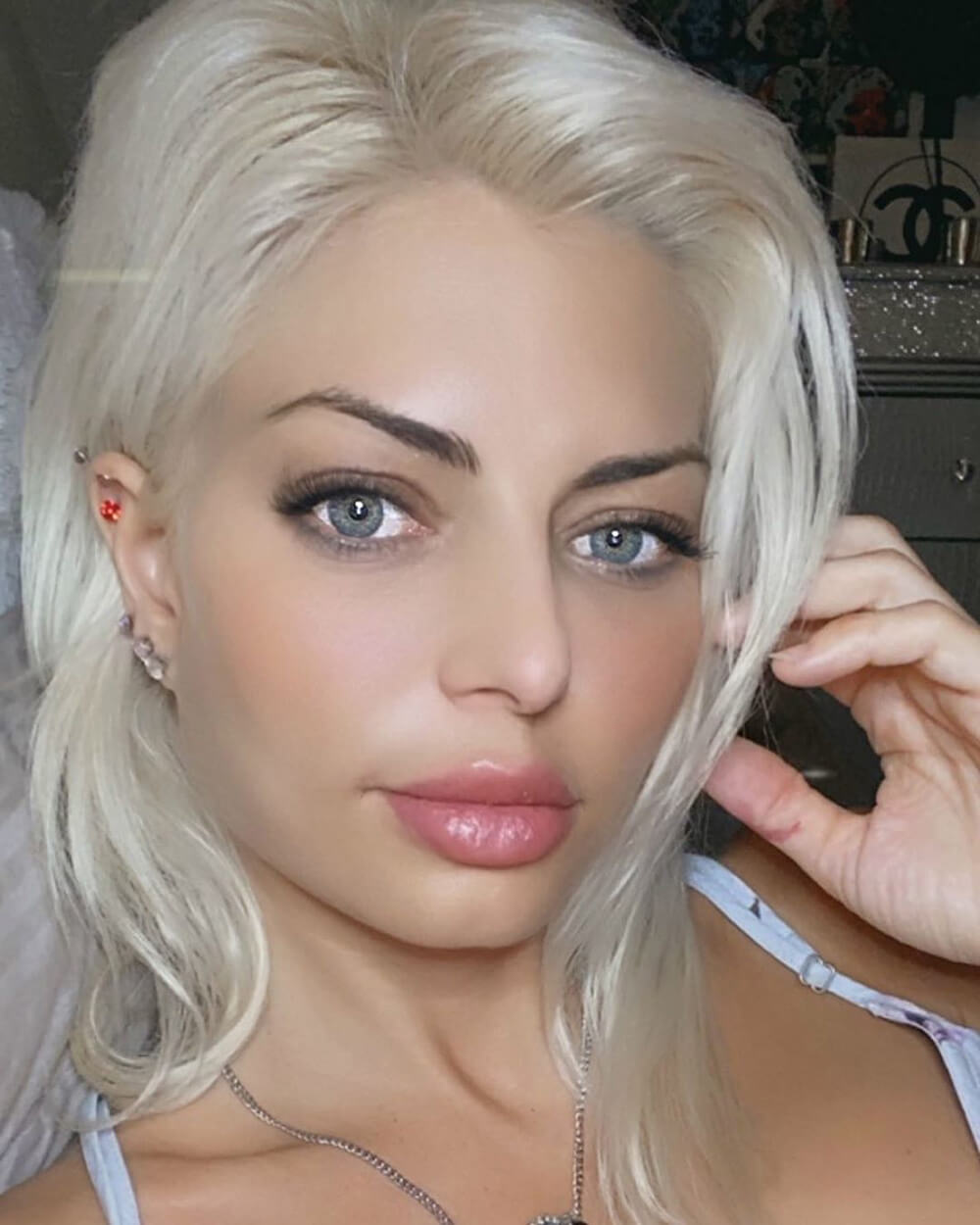 This totally white platinum blonde look can be achieved using this toner: Ugly Duckling 10.2 Extra Light Cool Blonde.
Look No 6: Blue Based Ash Blonde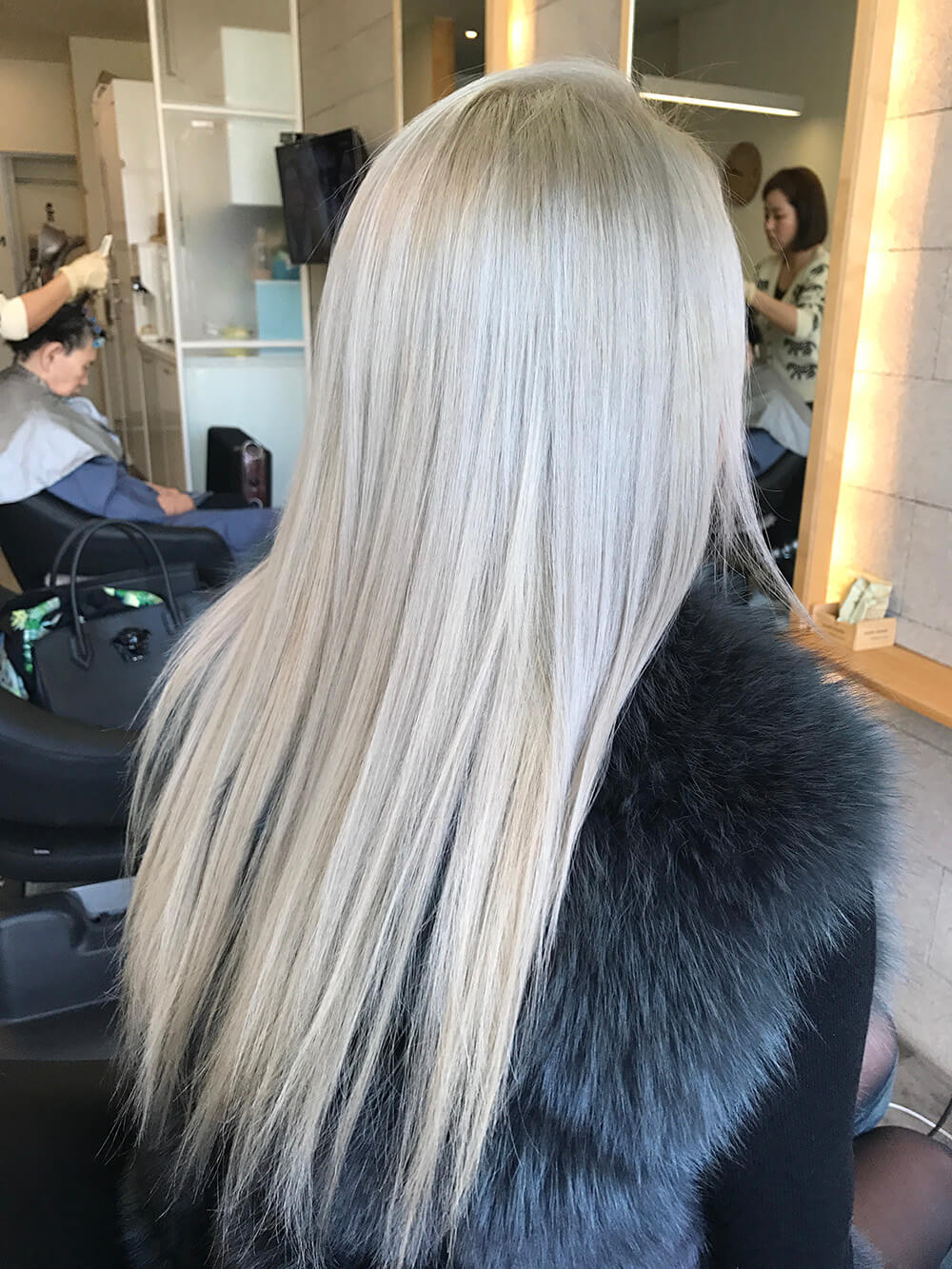 This color is achieved using Ugly Duckling's Blue based Extra Light Cold Ash Blonde 10.1b. The blue pigments in this blonde color do a great job at neutralizing any remaining yellow in the hair and produce a true ash blonde result. This one is very suitable for those women going for a really pure ash blonde look.
Look No 7: Silver Grey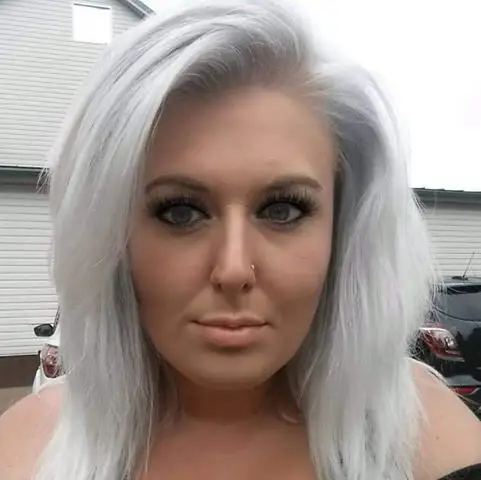 These days grey blonde is becoming more and more popular. Use silver grey to achieve this look.
Look No 8: Ultra White Blonde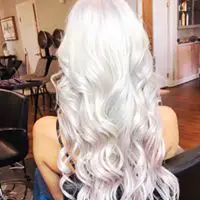 In order to achieve this magnificent white blonde result, our stylist bleached really really well until the hair had only the palest yellow showing.
Then she used 10.2 Extra Light Cool Blonde mixed with 100V Intense Pearl Blonde mixed with Clear. The Clear acts to bump up the level by half to one level and helps to produce this white blonde look.
Look No 9: Pearl & Violet Grey Blonde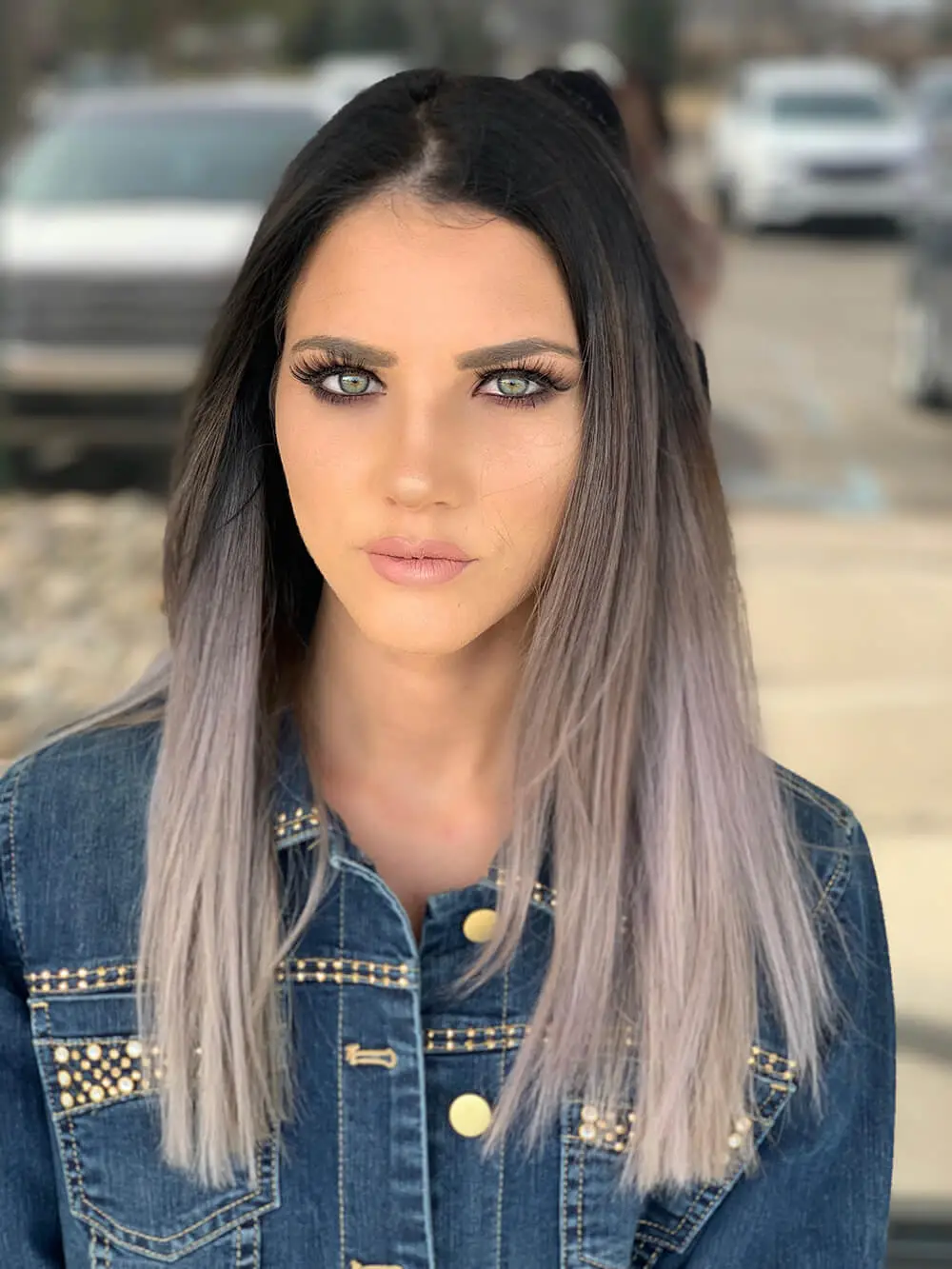 This stunning look is achieved with a combination of Pearl Blonde 10V & Intense Violet Blonde 7.22
Look no 10: Grey Blonde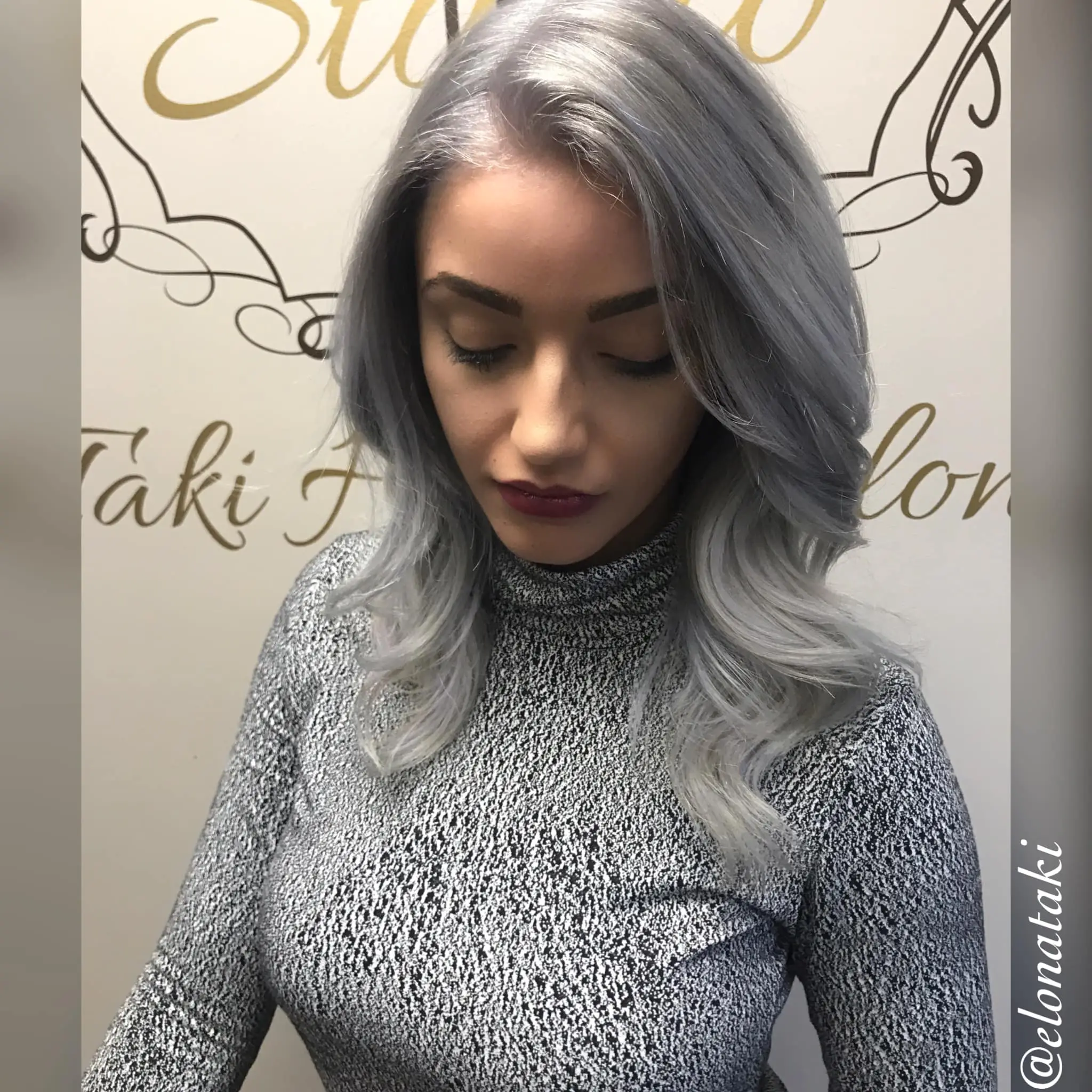 To achieve this spectacular Grey Blonde, Use Silver Grey mixed with Metallic Grey mixed around 50/50.