TONING AWAY YELLOW: WATCH VIDEO:
Hair by Elona Taki.
HOW TO TONE AWAY YELLOW HAIR - STEP BY STEP TUTORIAL Maddie came in to our salon with hair looking like this.
We took care of the yellow, and toned it to a beautiful extra cold ash blonde result.
In this blog tutorial, we are going to show you how you can do this.
Just follow the Ugly Duckling 3 step technique & you can transform any hair ,

no matter how yellow or orange,

into a consistent, beautiful, white ash blonde.
STEP ONE: LIFT THE DARK OR BRASSY AREAS 
Before attempting to tone down any area with toner, you will need to examine the hair & check which areas are the darkest.
In most cases, it will be the regrowth area, which can be anything from 3 inches to 6 inches & more.
You will need to lift this area with lightener before doing anything else.
Sometimes hairdressers and their clients are cautious about using bleach.
But if you use the right products, you will only have to bleach once & it will come out right - without damaging either the scalp or the hair.
We recommend our new lightener which has been designed for near root applications. It's called Brilliant Blondexx.
It contains a special Bond Protect formula that protects the hair as you lift. So it's very gentle.
Make a mix of 1 part Brilliant Blondexx and 2 parts 20 Vol developer as you see in the pictures below.
20 Vol is good enough even for dark hair because when you are working near the scalp the heat from the scalp also helps the job.
After application, keep checking the hair to see how it is developing.
There is no fixed development time for bleach - you need to take it all the way up to a very very pale yellow (if it is just yellow, that is not light enough).
Many stylists make the common mistake of not lifting enough & complain when they don't get beautiful ash blonde results.
Don't be like this! Use the qualities of Brilliant Blondexx, which will lift very well, & take it all the way to a level 10.
Then rinse. Hair After Brilliant Blondexx - the dark regrowth has gone now & the whole head is a consistent very pale yellow color.
STEP TWO: APPLY TONER TO GET RID OF YELLOW
Now once you are done with the regrowth, we are ready to tone to get rid of the remaining yellow pigments.
By toner, we don't mean purple based shampoos or masks. They have their uses (we will get to that later) but first you need to do proper toning using oxydative toners.
For Maddie's case, we decided to go with Pearl Blonde Toner 10V.
It is very heavily pigmented in purple pigments which remove yellow incredibly fast.
You can also use Intense Pearl Blonde Toner 100V.
It also contains a special booster ingredient which is very effective when the hair has not been fully lifted to level 10.
The mix for all Ugly Duckling toners is 1 part toner to 2 parts developer.
Use 20 Vol developer. 
Ugly Duckling toners are very fast acting & you should keep watching & rinse as soon as you get the desired result. Toning with Pearl Blonde Toner 10V
WATCH THIS VIDEO OF AN APPLICATION OF UGLY DUCKLING 100V
Products Used:
STEP THREE: USE PURPLE SHAMPOO & MASK
Now is the time we can start talking about Purple Shampoo & Mask. As we said, they do have their uses, particularly at the final stage, once you have done all the heavy lifting (Bleach plus toning with an oxydative toner).
If (like some of our clients in the photos above) your client's hair has had different colors put in at different times, even after toning a final application of purple shampoo and mask is recommended. You will get a more consistent, even blonde color that way.
Brilliant Blonde Purple Shampoo & Mask both contain intense violet pigments which will do the job of killing any remaining yellow.
They will also create a more consistent color result between regrowth, mid-lengths & ends.
We applied Purple Shampoo and rubbed it in very thoroughly.
Then we rinsed. Rubbing Brilliant Blonde Purple Shampoo in very thoroughly at the back wash - be generous with the product & rub in really well.
Product Used:
THE RESULT: PURE ASH BLONDE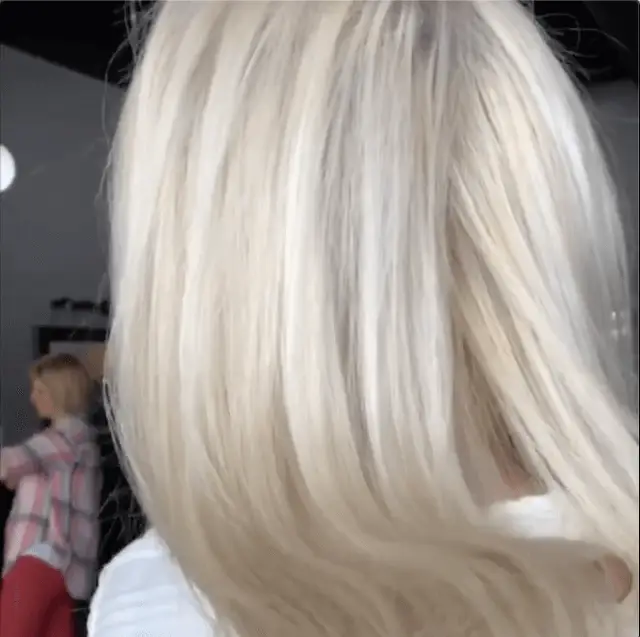 We eliminated the dark regrowth and all traces of yellow and orange from the hair.
As you can see the hair is not only pure white ash blonde, it is also healthy - strong & hair integrity maintained.
Use these products & techniques and you can easily achieve the same results in your salon.
BLEACHING & TONING YELLOW HAIR TO BLONDE - WATCH VIDEO NOW:
Products Used:
Brilliant Blondexx Bond Protect Lightener 
Pearl Blonde 10V Toner
20 Vol Developer
Brilliant Blonde Purple Shampoo
Hair Tutorial by Elona Taki.
BONUS VIDEO: WATCH THIS STUNNING BLONDE EFFECT USING 100V, CLEAR & METALLIC GREY
Yellow Hair toned to white blonde.
Hair Tutorial by Elona Taki.
Products Used:
Brilliant Blondexx Bond Protect Lightener 
Pearl Blonde 10V Toner
Purple Grey
20 Vol Developer