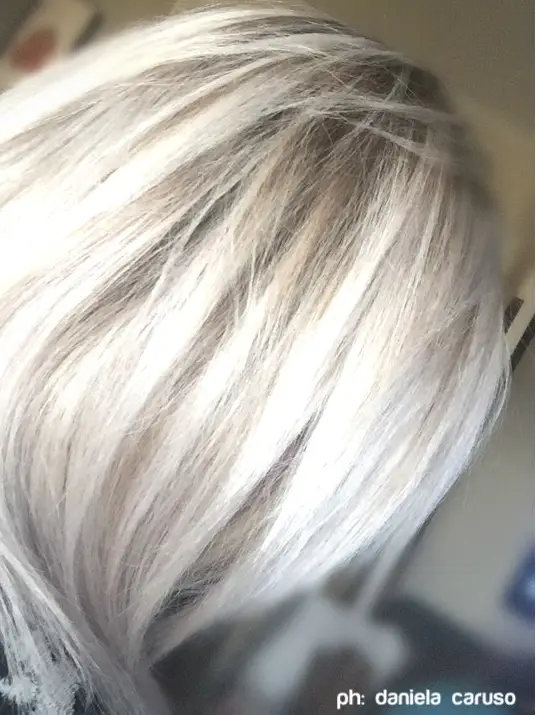 Covering Grey Hair Can Sometimes be a Challenge!
In this blog post, we go through the 8 key steps you need to get right when covering grey hair.
1. Do a Proper Color Consultation
Check your client's hair at the regrowth area because that is where you can see the grey hair the best.

Decide how much percentage grey hair your client has.

Also check the thickness and coarseness of the hair, because the coarser it is, the harder it is going to be to get good color penetration and good grey hair coverage.

Show a shade chart to your client and get her to choose her desired shade. (The Ugly Duckling shade chart has 96 colors)
2. Decide on the Product You are Going to Use and Whether any Prelightening is Required.
If your client has 25% grey hair or less, you can go ahead and use the color your client has chosen, provided it is within 3 levels of your client's natural hair color.
Mix with 20 Vol developer, and apply.
People sometimes want to use 10 Vol developer for grey hair coverage, but we don't recommend that.
The reason is that you need the color molecules to penetrate really well for good grey hair coverage, and 20 Vol developer is better for that.
If you want to lighten by more than 3 levels and then cover, you will have to pre-lighten using our lightener Brilliant Blonde or alternatively use one of our high lift colors.
The recommended mix for grey hair coverage is 1 part color to 1 part developer.
3. Decide on Which Base Color to use as a Filler
In general, you will need to apply some base color in along with your target color in order to get good grey hair coverage. 
If your customer has more than 25% grey hair, and in particular if it is thick and coarse and dark, we recommend you add in some of the base shade into your mix.
When you do this, always stay at the same level as your target hair color.
So, for example, if your client is looking to get a 4.11, add in some of the 4N
If your client is looking to get a 7.1, mix in some of the 7N. 
And if your client is looking to go ultra white blonde, you would need to add in 10N along with her pearl blonde or silver blonde toner.
4. Decide on the Proportions of Base to Color
Here are the rules for how much base to add in your mix:
If your customer has 25% grey hair, mix in 25% of base with 75% of the desired hair color.
If your customer has 50% grey hair, mix in 50% of base with 50% of the desired hair color.
If your customer has 75% grey hair, mix in 75% of base with 25% of the desired hair color.
If your customer has 100% grey hair, you will need to use only the base color.
Please note the above are indications only, you should vary this rule once you work out what is best for your client's hair. Some grey hair is just easier to cover than others.
Also, the more blonde the hair is, the more you should consider blending away the grey with toned blonde hair rather than masking the grey hair.
If for your client has under 20% grey hair, you can sometimes get away with just blending away her grey with blonde toner as shown in the video below.
Video of Blending Away Grey Hair on Blonde with Pearl Blonde Toner. Hair by Elona Taki.
5. Use the Extra Coverage Colors if the Hair is Really Coarse or Resistant to Grey Hair Coverage.
If your customer has very resistant grey hair, we would recommend that you use the Ugly Duckling Extra Coverage Series ("NN") instead of the base shades.
Generally speaking grey hair coverage on thick dark hair (eg Latino, Asian, Indian hair) can be difficult to cover. We recommend using the Extra Coverage Series in such cases.

These colors can be mixed in with fashion color according to the ratios given above.

They can also be used on their own. 

They give really excellent grey hair coverage.

We have just launched 8NN and 9NN in addition to 6NN, 5NN, 4NN, 3NN and 1NN.
6. For clients wanting to go blonde and cover grey, mix the Base Shade 10N in with Your Chosen Toner
If your client is totally white at the roots and she is looking to go ultra white blonde all over, mix in some base 10N along with your chosen toner (pearl blonde, silver blonde etc) and 20 Vol developer.
If she has dark or salt and pepper hair and she is looking to go ultra white blonde, prelighten really really well to get rid of all the dark otherwise it will show.
Then use the toner along with the 10N as above.
7. Follow the Basic Rules of Color Application.
Section the hair in the usual way into large sections. Pin up all the sections.
Let one section down: in general it is best to let a section at the back down, this is typically where hair is the thickest and takes the longest to cover.
Make small segments and start applying. As you finish one segment you can pin it back up and attack the next section.
Try and work fast to give the whole head a relatively even processing time.
As usual, make sure you get really good product saturation on the hair.
To get really good color vibrancy, make a second applications, rubbing in product with fingers using gloves.
To be extra sure of getting really good grey hair coverage, you can extend the development time by 10 minutes.
So, process 40 minutes instead of 30 minutes.
Then emulsify well. The process of emulsification, which means "rubbing the hair with a few drops of water", helps lock in the color.
After emulsification, rinse in water and finish off with an acidic shampoo to close in the hair cuticles.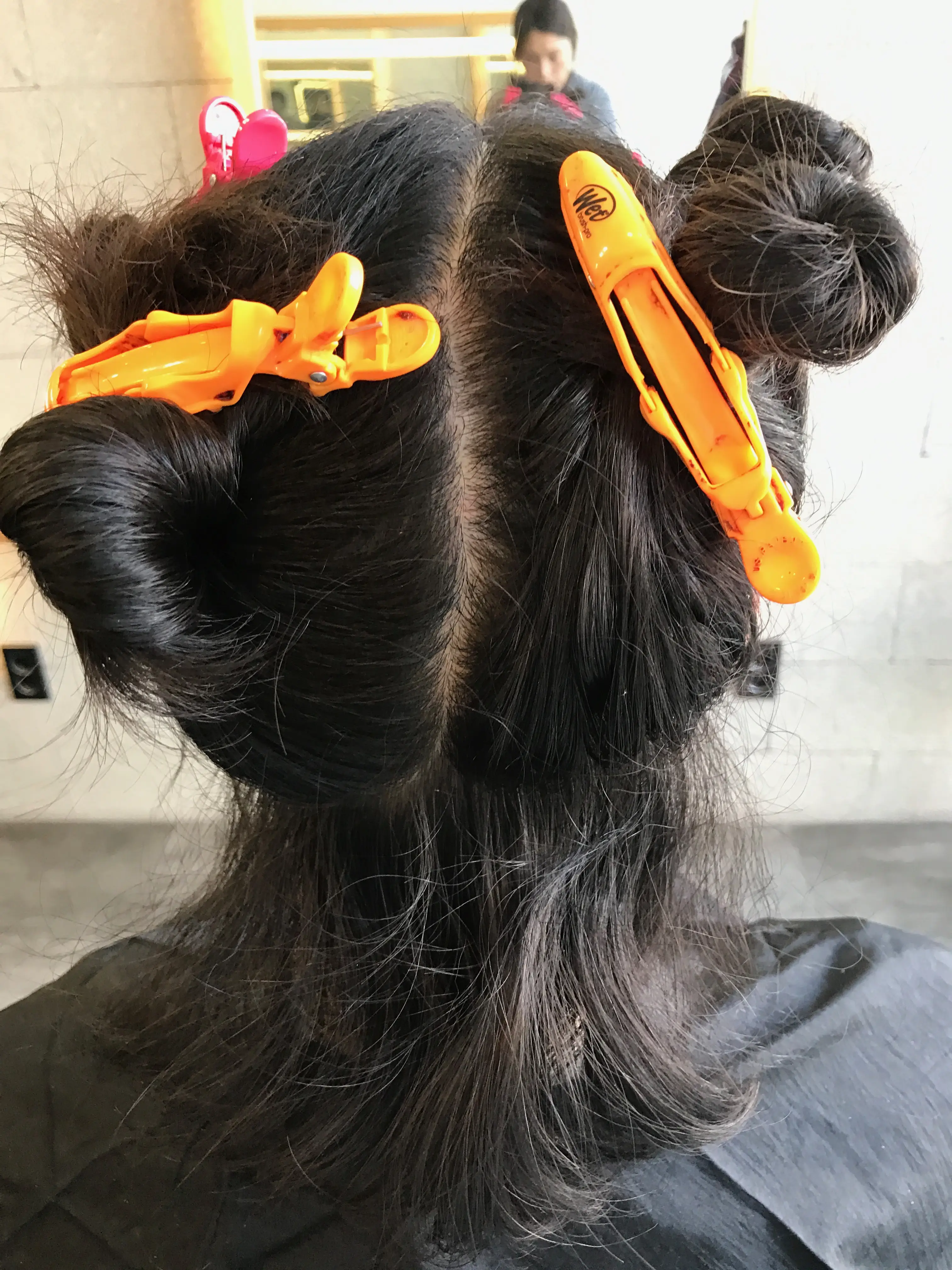 Sectioned Hair - ready to color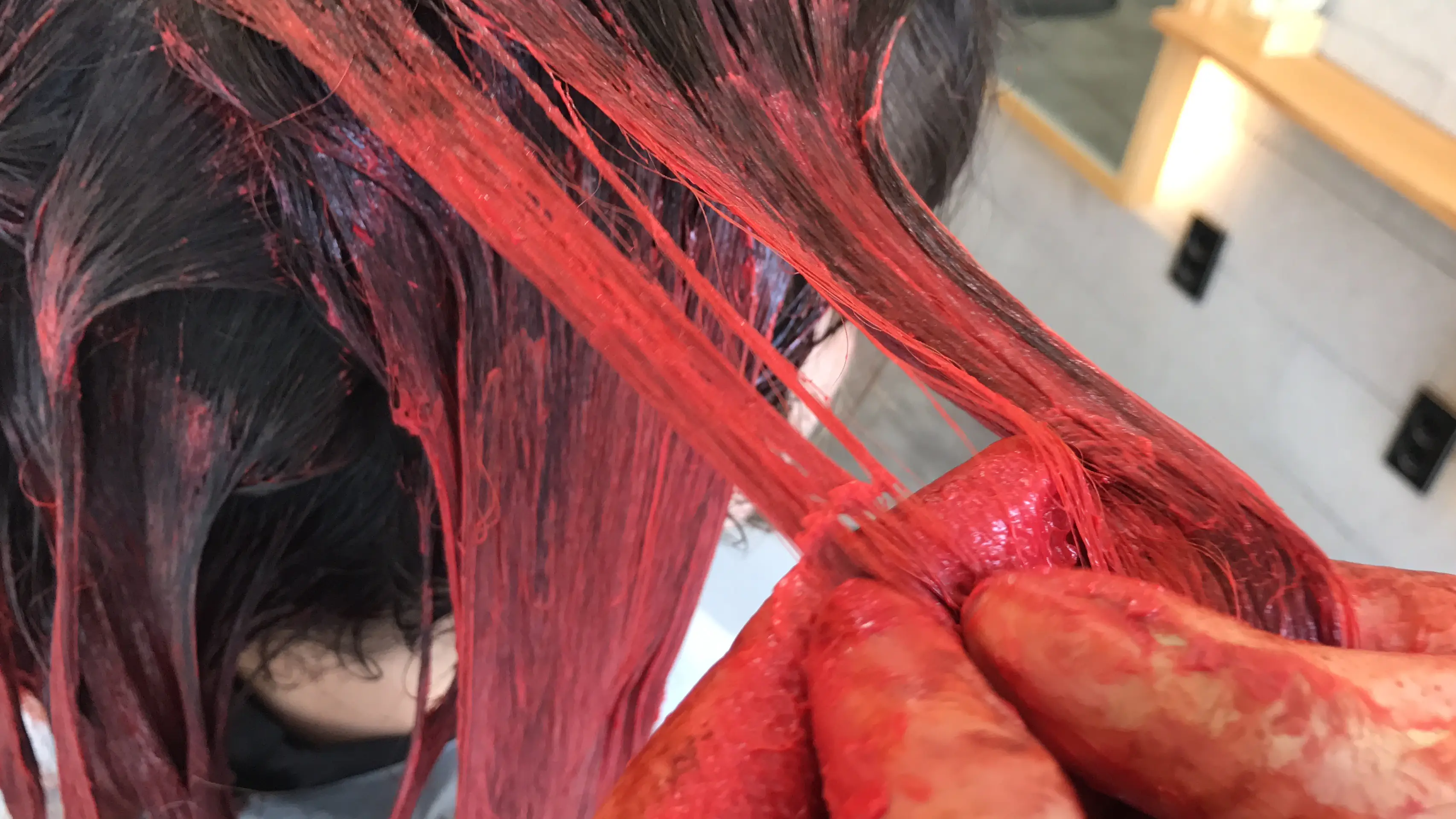 Second application - with fingers (gloves recommended)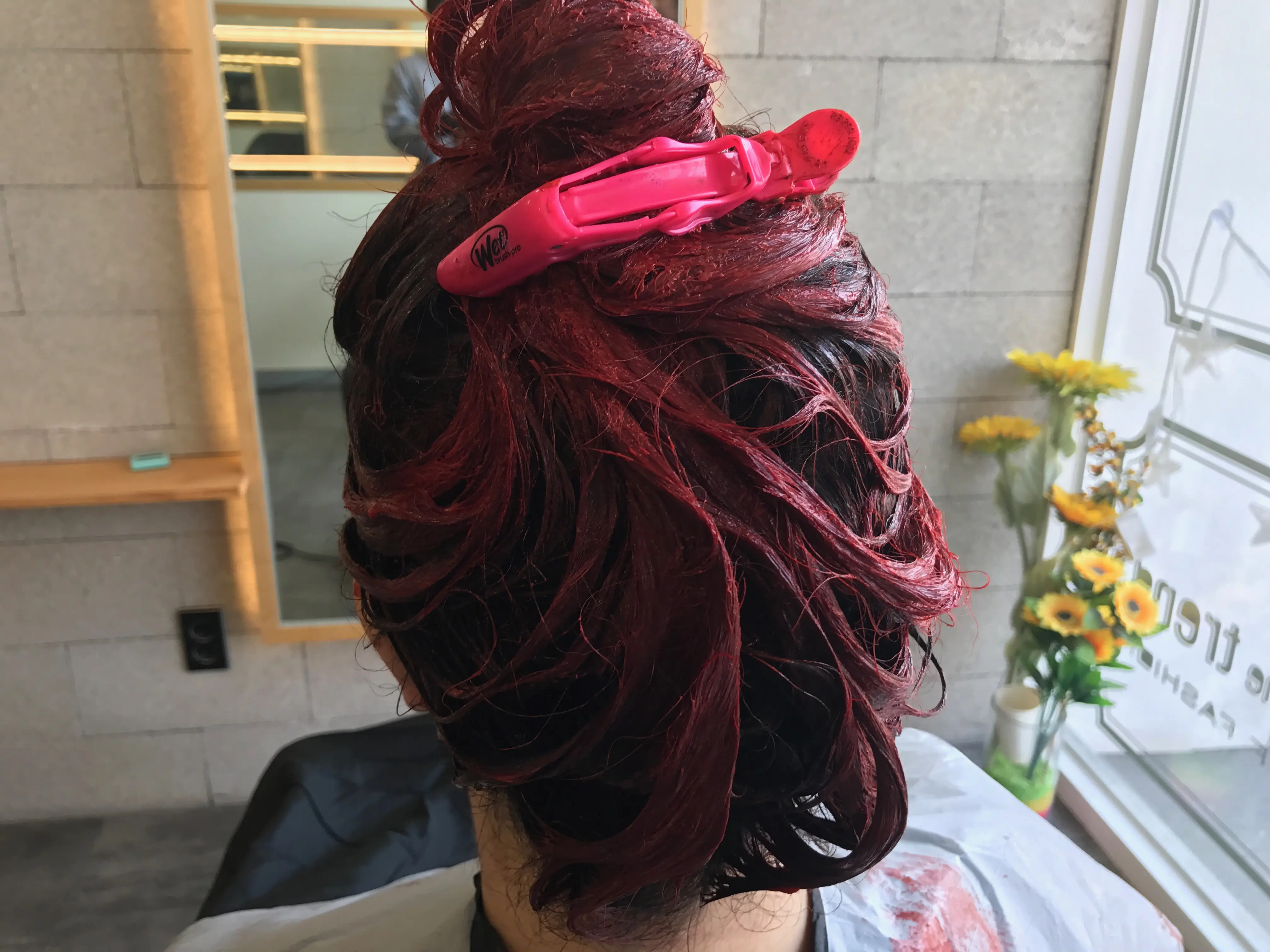 Color all done and processing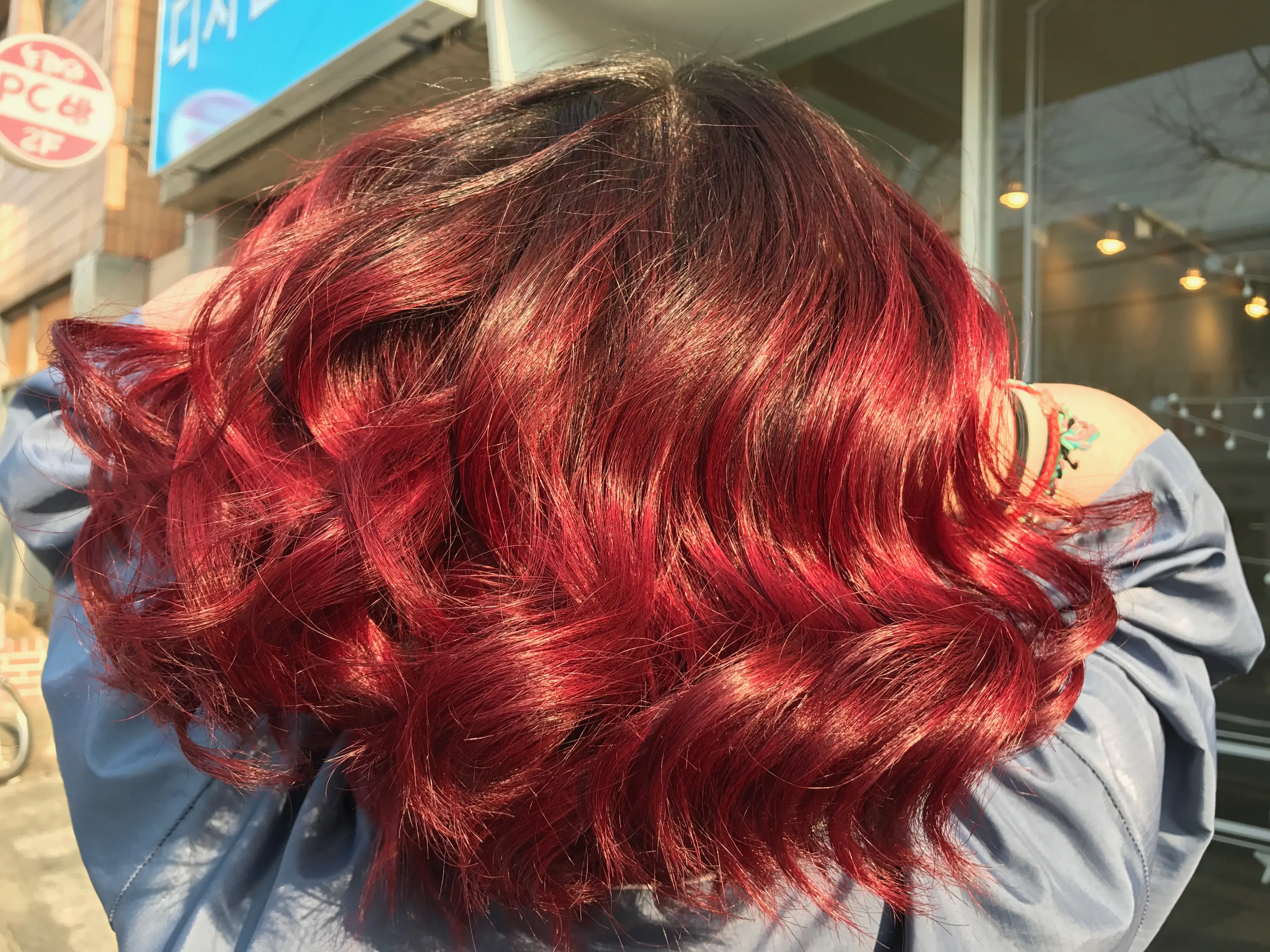 The Final Result - Ugly Duckling Ruby Red & 30 Vol on dark hair.
8. Extra Tips for Truly Stubborn, Stubborn White Hair!
Sometimes grey hair or white hair can be very very stubborn.
Hair at the temples, in particular, can be very resistant. Unfortunately this is also where it is the most visible.
In this case, you can do something which the French call "mordancage".
Apply pure 20 Vol developer on to the parts where it is stubborn & where the color does not take.
Apply the developer on dry hair. Apply in sections, in the usual way.
Then re-dry the hair using a blow dryer (don't rinse).
This process will open the cuticles of the hair and make the future coloration process easier. 
Once the hair is dry, apply your chosen color or mix in the usual way.
Begin applying first on the areas which are difficult to color. This will give those parts more processing time.
In general, "mordancage" should not compromise hair color or vibrancy.
On the contrary, it should help get you better color results and better vibrancy.