1. How do you tone yellow hair & make it ash blonde?
This is one of the most common questions we at Ugly Duckling get.
In this blog post, we are going to explain the entire process. So that you as a hairdresser can get stunning white ash blonde results, no matter how yellow your client's hair.
This hair has been correctly & consistently bleached - but it is still yellow & in need of toning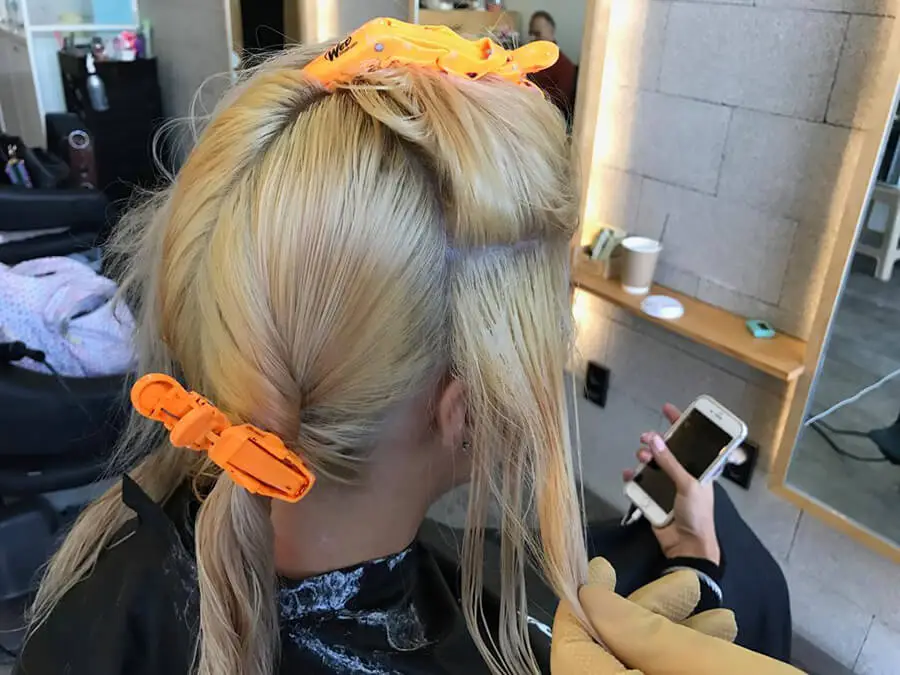 2. Why is hair yellow in the first place?
Hair is yellow for one reason and one reason only. The less it has been lifted, the more it will be yellow or even orange. The better lifted the hair, the less yellow it will be. See the image below.
The more you lift the hair, the less yellow there will be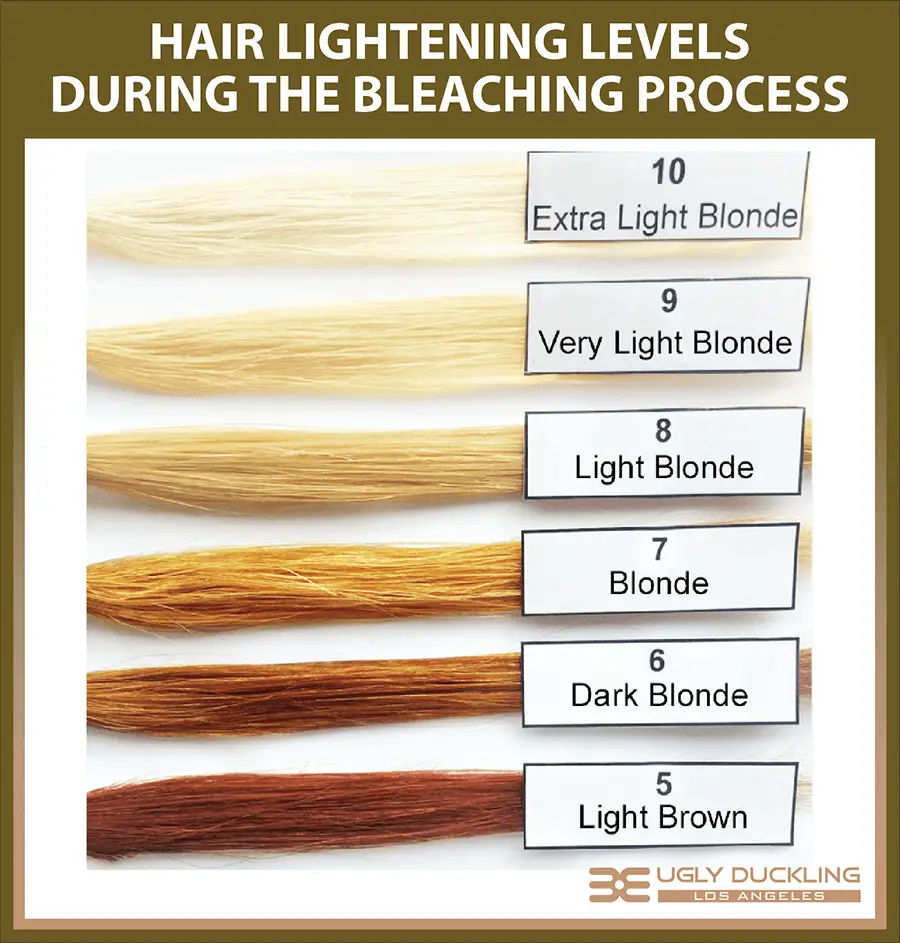 3. What level should the hair be?
We recommend that you bleach as well as possible in order to get the hair to as close to level 10 as possible. Do that and the bulk of your yellow hair issues will go away.
This is what hair level 10 looks like, at the back wash, when towel dried and when combed.
Under-bleaching is the most common mistake that trainee or new hairdressers make, and is the no 1 reason why hair is too yellow.
Compare your client's hair carefully to the pictures below. If you can get it to level 10 as below, it will be idea.
Hair Level 10 - Towel Dried & Ready to be toned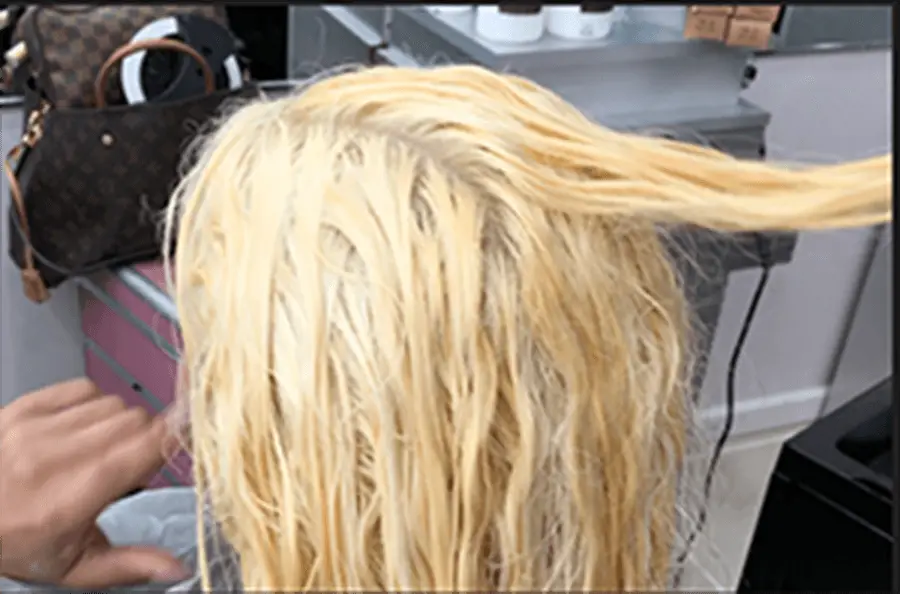 Hair Level 10 - towel dried & combed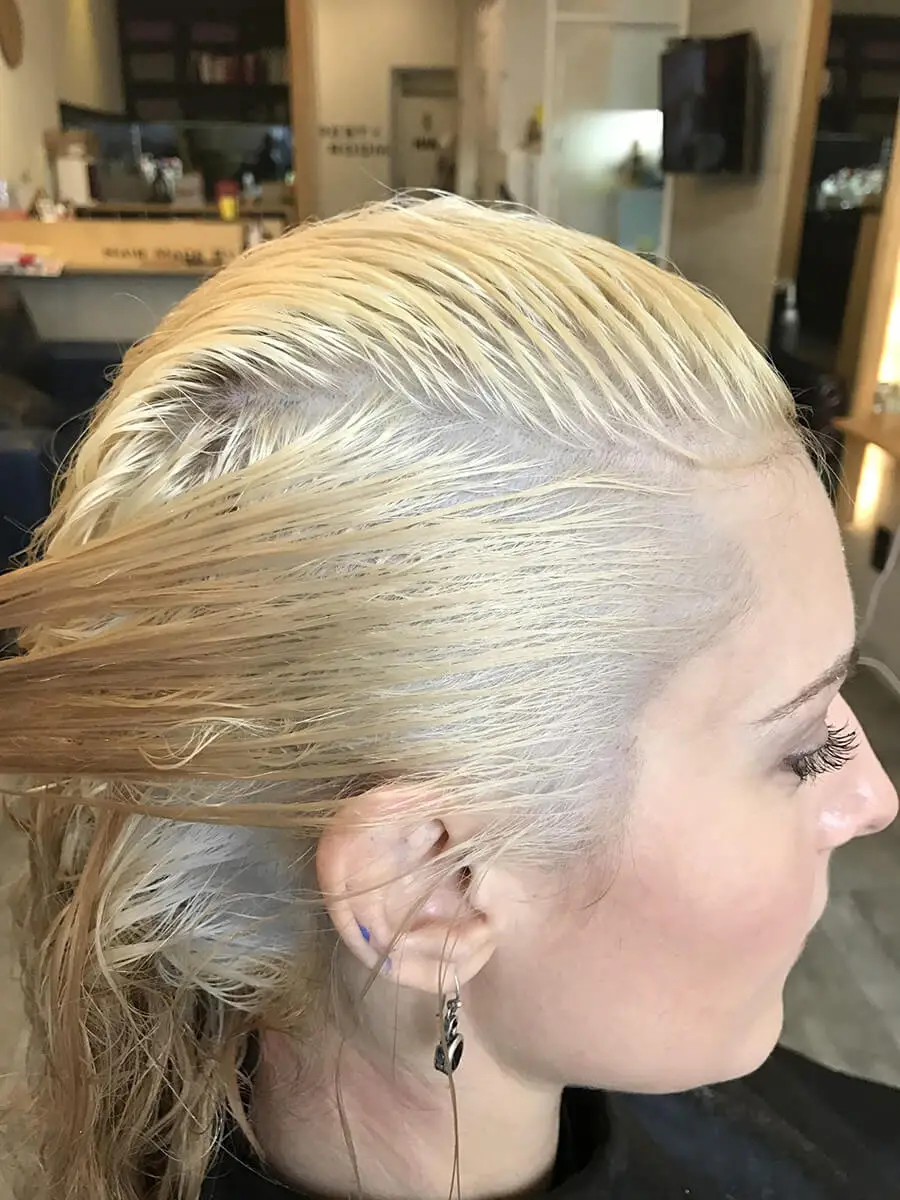 4. So what should I do to get rid of the yellow?
The first thing to do is to bleach the hair using a good quality bleach.
We recommend that you use Brilliant Blondexx. It has Bond Protect built in and it does not require developer strength greater than 30 Vol. Generally, 20 Vol developer is enough for most yellow hair.
Use Bleach & Lift Hair to Level 10 before you do anything else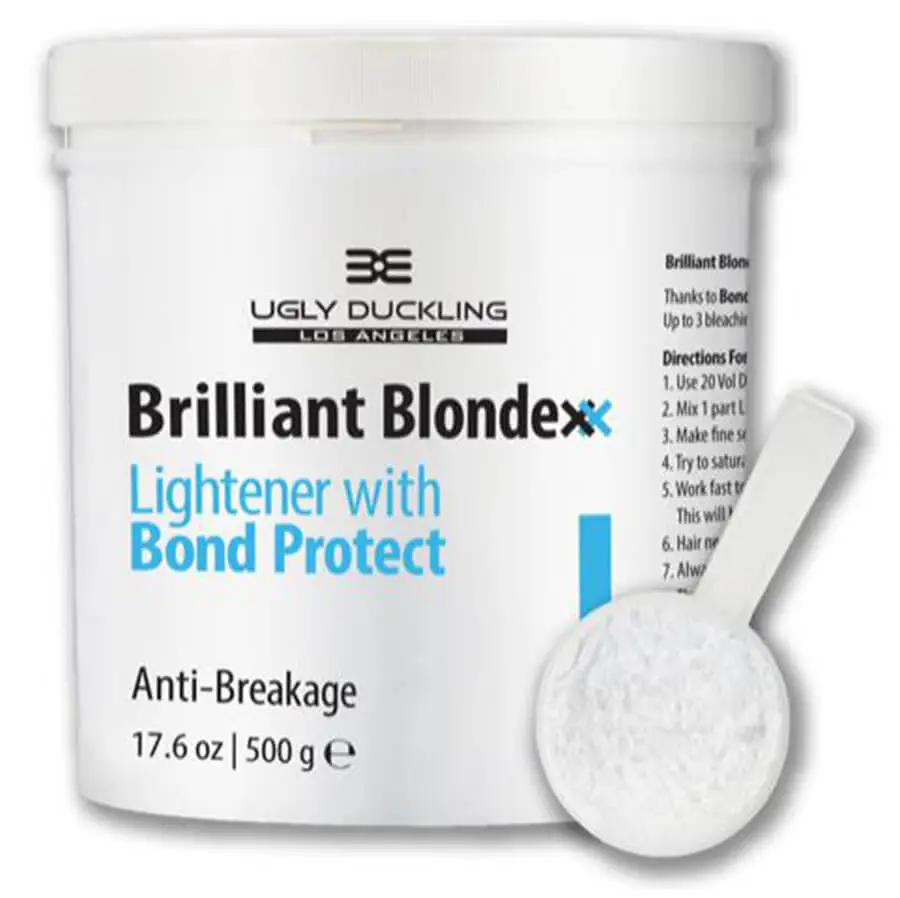 5. How do I tone the hair after bleaching?
After bleaching, you will need to tone.
To do this, you will need a blue based or purple based toner to get rid of the final traces of yellow in your client's hair.
A blue based toner will give you a more natural silver white blonde and will counteract yellow in the hair perfectly.
A purple based toner will give you stronger toning, and take the hair to a pearl-grey blonde with zero yellow.
Use the Color Wheel principles to guide you in toner choice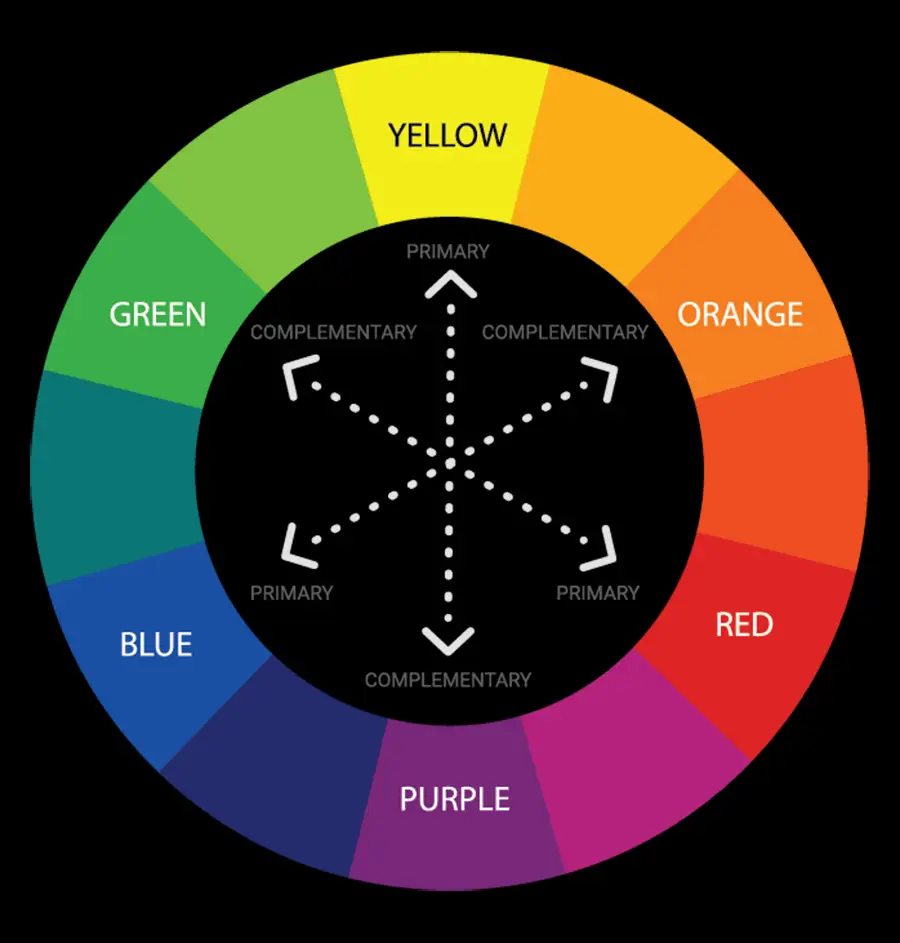 6. So which toner do I use?
Use the chart below to guide you as to toner choice.
If the hair is well and truly lifted to level 9 or level 10, use Ugly Duckling Pearl Blonde or Silver Blonde toner with 20 Vol.
If the hair still has quite a lot of yellow or even some orange in it, use Ugly Duckling's Intense Pearl Blonde or Silver Blonde toner with 20 Vol. These toners have an added booster and are great at bumping up the hair by one level.
If your client's hair is darker than that, use Brilliant Blondexx first and lift. Then tone.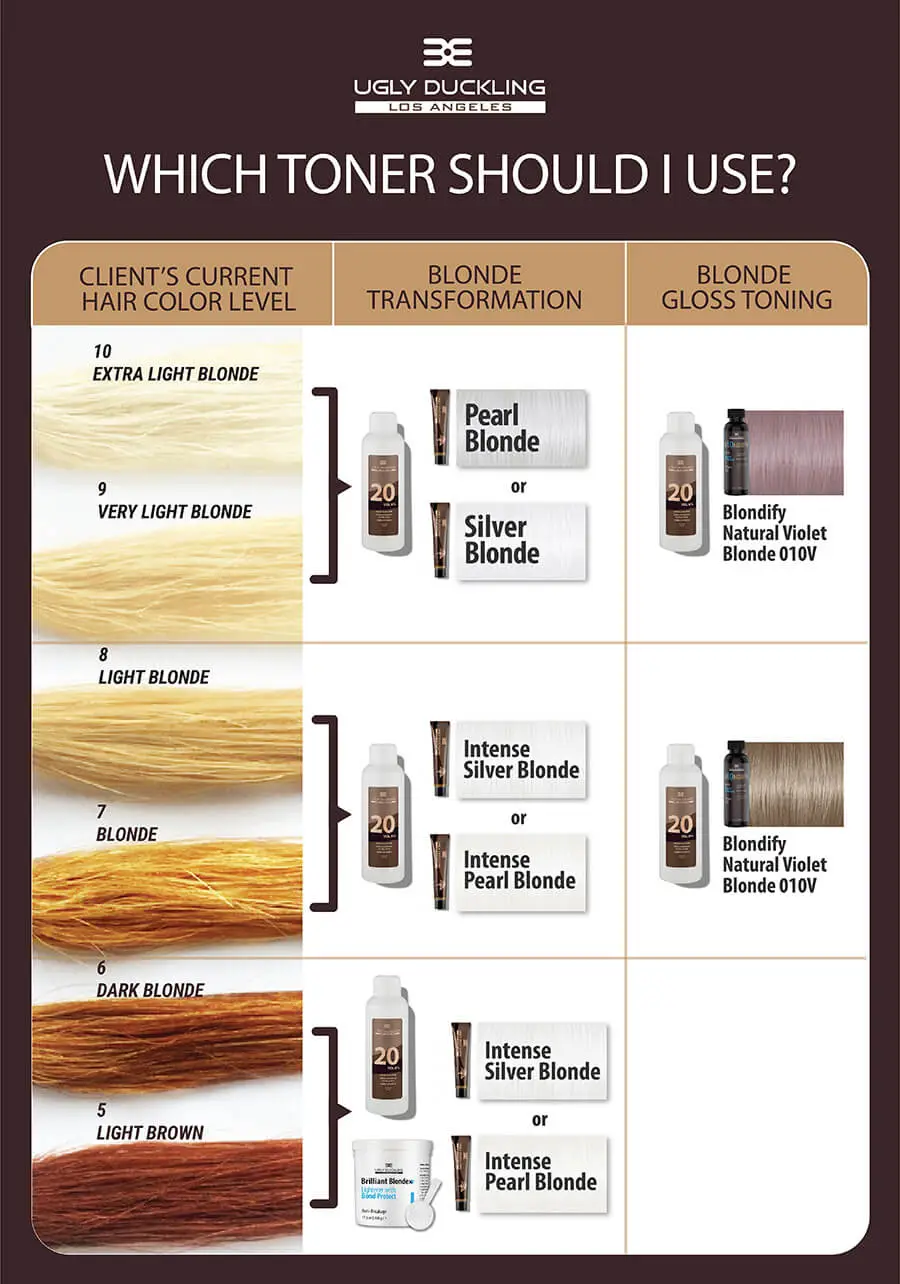 7. How do I use the toner and the bleach?
Ugly Duckling cream toners and bleach both have a mix of 1 + 2. 
That is to say, one part product to two parts developer.
Use 20 Vol developer in most cases.
Segment the hair well and make sure you saturate the hair very well with product.
WATCH VIDEO HERE: