How do you get hair white when you bleach?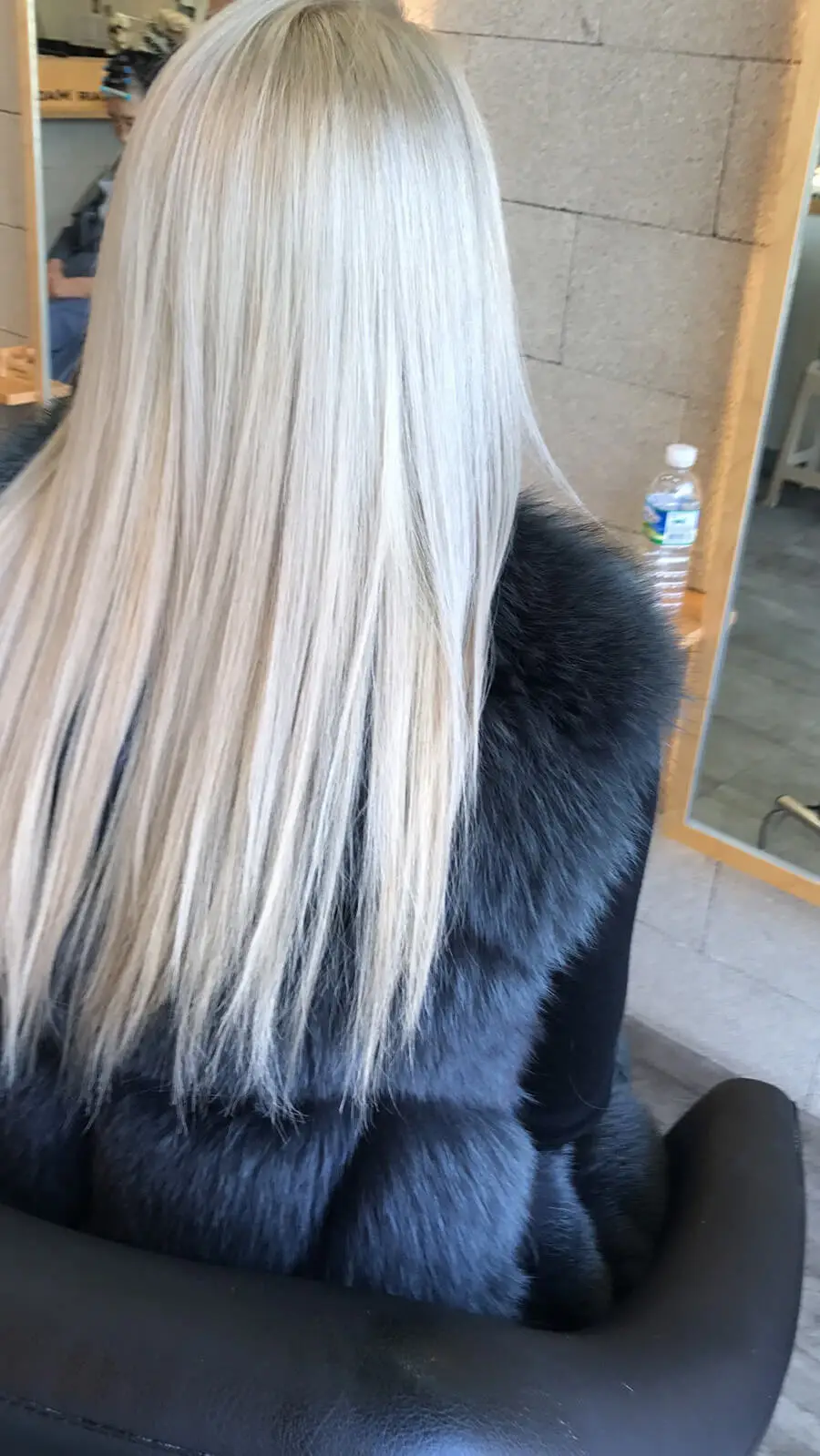 White Blonde hair bleached with Brilliant Blondexx. Then toned with a blue-based ash blonde color: 10.1b Extra Cold Ash Blonde
Getting to white blonde when you bleach is totally achievable.
It involves lifting the hair very well & very consistently to level 10.
After which, you need to color it afterwards to get rid of the last traces if yellow.
In this tutorial we will show you how.
Is it even possible to go white blonde in one sitting?
Some people say that getting to white blonde is a process and that you need to be patient. That it needs to take several months of gradually going blonde.
But that simply isn't true. At Ugly Duckling we really believe that provided you use the right products and the right results - anyone can achieve the whitest of white blonde hair color results. No matter what your current hair color.
Can all types of hair go white blonde?
Yes, all types of hair can go blonde. There are no exceptions whatsoever. The techniques we are going to teach you work on African hair, Latino hair, Asian hair.
And of course they work particularly easily on European type hair which is much lighter and much easier to lighten and bleach.
Is it possible to bleach hair without damage?
Yes it is, provided you use the right techniques and the right products. At Ugly Duckling, we are not a big fan of repeated bleaches and repeated color applications. Do it once and do it right would be our motto.
And we don't recommend that you compromise on product quality. We've seen too many stylists blow their client's hair apart because they used bleaches which did not lift well and as a result they used excessively strong developer and bleached multiple times. Don't be like that!
And we're going to teach you how to do it without damage.
How Does Bleach Work?
Using bleach to lighten your hair means applying a mixture of bleach powder and hydrogen peroxide, or developer. This mixture creates an oxidizing environment and this reaction is what allows both bleach and also permanent hair dyes to work.
The key to understand bleaching is to be aware of what level the hair you are working with has got to and what level you need to lift it to. Bleaching is an open ended process.
As long as the bleach mixture is wet and it is sitting on the hair, it will work and it will continue lifting.
My hair is dark brown. How realistic are these Dark to Blonde transformations?
Any hair can be taken to white blonde. It is a simple matter of lifting with bleach all the way up to level 10 and eliminating all the yellow pigments on the way. Then coloring and toning it to get to that exact shade of white blonde. Before - Dark Hair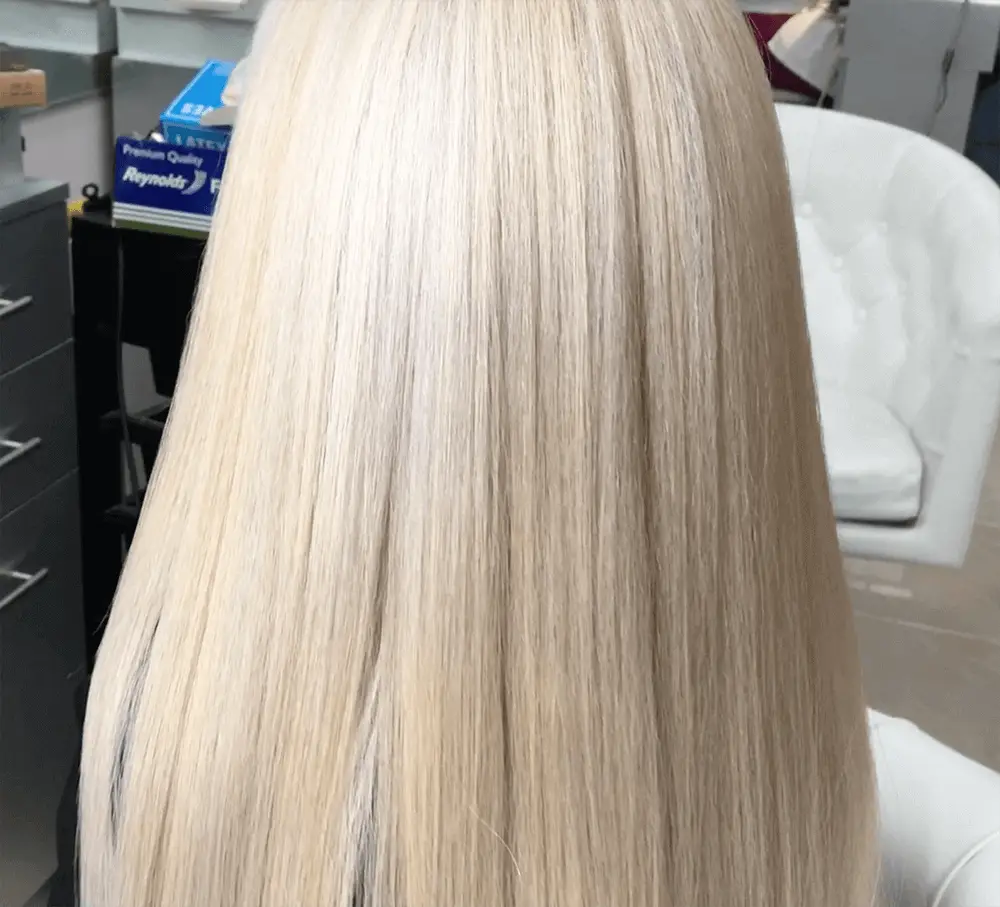 After - the same hair lifted to white blonde
The above hair was brown level 5 before this bleaching and coloring process.
WATCH VIDEO OF THIS DARK TO WHITE BLONDE TRANSFORMATION:
Hair by Ashley Betancourt New York.
A few things to notice about the bleaching technique we used to get this kind of lift in 1 sitting:
The first application was with 30 Vol and foils on the lengths.
The foils help to keep heat in and of course 30 Vol helps get a good amount of lift.
After 20 minutes, we checked, took out the foils and re-applied a fresh mix, this time using 20 Vol.
Note how our bleach mixes are always very thick, and how we really saturate the hair when we apply.
When the lengths were fully lifted, we rinsed.
Then we did bleach with 20 Vol on the roots. The roots always process fast so it is a good idea to do them separately when doing a full head bleach. That way you keep control over the processing time.
And of course use good quality bleaches which lift well and easily. We used Brilliant Blonde Bleach which is specially formulated for dark bases.
My hair is not that dark. It's medium blonde. What bleaching technique should I use?
You should essentially use the same technique.
But 20 Vol developer should be quite enough to get the hair white blonde - provided you use Ugly Duckling bleaches.
We would suggest you use Brilliant Blondexx with 20 Vol.
It's our premium bleach and it contains Bond Protect. It can be used on-scalp as well as off-scalp.
Then tone with any of Ugly Duckling toners.
WATCH VIDEO OF AN APPLICATION OF BRILLIANT BLONDEXX & TONER TO TAKE HAIR WHITE BLONDE:
Hair by Elona Taki
Can I make my hair white without bleaching it?
It is possible to lift with high lift color using 30 Vol developer - see video below:
But this will only work if your hair is level 6 and higher.
Otherwise, you will need to use bleach. 
Hair by Elona Taki
OK I'm ready to bleach. Where do I start?
First start off by doing a hair assessment. Make an accurate assessment of what your current hair level is.
First you need to check your hair level. If your hair has been previously lightened use this chart:
What color is your hair right now?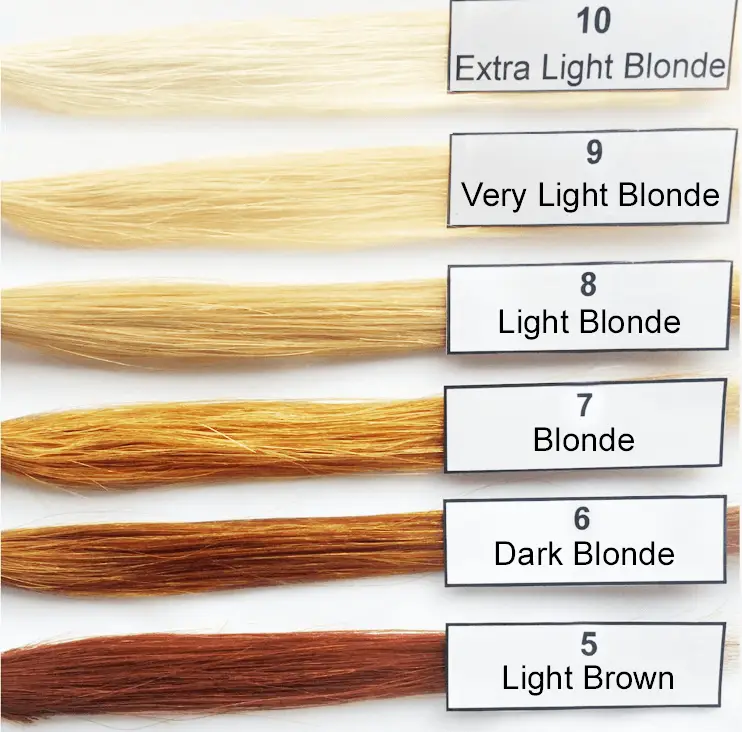 Hair Lifting Levels
If it is darker than any of these colors, your hair can be considered level 3 or level 4.
Be aware that there can be a difference between roots, mid-lengths & ends. Make a separate analysis for each section. Roots are level 2, Mid-length area is level 8 and ends are level 10
So in this case, you would need to apply bleach first to the root area, then to the mid-lengths.
The ends here do not require bleaching at all. They can be re-colored and refreshed at the toning stage only.
Now Apply The Following Bleach & Developer Choice Rules.
Lifting by 1-2 levels: Use Bleach & 20 Vol Developer
Lifting by more than 2 levels: Use Bleach & 30 Vol Developer.
The right mix for Ugly Duckling bleaches is 2 parts developer to 1 part bleach.
Which Bleach Should I Use?
We recommend that you use Brilliant Blondexx Bleach with Bond Protect for most situations. Brilliant Blondexx - Bleach with Bond Protect
It contains Bond Protect, and as a result it balances gentleness & lift very well.
You won't need to use anything stronger than 20 or 30 Vol developer with this bleach, so you don't compromise hair integrity.
And it produces a creamy, white, oily paste when mixed with developer which is gentle on the hair.
In most cases, it is suitable for sensitive scalps and near-root applications.
Of course we do recommend a skin sensitivity test beforehand as we do with all bleach and color preparations.
This is what the Brilliant Blondexx bleach and developer mix looks like: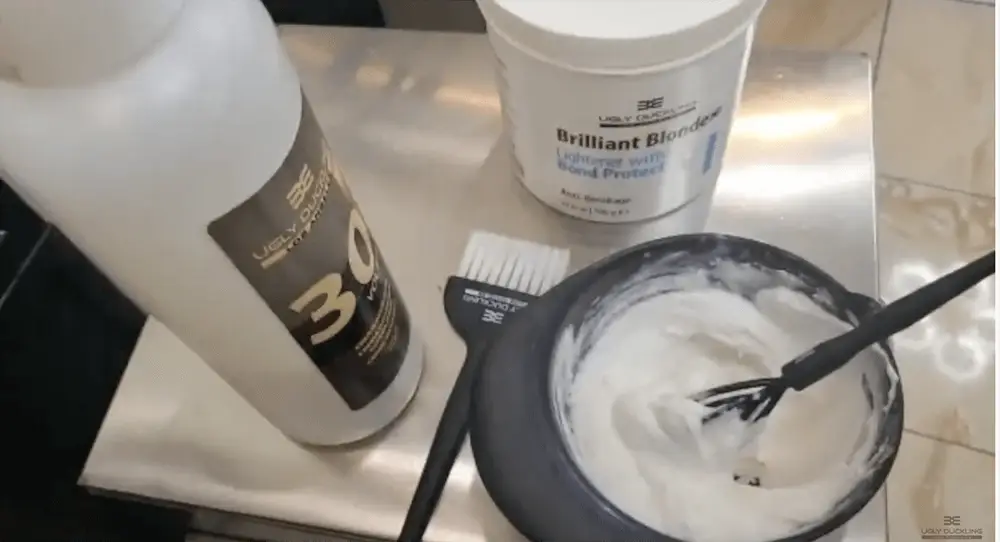 Brilliant Blondexx: a creamy, white mix with Bond Protect
Should I Use Olaplex or Any Other Additive?
Since Brilliant Blondexx contains Bond Protect built in, no other additive is required, although you can of course use one if you want.
Just be aware that when using Olaplex you need to bump up the developer strength, thus limiting the effectiveness of the product
How long should the Bleach Process? Where do I start First?
Always start applying at the part that is darkest.
Very often this will be the regrowth area.
Look at the image below and you will see a typical case where the client's regrowth is much darker than the ends: In this case, you would need to apply Brilliant Blondexx and 30 Vol to the dark regrowth area.
Remember, we are trying to get the hair all the way to white blond.
So make sure that the bleach has had time to lift on this part for at least 10 minutes.
Then extend to the lengths which are also way too brassy.
Then keep the bleach processing until the whole head is consistently white.
There is no fixed rule as to how long the bleach processes.
You need to keep checking the hair, rubbing it and looking at how much it is lifting.
Don't be afraid to add in more mix (make a fresh mix if necessary) if you can see that the hair is not lifting enough.
Once you have bleached, you will need to rinse and then color the whole head to tone the hair exactly the way you want it.
When do I rinse the bleach off?
Rinse when you get to level 10. 
You are trying to take it to white blonde, so don't under-lift or under-process.
That is literally the most common mistake inexperienced stylists make.
You absolutely need to take the hair to a consistent level 10, which means minimal, minimal yellow.
See the pictures below: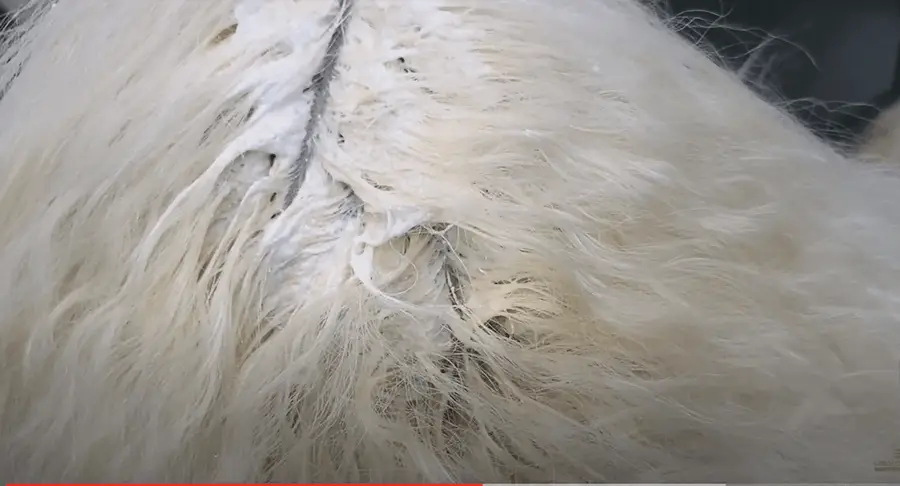 Bleach processing on the regrowth area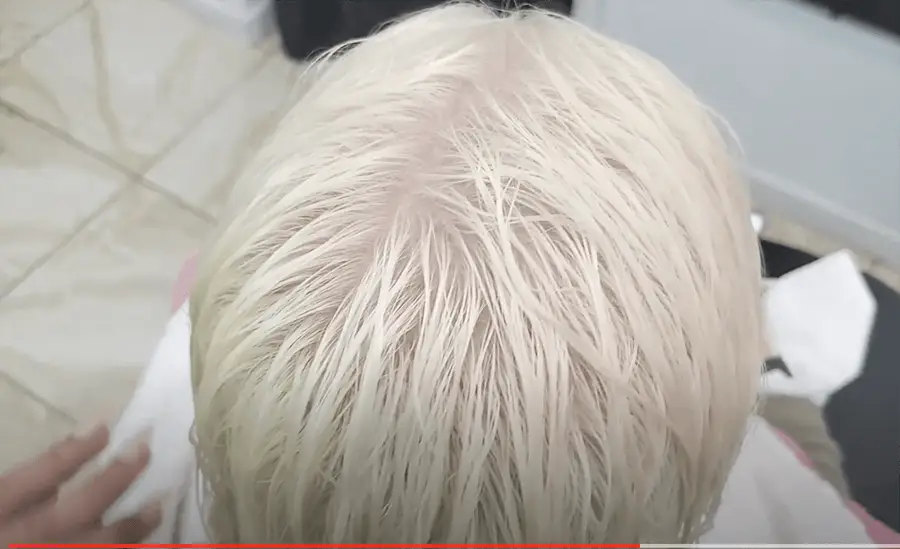 This is what hair bleached all the way to level 10 will look like - possible with Brilliant Blondexx Bleach
Always get the hair to as close to this level as you can (Level 10).
That is the best way to prepare the hair in order to take it to white blonde.
Apply Purple Shampoo or Mask at the Backwash
Once you are done rinsing, it is a good idea to apply purple shampoo or mask at the back wash. 
Rub in & let it sit for a few minutes.
Then rinse off.
This will help get rid of any remaining yellow in the hair.
Just remember. For white blonde, yellow is your enemy & you need to reduce it to a maximum.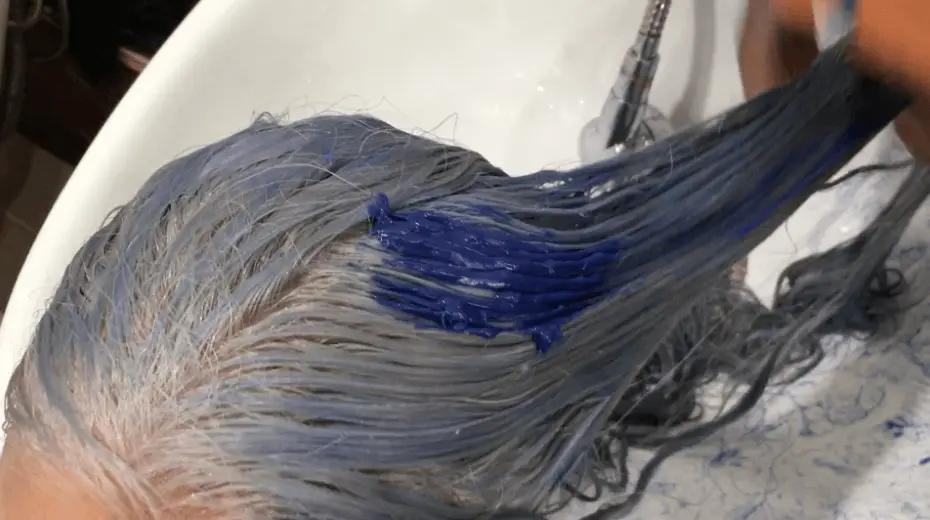 Application of Purple Mask at the Baskwash to kick out any remaining yellow
How Should I Tone the Hair After Bleaching? Hair being toned with Extra Cold Ash Blonde 10.1b
To get to white blonde, we recommend that you use any of Ugly Duckling blue or violet based toners or colors.
They have powerful pigments built in which will help you take the hair to white blonde.
Here are a few which we recommend in particular:
Blue Based Extra Cold Ash Blonde 10.1b (this is the color used in the picture above and in the result picture at the top of the page)
10.2 (a violet based extra light blonde).
The first 2 products mentioned above are toners, the second two are colors.
In general, colors will produce richer, more 3 D effects. Use them with 20 Vol developers with a 1+1 mix.
Toners will neutralize and provide a gloss. Our intense toners have extra lift, which is useful for kicking out yellow.
Use them also with 20 Vol developer, but with a mix of 1 part toner to 2 parts developer.
How should I maintain my White Blonde hair & stop it from getting yellow?
Use Ugly Duckling's Purple Shampoo & Mask to keep the hair white. Use this at least twice a week.
How do I keep my White Blonde hair healthy?
Use Ugly Duckling's Brilliant Blondexx Hair Care line to keep the hair strong, healthy and in good condition.
Does Ugly Duckling sell any kits which contain everything I need?
Yes we do. The set below contains everything you need:
Click on this link or on the image to learn more.