How exactly do you get Platinum Blonde White Hair?
Bullet Point Summary
The first step to getting rid of yellow is to lift the hair right up to level 10.
You need to use a good bleach otherwise you won't get it all the way up. We recommend using Ugly Duckling's Brilliant Blondexx for this.
If the hair is long, always bleach the ends first, rinse & then bleach roots separately.
After bleaching, you need to tone to get the hair all the way to Platinum Blonde.
Use Ugly Duckling's Intense Pearl Blonde Toner 100V or Intense Silver Blonde Toner 100B if this is a first time going to Platinum Blonde
Use Ugly Duckling's No-Lift Pearl Blonde Toner 10V or No-Lift Silver Blonde Toner 10V if this is a refresh application.
Other great products to use include Ugly Duckling's 10.2 Extra Cold Light Blonde.
Use Ugly Duckling toners with 20 Vol developer and process for around 10-20 minutes.
The blue & purple pigments present in Ugly Duckling toners will get rid of any residual yellow & turn the hair a stunning white blonde
Rinse.
Use Ugly Duckling's Purple Shampoo and Mask to maintain the white color and prevent yellowness.
Use Ugly Duckling's Bond Protect Shampoo and Mask to strengthen blonde and bleached hair & prevent breakage.
______________________________________________________________________________________________
WATCH ELIAS LIFTING A SUPER DARK ROOT & TAKING IT TO ULTRA WHITE BLONDE!
Hair by Elias, Palm Desert, CA 92260 
PRODUCTS USED IN VIDEO:
Brilliant Blondexx Bond Protect Lightener
20 Vol Developer
10.2, Intense Pearl Blonde Toner
Brilliant Blonde Purple Shampoo, Purple Mask
What hair color level do I need to get Platinum Blonde Hair from Yellow?
In order to get Platinum Blonde hair, you need to take the hair to level 10 (see image below).
The yellowness that you are seeing is almost certainly due to the fact that you need to lift more. 
This is the first stage in achieving Platinum Blonde hair.
And clearly you need a very high performance bleach (plus good bleaching technique) to get all the way there. Hair color levels - aim to get your client's hair to level 10.
Which Bleach do I need to Use to Lift?
It's really vital to use a really high quality bleach because most Beauty Store bleaches and especially Bleach kits just won't cut it.
Most of them do not have sufficient lifting capability.
Because they don't lift very well, you end up using high concentration developer (eg 40 Vol), thus placing considerable stress on your hair.
The advice of lifting your hair gradually, over a few weeks, is also not optimal in our view.
Rather than do repeated bleachings, it is far better for your hair to do it once and do it right.
For that we really do recommend Brilliant Blondexx with Bond Protect.

The Bond Protect in the bleach because it prevents the hair from breakage and builds blonde while you are bleaching. Brilliant Blondexx Bleach with Bond Protect.
How do I Apply the Bleach?

Use Brilliant Blondexx with 20 Vol for 1-2 levels lift and for the root area.
Use Brilliant Blondexx with 30 Vol for 3 levels lift and more.
The recommended mix is 1 part bleach to 2 parts developer.
Be generous with product and make sure you really saturate the hair. Otherwise you won't get the lift.
If you are doing a full head application and the hair is long, do the lengths first and rinse. Then do the root area.
When do I rinse off the Bleach?
Lift the hair all the way up to level 10. At this point there will be minimal yellow (see images below).
You need to get the hair to this level if you are going for Platinum blonde. Level 10 Hair by by Ashley Betancourt.
What Toners Should I Use to Achieve to get Platinum Blonde Hair?
Once you have lifted hair all the way to level 10, you will then need to tone.
Here is what we would suggest to do at this stage:
Toning from Yellow to Platinum Blonde
Step One.
Use intense pearl blonde 100V. This is the fastest acting toner on the market today.
It contains a lot of purple (violet) pigments. It also contains a booster, which lifts out any yellow remaining in the hair.
You can also combine this with 10.2, Extra Light Cool Blonde. 
This is a regular blonding color, rather than a toner. It produces incredibly rich, 3-D vibrant blonde results. 
Use either of these products with 20 Vol, 1 +2 mix.
Step Two.
Use Brilliant Blonde Purple Shampoo & Mask After Toning.
The purple pigments in these products will kick out any remaining yellow.
These products will also help close the cuticle and return the hair to its natural acidity after bleaching & toning.
The End Result: Pure White Platinum Blonde Hair


Can All Women Wear a Platinum Blonde Look?
These days, Platinum Blonde is no longer restricted to Caucasian types.
More and more women with darker hair and darker skin tones are opting for the Platinum Blonde look - Gwen Stefani above is just one example of this.
In general, the combination of a darker skin tone and an icy white Platinum blonde look is a great combination.
So you can go ahead and propose it to your clients whether they are naturally brunette or blonde.
I tried to get my client to platinum blonde but her hair is still yellow. Why is that?
Almost certainly you did not lift enough.
Once you have successfully lifted the hair up to level 10, you can apply the Ugly Duckling Platinum toner of your choice.
Repeat steps one and two above and it should work.
I tried to get my client to platinum blonde but her hair is still orange. Why is that?
Either you used an inferior quality of bleach, or you did not apply enough product, or you are not saturating the hair enough when you apply.
We recommend you use an Ugly Duckling bleach, They do work well and only require 20 Vol or sometimes 30 to do the work.
There is absolutely no point toning until you have got the hair up to level 10.
Nor orange, not yellow...pale yellow is what you need.
See image below for how your client's hair should look.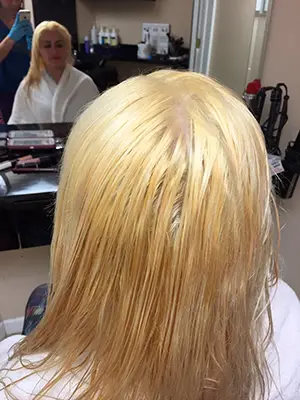 Correctly pre-lightened hair level 10. Hair by Elona Taki.
How do you get Platinum Blonde From Golden Blonde?
Golden Blonde contains a lot of yellow.
Do one quick application on your client's hair of Brilliant Blondexx with 20 Vol developer and try and get it to very very pale lemon yellow.
Once this is achieved, rinse and tone with Intense Pearl Blonde Toner and 20 Vol.
You should find that you have successfully altered the reflect from Golden Blonde to Platinum Blonde.
How Should I Maintain a Platinum Blonde Look & Keep it Brass-Free?
Purple Shampoo and Purple Mask are really essential items in the bathroom of any Platinum Blonde.
These products will help fight yellow.
In addition, if you feel the client's hair is fragile in any way, we would suggest Brilliant Blondexx Shampoo and Mask. 
These products contain Bond Protect ingredients which will help prevent hair breakage and make the hair stronger and plumper.
How Should I Take Care of Platinum Blonde Hair? 
Bleached hair can be more fragile than normal hair. For this reason, it is really important to strengthen it.
We would recommend that you use Brilliant Blondexx Shampoo & Mask with Bond Protect on a regular basis.
Both these products contain Maleic Acid - an essential ingredient for making hair stronger.
When applying the shampoo, lather thoroughly and leave in for 5 minutes. Then rinse.
When applying the mask, apply with fingers and then wrap up the hair using a towel. Leave in for 10 minutes. Then rinse.
Do this at least once a week. 
You should find that the hair is stronger, thicker and healthier.
If you have hair breakage issues, you should find that this treatment will help to reduce that.
AN EASY WAY OF ACHIEVING THE PERFECT WHITE PLATINUM BLONDE LOOK - WATCH THIS VIDEO!
Hair by Brittney Perez, Stockton, CA
PRODUCTS USED IN VIDEO:
Brilliant Blonde Lightener
20 Vol Developer
Intense Pearl Blonde Toner
Some Platinum Blonde Hair Ideas

Superb White Platinum Blonde Look Achieved by Tracie Woosley...using Ugly Duckling 100V, 10.2 and Clear Cecelia Kachat does this stunning Platinum makeover using 100V Becky uses Intense Pearl Blonde Toner 100V to achieve this cold Platinum Blonde Tracie Woosley uses 10V and 100V mixed to achieve this ultra cold Platinum Blonde look Elona Taki uses Pearl Blonde 10V for this Cold Greyish Platinum Blonde Look Connerlayne uses Violet on the Root and Intense Silver Blonde 100B for this Platinum Shadow Root look. Brittney Perez uses blue based ash blonde color 10.1b to achieve this Unique Platinum Blonde Look