From a Dark Root to Perfect Ash Blonde.
Hair by Elona Taki
Are you looking to achieve the perfect Ash Blonde Hair Color From Yellow? Then Read This Step-by-Step Guide...
Do you have an impossible dark root area that you need to fix?
Are the ends coming in 

too yellow

,

too brassy

?
Do you have fragile hair which you want to take ash blonde but don't know how?
Are you trying to get ash blonde hair from yellow or from (ugh!) golden ?
And are you a colorist who is trying to achieve ash blonde at home? 
Relax, these are all very common issues.
We can help you achieve ash blonde perfection

whatever the hair color type of your client

.
In this tutorial, we will show you how you can tone yellow, orange or even dark hair to ash.
We will also show you how to do a complete hair analysis.
In this tutorial we will also show you how to attack the root area, which is in this case several levels darker than the rest of the hair.
It is possible to get to ash blonde whatever your hair color today provided you use the right techniques & the right products.
We're going to show you how to do it right!
First Step: Do your Hair Analysis
Dark Regrowth, Yellow Area & Blonde Lengths
As you can see in the picture above, our model has three separate areas on her hair.
First, she has a very dark regrowth area. This is pure regrowth & it is her natural hair.
Next, she has a yellow, or golden area just after the regrowth area which will need taking care of.
Finally, she has her lengths which are pretty light & will need just gentle toning - they have obviously been colored many times before!
This kind of situation is very normal.
Sometimes colorists want to apply just one product and they think they are going to be able to deal with cases like this. 
But they won't! You need to mentally break down the hair into the 3 sections & figure out different strategies for the different sections.
Second Step: Apply Lightener to the Dark Regrowth Area Near the Root
The root area is easily level 6 and is definitely going to need lightening. The brassy hair near the root will also need lightening.
So here we are going to apply a mixture of Brilliant Blondexx Bond Protect Lightener with 20 Vol developer in a 1:2 mix.
Brilliant Blondexx is an anti-breakage lightener that protects the hair as it bleaches. It has been designed for near root applications. 
So it's perfect for an application near the scalp like this.
So go ahead, make your mix and then apply on the dark root area, and the yellow area, making fine sections & working your way right around the head. 
Anti-Breakage Lightener for Near Root Applications.
Brilliant Blondexx - With Bond Protect
Third Step: Rinse when the root area has reached very pale yellow (level 10)
Keep checking the hair while the mix is developing and rinse only when you have got it up to a level 10.
In this case we processed around 35 mins.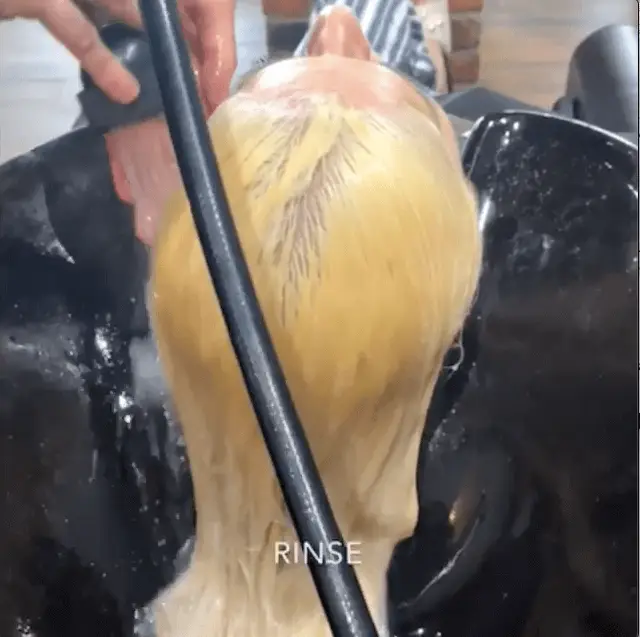 Hair after rinsing: a consistent level 10. 
Fourth Step: Choose The Right Toner and Apply
We recommend you use Ugly Duckling Toners. They are very fast acting and have very strong pigments for quick neutralization of brassy or yellow hair. They will take any yellow hair to white blonde. They also produce

extremely ashy results

.
If it is a first time for you toning with Ugly Duckling toners, or if the hair still has some yellow in it, then use either intense pearl blonde toner or intense silver blonde toner.
These contain an extra booster which help get rid of any remaining yellowness or brassiness.
If, on the other hand, it is a second time toning application & also if the hair has been very well lifted, then you can go ahead and use the no-lift pearl blonde toner or no-lift silver blonde toner.
We would also recommend that you consider Ugly Duckling's Blue Based Ash blonde range. These are very interesting colors, (ending in the letter "b") - for example 10.1b, 9.1b which neutralize yellow very well & produce very beautiful blue based ash blonde tones.
Examples would include our best seller Extra Light Cold Ash Blonde 10.1b. (There is a video tutorial featuring this product at the bottom of this page).
Mix your toner with a 10 or 20 Vol. developer. With Ugly Duckling toners you can apply them on wet hair - just make sure the hair has been towel-dried first to remove excess moisture.
Keep the mix at 1 part toner to 2 parts developer. This will give you a runny mix, and help you saturate well and evenly. 
In this case, because we still had a yellow, brassy section to deal with, we applied the toner there first.
Always work fast when you are using toner because the toner works fast and you must try and give all your hair the same amount of development time.
As you apply, you will see the product start to change color and turn bluish. These pigments are there to fight the yellow and get you to a true ash color.
Watch carefully and rinse when the hair has turned the color you want. Normally, around 10 -15 minutes of toning is enough.
Rinse when the correct level is achieved.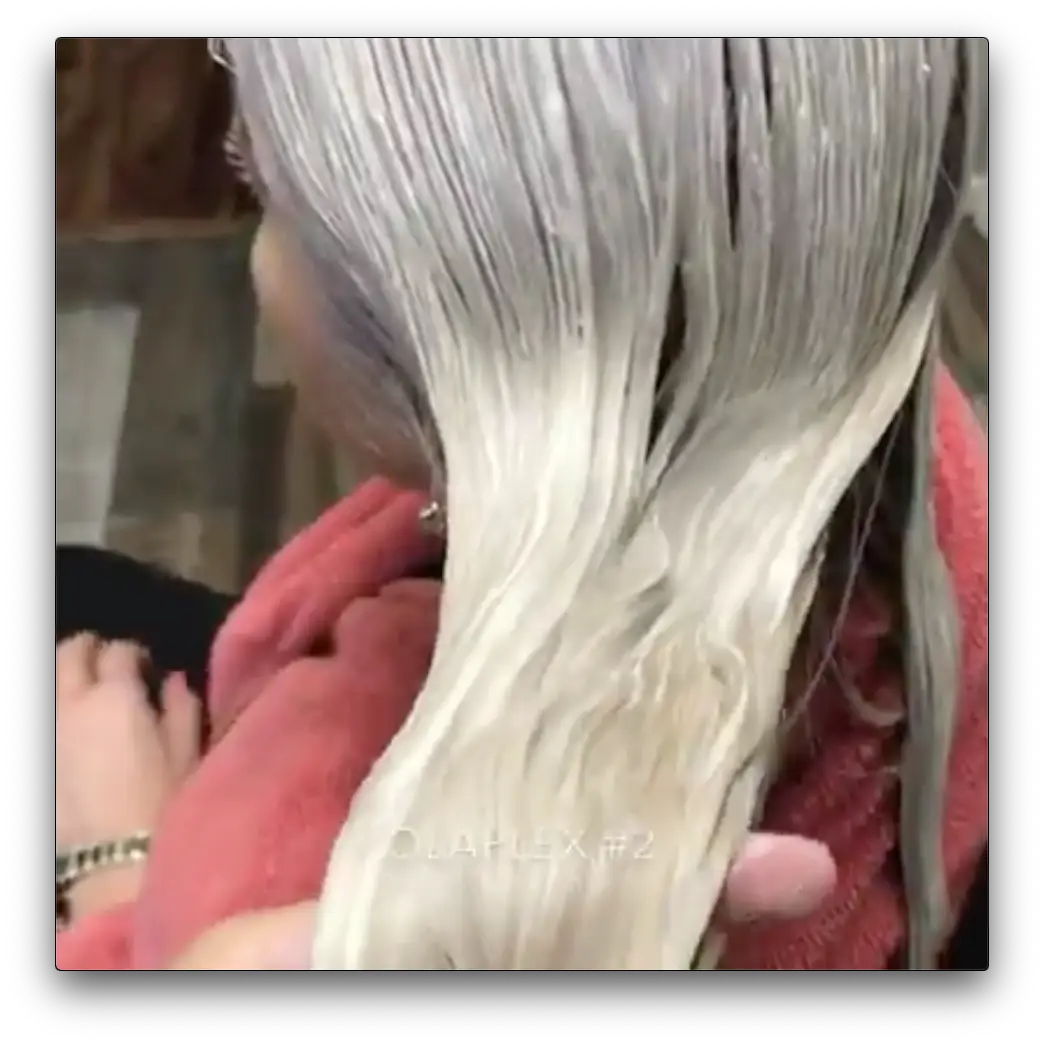 Ugly Duckling Pearl Blonde toner during processing. You can see how the pigments are coloring the hair. 
Fifth Step: Apply Purple Shampoo or Mask
Now that you have toned, rinse.
After rinsing, apply Purple Shampoo and Mask. You can apply it on wet (towel dried hair).
These products will add in purple pigments which will help kill any remaining yellow & help complete the transformation from yellow to ash blonde.
These products are also low pH and will help close the cuticles as well as kill any remaining yellow.
You need to use a lot of product and rub in really well to allow an efficient transfer of purple pigments into the hair. 
You can let the purple shampoo sit for around 5 minutes, then rinse.
For the purple mask, you can leave it in for around 10 minutes, preferably under a plastic cap, with gentle heat.
This helps the color transfer of violet pigments which kill yellow.
Brilliant Blonde purple shampoo and mask can both be used as a maintenance product - to keep the hair ash blonde and stop it from turning yellow over time (all ash blonde hair will have a tendency to do that).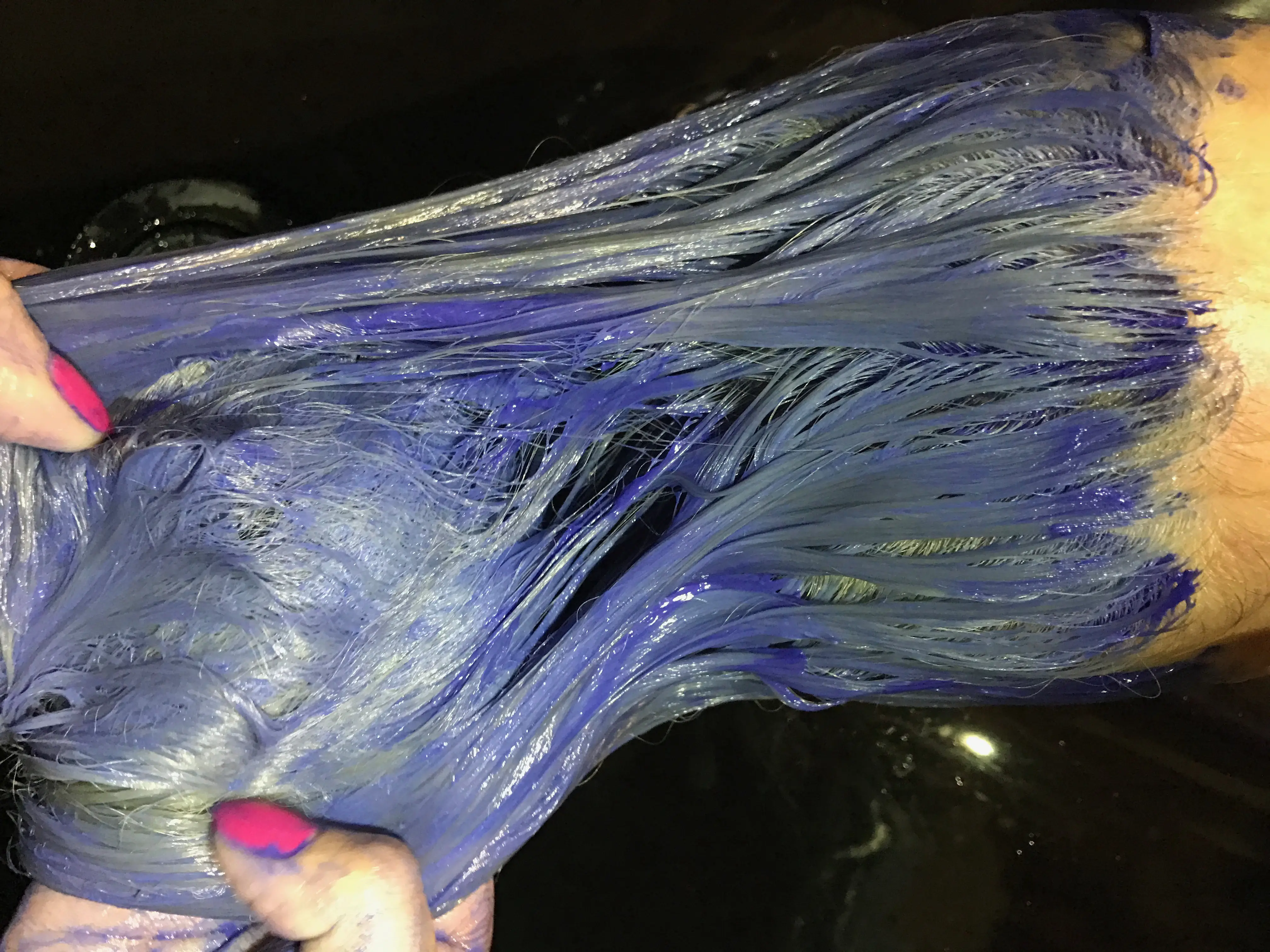 Result: Consistent Ash Blonde Hair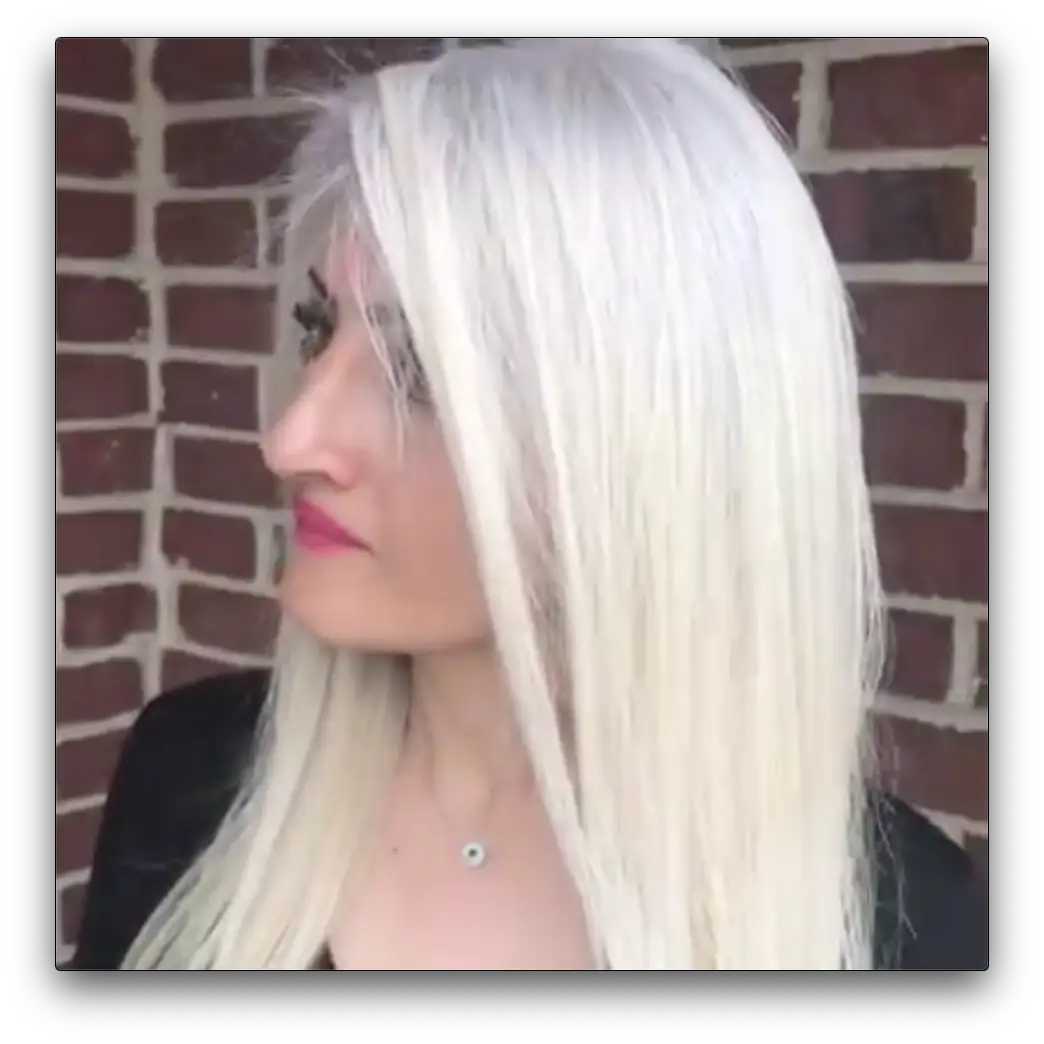 Hair Color by Elona Taki.
Looking For an Ash Blonde Hair Tutorial ? Watch This Step-by-Step Video.
In this video, we dealt with a dark regrowth, a very yellow brassy area and we turned the whole thing a beautiful ash blonde.
Hair by Elona Taki.
Products Used:
Brilliant Blondexx Bond Protect Lightener
Pearl Blonde Toner 10V (no-lift)
Purple Shampoo.
Video Tutorial: From Yellow & Orange to Ash Blonde. Using Ugly Duckling's 10.1b Extra Light Cold Ash Blonde.
In this video, we dealt with very yellow, brassy hair. We lifted the root area and then took the whole thing a beautiful blue-based ash blonde color.
This time, we didn't need any purple shampoo. We used just bleach and and 10.1b (regular hair color not a toner).
We developed the color for a full 30 minutes to give a chance for the blue based ash blonde pigments to really show.
Hair by Brittney Perez.
Products Used:
Brilliant Blondexx Lightener
Extra Light Cold Ash Blonde 10.1b
20 Vol Developer
FREQUENTLY ASKED QUESTIONS
Q: How do you tone yellow hair to ash?

Take a look at the picture above of hair color levels.
If your hair is level 8 and above, apply Ugly Duckling's Intense Pearl Blonde toner or Intense Silver Blonde toner.
These toners contain a special "booster" that will get your hair to the ash blonde that you are looking for.
Use 20 Vol, 1 part toner to 2 parts developer and really saturate the hair fully.
Rinse when you get your hair to ash.
Use Ugly Duckling's Purple Shampoo and Mask to finish.
Q: How do you go from golden blonde to ash blonde?
As long as your hair is level 8 and above, you can follow the technique above and it should work very well. 
Q; How do you get light ash blonde hair color?
If you want to go really light ash blonde, you should follow the routine at the top of this blog, which is:
Bleach and lift the hair to level 10.
Tone with your choice of Ugly Duckling toners
Finish with Purple Shampoo and Mask
Q; How do you get Pearl Blonde Hair?
Use Intense Pearl Blonde 100V toner if your hair is level 8-9
Use Pearl Blonde 10V toner if your hair is level 9-10
Q: How do you get Silver Blonde Hair?
Use Intense Silver Blonde 100B toner if your hair is level 8-9
Use Silver Blonde 10B toner if your hair is level 9-10