There is a lot of confusion about using blue based toners for dealing with yellow and orange hair.
In this blog we will try and clear some of the confusion up.
Color Correction or Color Maintenance?
First, you need to be absolutely clear what we mean by a blue hair toner.
Are you looking to do color correction? Or are you looking to color maintenance?
And what kind of toning are you looking to do? Shampoo based toning or regular toning using an oxidative process?
Using Shampoo Based Blue & Purple Toning To Counteract Yellow 
If your hair has been very well lightened and toned already but it is still a little yellow, then you can use Brilliant Blonde Purple Shampoo & Mask
The Brilliant Blonde Shampoo & Mask range contains a mixture of blue and purple toning pigments.
They are incredibly intense and they will do the job of maintenance and light color correction) very well.
Remember that your hair (or your client's hair) needs to be pre-lightened correctly to level 9-10 otherwise this method will not work.
In other words, it is very effective as a light toner, but it will not give you major color correction results (or example, if your hair is really orange and brassy)
Remember to use a lot of product and rub the product in thoroughly into the hair for best results.
The mask can be left on the hair (ideally using gentle heat).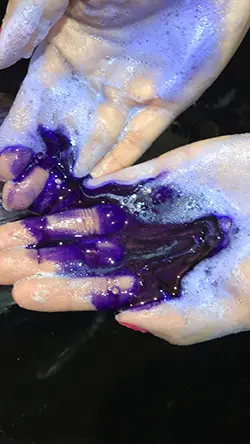 WATCH THIS VIDEO ON HOW TO USE BRILLIANT BLONDE SHAMPOO & MASK TO TONE & MAINTAIN YOUR BLONDE HAIR:
What if You want to do Color Correction Using Regular Blue Based Toners?
If on the other hand your hair is really yellow, brassy or orange, then just using a shampoo and mask will not work.
You will need to do regular (chemical toning).
First, lift the hair using a good quality bleach. Take it to level 10.
We would recommend Brilliant Blondexx, our Bond Protect bleach.
Then tone using blue based colors such as our 10.1b, 9.1b.
The .1 signifies that these are ash blonde colors, whereas the "b" signifies that they contain blue.
These colors are blonding colors with blue based pigments built in. They are excellent for getting brassiness out of the hair.
They produce stunning blonde colors which are totally white - without any brassiness whatsoever.
Ugly Duckling is the only color brand which has these blue based colors. WATCH THIS VIDEO ON HOW TO USE UGLY DUCKLING"S 10.1b (BLUE BASED EXTRA LIGHT BLONDE) TO TONE YOUR HAIR & ACHIEVE SPECTACULAR ASH BLONDE RESULTS: