Free Shipping from $25
Extra Cold Ash Blonde
SET CONTAINS:
1 x Extra Light Cold Ash Blonde 10.1b 
2 x 50 gm sachets: Brilliant Blonde 8 Level Lift Lightener
1 x Salon Size 1 Liter 20 Vol Developer
1 x Purple Mask 8.4 oz
1 x Salon Tools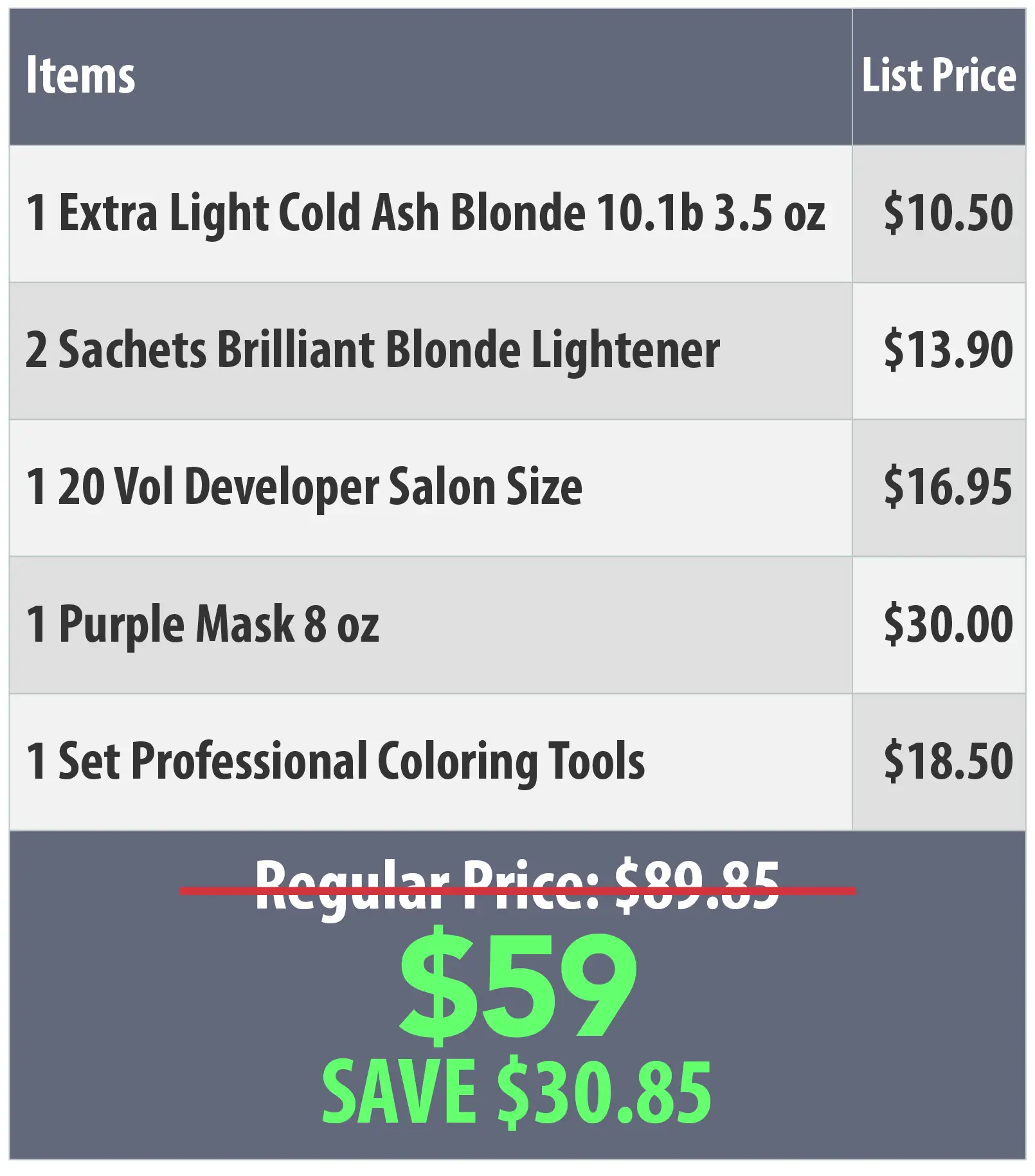 QUANTITY OF SETS Limited -  offer available while stocks last.
The set contains enough products even for very long hair.
You should have plenty of product left over (especially developer & purple mask) for future retouch applications and for maintaining your look.
Follow These 4 Steps:
(1) LIFT YOUR HAIR TO A CONSISTENT LEVEL 10
You need to first lift your entire head to a consistent level 10. So be sure to check your hair and assess how many levels you need to lift.
Depending on how much hair needs to be lifted, open one or two sachets into a mixing bowl. 
Now add in your developer. If using one sachet, pour in 100 ml (3.5 oz) of developer.
If using 2 sachets, pour in 200 ml (7 oz) of developer.
Mix really well using a non-metallic spoon or whisk until you have a nice, smooth paste. 
Section your hair, starting from the back, and apply generously throughout.
Work fast - the bleach mixture needs to be applied when wet.
Keep the root part until the last - this is the part that will lift the fastest and the most.
Check to make sure that all parts of the hair are lifting well.
If you see parts that are drying out or not lifting, add in some more mix.
Wait until your hair is a very pale yellow (level 10).
Rinse.
(2) COLOR
Get a fresh bowl. Squeeze in the tube of Extra Light Cold Ash Blonde 10.1b
Pour in 3.5 oz (100 ml) of your developer (1:1 mix) and mix thoroughly. 
Apply first on the lengths, leaving the last inch near the root for the end.
Aim to get great product saturation. This will ensure a rich and vibrant color result.
When lengths are done, apply on the root area.
You will see the color change to bluish grey as the cold ash blonde pigments do their work
Process for 30 minutes.
This is a regular color, not a toner and requires the full processing time to get the correct color result.
(3) PURPLE MASK TO FINISH
Rinse hair with water thoroughly until all the pigments have been washed out and the water is running clear.
Then apply a large quantity of purple mask and massage in thoroughly.
Leave in the hair for 5 minutes, ideally with some indirect heat.
Use a plastic cap if you don't have access to a heat source. The heat from the scalp will do its job.
The purple mask will close the hair cuticles and provide deep conditioning to the hair.
It will also help in removing any remaining yellow still in the hair and get the hair to a very cold ash blonde look.
(4) MAINTAIN THE LOOK WITH PURPLE MASK
Use the purple mask once a week to keep your hair white and ashy.
WATCH THIS VIDEO TO SEE HOW TO DO A COLD ASH BLONDE LOOK:
---