How To Do A Shadow Root Look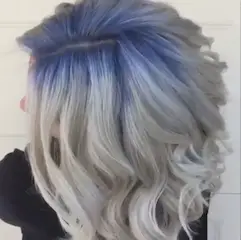 Shadow Root by Elona Taki
What is a Shadow Root Look?
A Shadow Root is basically one color at the root area blending seamlessly into a different (typically lighter) at the ends.
These looks are getting very popular these days, and seem to be growing in popularity all the time.
Women like them because they give a very natural fashionable look - a glamorized version of grown out highlights.
Hairstylists love them because they get a chance to show off their skills, creativity and color sense.
These looks also have the advantage of growing out quite naturally as compared to a "hard" blonde look which will need retouching in 3 weeks.
The most common Shadow Root Looks go from a dark color close to the client's natural hair level to a lighter color.
But you can also get creative
We give below some examples of Shadow Roots done by Ugly Duckling Artists along with the recipes.
All products used were from the Ugly Duckling Color and Lightener Range.
Subtle Blonde Shadow Root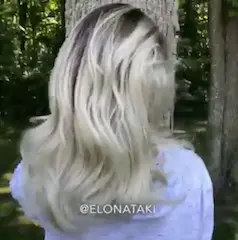 Recipe
Our model came in with a very large regrowth area and light ends.
We applied 5.11 with 20 Vol on the first 4 inches of the root area.
We blended that into 6N with 20 Vol on the rest of the regrowth.
Remember to interweave when sectioning in order to achieve a seamless transition.
We applied 100.21 Intense Pearl Blonde with 20 Vol on to the ends.
Processing time was around 30 minutes for the dark colors, around 15 minutes on the already pre-lightened ends.
We rinsed.
Finally, Brilliant Blonde Purple Shampoo was applied, rubbed in for 5 minutes to equalize the whole hair and rinsed.
Blonde Shadow Root on a Dark Base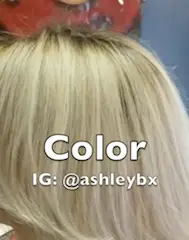 Recipe
Our model had naturally very dark hair (level 3).
We wanted to give her a look which would show a dark color blending into something much much lighter.
We applied Brilliant Blonde lightener and 40 Vol to lift her roots to pale yellow.
We applied a mix of 5.11 and 6N with 20 Vol to her roots.
We applied a mix of 100.20, 100.21 and Clear to the ends.
Once again, we took care to blend the two color areas to avoid an obvious line of demarcation.
We processed and rinsed.
Violet and Silver Blended Root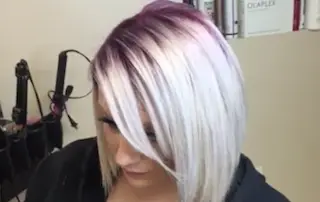 This look went viral on the internet.
It is a stunning look which at the same time is surprisingly quite easy to wear - hence its popularity.
Recipe
Brilliant Blonde with 30 Vol to lift the hair all the way up to a very pale yellow.
Violet mixed with 100.20 (2 parts 100.20, 1 part Violet) on the roots - 20 Vol Developer.
100.20 with 20 Vol on the ends.
Taper between the 2 areas.
Blue and Silver Shadow Root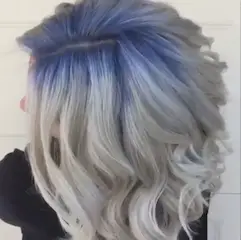 Recipe
Lift hair to very pale yellow with Brilliant Blonde
Apply Blue with 20 Vol on the roots.
Apply Silver Grey and 100.20 on the ends.
Taper between the 2 areas.
To Watch This Step by Step Video of a Shadow Root done on a dark base, click here.