Shadow Roots & Smudge Roots - A Great Way of Adding Color Variety & Dimension
Blonde Shadow Roots are a great way of adding dimension to a stylist's color. 
They are also beautiful to wear and enjoy as a consumer. 
For brunettes, they are an excellent way of  going blonde.
The dark shadow root matches their skin tones & provides a great transition to the blonde color on the ends.
And for blondes, they are also great. The dark shadow root provides the dramatic emphasis for the transition to blonde ends.
Shadow Roots are surprisingly easy to do. 
Shadow Roots - Easy to Refresh & Upkeep
A big advantage of blonde shadow roots is that they they grow out nicely over time, and most importantly for you as a professional
In fact, they are way easier to touch up and refresh 2or 3 months later.
As opposed to balayage and highlights, where the stylist has to pick out additional areas and sections to recolor - a very time consuming process.
And typically not a commercially rewarding one - it just takes so long for you as a stylist!
We've created 5 Blonde Shadow Root Looks for you to do in Your Salon!
Full Recipe, Videos Tutorial & After Result shots
Look No. 1: Purple and Silver Shadow Root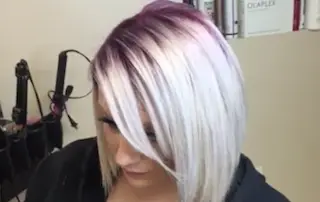 This look, created by Elona Taki went viral on the internet.
It is a stunning look which at the same time is surprisingly quite easy to create and wear.
Thanks to Ugly Duckling color technology, the colors do not stain or run into each other.
Watch Video Now!
Hair by Elona Taki
Products Used
Brilliant Blonde with 30 Vol to lift the hair all the way up to a very pale yellow.
Violet mixed with 100.20 (2 parts 100.20, 1 part Violet) on the roots - 20 Vol Developer.
100.20 with 20 Vol on the ends.
Taper between the 2 areas.
What You Need to Get This Technique Right
Make sure you lift the hair really, really well.
We really recommend you use Ugly Duckling's bleaches, either Brilliant Blonde or the new Bond Protect Brilliant Blondexx.
Use either of these bleaches and please make sure you get the hair up to a consistent level 10.
Next, mix 2 parts 100B (Intense Silver Blonde Toner) with 1 part Violet.
Add in your 20 Vol developer in a ratio of 1 part total quantity of color used to 1 part developer.
Apply this mix to your root area.
Now make a separate mix with a clean brush and bowl of 100B (Intense Silver Blonde Toner) with 20 Vol, again 1:1 mix.
Apply this to the lengths. 
Ugly Duckling's colors do not stain or run. You should find that the mix is sufficiently thick and the colors will stay where you put them during the processing time.
After 30 minutes, rinse with tepid water, if possible cool at first.
Take care not to rub the hair at the beginning: just let the color run out.
Only rub at the end to wash out all the color.
Towel dry and blow dry as normal.
Look No. 2: Subtle Blonde Shadow Root Salli came in with a very large regrowth area and bleached end - it had been a while that she had not colored!
She wanted a shadow root.
We were able to add some light brown, dark blonde on the root area blending into a white blonde at the ends.
We did not need to use any bleach on the root area.
Watch Video Now!
Products Used:
5.11, 6N, 100.21 (100V) Intense Pearl Blonde Toner, 20 Vol Developer.
How to Get the Technique Right:
Apply 5.11 with 20 Vol on the first 4 inches of the root area.
Apply 6N with 20 Vol on the rest of the regrowth.
Remember to interweave between the 5.11 section and the 6N section in order to achieve a seamless transition.
With a separate brush and a new bowl, apply 100V Intense Pearl Blonde Toner with 20 Vol on to the ends.
Processing time was around 30 minutes for the dark colors, around 15 minutes on the already pre-lightened ends.
We rinsed.
Finally, Brilliant Blonde Purple Shampoo was applied, rubbed in for 5 minutes to equalize the whole hair and rinsed.
Purple Shampoo is often very useful when doing shadow roots as it helps you achieve a smooth transition between areas.
The shampoo as well as the interrweaving also helps you avoid any visible line of demarcation.
Look no 3. Blue And Violet Silver Shadow Root.
Hair Color by Elona Taki.
This look is a variant of the Purple and Silver Shadow Root Look at the top of the page.
It is important to be creative with your clients & try new looks - they will love you for it!
And always remember that Ugly Duckling colors do not stain or bleed, making the creation of shadow root looks easy. Watch The Full Tutorial Now & Create this Look! 
Products Used:

Brilliant Blondexx Bleach and 20 Vol to pre-lighten
Violet, Blue on the root area.
Purple Shampoo to tone the lengths
Tips to Get this Look Right:
We lifted Sadie's hair with Brilliant Blondexx Bond Protect Bleach
As you can see, the hair was very well lifted - all the way to level 10.
After lifting, apply Violet mixed with Blue ( we used a mix of 2 parts Violet to 1 part Blue)
Add in your developer in a mix of 1 part total color quantity used to 1 part developer.
Process 30 minutes to get it really vibrant.
Add Brilliant Blonde Purple Shampoo for the last 10 minutes & rub really thoroughly.
The purple pigments in the shampoo will help tone the hair and unify it, which is really important when you do a shadow root.
Look no 4. Blonde Shadow Root on a Very Dark Base
Hair Color by Ashley Betancourt.
This is another blonde shadow root that our stylist did on a very dark base.
There are fewer products used, which means you can go faster in the salon.
Once again. get the lifting part right - do that & everything will come out well!
Watch The Full Tutorial Now & Create this Look! 
Products Used:

Brilliant Blondexx Bleach and 20 Vol to pre-lighten
6N for the roots
100V (100.21) for the ends
Tips to Get This Look Right:
Once again, as you can see, Aimee's hair was very dark indeed.
We lifted it with Brilliant Blonde bleach, using foils to keep the heat in & process faster.
Notice how finely we segmented the hair and how near the root area.
Notice also during bleach washing how well we saturated the hair with products.
After lifting, we applied 6N on the root area & 100V on the ends - both with 20 Vol.
After processing, we rinsed.
As usual, remember to let the water run before rubbing together - otherwise you could spoil your shadow root.
Look no 5. Purple & Silver Grey Blonde on a Dark Base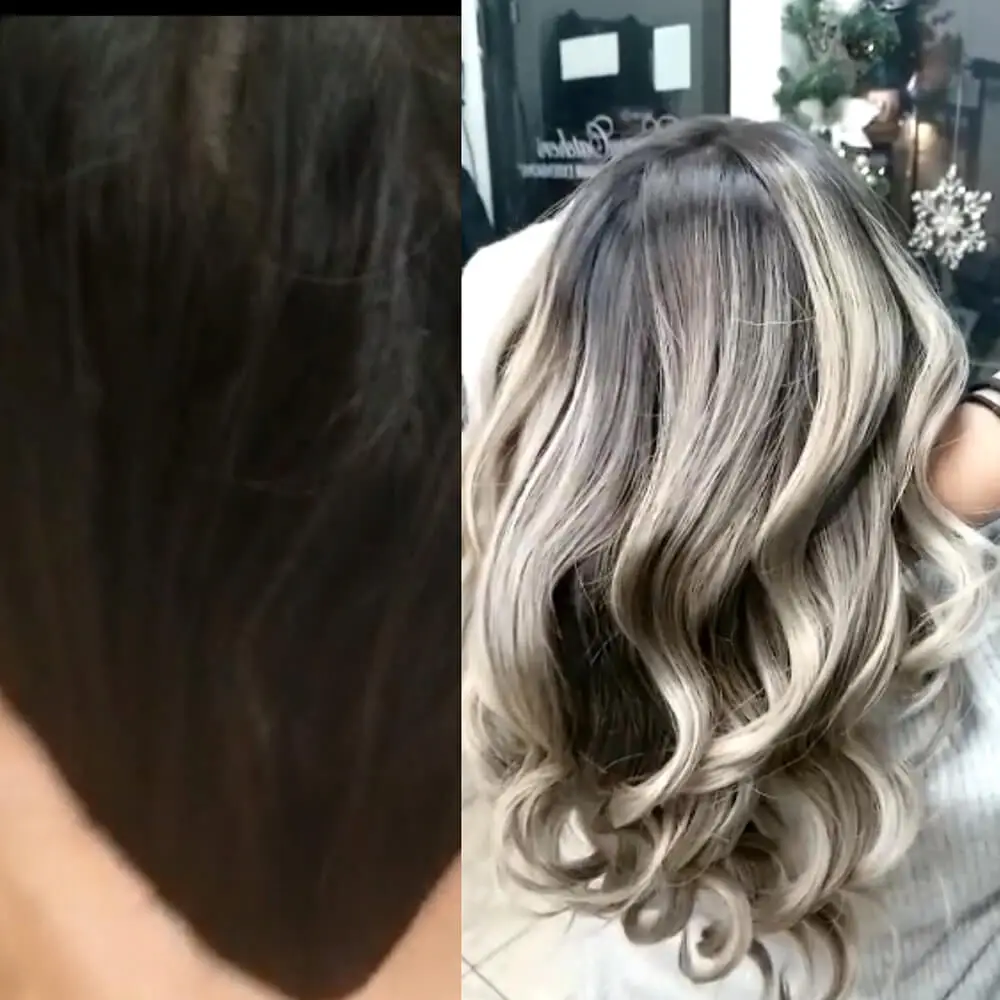 The above look was achieved by our stylist Ashley Betancourt. 
It is one of our favorite looks and involved the use of 5.11 & 5N on the root area, with purple grey and silver grey on the lengths.
WATCH THE FULL VIDEO TUTORIAL HERE:
Products Used:
Brilliant Blondexx Bond Protect Lightener, Developer
5NN, 5.11 for Shadow Root
Purple Grey, Silver Grey, Clear for Ends.
Tips to Get This Technique Right
Always make sure you bleach very very well to level 9. That is the way to produce a stunning blonde result.