Do you have a dark regrowth that you are trying to lift - WITHOUT Bleach? 
Level 6 Regrowth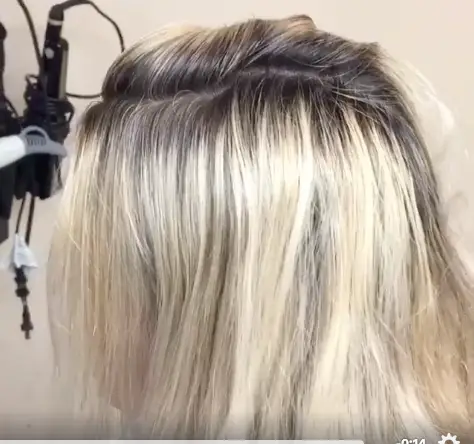 Level 5 Regrowth
If you are looking to  lift a client's dark roots and you don't want to use bleach, we have a solution for you.
It's the Ugly Duckling High Lift Series
But it doesn't mean that you can't be a lazy colorist.
You can't just dump it all over and expect the whole thing to work. 
You will need to first target the dark area and lift that. 
Then after you will need to extend to the lengths in order to obtain a consistent, equal blonde result.
It is also a good idea to use purple shampoo or mask afterward to do an extra toning.
Let us show you how!
First, Choose Your High Lift Ugly Duckling Color.
Second, Choose Your Developer & Apply to the Regrowth Area Only.
If your roots is as dark as in the picture above (level 5-6) you will need 30 Vol Developer to get the required lift.
The mix ratios for high lift colors is 1 part color to 2 parts developer.
Apply the mix first on the dark regrowth part only.
You can apply foils on this area just as you would for bleach - it keeps the heat in and allows the hair to process faster & higher.
We did that in the picture you see right at the top of the page.
Wait 20 - 30 minutes or until the hair has lifted all the way up to the lengths.
Mix Your High Lift Color with 30 Vol Developer, 1:2 Ratio. 30 minutes development time.
Apply to Root Area First to Lift It.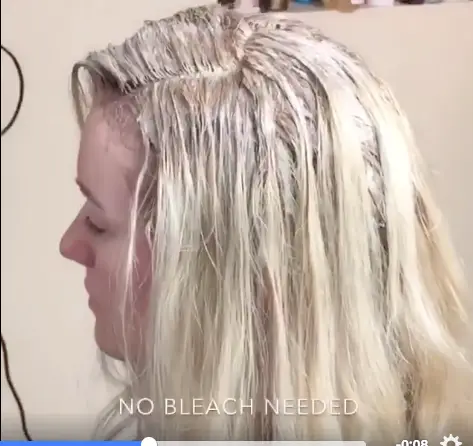 Third, Make a Fresh Mix (20 Vol Developer Only) & Extend to the Lengths for the last 5-10 minutes.
Make a fresh mix when there is about 10-15 minutes of development time left.
20 Vol will be enough for this mix if your ends are pretty light.
Process and rinse.
Fourth, Massage in Purple Shampoo and/or Purple Mask 
Generally speaking, even after following the steps above you may find that there is some residual unevenness when you rinse.
This is where Brilliant Blonde Purple Shampoo and Mask comes in.
It's got intense purple pigments which can take out any remaining yellow & get your hair to a pristine while blonde - all over.
Final Result Below Shows:
Double Application of an Ugly Duckling High Lift Color
10 minutes massage with Brilliant Blonde Purple Shampoo
No Bleach!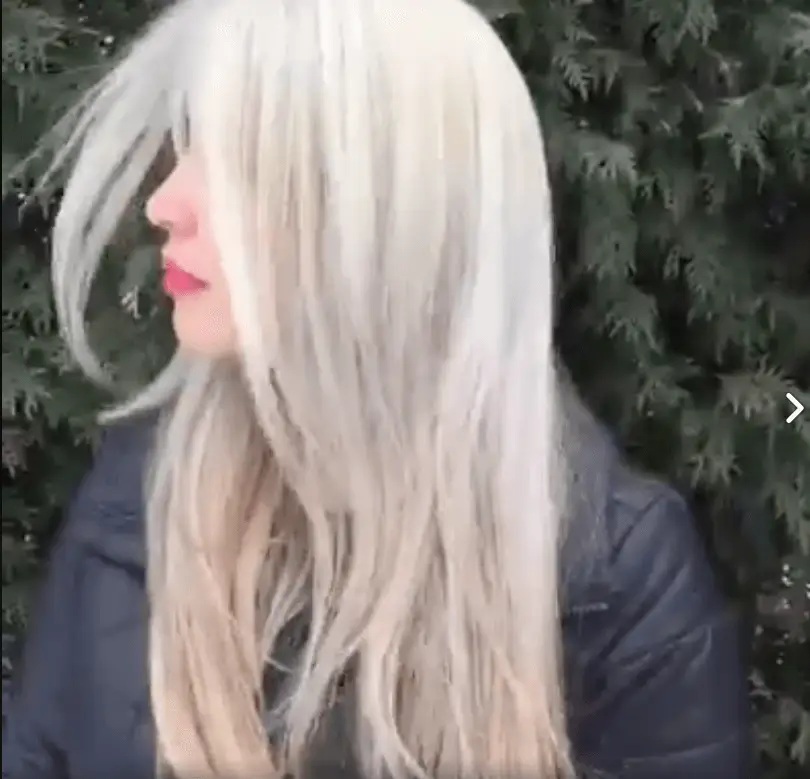 The Final result. Consistent Deep Ash Blonde Result.
Color Tutorial by Elona Taki.
WATCH THE VIDEO!
In the video tutorial , Elona lifts dark roots and then tones the ends without using bleach.