SOME GENERAL RULES ABOUT WHETHER TO COLOR ROOTS FIRST OR LAST
If you are going darker, then start coloring at the roots.
If you are going lighter, and you have a dark regrowth, you need to deal with the regrowth first and lift it.
Once you have done so, inspect the hair carefully and always start applying your toner at the part where it needs the most lift.
In general, you do need to be aware that the root area will always lift the fastest because of the heat coming from the scalp and because it is virgin hair.
Case No.1: Root Area Lighter Then the Ends
We used Brilliant Blonde and 20 Vol Developer at the root area to deal with a dark regrowth.
After processing and rinsing the root area was actually lighter than the lengths.
So when we applied Intense Pearl Blonde Toner 100V with 10 Vol, we applied first to the lengths, then to the root area.
In this way we avoided a "hot root" and we got a great result.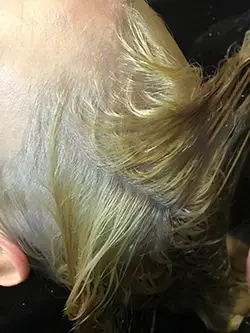 WATCH THE VIDEO HERE:
Case No.2: Extremely Dark Roots, Light Ends.
Color Correction by Elona Taki.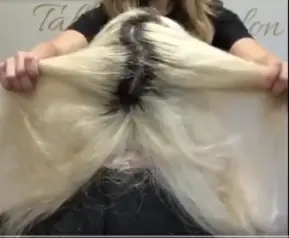 Bleaching
Here we had a huge, extremely dark regrowth. although the lengths were super white blonde.
There could be banding issues unless we did it right. There could also be breakage issues because the ends were super light.
We mixed Brilliant Blonde Lightener with 30 Vol. We made it fairly pasty, a little less developer than usual: 1 part lightener to 1.5 parts lightener.
We wanted to deposit a lot of mixture and really saturate and lift this extremely dark regrowth.
After rinsing we saw that the part that was the yellowest was 4 - 6 inches away from the root area.
So when toning, we started applying color on this mid-section area where it was yellow
Then we applied color elsewhere.
We toned with Silver Blonde toner (10B) and Pearl Blonde toner (10V), mixed 50/50.
We used 10 Vol developer.
WATCH THE VIDEO HERE:
FREQUENTLY ASKED QUESTIONS
Q: MY CLIENT HAS LIGHT ROOTS, DARK ENDS. WHAT SHOULD I DO TO EQUALIZE?
If your client has light roots and dark ends, and you are trying to take her blonde, then you will need to attack the lengths first.
Very often there may be color build-up from previous applications.
You will need to use a good quality bleach to strip or lift this color until it is the same level as the ends.
Once you have done so, you can apply your color or toner to equalize.
Q: MY CLIENT HAS DARK ROOTS. HOW CAN I GET HER HAIR BLONDE? 
Apply bleach or high lift color to her dark roots.
Your objective is going to be to lift it all the way so that it is the same level as the ends.
If the ends are blonde, and the root area is very dark, apply your bleach and make sure you lift all the way up, then rinse.
If the lengths are very blonde, you won't need to lift this part.
In that case, after rinsing you are just going to need to apply toner to equalize the whole head.
When doing so the rule is always to start at the area where the hair is the most brassy and most in need of lifting.
Process until the hair is blonde.