My client has dark blonde colored hair. Now she wants to go lighter? Can I recolor it?
Lifting hair that is already colored can be a challenge, because generally speaking, hair color on top of hair color does not work very well. The reason for this is that the hair has already been filled with color pigments. Putting in more pigments tends not to work, especially when you want to take the client lighter.
The Best Solution: Quick Bleach Application, Then Color
The best solution in such cases is to do a quick bleach application. This will help you remove the color build up and take the hair lighter
We would suggest you use Ugly Duckling's Brilliant Blondexx, which contains Bond Protect and is very gentle.
For very dark black-dyed hair, however, use Ugly Duckling's blue based Brilliant Blonde.
Brilliant Blondexx Bond Protect Bleach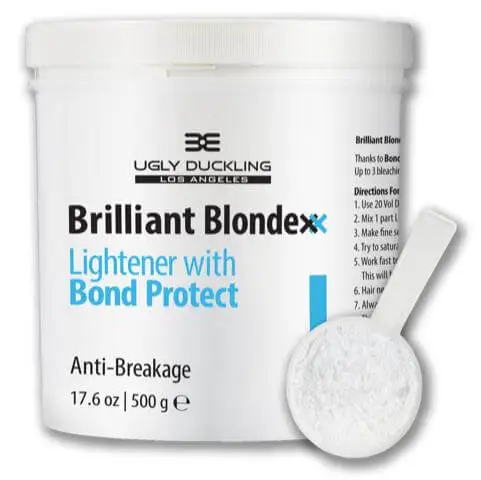 Brilliant Blonde Blue-Based Bleach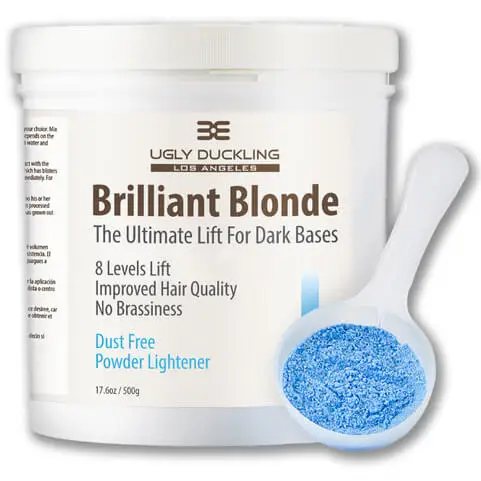 Here are the mixes you need to use:
For a reflect change or 1 level lift only: Brilliant Blondexx + 20 Vol developer + shampoo, make a mix of all equal parts.
For a 1 or 2 level lift: Brilliant Blondexx + 20 Vol developer, 1 part bleach + 2 parts developer mix
For a 3 level lift or more: Brilliant Blondexx + 30 Vol developer, 1 part bleach + 2 parts developer mix.
And for really dark box dyed hair: Brilliant Blonde blue based bleach + 30 Vol, 1 part bleach + 2 parts developer mix
Apply the appropriate mixture to your hair or your client's hair. Segment finely and saturate very very well, so that all parts of the hair can come into contact with the bleach mixture. Using foil is a good idea, it will keep heat in and allow you to process and lift the hair faster.
Once the hair is lifted to a pale yellow, you can rinse.
Then apply your desired color.
Remember that if you're trying to take your client very blonde (level 10, for example), you will need to get the hair all the way up to a very, very pale lemon yellow color. Otherwise you will be left with secondary reflects that will compromise your final result.
Examples: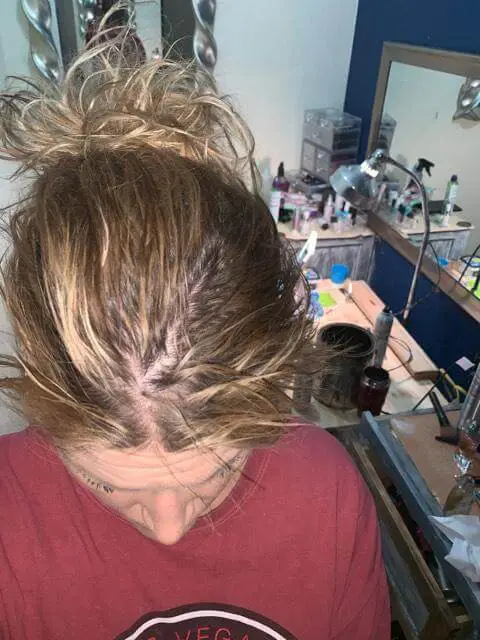 The above hair has been dyed previously. The client wants to go lighter. Note that the hair level is inconsistent. There are parts which have been highlighted and very yellow level 8. There are other parts which are natural hair level 6.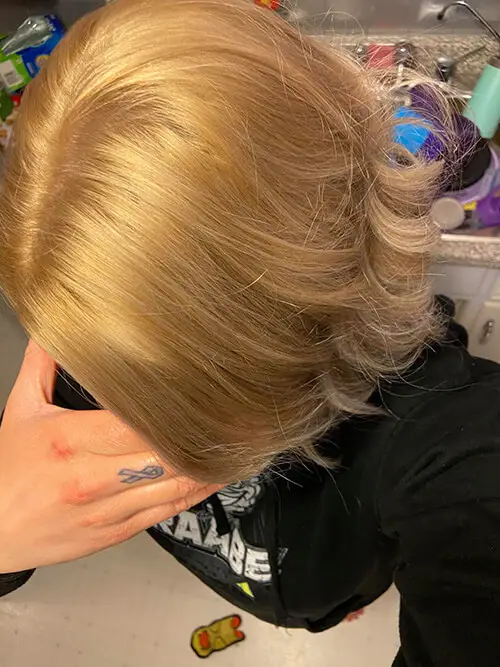 What If I bleached the hair previously but I want to go lighter?
If you have previously bleached your hair, check its level by comparing it to the image below: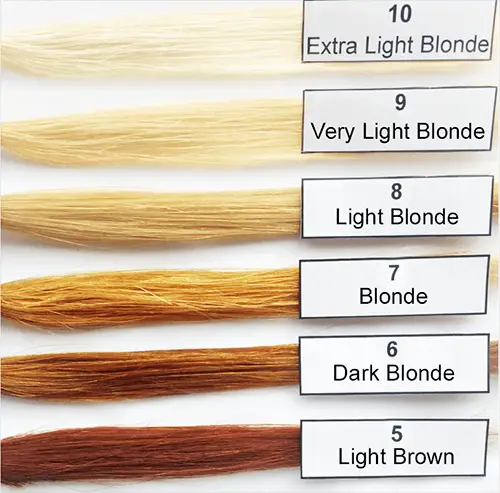 If it is bleached, but still darker than level 9 or 10, you will most definitely need to bleach it again if you are trying to take the hair to white blonde, platinum blonde or ash blonde.
In such cases, you're only needing to lift it most probably by 2/3 levels. Use Brilliant Blondexx Bond Protect bleach with 20 Vol and you should be able to take the hair lighter without too much of an issue and without harming your hair.
Can I put blonde hair color on top of already bleached hair?
Before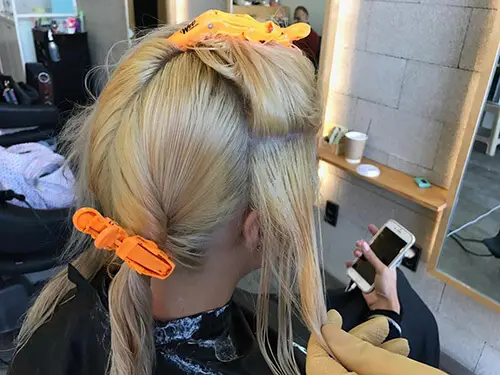 If the hair has been really correctly bleached and is of a consistent level 9 or above, as in the picture above, then of course the answer is yes.
If there is still some yellow left in the hair (as above) we would recommend you try Ugly Duckling's colors or toners, as they have particularly good lifting and toning ability.
For example, here is the same hair, being colored with Ugly Duckling 10.1b Extra Cold Ash Blonde:
During:
Hair being colored blonde with 10.1b Extra Cold Ash Blonde. Note the grey and blue pigments taking effect.
After: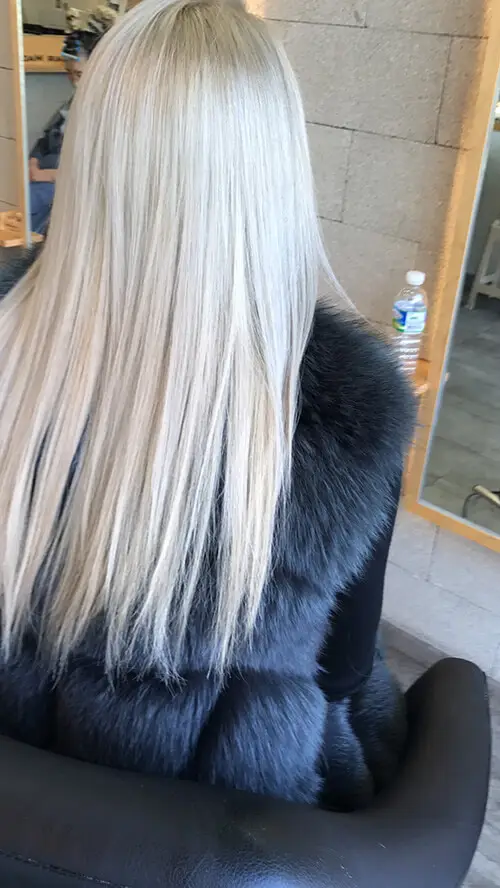 Here are some hair colors and toners that work particularly well after bleaching: