How to Bleach Your Roots Blonde - WATCH THIS VIDEO TUTORIAL:
BLEACHING DARK ROOTS BLONDE - WITH NO BREAKAGE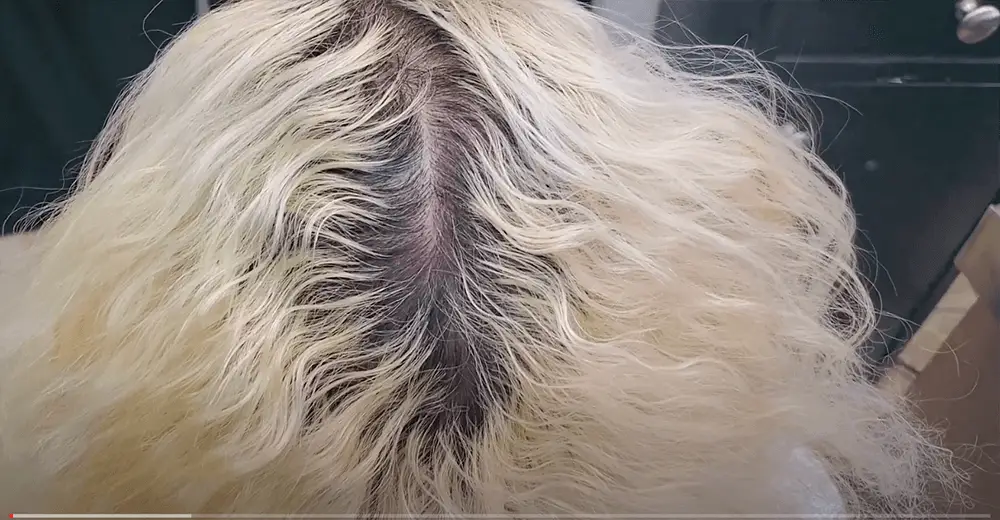 When your client comes in with very dark roots - like in the picture above - with lengths which are white blonde and also rather delicate and fine, you know you have your work cut out.
But don't panic, even the darkest root can be lifted. 
Without demarcation and without breakage. 
Find out how in this tutorial.
FIRST STEP: GET YOUR BLEACH & DEVELOPER READY
For this level of hair, we would suggest that you use Brilliant Blondexx.
It is an ultra white bleach with Bond Protect.
It is designed to protect the hair from any breakage even for the most extreme lift.
It is also comfortable on the scalp.

For this level of lightening you will need to use 30 Vol Developer.
The mix is 1 part bleach to 2 parts developer.
Mix the 2 ingredients in a plastic mixing bowl. Keep stirring until you get a really smooth, creamy paste.
Brilliant Blondexx produces a really unctuous texture and this helps give your client real scalp comfort when the bleach is sitting on her head.
BRILLIANT BLONDEXX BOND PROTECT BLEACH & 30 Vol Developer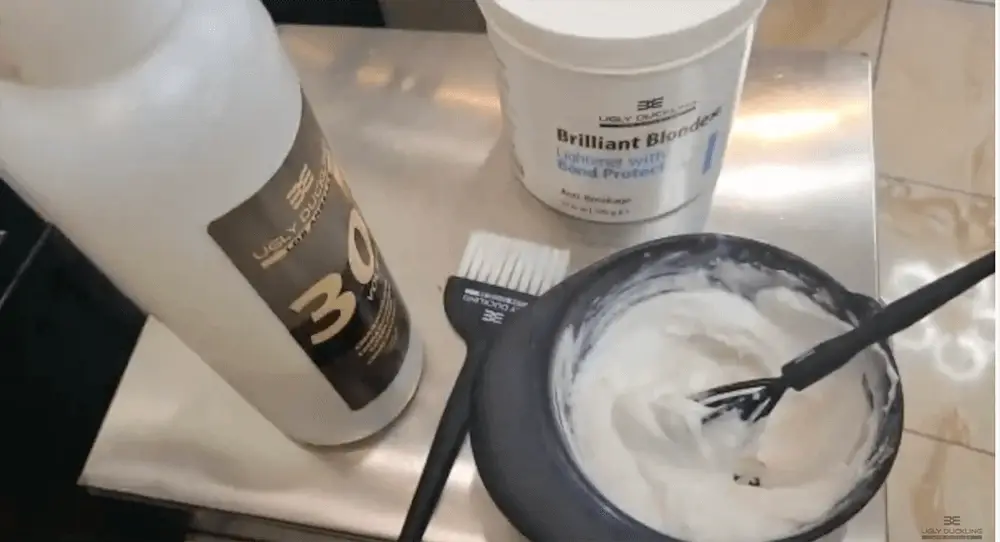 SECOND STEP: APPLY THE BLEACH MIX TO THE ROOT AREA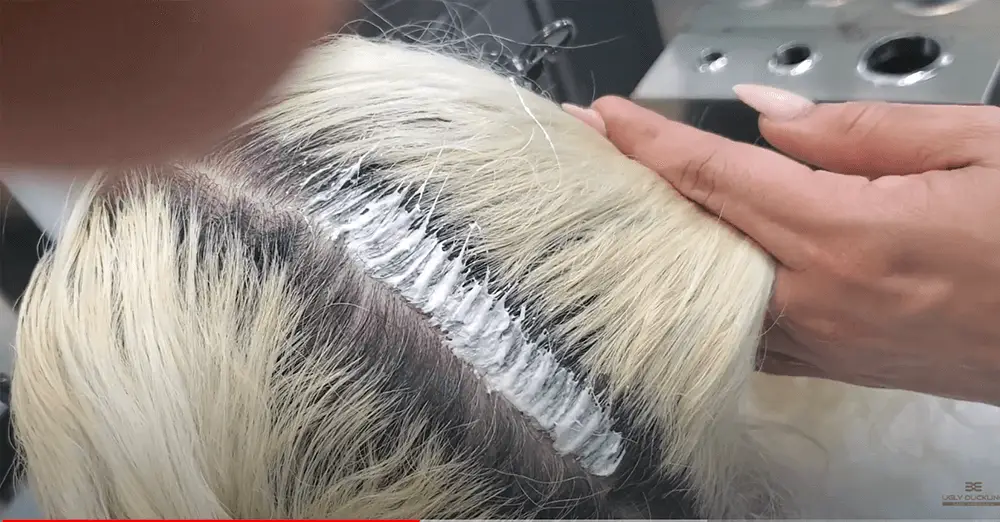 Section neatly and apply your bleach mix to the root area.
When applying, it is important to place the mixture near the root area without poking or jabbing the scalp.
This will allow your client to enjoy a more comfortable bleaching experience and will prevent scalp irritation.
Of course, the  Bond Protect will do its part also in protecting the hair during the whole bleaching process.
Apply very generously to the dark root and let the mix start working.
Brilliant Blondexx & 30 Developer on the scalp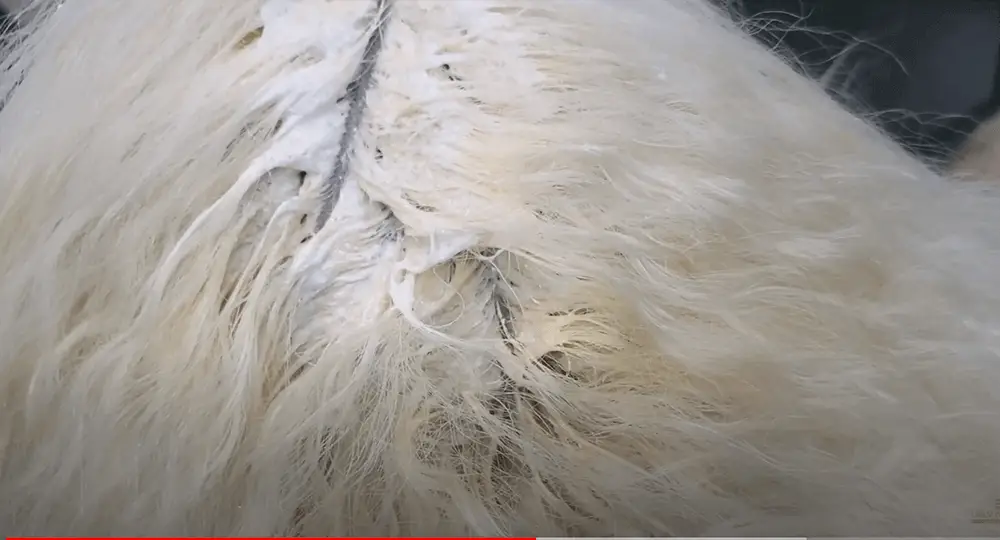 THIRD STEP: PROCESS THE BLEACH MIXTURE UNTIL IT REACHES LEVEL 10. RINSE WHEN DONE
People often ask how long you should process the bleach.
The answer (unfortunately) is that there is no fixed answer.
You will need to keep checking lift until you you can see when you peel back that literally all the yellow has gone.
At the same time, you will need to keep checking the hair elasticity as you lift. As long as it is elastic, you're good and you can keep lifting.
In this case, our model's hair was super white blonde and we really had no choice. We had to lift all the way to level 10.
In general, many stylists make the mistake of under-bleaching. Don't be like this.
Use quality products, like Brilliant Blondexx which give you that extra protection, and you can keep processing until you have lifted all the way to level 10.
And don't be too fearful: you are after all lifting regrowth hair, which is virgin hair.
So it is naturally strong!
Lift Until You Get the Hair to Level 10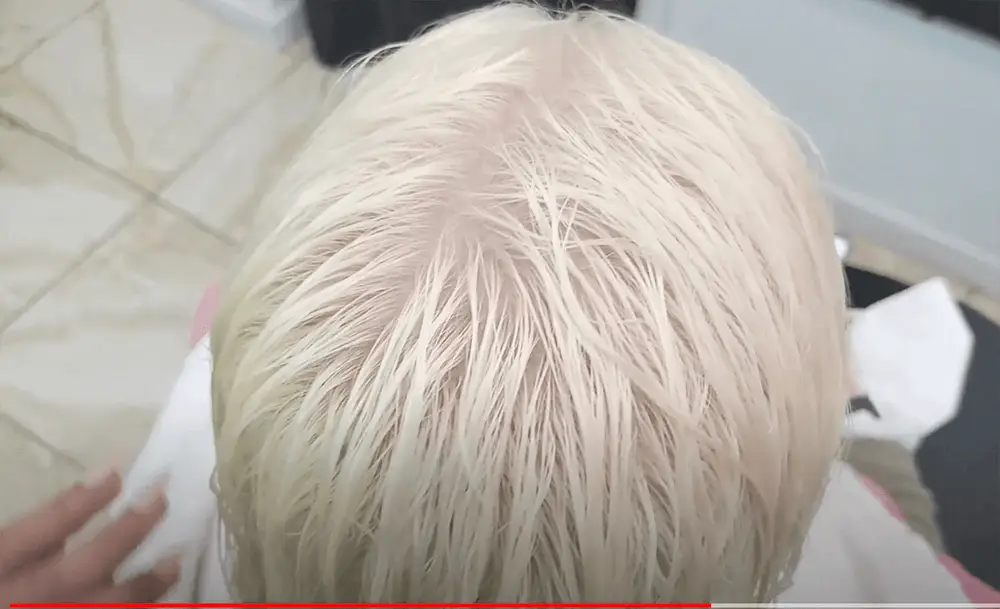 This was the hair after rinsing.
You can see it has been lifted to a very consistent level 10 with no visible line of demarcation.
This is absolutely key to a successful blonding.
FOURTH STEP: TONE WITH PEARL BLONDE TONER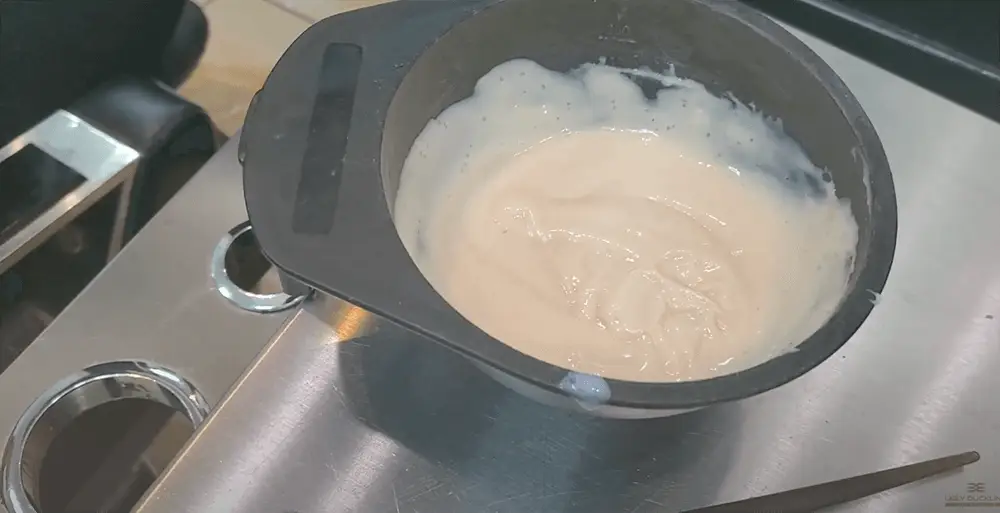 After rinsing and towel drying, we are ready to tone.
The toner we are using today is Pearl Blonde Toner 10V with 20 Vol developer.
It contains a lot of purple and blue pigments which will help us take our client's hair from pale yellow to a perfectly toned white platinum blonde.
The mix is 1 part toner to 2 parts developer.
This gives a fairly runny mix which you can apply quickly.
And with toner it is important to work fast so that you are giving the whole head as equal a processing time as possible.
If the hair has been evenly lifted, it is a good idea to start from the lengths and do the roots last.
The roots will process faster due to the heat from the scalp & you want to avoid over-processed roots.
Pearl Blonde Toner Processing on our Model's Hair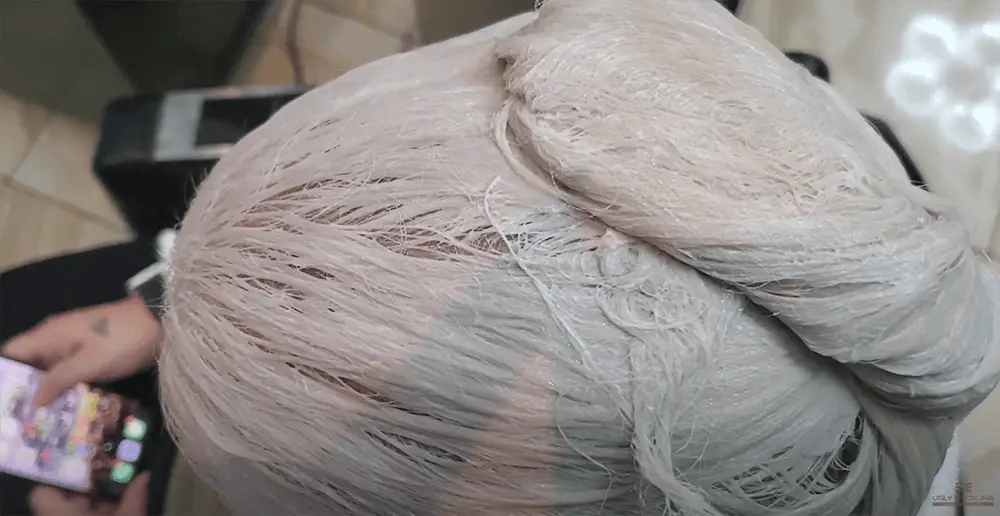 TONER PROCESSING ON THE HEAD
You can see the purple and blue pigments processing on the head.
Generally, around 10-15 minutes of processing is enough with Ugly Duckling toners as they are quite strong.
FIFTH STEP: TREAT & CONDITION THE HAIR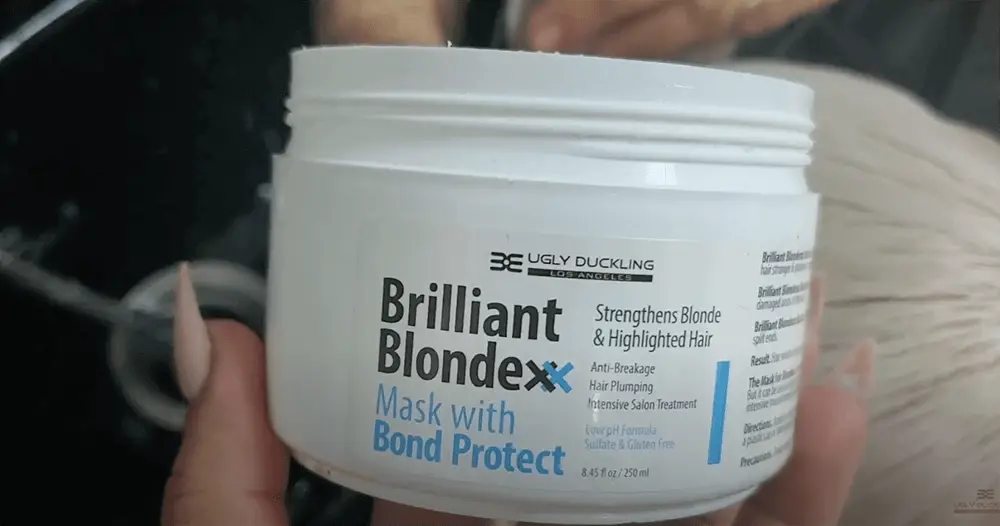 We now need to treat and condition the hair and return it to its natural condition.
Here we are using Brilliant Blondexx.
It contains Bond Protect and will help restore the hair's natural strength.
It will also help make the hair stronger. Which is needed in this case, because as you can see our model's hair was quite fine and delicate.
FINAL RESULT: WHITE PLATINUM BLONDE HAIR.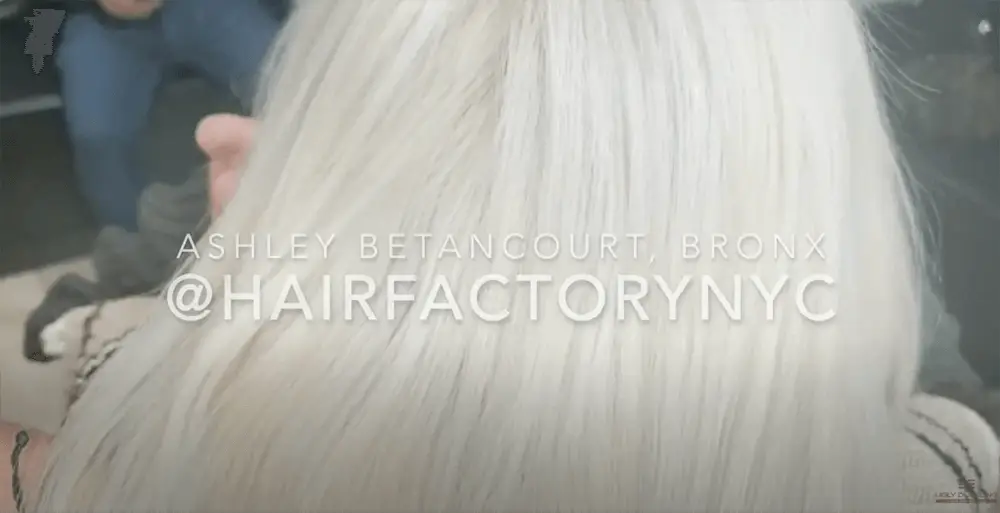 As you can see, we succeeded in lifting the dark roots, and getting the hair white blonde. Without breakage or any visible sign of demarcation.
You can do this too in your salon. Just make sure you use quality products as we suggest and follow this technique.
Hair by Ashley Betancourt