Looking to get your client's hair white platinum blonde in 2021? Here is what you need to do
Getting your client to a dreamy, white platinum blonde hair from brown is absolutely possible - buy you need to do it right. 
Double process Blonding Technique
As a stylist, you need to be able to be a master of the double process blonding technique, which is basically:
Bleaching the hair first really really well until it is a very very pale yellow.
Toning the hair afterwards.
Here's what you will need
A very good quality bleach. We recommend Brilliant Blondexx. It is one of the very few bleaches with Bond Protect built in, which means you get fast effective lift plus hair protection. This is particularly important because you are going to be applying bleach near the scalp for this technique.
Developer. In general you will need to play with two strengths for double-process blonding, both 20 Vol and 30 Vol developer. 30 Vol would be for the first application on most of the lengths, whereas 20 Vol would be for a 2nd application if required and for the near root area. And for the toning afterwards. It's a bad idea to use over strong developer. At Ugly Duckling we would generally recommend 30 Vol for a one-off use only and never near the scalp where the heat from the head causes faster processing. We never recommend developer strengths stronger than 30 Vol. Nor is it necessary or desirable with out products.
Toner. We would suggest one of Ugly Duckling's intense toners. They contain an added booster which bumps up hair by one extra level and is invaluable for getting hair to that totally snow-white platinum blonde - without the slightest trace of yellow.
Some purple shampoo or mask for afterwards for final toning and regular color maintenance.
All these products are available in one set here:
https://www.uglyducklingcolor.com/intro-sets-free-gifts/183-dark-base-blonding-set.html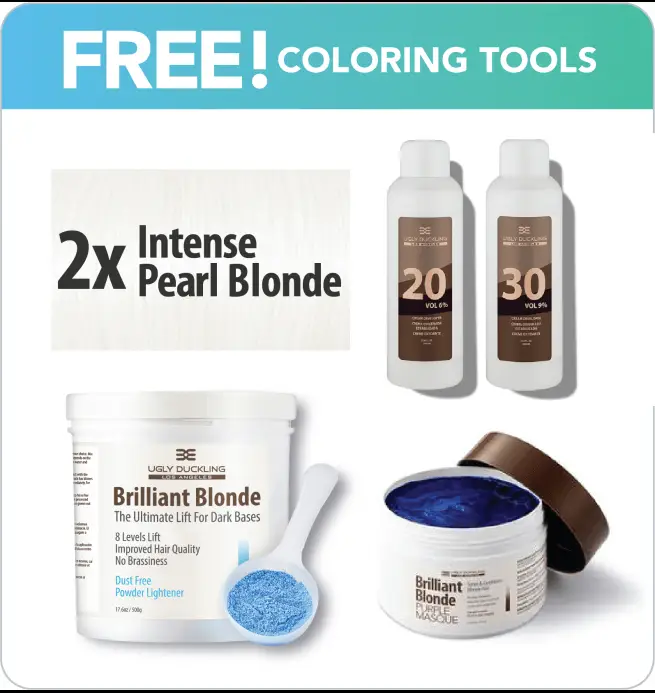 Step One: Do a brutally honest hair analysis of your client's hair
Taking hair white blonde blonde demands perfection on your part as a stylist.
As your client is asking you to take her white blonde, chances are she has gone blonde in the past or tried to go blonde.
What this will mean inevitably is that when you sit her down in the chair and do her color analysis, you will see her root area is one color, and the ends ara totally different color (generally lighter although not necessarily always).
This is totally normal. The hair at the ends are probably 2 years old. They would have been colored and bleached several times
On the other hand the root area will almost always be much darker. It will be virgin growth.
You may get some mid ends which are somewhere in between - they have been colored but are now brassy and need to be lifted some more.
Your job as a colorist is to equalize this mess using bleach, applying first and more to the darker parts, later and less to the lighter parts.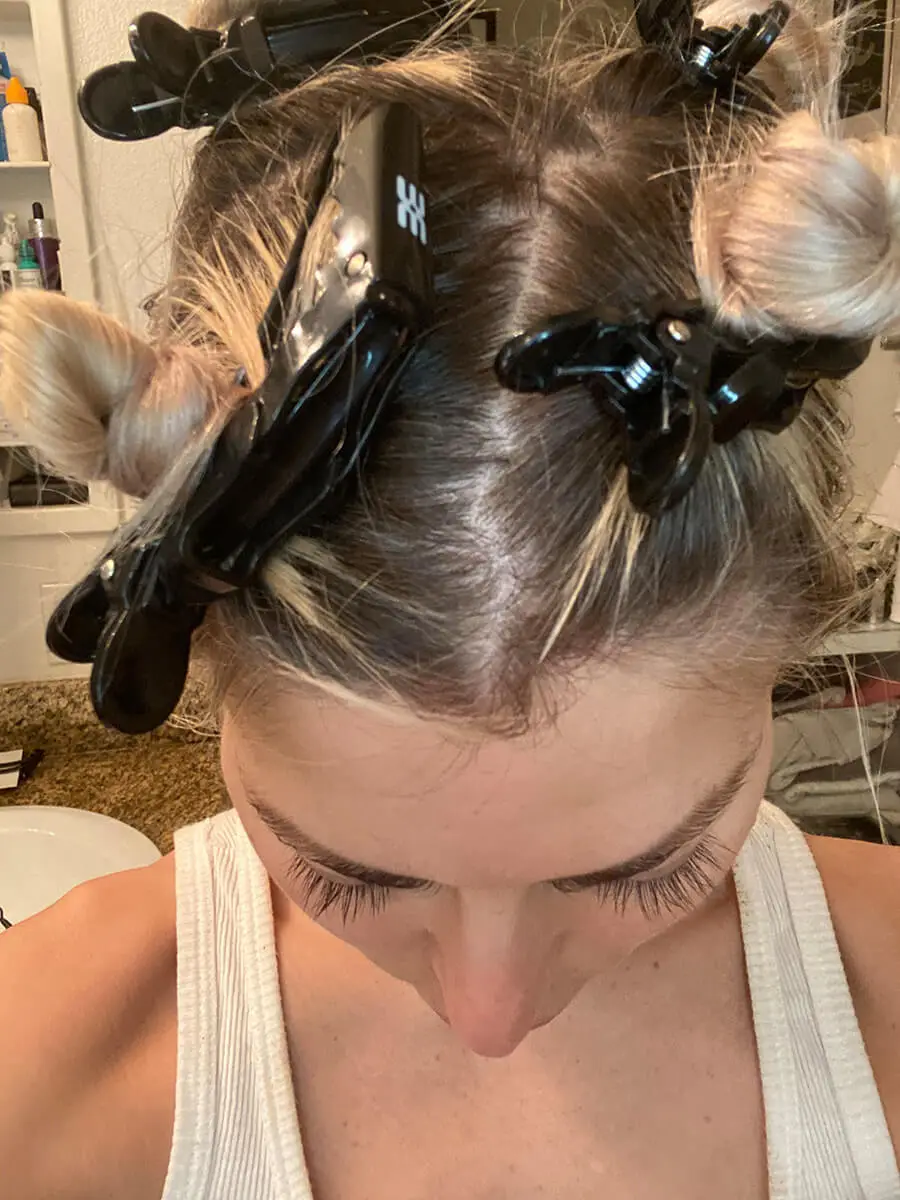 Hair by Ashley
Our model above has dark roots and light ends. You are going to have to apply lightener to the dark part and lift that to equalize it with the lengths.
Step Two: Apply Your Lightener to the Dark Parts & Lift
Mix your Brilliant Blondexx Lightener 1 part lightener to 2 parts developer.
You will need to judge how much mix you need. In the above case (medium length hair, only regrowth needs lightening) 3 scoops was enough.
Use with 30 Vol developer for a quick and efficient lifting process. 
Make a separate mix with 20 Vol for the root area and apply that also.
Hair needs to be watched carefully as it is lifting so that you can rinse it when it has turned totally pale pale yellow.
Result After Bleaching
Below was our model's hair after bleaching. You can see that we got the whole thing up to a truly consistent very pale yellow result.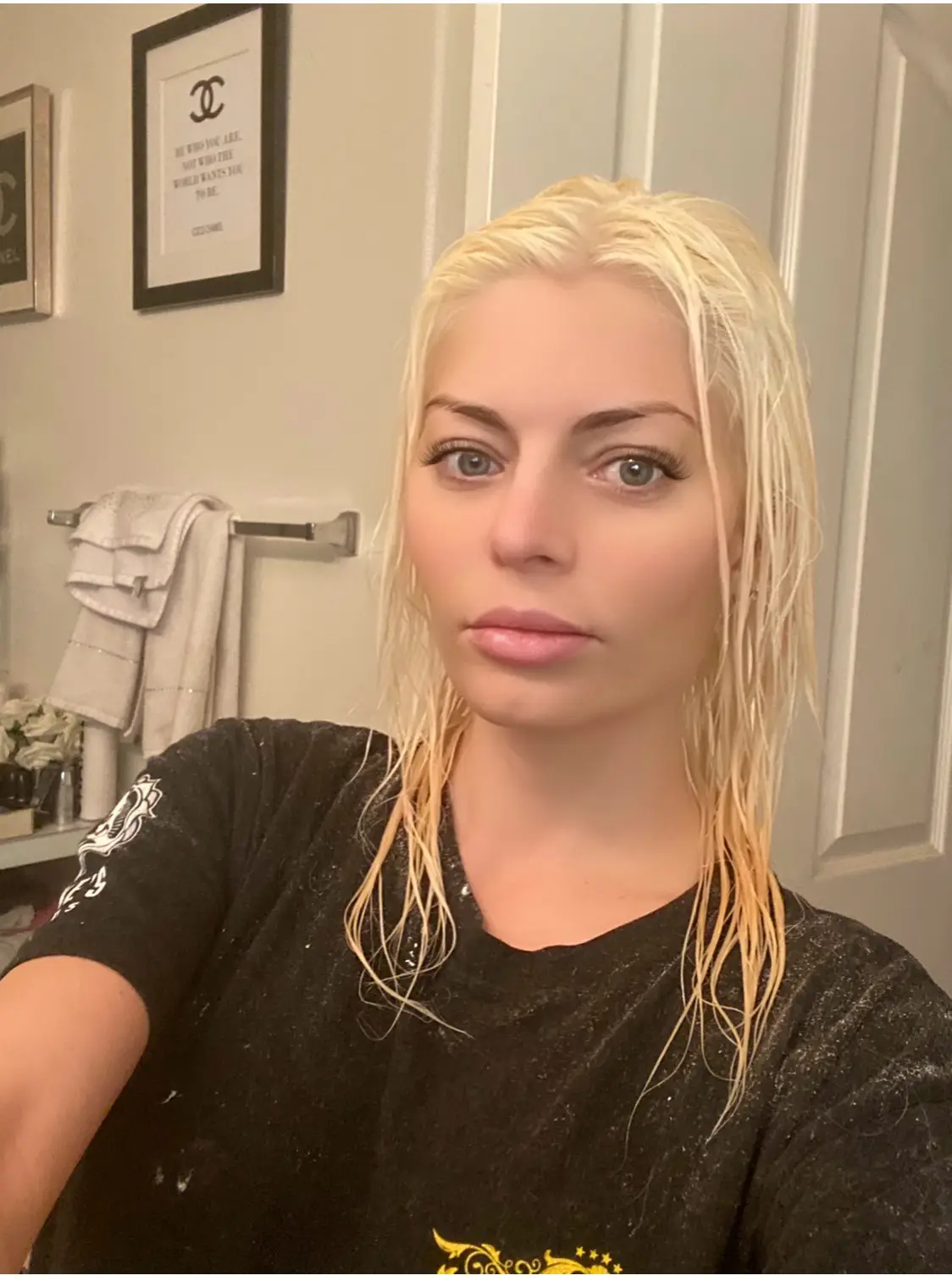 Hair by Ashley
Step Three: Apply Toner
Now apply your intense pearl blonde or intense silver blonde toner
This time use 20 Vol developer (you see why you need 2 strengths of developer!)
These Ugly Duckling toners contain a mixture of lift and purple and blue pigments (as you can see in the picture below).
This makes them very effective at bumping up the hair level as much as possible as well as getting rid of the last vestiges of yellow.
Apply and process until you achieve the desired color result. Step Four: Purple Mask for additional toning
When the hair is lifted and toned, you can apply your purple shampoo and/or mask.
Ugly Duckling's purple products are acid based solutions, which means they help close the hair cuticle and return it to its original position.
They will also give the last step toning to get your client's hair totally totally white.
The Final result Final Result using Brilliant Blondexx and Intense Pearl Blonde 100V toner.
Hair by Elias