Getting your client to that perfect white platinum blonde hair from brown is absolutely possible - but you need to do it right. 
And it's possible in one session. no matter how dark your client's hair.
In this blog, we will show you how!
WATCH VIDEO OF AN APPLICATION OF BLEACH, 10.2 & PURPLE SHAMPOO:
Hair by Elona Taki
What you will need
You will need 4 things:
Brilliant Blondexx Bleach. It has Bond Protect built in, and it will give you a very effective lift using only 20 and 30 Vol developer.
20 & 30 Vol Developer. If your client's hair is level 7 and above, then only 20 Vol developer will do. But if you client's hair is darker, you will also need 30 Vol for the first application.
Purple shampoo or mask for for us straight after bleaching.
An Ugly Duckling's toner.
You can use Ugly Duckling's Intense Pearl Blonde Toner 100V or Intense Silver Blonde Toner 100B. These toners contain an extra booster ingredient which are very good at kicking out any remaining yellow and lifting the hair up by one level.
You can also use Ugly Duckling's 10.2, which is an intense violet enriched blonde hair color which will produce an excellent platinum blonde result.
The process
The process basically involves first bleaching very, very well.
Then finishing the bleach with a thorough application of purple shampoo and mask.
Then toning with Ugly Duckling's very fast acting toners.
Get these 3 steps right and you are bound to get excellent white platinum blonde results.
Step One: Do a brutally honest hair analysis of your client's hair
Have a look at your client's hair.
If she has been blonde in the past, there may be parts (the ends, for example) which will already be blonde.
Other parts (the roots, for example), may be her natural color and will probably be much darker.
Your job as a colorist is to equalize your client's using bleach, applying first and more to the darker parts.
Your aim is to get everything up to once consistent level.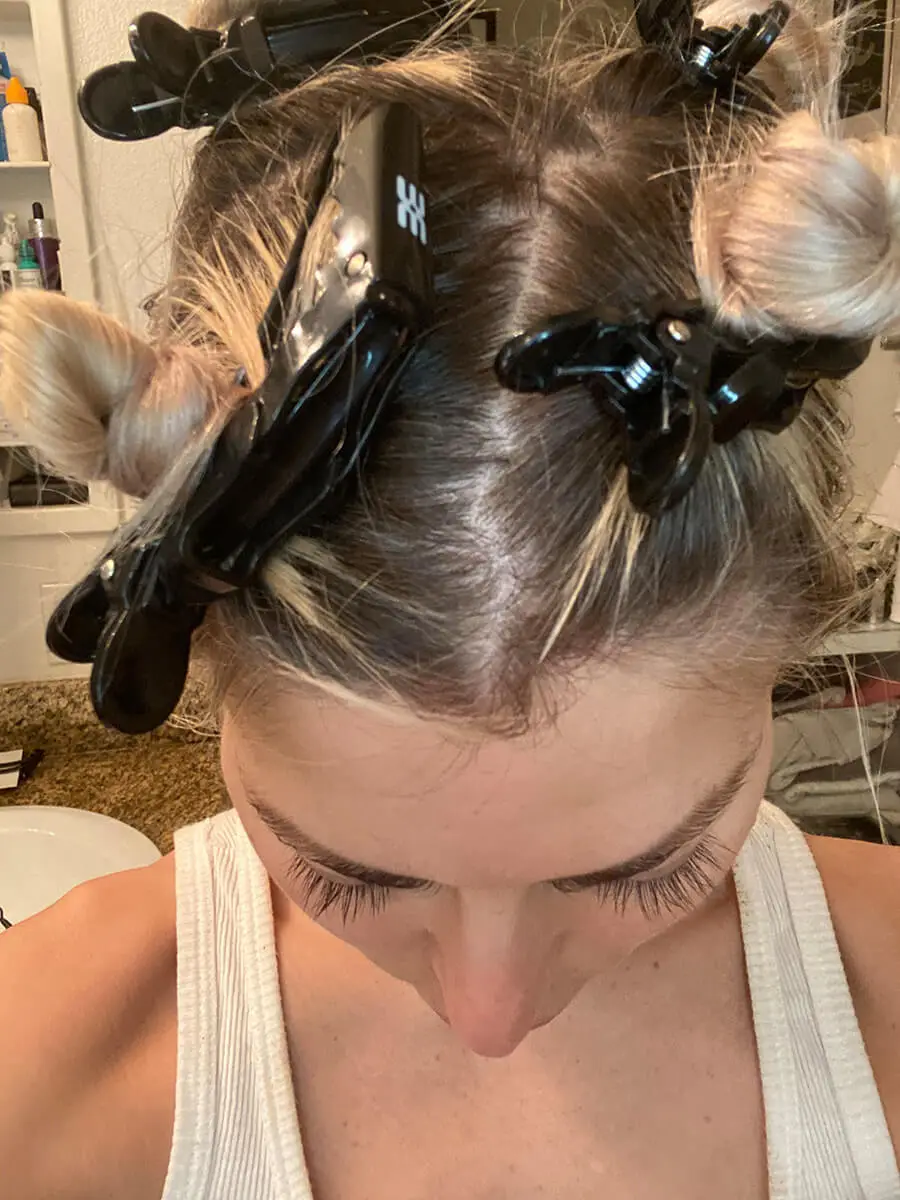 Our client has dark roots level 7 and white blonde ends. This is quite a typical case!
Hair by Ashley
Step Two: Apply Your Lightener to the Dark Parts & Lift
Mix your Brilliant Blondexx Lightener 1 part lightener to 2 parts developer.
You will need to judge how much mix you need. In the above case (medium length hair, only regrowth needs lightening) 3 scoops was enough.
We mixed the bleach with 30 Vol developer for a quick and efficient lifting process. 
We applied only to the dark parts, taking care not to overlap on to the white.
We then watched carefully as as the bleach lifted.
Result After Bleaching
Below was our model's hair after bleaching. You can see that we got the whole thing up to a truly consistent very pale yellow result.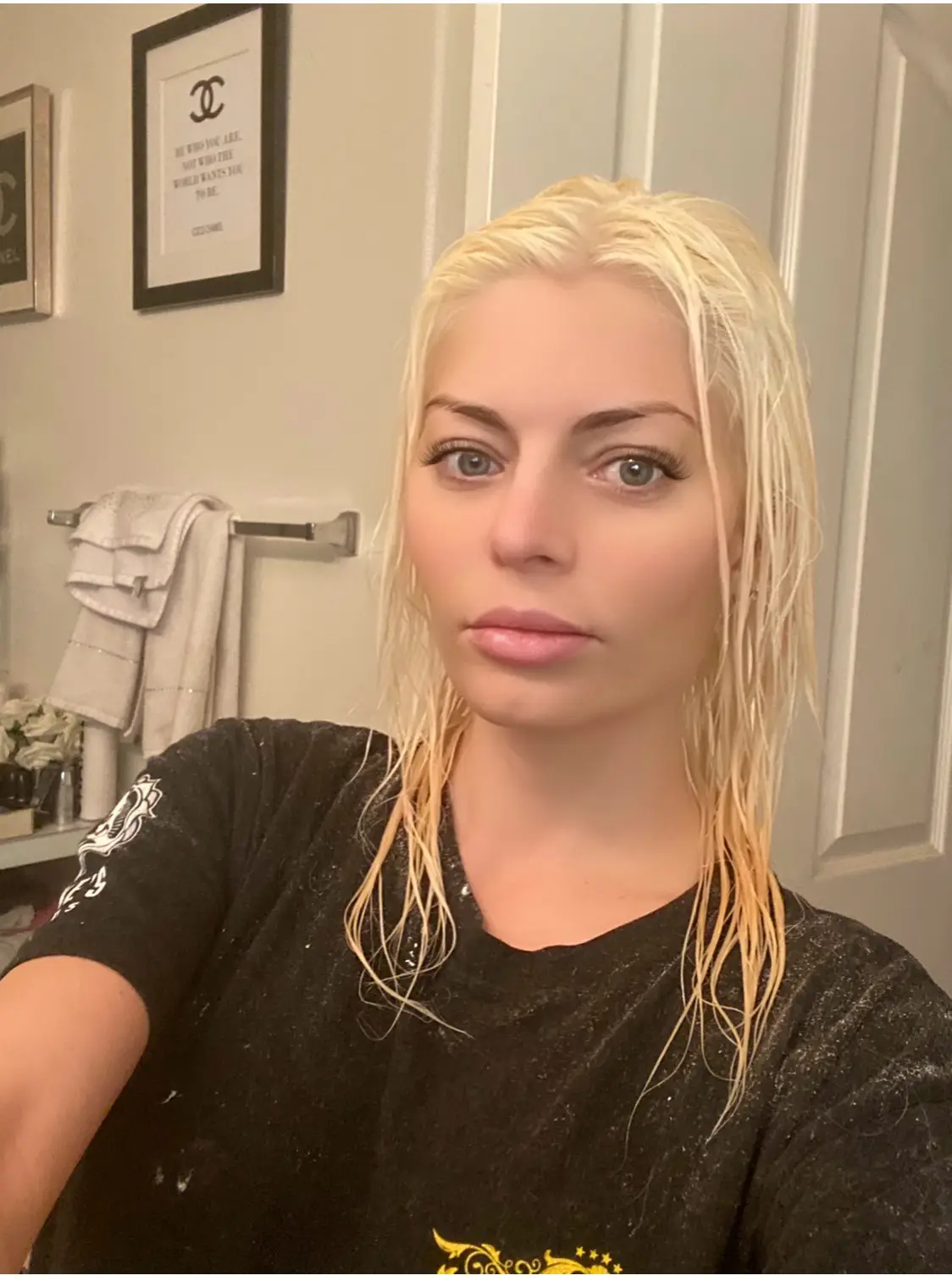 A perfect, even, bleaching result: do this & you will always get great blonde results!
Hair by Ashley
Step Three: Apply Purple Shampoo and Mask
Next we applied Brilliant Blonde Purple Shampoo and Mask. These products contain intense purple pigments, which will do a great job to get rid of yellow.
In addition, they are acidic, which means they close the hair cuticle and return the hair to its natural acidity.
And they are sulfate-free.
Be generous with your use of product. The more product you use the more transfer of purple pigments you achieve.
Rub thoroughly into the hair and in the case of the mask, leave them in for around 10 minutes. 
Then rinse and towel dry. Brilliant Blonde Purple Shampoo & Mask
Step Four: Toning
Now you are ready to to tone.
Apply your intense pearl blonde or intense silver blonde toner
Use with 20 Vol developer unless the hair is truly very very light level 10 with minimal yellow.
These Ugly Duckling toners contain a mixture of lift and purple and blue pigments (as you can see in the picture below).
This makes them very effective at bumping up the hair level as much as possible as well as getting rid of the last vestiges of yellow.
Apply and process until you achieve the desired color result. The Final result Final Result using Brilliant Blondexx and Intense Pearl Blonde 100V toner.
Hair by Elias
WATCH VIDEO OF AN APPLICATION OF BLEACH & INTENSE PEARL BLONDE TONER:
Hair by Elona Taki