A hair toner is a totally indispensable tool for anyone looking to go blonde.
But what type of blonde toner should you use?
Demi-permanent or permanent?
Liquid or cream?
Can't a purple shampoo do the job instead?
In this blog we are going to take you through 9 best toners & share with you the results they give.
And we'll help you choose the right one for you.
TONING HAIR TO A BRILLIANT WHITE BLONDE: - WATCH VIDEO NOW:
Hair by Elona Taki
What does a hair toner do?
A hair toner is any product that helps you correct the tone in your client's hair.
A good quality toner works essentially in 2 ways.
First, a toner combines with a developer (peroxide, in other words) to lift out the yellow from inside the hair cuticle.
Second, the blue and purple pigments inside a toner act to counteract and color-correct for yellow and yellow-orange.
The combination of these 2 actions, lightening the hair and color-correcting are what helps a client achieve a white blonde look.
How does a toner work?
At the base, a hair toner is essentially an oxidative hair coloring product.
That is to say, you mix it with developer (hydrogen peroxide).
Once you do this, the resultant mix opens up the hair cuticle and lifts out the yellow melanin from inside the hair shaft.
And the same mix then re-colors the hair from the inside.
Note that this is true for both permanent and demi-permanent hair toners.
Both act in this way. (We'll get to the difference between the 2 sorts of toner in a second).
What are the different types of hair toner?
There are essentially 2 types of toners: permanent and demi-permanent.
Both need to be combined with peroxide, or developer.
Permanent toners are a little more powerful. They also have some lift built in.
Demis, on the other hand, are a little less lifting.
But thanks to purple and blue pigments, they can tone and neutralize very well in spite of that.
Demis don't contain ammoniac.
Ugly Duckling's demis are also PPD-free and enriched with Bond Protect.
Aren't purple shampoos, masks and sprays also toners?
Purple shampoos and masks do contain purple and blue pigments which get deposited on the surface of the hair.
So they will color correct yellow hair, and indeed Ugly Duckling does make such products: Brilliant Blonde Shampoo & Mask.
But because such products are not oxidising products, they don't penetrate into the hair.
And they can't lift and get rid of the yellow from the hair.
They are excellent for blonde hair maintenance and also for use straight after bleaching and toning to finish the color result.
But we don't consider them to be real toners.
Should I use a permanent or demi-permanent toner for my blonde hair?
Use permanent toners for when a real blonde transformation is required.
Use demis when you want to do a quick glaze and blonde refresh on faded or yellow hair without necessarily doing a major blonde makeover.
And also when you want to touch up of highlights only without lifting other parts.
9 Best toners To Get Hair Blonde
We are now going to take you through 9 of our very popular blonde toners.
Each produces slightly different blonde results.
We will show you result for each of these.
We will also guide you when exactly you need to use which.
Let's start...
1. Best High Lift White Blonde Toner: Intense Pearl Blonde 100V
This toner contains a special "booster" ingredient which is particularly good at kicking out a lot of yellow from the hair and lifting it by 1 level.
The "V" stands for "Violet" - purple, in other words. And 100 means it has extra good lift.
Use this toner when your client's hair is very yellow and brassy and you are looking to take her to a really cold, pearl-like white blonde result.
Use this toner with 20 Vol developer, on pre-lightened hair.
Be careful to watch the hair as it processes and rinse when done, as this toner is very fast acting.
For long hair, do the root part at the end to avoid it over-processing. Hair by Paula Sturdevant
2. Best High Lift Silver Blonde Toner: Intense silver blonde toner 100B 
This toner also contains a booster to lift the hair by one level and kick out a lot of yellow.
The "B" indicates that it is a blue based toner. It will produce a very white, natural ash blonde result as in the picture below.
Use this also with 20 Vol developer. Again, very fast acting, so you need to watch carefully as it processes.
For long hair applications, apply on the root area at the end.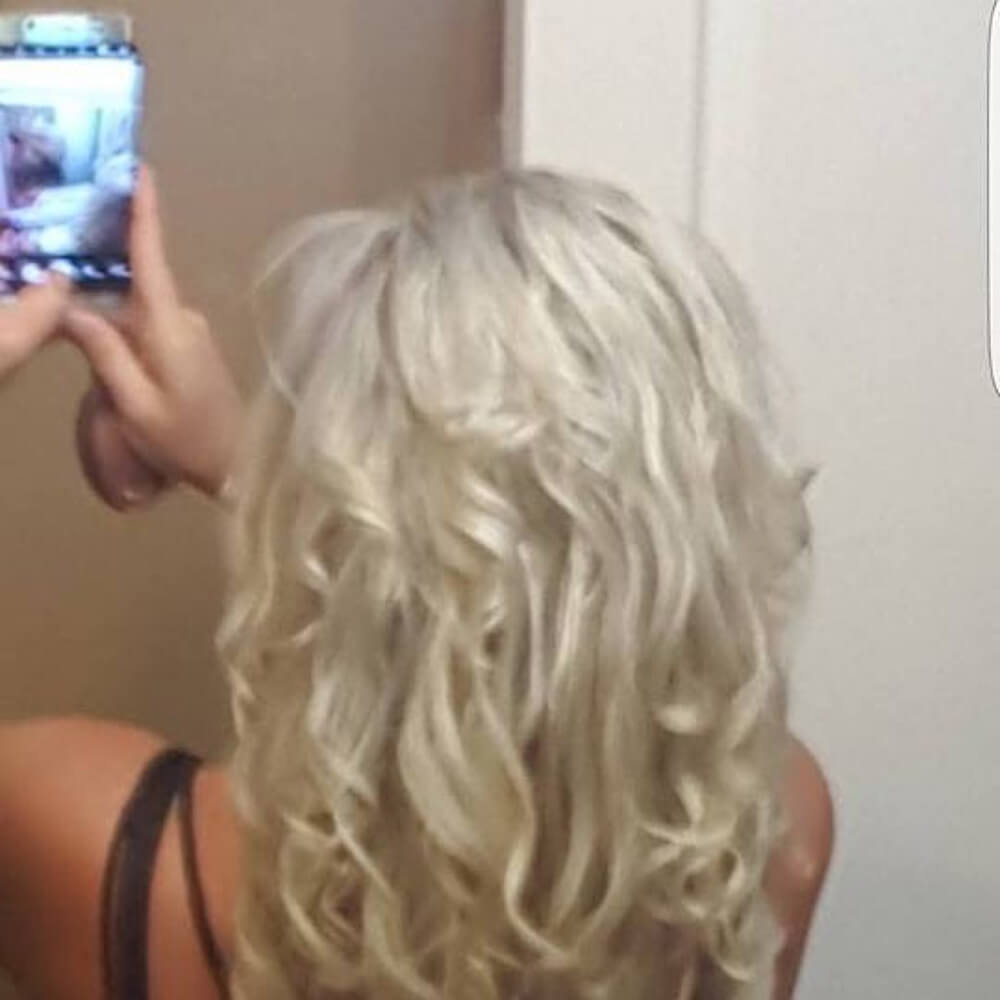 Hair by Nina Suvetskaya
3. Best Regular Pearl Blonde Toner: Pearl Blonde 10V
This is another fast acting oxydative tone which produces stunning pearl-blonde results. As the "V" indicated, it is violet, or purple based.
It will not lift as much as the 100V above. As such, it is a great choice when the hair has already been well lifted and lightened.
Use with 20 Vol developer and rinse after 20 minutes. Hair by Elona Taki
4. Best Regular Silver Blonde Toner: Silver Blonde 10B
This is another blue based toner which produces very natural, white, silver blonde results.
Use with 20 Vol developer and rinse after 20 minutes. 5. Best Uber-Blonde Platinum White Toner: Extra Light Cold Blonde 10.2
If you are trying to get hair as uber-white, platinum-white blonde as possible then we do recommend this toner.
Its combination of purple pigments is the most intense and this is what will give you the purest, whitest results.
But you need to pre-lighten very, very well.
Try and pre-bleach the hair to a true level 10 with literally minimal trace of yellow.
Then apply this toner, using it with 20 Vol developer.
The mix for this is 1 + 1 mix. It is a true blonding color rather than a toner.
Meaning the results will be rich & 3D color.
This is one of our favorite Ugly Duckling blonding products: we use it the whole time in our studio.
See the result below. Hair by Tracie
6. Best Ash Blonde Toner: 10.1b Extra Light Cold Ash Blonde
This toner is another Ugly Duckling special - it's an ash blonde toner at level 10.
But it's a blue-based ash.
Only Ugly Duckling makes this specific color.
All the yellow has been knocked out thanks to the blue pigments in this toner.
It produces a stunningly rich cold white blonde result, as you can see below. Hair by Brittney Perez.
7. Best Silver Grey Toner
Looking for silver greey? Then use this toner.
Use it with 20 Vol to achieve the silver grey hair color result below. Hair by Elona Taki
8. Best Natural Ash Blonde Toner: Blondify 010A Natural Ash Blonde
Now we come to a couple of our favorite demi-permanent toners. 
Use this toner, with 10 Vol developer to get a quick blonde tone - without touching or lifting your dark base or lowlights.
It is a liquid toner. It's ammonia free, and enriched with Bond Protect.
And it can be used with low strength developers.

Blondify Natural Ash Blonde Toner 010A Watch video now:
9. Best Natural Violet Blonde Toner: Blondify 010A Natural Violet Blonde
Ans use this toner if you want a purple enriched, slightly colder blonde result.
Once again without touching the base.
Also ammonia-free, with Bond Protect, and liquid based.
Can be used with low strength developers. Blondify Natural Violet Blonde Toner 010V Watch video now:
Can't I just tone with purple and blue products?
Yes, it is true that these products do a great job of color correcting.
In fact, Ugly Duckling has a highly effective purple shampoo and mask which does exactly that.
But these products don't lift out the yellow from the hair.
So they will only work if the hair is already very very well lightened.
That is why these products are best considered as after-bleaching products and maintenance products.
Not as toners.
But they do a great job at what they do, and that's why we're going to show you Ugly Duckling Purple Shampoo and Mask in action now.
Using Purple Shampoo & Mask as an After-Bleaching Product
Use them after you have bleached the hair really really well as in the video below, and you won't be disappointed. 
Ugly Duckling Purple products don't stain.
Just rinse out with tepid water and you're good.
WATCH VIDEO: PURPLE TONING AFTER BLEACHING
Using Purple Shampoo & Mask as a Ash Blonde Maintenance Product
Even if your hair has been colored or toned in the past to a nice ash blonde in the past, over time that ashiness will tend to fade and start yellowing.
When that happens, do this:
WATCH VIDEO FOR HOW TO USE PURPLE SHAMPOO & MASK: