How to go from box-dye black to blonde
Do you ever get women coming in who have dyed their hair box dye black?
And now they are looking to go blonde?
As a stylist, you are definitely going to get requests like this.
When this happens, it is always a big ask.
It is, after all, a major transformation that your client is looking to do.
But, using the right products and the right techniques, it is totally doable.
Without compromising hair integrity.
In this tutorial, we are going to show you how.
GOING FROM BLACK TO BLONDE: WATCH VIDEO
Hair by Elona Taki
Is it even possible to dye black hair blonde?
Virgin hair by nature is always easy to lift out and lighten.
So, if your client has virgin black hair, the answer is most definitely yes.
Just use quality products and the right technique.
But what if the hair been previously dyed black?
The answer is still yes.
But in this case you will need to take the quality of the hair into account.
And based on the hair quality and the lift that you are able to get, you may need to stop at level 8 or 9.
Rather than go all the way to level 10.
But you will still be able to achieve a very nice blonde result.
First Step: Do a Porosity Test
Porosity is basically a measure of how strong the surface of the hair is. 
If the hair is damaged hair it will be highly porous.
There will be gaps in the outside cuticle exposing the inner cortex.
If your client's hair looks dull and dry, it is probably porous.
The more porous hair is, the the quicker color molecules and bleaches will penetrate it.
This means that the color or bleach treatment will actually go faster.
So, in other words, if your client's black hair is porous, this will speed up all processing times.
You will need to take this into account.
Sometimes, parts of the hair will be porous and other parts will be absolutely healthy.
For example, if your client has long hair, it may be more porous at the ends, since she has probably colored this hair many times.
Ideally, you should cut off such ends before you start coloring or bleaching. 
How do you do a porosity test?
With one finger, take an individual hair from as high up as possible. 
With the other finger, slide your thumb and first finger down the hair strand all the way down from the tip to the base.
Try and figure out how rough or smooth the hair is.
If the hair is smooth and glassy, that means the cuticle is dense and hard and the hair is basically strong and healthy.
Virgin black Asian hair may be like this, for example.
If the hair is slightly rough but otherwise normal, this would be average healthy, normal hair.
But if the hair is very rough, brittle or dry (and also dry looking), it is porous.
It may have been over-processed in the past or possibly it is just naturally like that.
Whatever the hair condition, for black and dyed-black hair, we would suggest you use Ugly Duckling's Brilliant Blondexx.
It contains Bond Protect and will protect black hair as you bleach it.
Second step, Check the Hair Thickness

Fine hair will react quicker to any lifting or bleaching treatment. 
Thick hair, on the other hand may take longer. 
This is something you need to take into account for your coloring and bleaching procedures.

Third step, Check the Elasticity of the Hair. 

Hair elasticity is another aspect a hair stylist should take into account before attempting a major color transformation.
Hair in good condition is springy and bouncy.
In order to test for elasticity, just take out a single strand of hair of your client's hair. 
Now try to stretch it. 
If the hair is in good condition, it will stretch roughly an extra 1/3 its length and then return to original size.
But if the hair is a little damaged, it will not return fully to original size.
And if it's very damaged, it will just break when you attempt to stretch it.
If as a result of these 3 tests you can see that the hair is OK, you can now start coloring or bleaching.
Fourth Step, Choosing The Right Bleach
Many retail bleaches and hair products just don't have the controlled lift that is required. They can lift by a couple of levels, 3 at the most.
Even so-called professional beauty products, bought at beauty stores, may have very indifferent lifting capability. 
You will end up using 40 Vol developer which is really harmful to the hair and will compromise hair integrity.
We do recommend Ugly Duckling bleaches because of the controlled lift they offer.
They only require the use of 20 and 30 Vol developer, & never 40 Vol.
The Bleach we recommend in most cases is Brilliant Blondexx.
It has Bond Protect built in and provides incredibly good lift & hair care protection at the same time.
It lifts by up to 7 levels.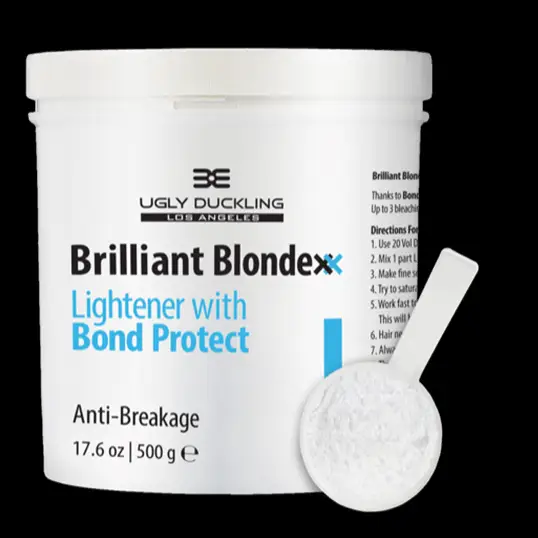 Brilliant Blondexx Bleach with Bond Protect

Applying Your Bleach Now, you are ready to bleach the hair. 
For black hair, use 30 Vol for the first application.
Stay 1 inch away from the root area.
You are going to bleach the lengths first and return to the root area at the end.
We would recommend a 1+2 mix.
That way you will produce a very nice wet mix, which is ideal for really smothering the hair.
Which is what you need.
Using Brilliant Blondexx you will get a creamy, oily white mix as below: Brilliant Blondexx Bleach produces a creamy white mix
Apply the bleach using foil, aiming at the mid-lengths and the ends.
Foil keeps in heat and helps hair process faster and better.
Be really generous with product and really saturate the hair. Smother it.
That's the way to get good lift.
With Brilliant Blondexx you can be reassured that you won't be damaging the hair fiber as long as you stick to our application guidelines. Applying Brilliant Blondexx using foil
Lift Up to Blonde, Checking All the Way
Bleaching Hair Color Levels In our case we wanted a blonde look level 9. So we bleached accordingly. Then we rinsed.
Here is what level 9 looks like when it's come back from the back wash and has been towel-dried.
Toning after bleaching - how to select the right toner We toned with Ugly Duckling 9.1b (a blue based blonde hair color), mixed with 10V (violet based level 10 blonde color).
The combination of blue and violet did the neutralization and got rid of all the remaining yellow, as you can see.
Here is a shot of the hair as it is toning. You can see how strong the blue and violet pigments are: Final Result All hair shots, hair makeover by Elona Taki
Products Used in this tutorial:
Ugly Duckling Brilliant Blondexx lightener
9.1b, 10V from Ugly Duckling
4N for the root, also Ugly Duckling
20 and 30 Vol Developer.