The Color Consultation - The Most Important Step Before You Color Your Client's Hair
The color consultation is the the most important step that you take your client through before deciding together with your client what to do to her hair
If you get the consultation right you are going to arm yourself with the knowledge that you need to produce a stunning color result that your client is going to love you for.
The 2 Questions to Ask Your Client in a Color Consultation
A hair color consultation, contrary to what some people might think, is not about figuring out the "color personality" of your client.
Let's face it. You may not know her - isn't it a bit presumptuous to think you're going get her color personality figured out in a 5 minute color consultation?
Also, don't look at her skin tone and judge what hair color she needs to have.
Instead, stick to some basic factual questions.
There are basically 2 questions you need to ask your client.
One: Tell me what have you done to your hair in the past 2 years.
And Two: What color are you looking to get done today?
These two questions are aimed at firstly figuring out what exactly has happened to your client's hair over the past 2 years.
You may need to play the role of detective. Sometimes clients don't want to mention the box color they did 9 months back.
Or the time they tried to stick on some toner without lightening the hair correctly first.
And secondly, you need to understand what hair color she is looking to get.
Make sure you understand 100% what look she is aiming for.
Once you have asked your client these 2 questions, it's time to do your own analysis. Ask yourself the following questions:
Question No. 1: What color is the hair at the root?
The first thing to do once you've opened up the hair and handled it is to look at the root area.
This is where you can assess the natural base of your client's hair.
It is also where you can assess how much grey hair she has.
Knowing the natural base is really key because this will govern what sort of products and techniques you will need to use to get your client to where she needs to be.
Use the charts below to assess your client's hair color level at the roots and also to assess the amount of grey hair that she has.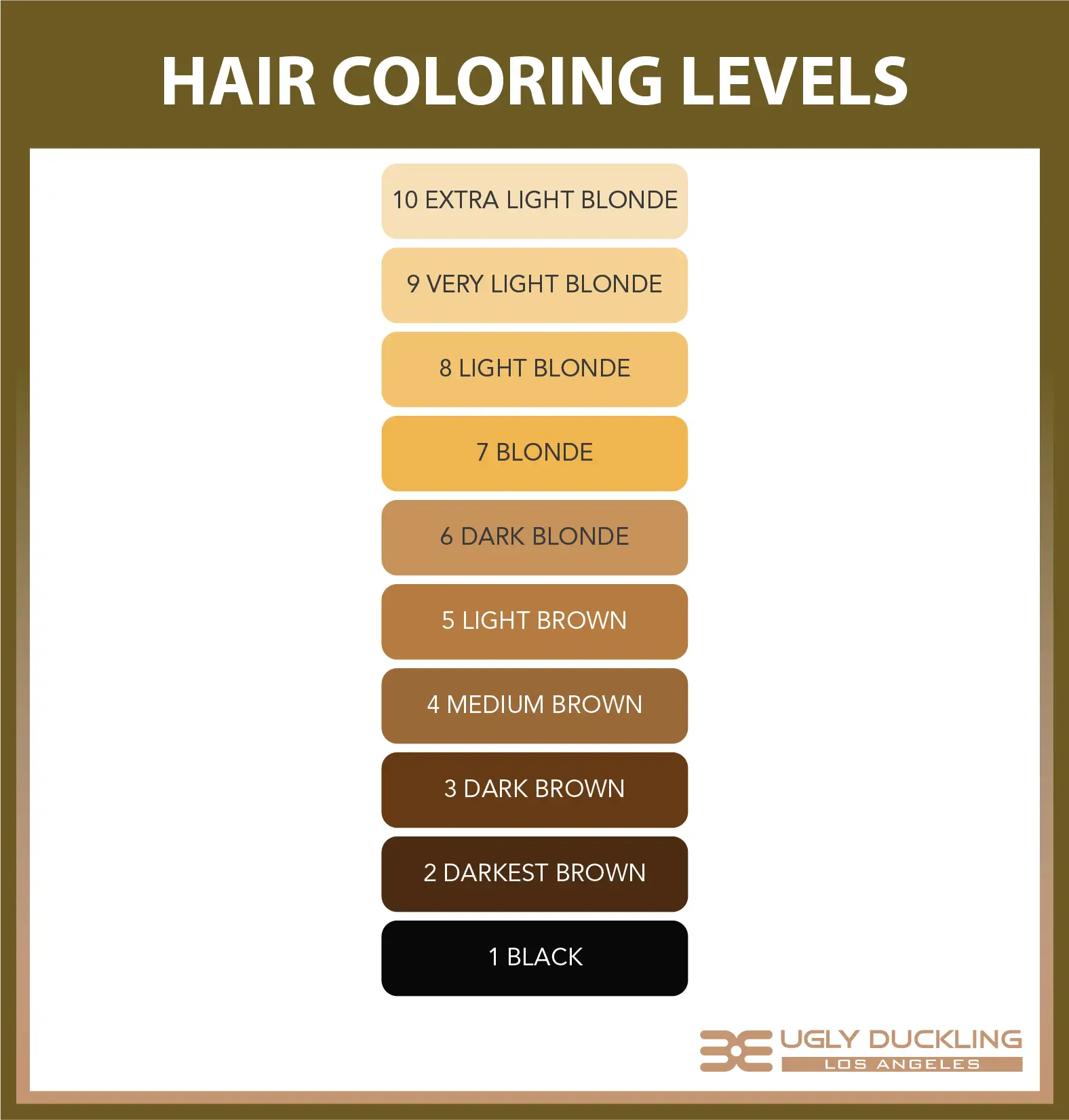 20% Grey Hair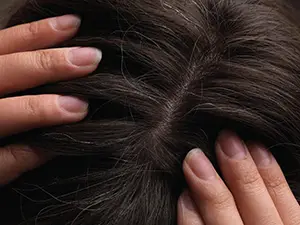 40% Grey Hair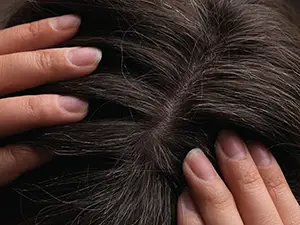 70% Grey Hair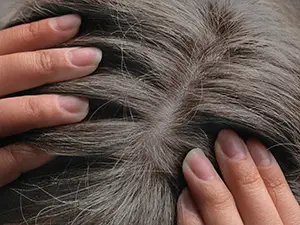 Question No. 2: What color are the mid-lengths?
Take a careful look at the mid-lengths.
Very often this is where the hair is at the most brassy.
Assess what level this hair is.
Question No. 3: What color are the ends?
Now the ends.
Typically (in the case of clients who like to go lighter) this will be where the hair is lighter.
In some cases the hair here can be totally white platinum blonde level 10 - with no natural melanin.
That would be normal. That hair may have been bleached and recolored many many times.
Question No. 4: What is the overall condition of the hair, in particular the ends?
Once again, pay great attention to the ends. Typically this is where the hair is the oldest.
It will have been color treated the most often.
It may also be delicate & compromised.
There could also be breakage here.
Question No. 5: What target color is your client looking to achieve?
You will have asked your client this question already.
But now that you have done a careful examination of your client's hair, you are going to have to explain to her what you are going to do to her exactly.
If this involves a two stage blonding process (ie bleach first then color or tone) then you will have to break this news to her.
Sometimes clients are very unrealistic in their expectations. They may say that they don't want to do the bleach.
This is where you need to guide your client and explain to her very clearly what her options are.
You will also have to be very clear now about costs.
Question No. 6: Is she looking for a solid color? Smudge Roots? Highlights?
Last question but important, because this can also involve extra work. Extra time. And of course extra costs.
Be totally upfront. Explain what the whole process will consist of.
How long it is going to be take.
Be conservative rather than optimistic here, and don't forget to include processing time, washing time with purple shampoo, blowdrying etc.
There may also be some waiting time - especially if you have another client in another chair!
As a general rule of thumb a full head color won't take much less time than one hour.
A double process will take 2 hours and a half.
A dark to blonde transformation on long hair could take as much as 4 hours.
Someone who wants to go extra white blonde will always end up taking longer - add 30 minutes minimum to the above times.