"I am Trying to Get My Hair White Blonde. Which is the Best Bleach For Me?"
"My hair is really dark. Which Bleach Do I Use?
"My hair is totally fried. But it's still brassy. Which Bleach is Right for Me?"
"I need to fix my roots which are really dark. Which Bleach Should I use?" Mag Sam Before Bleaching & Toning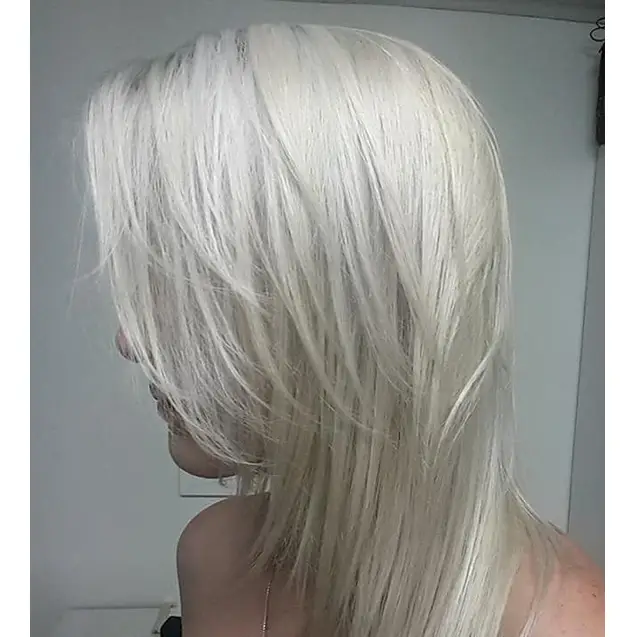 Mag Sam after using bleaching, toning & purple Shampoo.
Products Used:
Brilliant Blondexx Bond Bleach with Bond Protect,
100V Intense Pearl Blonde Toner
Purple Shampoo.
20 Vol Developer
Aren't All Bleaches the Same?
Contrary to what many people think, all bleaches are not the same. There is in fact a considerable difference between the different bleaches on the market.
The most common complaint with many bleaches (this includes some well known beauty store bleaches) is that they don't lift up to a very light palest yellow, thus making it impossible to lift virgin dark hair, lift brassy roots, achieve a true pale ash blonde etc.
The other most common complaint is that they damage the hair.
Very often the damage is related to the lack of lift. Stylists end up using 30 Vol or even 40 Vol developer because the beauty store bleach they are using is so ineffective. 
Using 30 and 40 Vol developer opens the cuticle more and more, so it is inevitable that damage does occur.
When colorists don't achieve the lift that they need, they bleach one more time. This is of course terrible for hair quality.
You really want to avoid bleaching again and again! Do it once and do it right should be the motto.
Lastly, very often stylists neglect to use an acidic cuticle-closing treatment product at the end.
As a result the cuticle stays open and this is when ends get really badly damaged and the entire hair cuticle gets compromised.
| | |
| --- | --- |
| | |
So Which Bleach Should I Use?
Ugly Duckling has 2 bleaches: Brilliant Blondexx (white powder bleach) and Brilliant Blonde (blue powder bleach).
Brilliant Blondexx is a white bleach which produces a creamy white oily mixture and it contains Bond Protect. It lifts 7 levels quite easily.
This would be our recommendation in most cases if you are looking to lift and protect your hair at the same time.
If you have really very dark hair, for example level 3-4, your hair is Asian or thick Hispanic and you are looking to go blonde, then you would need to use Brilliant Blonde, the blue bleach. 
This bleach has been formulated for maximum lift.
WATCH THIS VIDEO ON RECOMMENDED BLEACH CHOICE:
What Strength Developer do I Use?
Examine the hair that you want to lift. Use the charts below as a guide.
Calculate the number of levels that you need to lift.
If you are lifting up to 3 levels, use Brilliant Blondexx and 20 Vol developer.
If you are lifting from 3-7 levels, use Brilliant Blondexx and 30 Vol developer.
If you are lifting really dark Asian hair, stubborn resistant hair, go for Brilliant Blonde and 30 Vol developer. What Mix Should I Use For This Bleach?
The mix for both is 1 part bleach to 2 parts Developer.
This will give you a fairly runny mix which will allow you to work fast - important, because the clock is ticking!
WATCH THIS VIDEO ON CORRECT DEVELOPER CHOICE WITH YOUR BLEACH
How do I apply the Bleach?
Make the mix and go ahead and apply, working fast and saturating the hair as much as possible.
No gentle dabbing with the brush, you really need to get the hair into maximum contact with the mixture.
Always start at the back where the hair is thickest, then work your way around, taking thin sections.
Once you have done the entire head, have a look and see how the hair is lifting.
Rinse off when you achieve the color level desired. In general you should be aiming for level 9 or level 10 if you want to produce really good quality ash blonde results
Work fast. If you are working on very long hair, as you progress around, you will find that the last sections have had much less processing time than the first sections on which you applied.
To some extent, the fact that you started at the back where hair is the thickest and slowest to lift will compensate.
But if not, you may need to wash off the first sections first and let the later sections keep processing.
Don't hesitate to make a fresh mix and re-apply on parts where the mixture looks like it is not lifting properly or is drying out.
If you have different colored lengths with for example some parts orange, other parts dark black box-dyed, the darker parts will need more lightener applications and greater processing time. 
Good colorists don't hesitate to apply different bleaching strategies to different parts of the hair as needed.
Root First or Ends First?
The root area will typically lift relatively fast as it is near the scalp. It is a good idea to apply here at the end.
The only exception to that rule is when you have a dark regrowth to deal with, in which case you start there and then extend to the lengths.
Below, we provide a couple of videos which show these 2 different bleaching strategies being used.
Case A: Regrowth Application. Roots Done First, Then Extended to the Mid-lengths. Hair by Elona Taki.
Products Used:
Brilliant Blondexx with Bond Protect
20 Vol developer
Pearl Blonde Toner 10V
Ugly Duckling Purple Shampoo
Case B: Full Length Bleach on Dark Hair - Roots Done at the End. Hair by Ashley Betancourt.
Products Used:
Brilliant Blonde for Dark Bases
20 and 30 Vol developer
Intense Pearl Blonde 100V
Ugly Duckling Purple Shampoo & Mask
How Long Should I Process the Bleach?
In general, bleach does not have a fixed processing time and you need to be prepared to wash off as soon as you have got everything to a consistent level 10.
The most common mistake stylists make is to rinse off too soon.
If you are aiming for a really blonde look, you must lift until you get to level 10.
Trust us, both Brilliant Blondexx & Brilliant Blonde will get your hair there provided you let it.
A couple of pictures below to show you what  a true level 10 looks like.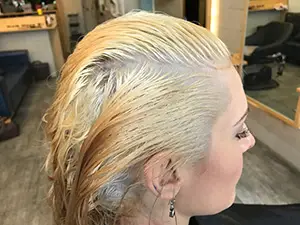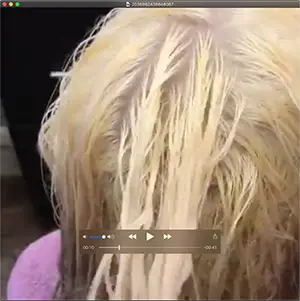 Level 10 Hair Above
What About Toners? Aren't I Supposed to Apply A Toner?
Yes, you do need to apply a toner after bleaching.
If this is a first time bleaching you will almost certainly still have a lot of yellow in your hair.
We would suggest either Intense Pearl Blonde Toner or Intense Silver Blonde Toner.
Make a mix with 20 Vol of 1 part toner to 2 parts developer.
Once the bleached hair has been rinsed, do a towel dry to get rid of excess moisture.
Now you are ready to apply your toner mix.
Apply quickly, once again saturating the hair very intensively and applying first on the lengths and returning to the roots only at the end.
Processing time for the toners is around 10-15 minutes.
At the end of this time, you will see the hair shedding the last yellow and absorbing the grey and purple pigments from the toner.
Rinse off with water again.
How Do I Finish Up After Toning?
To get your hair to a perfect ash blonde, follow up the toner with Purple Shampoo and Mask as we did with our model above.
These products are acid-based cuticle closing products and will improve hair condition as well as tone it.
If your hair is very fragile or has been badly damaged in the past, we absolutely recommend our Anti-Breakage Shampoo and Mask.
Rub and massage intensively if you are using the Anti-Breakage products. This will help the products enter the cuticle, which is what you need.
For the purple mask, you can let the product sit on the hair for 10 minutes using a plastic cap and some gentle heat.
Then rinse and blow dry.
I am concerned that my hair is fried. Should I still Bleach if it is brassy or yellow?
First do a strand test.
In such cases, we would definitely recommend Brilliant Blondexx - our bleach with Bond Protect.
It is what you need to take care of the integrity of your hair.
Apply on the strand, & check it after, making sure it is still strong and has good elasticity.
If is is in good condition, you can go ahead and apply Brilliant Blondexx with 20 Vol.
Saturate very very well. You're going to do it once correctly - particularly important if your hair has been processed in the past.
At this stage it will still have some yellow in it. This is normal.
Now you need to apply the Intense Pearl Blonde or Intense Sllver Blonde Toner. 
Once the hair is toned, we would recommend you use our Anti-Breakage Brilliant Blondexx Shampoo & Mask Duo.
These are acidic products which will close your hair cuticle and also strengthen the ends thanks to the Bond Protect.