Rainbow Girl
Be a Rainbow Girl Today!
SET CONTAINS:
3 x bottles of Rainbow Color - Electric Blue, Samarkand Blue & Emerald Green
2 x 50 gm sachets - Brilliant Blonde 8 Level Lift Lightener
1 x Salon Size 1 Liter 20 Vol Developer
1 x Salon Tools
The set contains enough products even for very long hair.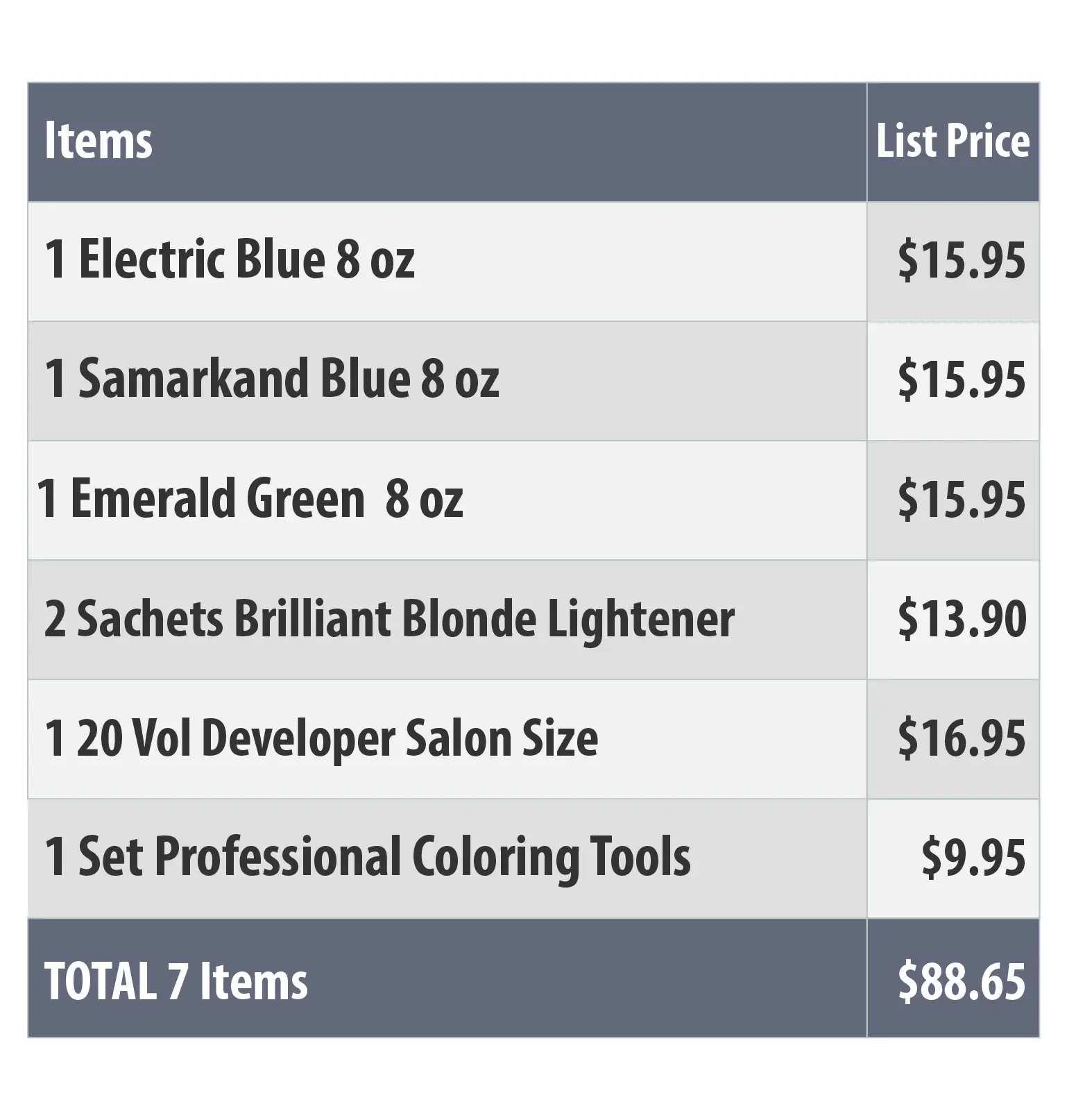 QUANTITY OF SETS Limited - offer available while stocks last.
You should have some product left over for future refresh applications.
Follow These 4 Steps:
(1) LIFT YOUR HAIR TO A CONSISTENT LEVEL 9/10
You need to first lift your entire head to a consistent level 9/10 for best results.
So be sure to check your hair and assess how many levels you need to lift.
If you are a natural blonde, or have already pre-lightened hair, you can skip the lifting step.
Depending on how much hair needs to be lifted, open one or two sachets into a mixing bowl.
Now add in your developer. If using one sachet, pour in 100 ml (3.5 oz) of developer.
If using 2 sachets, pour in 200 ml (7 oz) of developer.
Mix really well using a non-metallic spoon or whisk until you have a nice, smooth paste.
Section your hair, starting from the back, and apply generously throughout.
Work fast - the bleach mixture needs to be applied when wet.
Keep the root part until the last - this is the part that will lift the fastest and the most.
Check to make sure that all parts of the hair are lifting well. If you see parts that are drying out or not lifting, be prepared to add in some more mix.
Rinse when the hair has been fully lifted to a consistent level 10.
Shampoo using a good quality shampoo.
(2) NOW, PUT IN YOUR COLOR
Get 3 bowls & 3 brushes.
Apply the 3 bottles of Rainbow Color separately.
By alternating sections you can get creative and create the look that you want.
In this look, we framed the face with Samarkand Blue around the face. We used Electric Blue and Emerald Green on the back and lengths.
Be generous with the product - that way, you will get a rich vibrant color result.
Leave in hair 30 minutes.
(3) RINSE
Rinse first with tepid water.
When doing so, don't rub the hair, otherwise color will run from one section to the other.
When the product has run out, you can rub and wash completely.
No shampoo immediately after the color.
(4) MAINTAIN YOUR LOOK
Your color will last up to 20 washes depending on hair texture and quality.
You can use remaining product from the 8 oz bottles to refresh your color after a couple of weeks if desired.
Rainbow Color.
Hair by Ashley Betancourt.