Blonde Hair Going Brassy 
There's a real difference between blonde hair that's been freshly toned and hair that has not. Ask any hair professional and she will tell you.
Studies show that most women go to a salon for a major color transformation (for example, going blonde) only once or twice a year.
But unfortunately nothing lasts for ever, and twice a year is just not enough to upkeep & maintain blonde hair nicely.
Within 30 or 40 days, that freshly done blonde hair starts to look brassy & yellow.
So what can you do, as a salon professional, to get your customer to come back and refresh her hair in-between those major visits? 
Toners - a Stylist's Best Friend
It turns out that a collection of well chosen toners is truly stylist's best friend. In this blog article, we are going to highlight 7 toners which really work!
No matter how great a woman's blonde hair looks when she is leaving your salon, from that moment on, whether she likes it or not, it will start to deteriorate over time.
Sunlight, frequent washes, swimming in a pool or in sea water during the summer, washing with inferior shampoos which strip away the color of the hair, as well as blow drying - all these will make blonde hair less white, more yellow and more brassy.
This is when a hair toner really comes into its own. A toner will help color-correct, neutralize the unwanted brassiness, and return the hair to a richer, more vibrant blonde color.
Toner no 1 - Intense Pearl Blonde 100V
This toner is what you need when there is a lot of yellow in your client's hair and you are really looking to push it towards a super white, cold platinum blonde.
Intense Pearl Blonde 100V contains a special booster, which means it can lift up to one level.
This is pretty unusual for a toner. It is one of the fastest acting and strongest toners on the market today.
Use with 20 Vol Developer.
Hair by Paula Sturdevant Toner no 2. - Pearl Blonde 10V
Pearl Blonde 10V is heavily, heavily pigmented in those violet, purple pigments you need to get hair really really white blonde - without compromise.
This one does not have the lift that Intense Pearl Blonde Toner does. For that reason it is better applied on very well lifted hair, or for repeat applications for hair which has already been toned in the past.
Hair by Elona Taki. Watch Video Now.
Toner no. 3 - Intense Silver Blonde 100B
For those customer who prefer a more natural looking, but still super white silvery blonde, use intense silver blonde toner 100B.
The blue pigments in this toner (plus the special booster) make it great for kicking out yellow, boosting hair by one level, and taking hair to a beautiful white blonde.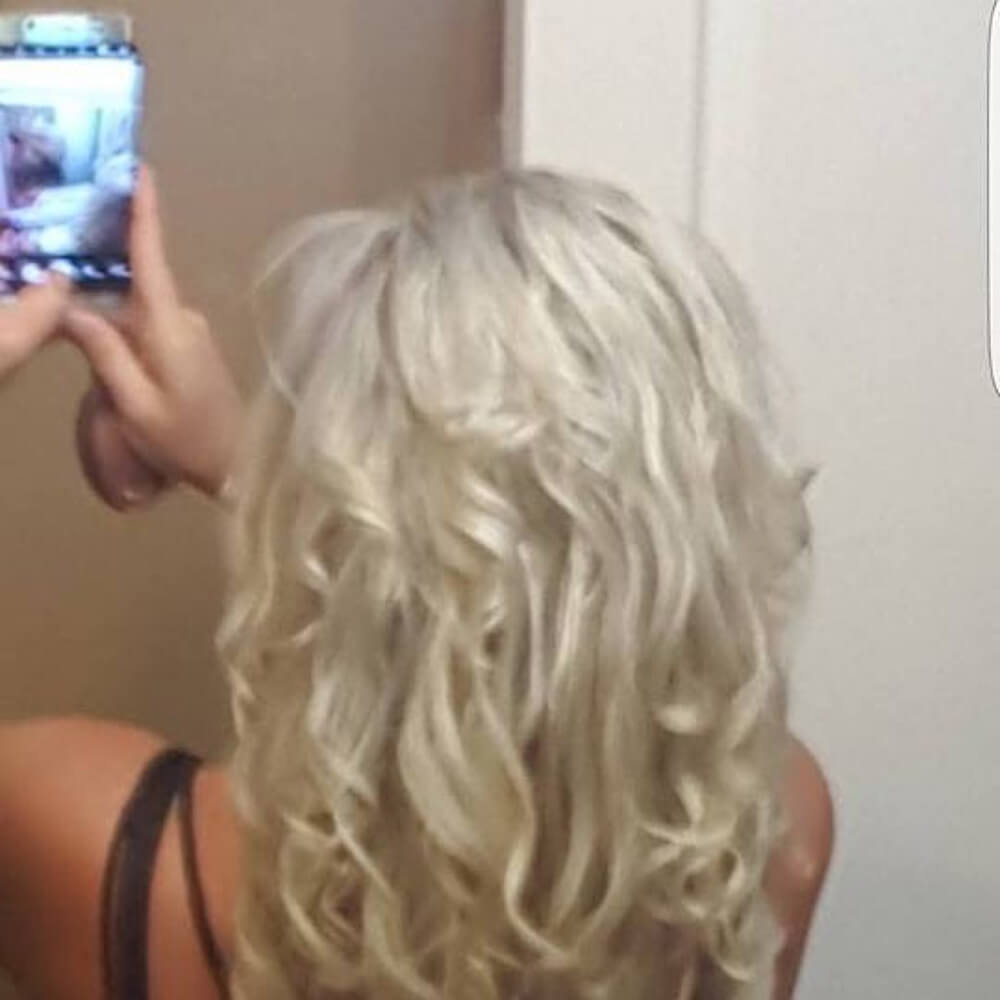 Hair by Nina Suvetskaya
Toner no. 4 - Silver Blonde 10B
Our fourth toner is the no-lift equivalent of intense silver blonde. Still packed with all those blue pigments to get hair white blonde, but a little less lift ths time. Perfect for repeat applications or when the hair is already very well bleached and highlighted.
Toner no. 5 - Natural Ash Blonde 010A
Are you looking for a really quick gloss toner? Something to refresh your client's hair really fast? Then Ugly Duckling's new Natural Ash Blonde Toner would be perfect for you.
This toner is formulated to neutralize yellow-orange hair and turn it to a natural ash.
This toner is:
Ammonia free
PPD free
Comes with Bond Protect built in for extra conditioning
Is a liquid.
The mix ratio is 1+1. Use with 10 or 20 Vol developer in most cases.
You can apply it with a bottle at the back wash - so it's super convenient!
Watch video below:
Toner no. 6 - Natural Violet Blonde 010V
This one is also in liquid form. It contains plenty of violet colors, perfect for refreshing hair which is too yellow. 
Watch video below:
Toner no.7 - Purple Shampoo & Mask
For a regular blonde refreshing toning (no chemicals), and when you can't go to the salon, we would suggest Ugly Duckling's Purple Shampoo & Mask.
The pigments will neutralize yellow and keep hair white and blonde on a regular basis.
These formulations are low pH, sulfate free and gluten free and contain a lot of conditioning elements also.
Watch video below.